This post may contain affiliate links, meaning if you book or buy something through one of these links, I may earn an affiliate commission at no additional cost to you. Learn more
These 18th birthday party ideas are ideal for planning a celebration everyone will love and remember, and help you, or someone close to you, turn 18 in style!
18th Birthday Party Ideas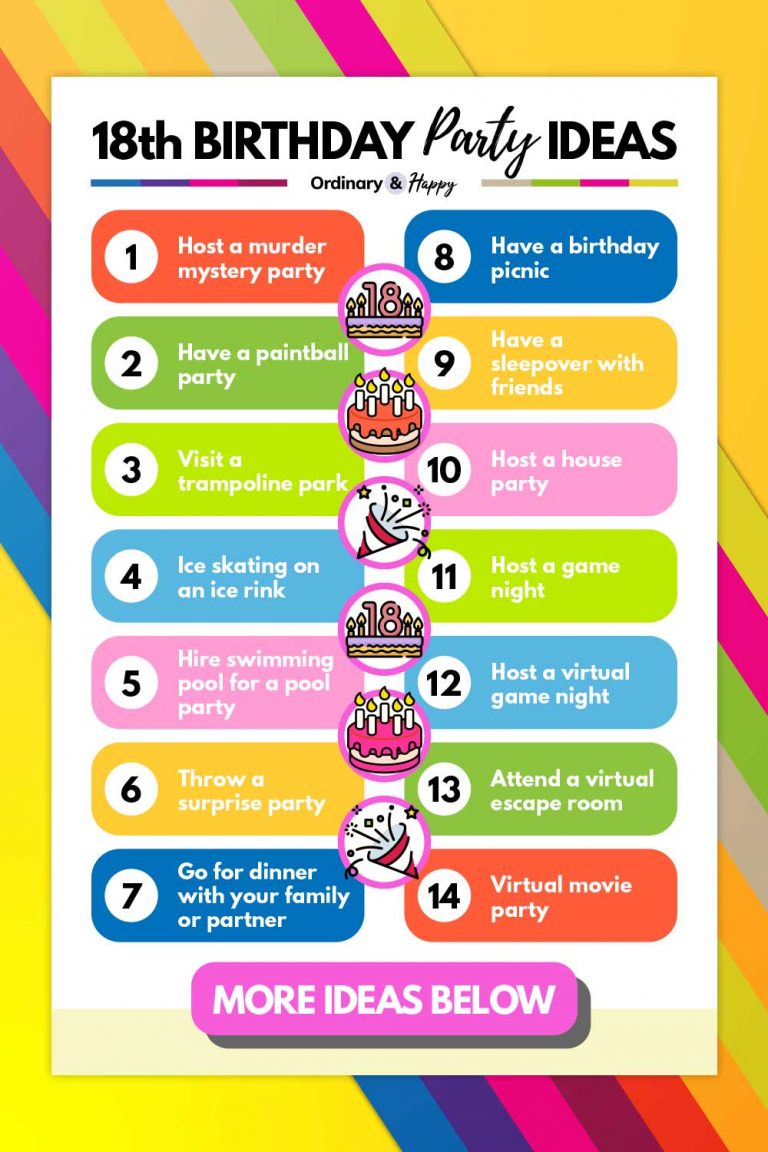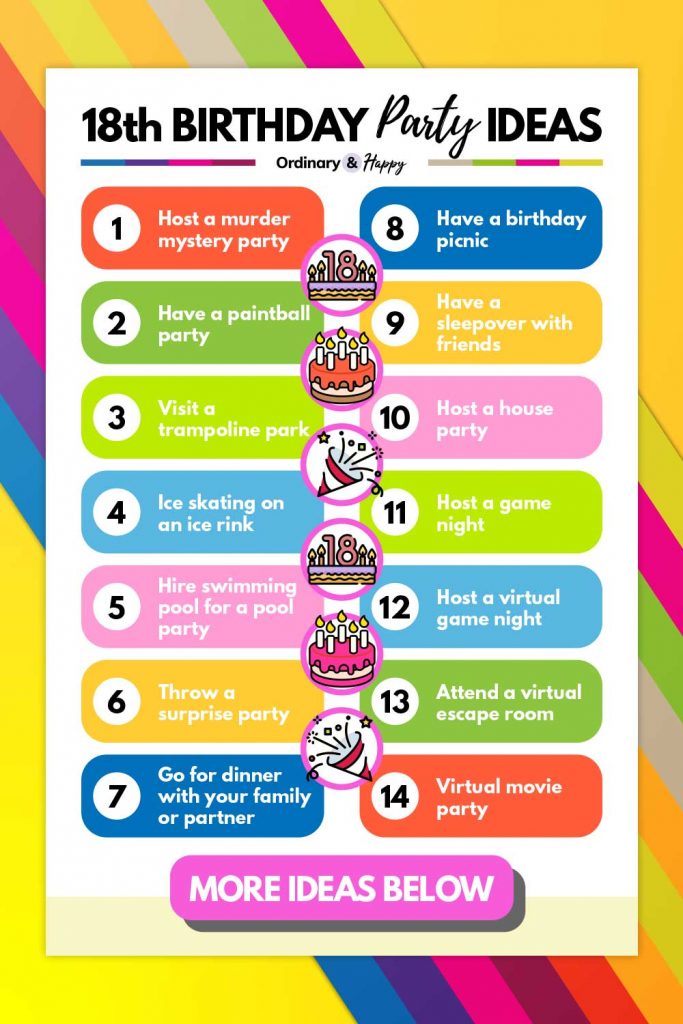 ---
Creative and Unique
1. Host a Murder Mystery Party
First, pick a party theme that appeals to you and your guests, such as the roaring 1920s, Harry Potter, or perhaps Sherlock Holmes.
Next, create an exciting storyline to draw your guests in.
Then, after you've sorted out the food and drinks and picked your outfit, all that's left to do is invite your guests and find out who the murderer is. People will be talking about your party for months!
2. Have a Paintball Party
Paintball parties are a great way to celebrate turning 18 if you're an active person.
Gather a group of friends, get dressed in some protective gear, and playfully battle it out with brightly colored paint for a couple of hours.
Don't forget to take a group photo when you've finished the paintballing session!
3. Visit a Trampoline Park
Embrace your inner child by celebrating your birthday at a trampoline park. Trampoline parties aren't just for children; everyone can enjoy them.
Many trampoline parks offer adult-only sessions that involve loud music, flashing lights, obstacle courses, and other exciting activities, which will certainly get your blood pumping.
---
Fun
4. Ice Skate on an Ice Rink
Grab your ice skates and head out onto the ice with a group of friends.
Most ice rinks will also play the music of your choice, and activate colored strobe lights to create a fun and funky atmosphere.
5. Rent a Swimming Pool for a Pool Party
Take your birthday to the next level by renting out a local swimming pool for a couple of hours.
Why not bring some inflatable pool floats with you to increase the fun factor? Enjoy a couple of fun-filled hours of swimming laps, playing water games, and relaxing on inflatable lilos with those you love the most.
Related: 20+ Fun Swimming Pool Games for All Ages to Play and Enjoy
6. Throw a Surprise Party
If a friend or family member is about to turn 18, why not throw them a surprise party to celebrate the occasion in style?
Collaborate with other guests on the food, drinks, and music to create an enjoyable party for your loved one who is about to enter adulthood.
Just make sure that everyone who is invited knows that it's a surprise so that the guest of honor doesn't find out about it to avoid ruining the surprise.
Related: 20+ Surprise Party Ideas to Celebrate in Style
---
Simple
7. Go for Dinner with Your Family or Partner
If you want to keep your 18th birthday simple but enjoyable, go for a quiet dinner with your boyfriend/girlfriend or make it a family dinner.
If you're going somewhere classy, why not get dressed up? It's the perfect excuse to buy a lovely new outfit.
8. Have a Birthday Picnic
Suppose you don't fancy going out for dinner. In that case, you can enjoy some food in the garden or in a beautiful outdoor location with a delicious picnic.
Pre-prepare some delectable sandwiches and snacks, pack a blanket, and celebrate your birthday in nature with your loved ones. Sometimes simpler is better.
Related: 15+ Picnic Essentials You Need for the Perfect Picnic
9. Have a Sleepover or Slumber Party with Friends
If you'd like to celebrate your birthday, but don't want to go all out, invite over a few friends and have a sleepover, just like when you were younger.
Purchase your favorite drinks and snacks, and watch a movie in the comfort of your home. It'll make you feel nostalgic about your early teenage sleepovers.
You could also have a look at some of these adult slumber party ideas to give you inspiration.
---
At-Home
10. Host a House Party
One of the best ways to celebrate your birthday is to host a house party. Set up a buffet full of party food and drinks, and compile an epic playlist.
You could also decorate your house with birthday balloons, banners, and fairy lights. Invite your friends, and voila: you've got yourself a house party to celebrate your 18th birthday in style.
11. Host a Game Night
Hosting a game night with friends is easier than ever, as there are hundreds of exciting games to choose from.
Whether you're an online gamer, console gamer, board game lover, or card game fanatic, a game night is a great way to celebrate your 18th. Don't forget to stock up on snacks and drinks to keep you fuelled!
Read more: Best Party Games for Adults
---
Virtual/Zoom
12. Host a Virtual Game Night
If you can't invite your friends over for a physical game night, a virtual one can be just as enjoyable with the right games.
Games such as The Jackbox Party Pack, Uno, and various other online games are affordable (and in some cases, free), and easy to access. Who said a virtual birthday celebration is boring?
13. Attend a Virtual Escape Room
If you like a bit of suspense and mystery, a virtual escape room might be right up your street.
Round up a team of problem solvers, discover clues, and complete puzzles to escape. Even better, you can play themed escape rooms such as Peaky Blinders, Sherlock Holmes, Pirates, Casino, and Prison Break.
14. Plan a Virtual Movie Party
Another great way to celebrate your birthday is to have a virtual movie party.
Streaming services such as Disney+ and Amazon Video have introduced watch-party features, meaning it's easy to watch a movie or TV series virtually with others.
Many platforms even allow you to use a messaging feature to discuss the film as you're watching it.
15. Play Virtual Bingo
If you're a bingo fan, you'll be happy to discover that you can access free bingo games online. Celebrate your birthday virtually by playing bingo with friends and family over a video call.
If you're not in the mood to go out and celebrate your birthday and like the idea of a quiet night in, this could be a peaceful but enjoyable way to mark the occasion.
---
Outdoors
16. Go on a Camping Trip
If you want to celebrate the big day in nature, gather your most adventurous friends and your camping gear and head out into the countryside!
You're never too far away from a campsite, so you don't have to worry about access to essential amenities such as a toilet and a shower.
Simply pitch your tent, light a small bonfire, roast some marshmallows, and celebrate your 18th in a way that you won't forget.
Related: 40 Fun Camping Activities and Games
17. Take a Road Trip
If you're in the mood for adventure, pack your suitcase, gather some friends, and hit the road for an afternoon, evening, or even the weekend.
If you don't have a road-trip-friendly vehicle, consider hiring a campervan for you and your friends to stay in. You can follow a set route or go where the wind takes you. The choice is yours!
Related: 40 Best Things to Do on a Long Car Ride or Road Trip
18. Visit an Outdoor Movie Theater
Movie fanatics may want to spend their birthday doing what they love the most: watching movies!
But if you want to do something more exciting than watching a movie at home, spend an evening at an outdoor cinema, and experience the magic of the big screen in nature.
19. Go to a Theme Park
Thrill-seekers may want to celebrate their 18th in style at popular theme parks across the country or have a magical weekend at Disneyworld.
However, if you want to step it up a gear, why not stay overnight in the resorts' hotel? That way, you can make the absolute most of your trip, and go on all of your favorite rollercoasters several times!
20. Have a Bonfire Party
A bonfire party is a great way to celebrate your birthday. Gather your friends and family, plenty of snacks and drinks, and roast marshmallows well into the evening.
Get everyone involved with group games, such as charades or two truths and a lie, and, of course, enjoy the delicious food and great company.
---
On a Budget (Cheap or Free)
21. Host a DIY Costume Party
A costume party is a fantastic way to celebrate your birthday if you're on a budget.
There's no need to rent a venue or purchase expensive outfits; encourage your guests to make their own costumes from things they have at home.
Also, there's no need to go all out on the food; your guests will be happy with party food such as sandwiches, sausage rolls, and chips.
To stick to your budget, ask your guests to bring their drink of choice. Everyone loves a costume party as it allows them to get creative!
Related: 30+ Best Dress-Up Party Costume Ideas for Adults
22. Host a BBQ
If the weather permits, celebrate your birthday by hosting a BBQ. Head down to your local supermarket to stock up on burgers, sausages, buns, and beers, light up the BBQ, and get grilling.
Why not decorate your garden with birthday banners, balloons, and party poppers to get everyone in the birthday spirit? You're sure to have a brilliant time without too much hassle.
23. Go to a Bowling Alley
If you're feeling nostalgic, reserve a couple of lanes at your local bowling alley.
Even better, many bowling alleys now offer food and drinks straight to your table, meaning you have more time on the lanes. Adult bowling parties are just as fun as kids' bowling parties!
24. Go Sightseeing
If you're an avid traveler, make a list of nearby points of interest, and do a whirlwind tour of them for your birthday.
Whether you drive, cycle, or walk, this is a fun and cheap way to spend your birthday with friends and loved ones. At the end of it, you can make a stop for some takeout.
---
Elegant/Classy
25. Host a Dinner Party
Host a classy dinner party if you'd like to celebrate your 18th in style. To make it more exciting, give your dinner party a theme.
The theme can be based on the cuisine you're serving, such as Mexican, Japanese, or Chinese, or based on specific periods and styles, such as the 1920s or 1950s Hollywood glamour.
Whichever theme you choose, a dinner party is an elegant way to celebrate your transition into adulthood.
26. Go to a Mocktail Tasting Event
Celebrate your birthday in style by attending a mocktail masterclass to learn from expert mixologists, and try out a variety of delicious mocktails. You may find a new favorite flavor!
27. Go for Afternoon Tea
If you're a fan of copious amounts of cake, sandwiches, and tea, you might want to celebrate your 18th birthday over afternoon tea with loved ones.
Afternoon tea is a fun and relaxing way to celebrate your 18th birthday with class, style, and plenty of delicious food.
Related: 48 Fun Tea Party Ideas for Adults (Activities, Games, and More)
28. Book a Spa Day
Is a calm and relaxing birthday more appealing to you? If so, you might enjoy a spa day.
You can book various revitalizing treatments such as a massage, manicure, pedicure, body treatments, and facials.
If you want to make a weekend of it, why not stay overnight in your local spa's hotel? That way, you can make use of all the facilities, such as the gardens, swimming pool, and jacuzzi.
It's your 18th, so no one would blame you if you pushed the boat out!
---
More Birthday Party Ideas
Are you still looking for inspiration? Have a look at some of these ideas and see if any can inspire you to plan the perfect 18th birthday party.
29. Host a Mocktail-Making Party with Board Games and a Fun Party Theme
30. Have a Masquerade Ball with a Photo Booth
31. Have a Day at an Amusement Park
32. Have a Beach Party with a Potluck
33. Host a Garden Party with a BBQ and Fun Outdoor Games
34. Shopping Spree and Afternoon at the Mall
---
You only turn 18 once, so make sure you take the opportunity to celebrate it in a memorable, stylish way.
Whatever you, or the person you are planning for, loves to do, there's a party idea out them they will love, and remember for many years to come. From the birthday party decorations to a unique birthday party idea everyone will remember for a long time, there's plenty to think about when it comes to 18th birthday parties.
Get creative, get excited, and turn 18 with a show-stopper of a birthday party, using these ideas to help inspire you and create a memorable celebration!
You Might Also Like to Read
---
Got an 18th birthday on the horizon? Keep this article for safekeeping, by saving it to one of your Pinterest boards for a later date.