This post may contain affiliate links, meaning if you book or buy something through one of these links, I may earn an affiliate commission at no additional cost to you. Learn more
Up the fun factor at your beach day or vacation tenfold with these amazing beach party ideas and games for adults, and get ready for endless thrills, fun, and laughs on soft sands beneath the summer sun.
Beach Party Ideas and Games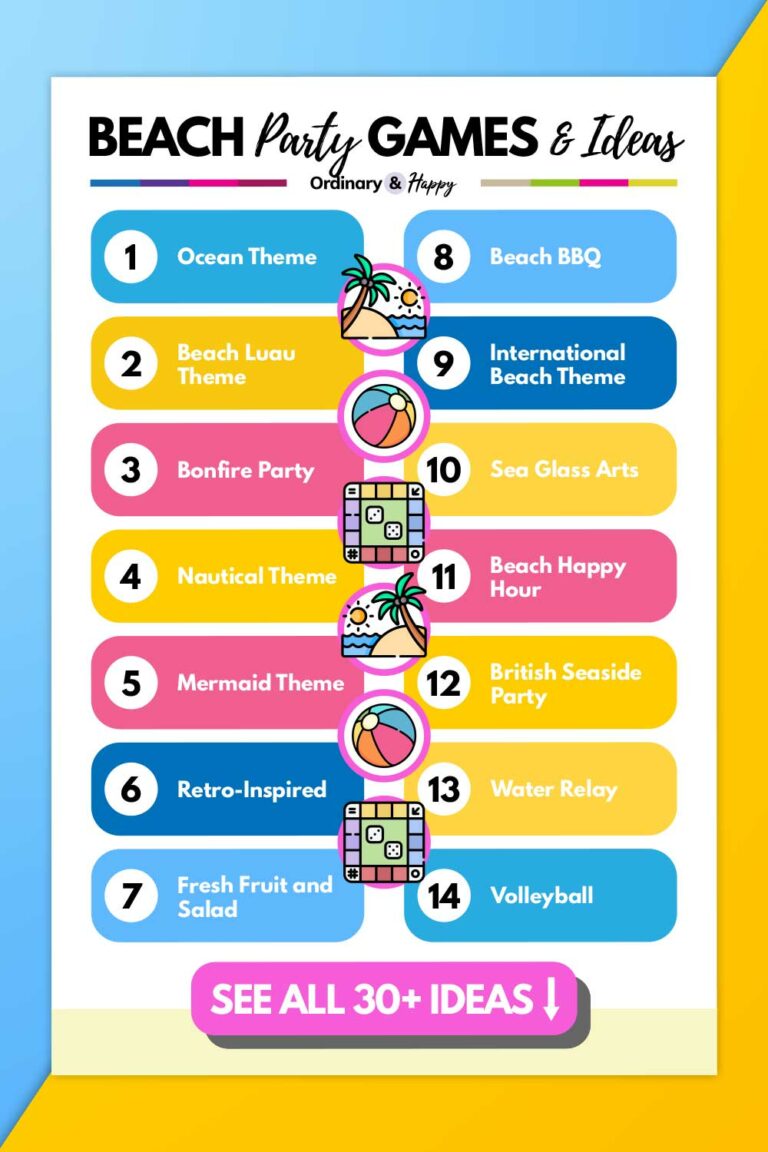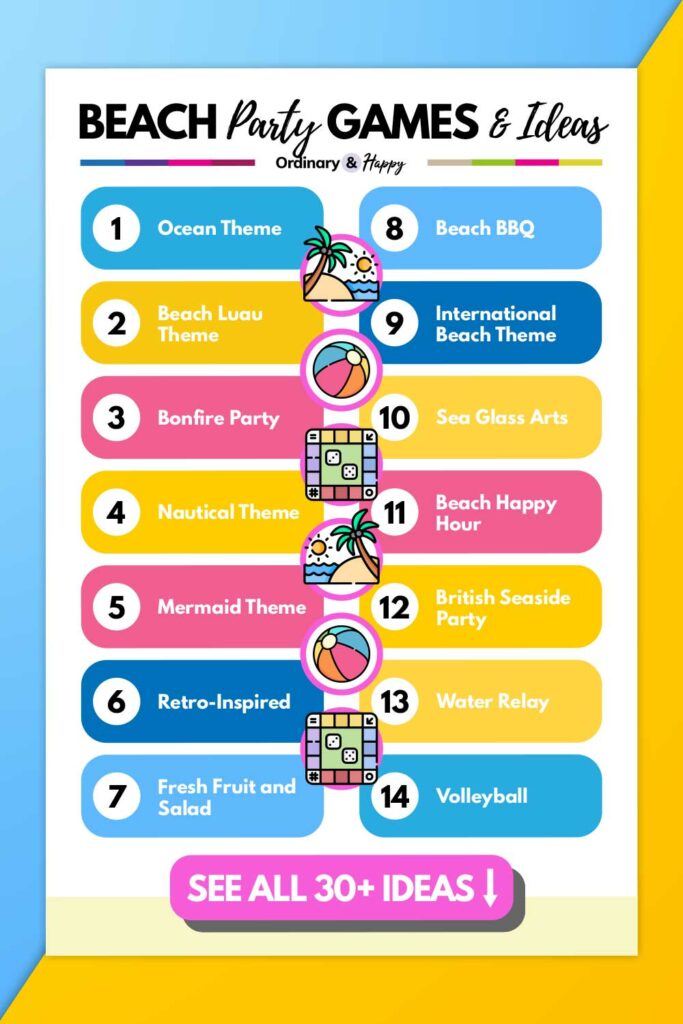 ---
Beach Party Ideas
1. Ocean Theme
A great way to inject fun into a beach party is an appropriate theme! An oceanic theme can include an all-blue dress code, sea animal decorations, and seafood for dinner!
2. Beach Luau Theme
What better way to celebrate on a beach than with a luau-themed party. Don't forget the tiki torches for when the sun goes down!
3. Bonfire Party
This is great for a cozy, more intimate gathering. Spend the daylight hours building up the fire, then after you've watched the sunset, get the bonfire going and settle down around it with an acoustic guitar and some s'mores!
4. Nautical Theme
Similar to the ocean theme, but focus more on the maritime aspects. Dress up as fishermen, hang nets, and red-and-white lifesaver rings for the full effect!
5. Mermaid Theme
Seashell bras, long fish-scale sarongs, glittery crowns, and tiaras — it's the perfect adult fancy-dress theme for a beach party!
Don't forget the trident for the king of Atlantis!
6. Retro-Inspired
Break out those old-timey striped swimsuits and beach caps! Get deckchairs, picnic blankets, a playlist full of oldies hits, and ice cream floats!
7. Fresh Fruit and Salad
It can be tricky to decide what kind of food to serve at a beach party, especially if the weather is hot.
Fresh fruits and light salads are the perfect snacks for hot weather, and they're easy to eat without the risk of getting sand in your mouth!
To get inspired, you can also check out our list of over 100 picnic food ideas, which should work well for a beach party.
8. Beach BBQ
What better way to cook than over flames (if safe to do so)? Either make a bonfire or take a portable BBQ grill down to the beach.
Burgers, hotdogs, and marshmallows – all great on the grill – are even better on the beach!
Just make sure to check local rules and regulations to ensure you can have a BBQ on the beach.
9. International Beach Theme
With a bit of planning, you can capture the magic of the world's most famous beaches!
Miami beach in Florida, Copacabana beach in Brazil, Brighton beach in the UK – they all have their own special features and foods that you can use to capture the mood and imagination of your guests!
Place-specific menus and decorations will not only ensure your guests have a great time and are transported around the world, but they will also learn about different cultures and traditions!
10. Sea Glass Arts
Sea glass is the smooth, rounded pieces of glass you find on the beach. It's a beautiful material and can be wonderful for making art pieces.
Use canvases, paper, or even just the sand to create unique and inspiring works of beach-themed art! A great way for people to bond and explore their creative side together.
11. Beach Happy Hour
What better way to get the party started than alcoholic drinks?! Set up a beach bar and get the tropical cocktails flowing!
Serve in coconut shells or tiki-head cups for that extra beach-theme feel!
12. British Seaside Party
The British seaside is a little different from beaches in the States, but bringing the British seaside town vibe to the beach is a great theme for a party.
Think fish and chips, arcade games, deckchairs, and ice cream!
---
Beach Party Games
13. Water Relay
A super fun way to get a party started is a relay race! Set up a row of buckets at an agreed-upon point along the beach.
Every team gets a cup, and then they then have to race back and forth to the ocean, filling the cup and then the bucket. Swap players each time – the first full bucket wins!
14. Volleyball
Check Price on Amazon
A perfect game for the beach! All you need is a ball and a net, which you can pick up pretty cheaply online.
Alternatively, some beaches already have volleyball courts with nets already available. Simply divide the players into two even-numbered teams and get the game started!
15. Cricket
Check Price on Amazon
Although cricket isn't really played in the states, it's a great game for the beach, and beach cricket sets are readily available online.
All you need is a bit of open space, a bat, and a ball, and you're set! Take it in turns to bat, with the rest of the players as catchers in the outfield.
16. Beach Tennis
Check Price on Amazon
Beach tennis kits are super easy to get hold of, and the game is basically the same as real tennis, except there's obviously no bouncing of the ball!
Some beaches will have a net available, or special beach tennis courts set up away from the water. Similar to volleyball, but better to play if you don't have as many people.
17. Bocce Ball
Check Price on Amazon
Bocce is a relaxed, slow-paced game that is normally played by rolling balls on a hard surface, but it can be played just as easily on sand.
The balls are generally thrown underarm, with the aim to get as close to the 'jack' ball as possible.
18. Kite Flying
Check Price on Amazon
Not so much a game as an activity, but perfect for the beach nonetheless!
Those sea breezes are ideal for flying kites, and if you have more than one, it can become not only a fun activity but a really beautiful thing to see.
19. Bodyboarding
Check Price on Amazon
A bodyboard is like a smaller surfboard, and it is used in the shallows to sort of skate along the surface of the water.
It's great fun for all ages and can easily be made into a race or tournament!
20. Treasure Hunt
What better way to explore a beautiful beach than by hunting for treasure? Hide various treats around the beach, and whoever finds the most is the winner.
The treasure can be anything you like – tailor it to your guests! Beer, food, toys, etc.
21. Hot Beach Ball
Easy to play and tons of fun! Get everyone in a circle (or another shape) and get some music playing.
Pass a beach ball around the group, and when the music stops, whoever is holding the ball is out!
22. Frisbee Golf
Check Price on Amazon
This one can take a little while to set up, but it's totally worth it for a game that's both fun and takes a while to play!
Dig holes or build sand castles that players have to throw a frisbee in/on/near to in order to progress.
If you're lucky enough to have a large stretch of beach to yourselves, this can take the form of a regular golf course, or you can just dig and build the holes in your area after each round.
23. Survivor
Based on the popular TV show, this is a great game to get everyone involved and feeling in a competitive spirit. It takes a bit of preparation, but it's well worth it.
Devise some challenges for your guests to take part in, either individually or in teams. What the challenges are and how the overall game works is really up to you, but here are some ideas:
Who can walk on their hands for the longest,
Teams have to stand on a floating platform (boogie board or something similar), and the last one standing is the winner, or
Build the biggest sandcastle within a time limit.
24. Beach DodgeBall
Everyone loves dodgeball, so dodgeball on the beach is sure to be a hit!
Arrange your guests into teams, and draw a line in the sand to delineate a court. From there, just grab some beach balls and get throwing!
25. Sandpit Challenge
This is super simple and easy, but those games are often the best! Simply see who can dig the biggest hole in the sand!
Work in teams, against the clock, or set a requirement like the hole must be able to fit all the team members in it.
26. Sandman Challenge
Think snowman…but sand! In teams or individually, see who can build the best sandman.
Use shells, rocks, and sea glass for the eyes and nose, and a towel and beach hat to dress him!
27. Tug of War
Check Price on Amazon
Tug of war is a classic game loved by many. All you need is a long rope and some open space.
The sand makes the game all the more challenging to get a good footing on, and it doesn't really hurt when you fall over – which you will!
28. Beach Bowling
All you need for this is a big beach ball and some pins (you can use anything for these – empty drinks bottles weighted down with sand or water work great!), and you're set! Arrange the pins, divide into teams, and you're good to go – STRIKE!
29. Obstacle Course
If you've got a big section of the beach to yourself, setting up an obstacle course is a great way to get everyone involved in the beach party fun!
Use anything you can to encourage guests to be inventive and active. The sea is great to use for a swimming section. Inflatables make for excellent climbing obstacles, and towels can be hung over poles and chairs to make tunnels to crawl through!
30. Beach Ball Blast Off
Check Price on Amazon
Using only a towel to propel the ball, see who can launch it the highest. It's amazing how much height you can actually get on a super light beach ball, and the team aspect of timing the throw is a great way to get people to work together.
31. Beach Darts
Draw a dart board in the sand instead of having it vertical in front of you, and use balls, rocks, or anything else you like for darts!
The rules of play can be modified by you, so it's great for all kinds of players.
32. Limbo
Check Price on Amazon
Finally, the classic beach game activity! Perfect for a themed party or even just a small gathering, all you need is a pole and some willing, flexible contestants!
See who can limbo under the pole at different heights, lowering it after each round until everyone is eliminated, and you have a winner!
---
Beach days are always a super fun time, but if you want to keep everyone entertained, keep some of these games and ideas in mind and pack accordingly.
From super cool themes to adrenaline-filled games, these ideas will definitely make your trip to the beach a fun and memorable one!
You Might Also Like to Read
---
Planning a beach trip? Keep these games and ideas for safekeeping by saving them to one of your Pinterest boards.