This post may contain affiliate links, meaning if you book or buy something through one of these links, I may earn an affiliate commission at no additional cost to you. Learn more
Make first impressions count and use these first date ideas to plan a date that both of you love so much, you'll definitely want to do it again!
First Date Ideas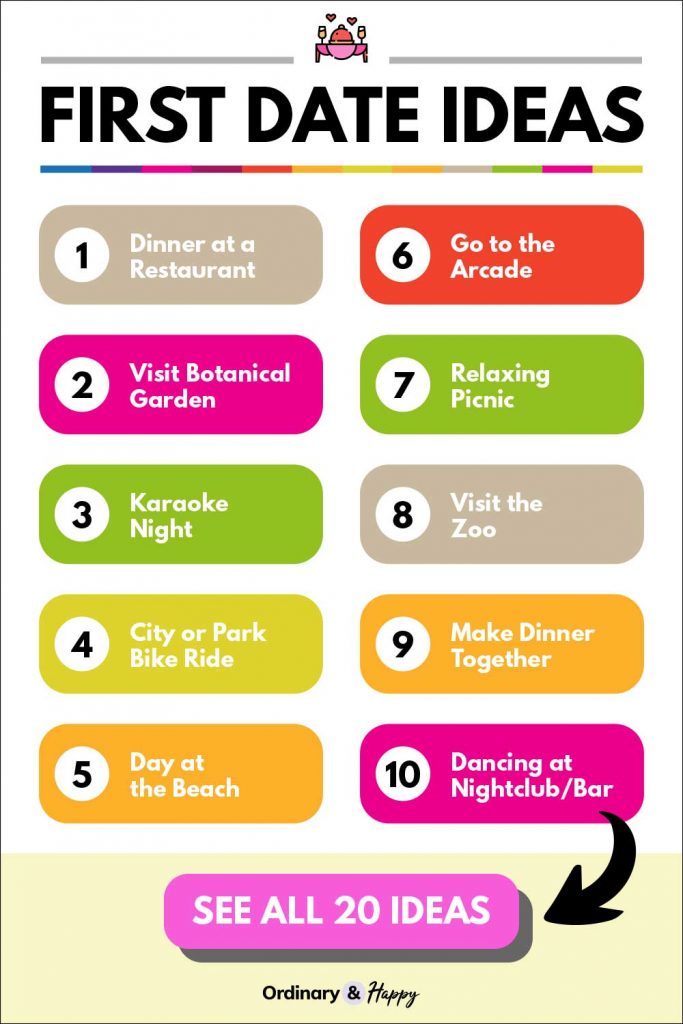 First dates can often be overwhelming, as we put so much pressure on them to go well. So it is important to do something on the date that you both enjoy, allowing you to be yourselves.
Choose something that keeps you in your comfort zone. If you hate crowds, don't go to a live concert just to try something different.
Be honest about what you both like doing, and a first date can lead to a day or evening of joy and excitement.
Here are some ideas to get you started.
---
Classic First Date Ideas
1. Dinner at a Restaurant
The classic date idea, dinner at a restaurant is always a safe choice. Nearly everyone enjoys eating out, and the time at the table together allows you to get to know each other.
Try to find a balance between luxury and comfort. If you are uncomfortable booking an expensive, high-end restaurant, don't lie to yourself or your date. Suggest a place you think you will both enjoy.
2. Take a Stroll in a Botanical Garden
If you are someone who enjoys flowers, plants, and all things nature, this is a perfect place to take your date.
You can both take a stroll through some wonderful botanical gardens, enjoy the beauty, and have interesting conversations amid the peace and quiet.
3. Karaoke Night
If you are someone who doesn't shy away from the spotlight, now is the time to impress your date.
Put your vocal talents to the test and sing a song for your date that is sure to make them swoon!
Karaoke allows you to both have fun and be a little romantic or goofy together.
4. Bike Ride Through the City or Park
If you don't own a bike, there are plenty of bike rental schemes in many modern cities, usually easily accessible via apps.
A casual bike ride is a perfect opportunity to explore the city, take a relaxing ride through the park, or, depending on where you live, ride along the coastline. Plus, you can still talk to each other as you ride.
5. Go to the Beach
If the weather is warm, why not spend the day in the sun? The beach is the perfect place to take romantic walks, frolic in the waves, or relax and enjoy the sun.
When the sun is setting, you can go get ice cream with your date to round off a fun date with a sweet treat. And remember to bring sunscreen as nothing can ruin your day faster than getting sunburn!
6. Go to the Arcade
If you have a competitive streak, the arcade is the perfect place to take your date. There are so many different games, so you are sure to find something that you and your date would want to play.
7. Have a Relaxing Picnic
If the weather is nice outside, why not take your date on a romantic picnic? You can pack some nice food and drinks, and if you really feel like going all out, you should bring some champagne.
Choose a nice spot for your picnic, maybe somewhere with a good view of the city, or ocean. Be sure to check the weather forecast before you go, just in case rain is forecast.
If you decide to plan a picnic, check out our list of over 100 picnic food ideas to get you started.
Read more: Picnic Essentials to Have
8. Visit the Zoo
The zoo can also be a great place for a first date! Not only will you see animals from all over the world, but you and your date might learn something new and find a new shared interest.
You can explore the zoo and see all the different animals together, and at the end of your date, you can grab a bite to eat in the food court.
9. Cook Dinner Together
If you enjoy cooking at home, why not show off your skills? If you know how to cook, this might be the perfect date for you.
Cooking at home can be a great way to share a meal with your date. Not only that, but it's the perfect chance for you to set the atmosphere you want.
10. Go Dancing at a Bar or Nightclub
If making small talk is difficult or unenjoyable, an evening at a bar or nightclub could be a great idea. You can share a few drinks and dance the night away, allowing you to warm up to each other before you start having longer conversations.
11. Take Your Date for Coffee
If you are not much of a night owl, then maybe taking your date for coffee is a better option. You can sit in a café or take a coffee to go and go sit on a bench somewhere and get to know your date a little better.
12. Visit a Museum
A museum is a great place to spend time, where you can discover a shared interest with your date. There are so many different kinds of museums out there, all with different kinds of art, history, and science exhibits.
Be sure to check what kind of museums are in your local area, so that you can figure out where you want to have your date.
13. Go to the Bowling Alley
Having a date in a bowling alley is a classic, straight out of plenty of 80s movies. And while it may be cliche, it is very fun, particularly if you are competitive.
You don't even need to know how to bowl to have a good time at the bowling alley. There is usually food too, in case you and your date get hungry.
14. Play Mini Golf
Mini-golfing is fun for everyone, and the best part is you don't have to know how to play golf at all to enjoy it.
It allows you to have fun and be competitive, but it also gives you plenty of opportunities to chat and get to know each other.
15. Play Board Games at a Board Game Bar
You can play board games from the comfort of a board game bar over a nice hot chocolate or glass of wine or beer.
There are so many to choose from, including Monopoly, Scrabble, Battleships, Candy Land, Jenga, and plenty more. Ask your date if they enjoy board games and if they have a favorite one.
16. Go Hiking
Hiking is a great date choice if you and your date enjoy being outdoors in nature. If you want to go hiking, make sure to look up hiking routes nearby so you know where to go. Try to choose a route that has a nice viewpoint at the end for a romantic touch.
17. Try an Escape Room
If you like puzzles and mysteries, you should go to an escape room together. Not only will you spend quality time getting to know each other, but you'll also get to enjoy the thrill and energy of solving escape room puzzles.
18. Go Ice Skating
Ice skating is such a romantic first date idea that it doesn't even matter if you know how to ice skate or not. Most ice skating rinks are suitable for beginners and seasoned skaters alike and often have food available if you and your date get hungry.
19. Watch Sports at a Sports Bar
If you and your date have a shared interest in some kind of sport, why not go to a game together? If you live somewhere where there are live games, you should take your date to a game.
Be it the high energy of basketball or the camaraderie of baseball, seeing a game together could be a really fun way to spend a first date.
20. Go to a Live Music Concert
Maybe you and your date share a love for music? Why not go to a concert together? You should find out what music your date likes, and find tickets for an upcoming show.
As with dancing, live music is a great way to spend time together without the forced pressure of constant conversation making.
---
More First Date Ideas
When it comes to first dates, you really do have a blank canvas in terms of fun activities. If you're still struggling for inspiration, however, see if some of these ideas take your fancy.
21. Go Indoor Rock Climbing
22. Take a Cooking Class Together
23. Have a Good Laugh at a Comedy Show
24. Try New Flavor Combinations at an Ice Cream Shop
25. Play Laser Tag Together
26. Enjoy an Afternoon of Reading at a Local Bookstore
27. Take Your Dogs to the Dog Park Together
28. Go on a Local Brewery Tour
29. Visit a Vineyard for an Afternoon of Wine Tasting
30. Go for a Boat Ride in a Rowing Boat or Pedalo on a Local Lake
32. Spend an Afternoon in a Park Swapping Stories and People Watching
33. Play Truth or Dare Over Coffee or Drinks
34. Get Your Groove On at an Outdoor Concert
---
Don't let first dates stress you out. Use of list of ideas to help you come up with a date idea that is fun, enjoyable, and comfortable for both of you.
That way, with the setting and mood just right, you can focus on being yourself, and getting to know the other person.
You Might Also Like to Read
---
Planning a first date very soon? Keep these ideas for safekeeping, by pinning this article to one of your Pinterest boards.