This post may contain affiliate links, meaning if you book or buy something through one of these links, I may earn an affiliate commission at no additional cost to you. Learn more
Always feel inspired to draw something with our ultimate list of 100+ drawing ideas, ideal for those moments when you cannot decide what to draw.
Drawing Ideas List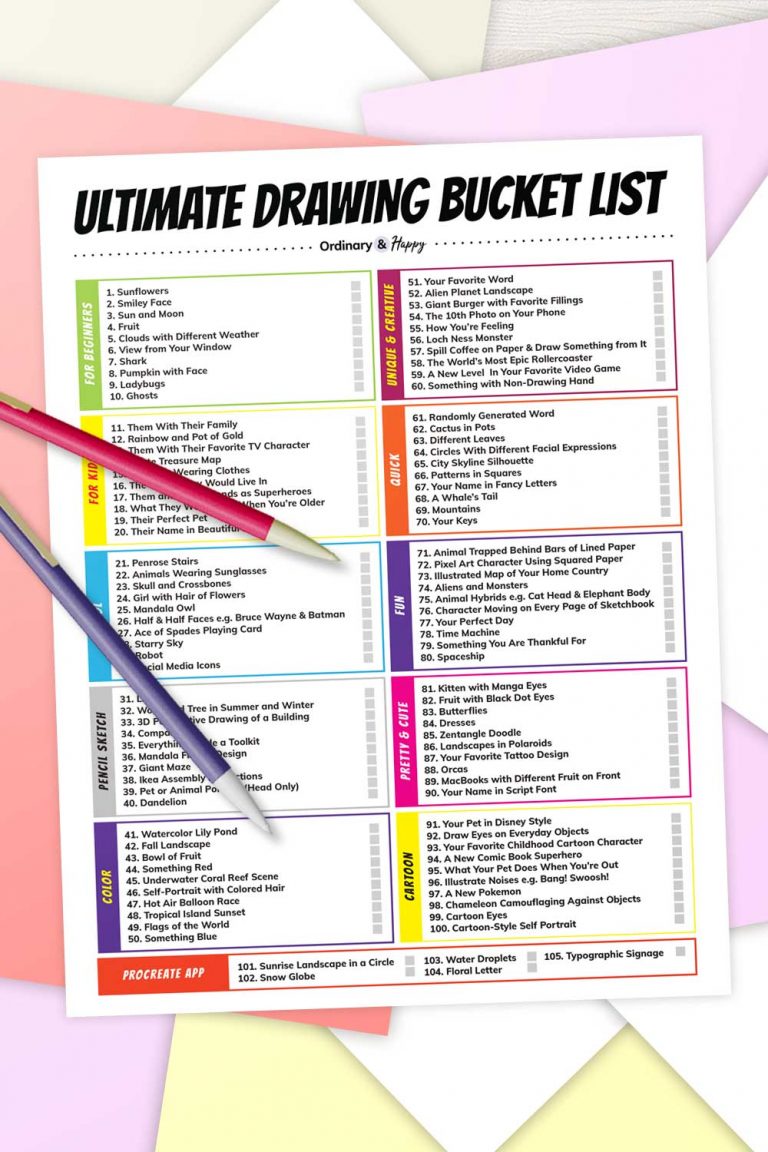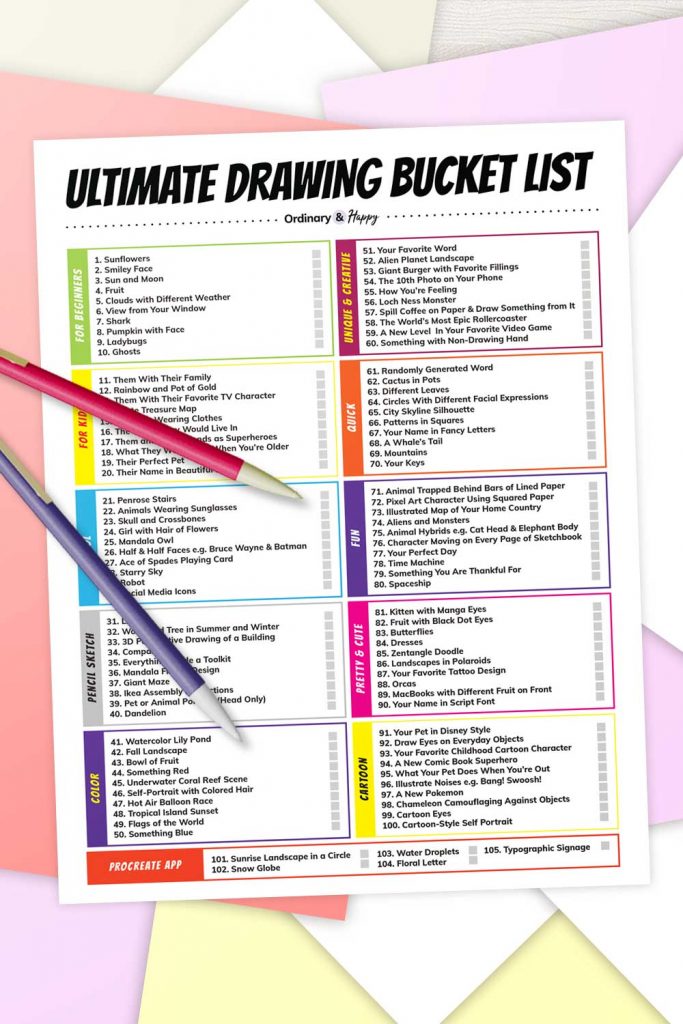 Drawing can be so much calm and inspiration to your life, and be a great way to channel your creativity. But sometimes, staring at that blank page can be completely overwhelming.
Our amazing list of drawing ideas can help you always feel inspired to draw something. Whether you like intricate pencil drawings or coming up with cool stories, there are ideas to suit all styles.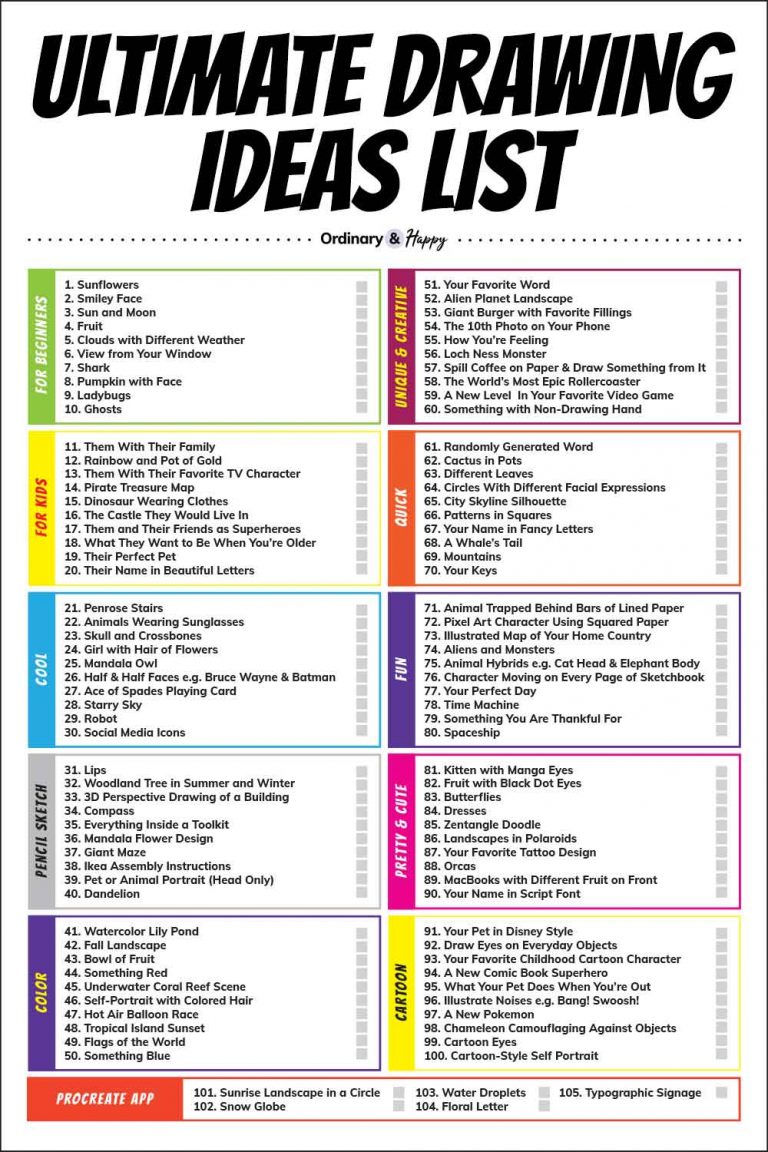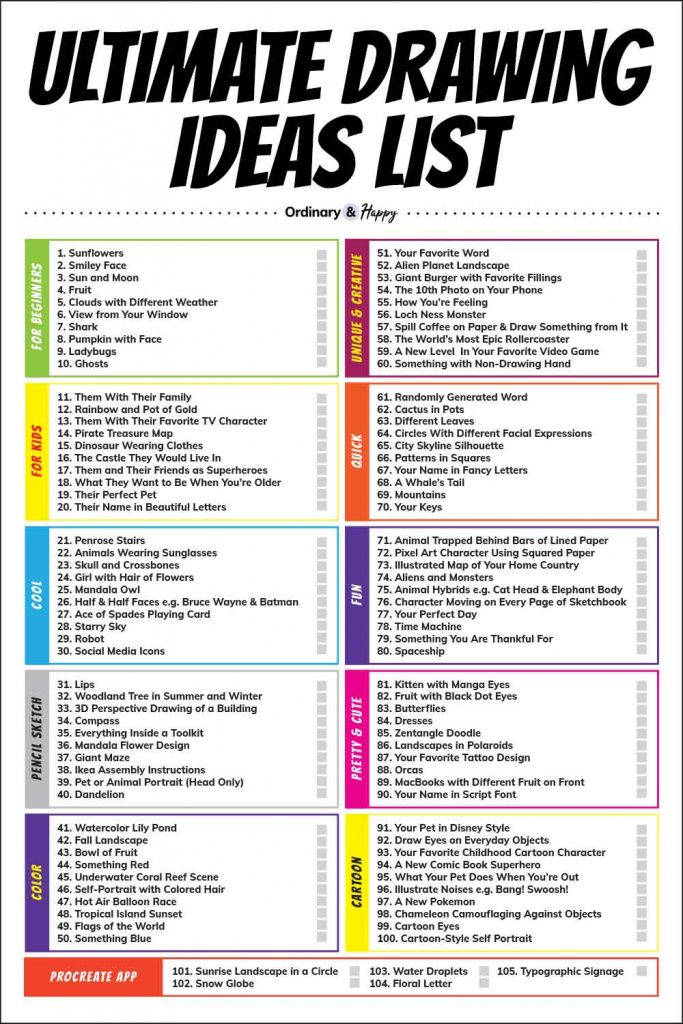 If you want to download this ultimate drawing ideas list as a printable, scroll to the end of this article for the link.
---
For Beginners
New to drawing? These simple drawing ideas are a great place to start. They are objects and items with simple forms and shapes and don't require you to think too much.
1. Sunflowers
2. Smiley Face
3. Sun and Moon
4. Fruit
5. Clouds with Different Weather
6. View from Your Window
7. Shark
8. Pumpkin with Face
9. Ladybugs
10. Ghosts
---
For Kids
Want to get your kids into drawing? These awesome ideas will help them let their imagination run wild. Let them design new worlds and visualize ideas until their heart's content.
11. Them With Their Family
12. Rainbow and Pot of Gold
13. Them With Their Favorite TV Character
14. Pirate Treasure Map
15. Dinosaur Wearing Clothes
16. The Castle They Would Live In
17. Them and Their Friends as Superheroes
18. What They Want to Be When You're Older
19. Their Perfect Pet
20. Their Name in Beautiful Letters
---
Cool
There are some drawings that just look awesome, no matter what skill level the artist is at. If you want to draw something to wow your friends, get inspired by these cool drawing ideas.
21. Penrose Stairs
22. Animals Wearing Sunglasses
23. Skull and Crossbones
24. Girl with Hair of Flowers
25. Mandala Owl
26. Half and Half Faces, e.g. Bruce Wayne and Batman
27. Ace of Spades Playing Card
28. Starry Sky
29. Robot
30. Social Media Icons
---
Pencil Sketch
Love sketching with a range of pencils? These pencil sketch ideas are perfect if you're creating art with a set of pencils. These ideas require lots of lines, plenty of shading, and don't need color.
31. Lips
32. Woodland Tree in Summer and Winter
33. 3D Perspective Drawing of a Building
34. Compass
35. Everything Inside a Toolkit
36. Mandala Flower Design
37. Giant Maze
38. Ikea Assembly Instructions
39. Pet or Animal Portrait (Head Only)
40. Dandelion
---
Color
Prefer your artwork to be full of color? Make sure to pack a set of colored pencils, watercolors, or any other artists' tools you love, and get inspired with these drawing ideas you should definitely add color to.
41. Watercolor Lily Pond
42. Fall Landscape
43. Bowl of Fruit
44. Something Red
45. Underwater Coral Reef Scene
46. Self-Portrait with Colored Hair
47. Hot Air Balloon Race
48. Tropical Island Sunset
49. Flags of the World
50. Something Blue
---
Unique & Creative
Let your imagination run wild with these unique and creative drawing ideas here. The beauty of these ideas is that there's no comparison to a real-life object or other artist's work. You can make these look however you like.
51. Your Favorite Word
52. Alien Planet Landscape
53. Giant Burger with Favorite Fillings
54. The 10th Photo on Your Phone
55. How You're Feeling
56. Loch Ness Monster
57. Spill Coffee on Paper and Draw Something from It
58. The World's Most Epic Rollercoaster
59. A New Level/World In Your Favorite Video Game
60. Something You Can See with the Non-Drawing Hand
---
Quick
Pushed for time? These quick drawing ideas can be done in a matter of minutes. They'll help you draw things with speed and precision without having to think too much.
61. Randomly Generated Word
62. Cactus in Pots
63. Different Leaves
64. Circles With Different Facial Expressions
65. City Skyline Silhouette
66. Patterns in Squares
67. Your Name in Fancy Letters
68. A Whale's Tail
69. Mountains
70. Your Keys
---
Fun
Looking for drawing ideas that require less focus and intensity. Try some of these fun ideas. Use lines, squares, and your imagination to create drawings that look awesome and are super fun to make.
71. Cute Animal Trapped Behind Bars of Lined Paper
72. Pixel Art Character Using Squared Paper
73. Illustrated Map of Your Home Country
74. Aliens and Monsters
75. Animal Hybrids e.g. Cat Head with Elephant Body
76. Character Moving on Every Page Corner of Sketchbook
77. Your Perfect Day
78. Time Machine
79. Something You Are Thankful For
80. Spaceship
---
Pretty & Cute
Some things are just cheek-achingly cute, no matter what way you look at them! If you love all things cute and pretty, use these ideas to inspire drawings to make your friends and followers go 'awww!'
81. Kitten with Manga Eyes
82. Fruit with Black Dot Eyes
83. Butterflies
84. Dresses
85. Zentangle Doodle
86. Landscapes in Polaroids
87. Your Favorite Tattoo Design
88. Orcas
89. Macbooks with Different Fruit on Front
90. Your Name in Script Font
---
Cartoon
Love drawing cartoons, comics, and characters, not bound by the constraints of reality? Have loads of fun with these awesome drawing ideas for cartoons.
91. Your Pet in Disney Style
92. Draw Eyes on Everyday Objects
93. Your Favorite Childhood Cartoon Character
94. A New Comic Book Superhero
95. What Your Pet Does When You're Out
96. Illustrate Noises, e.g. Bang! Swoosh!
97. A New Pokemon
98. Cartoon Chameleon Camouflaging Against Objects
99. Cartoon Eyes
100. Cartoon-Style Self Portrait
---
Procreate App
If you're drawing on a tablet, Procreate is undoubtedly one of the best apps for digital art out there.
Loved by artists all over the world, these drawing ideas are a great way to try many of the tools Procreate has at its disposal. Be sure to follow your favorite artists on Instagram and YouTube for loads of Procreate tutorials.
101. Sunrise Landscape in a Circle
102. Snow Globe
103. Water Droplets
104. Floral Letter
105. Typographic Signage
---
Feel free to download our free drawing ideas list PDF and check off as many as you can!
Never get stuck for drawing ideas again with this amazing list. Print it off, keep it in your sketchbook, and use it to get inspired when the ideas simply aren't coming to you.
You Might Also Like to Read
---
Want to draw until your heart's content? Keep this ultimate list of drawing ideas in a safe place, by saving it to one of your Printables or Drawing Pinterest boards.