This post may contain affiliate links, meaning if you book or buy something through one of these links, I may earn an affiliate commission at no additional cost to you. Learn more
Take family fun to a whole new level with these family game night ideas, and make your very own game night one of joy, laughter, and quality time, no matter what age your kids are.
Family Game Night Ideas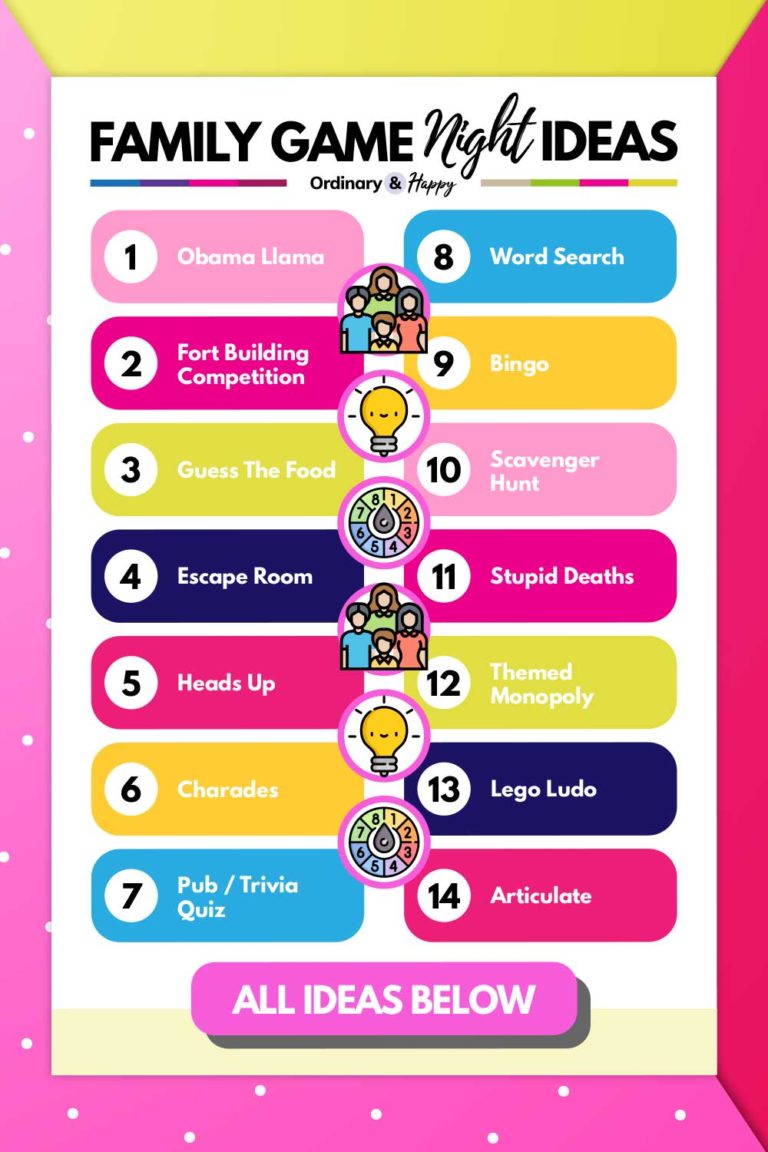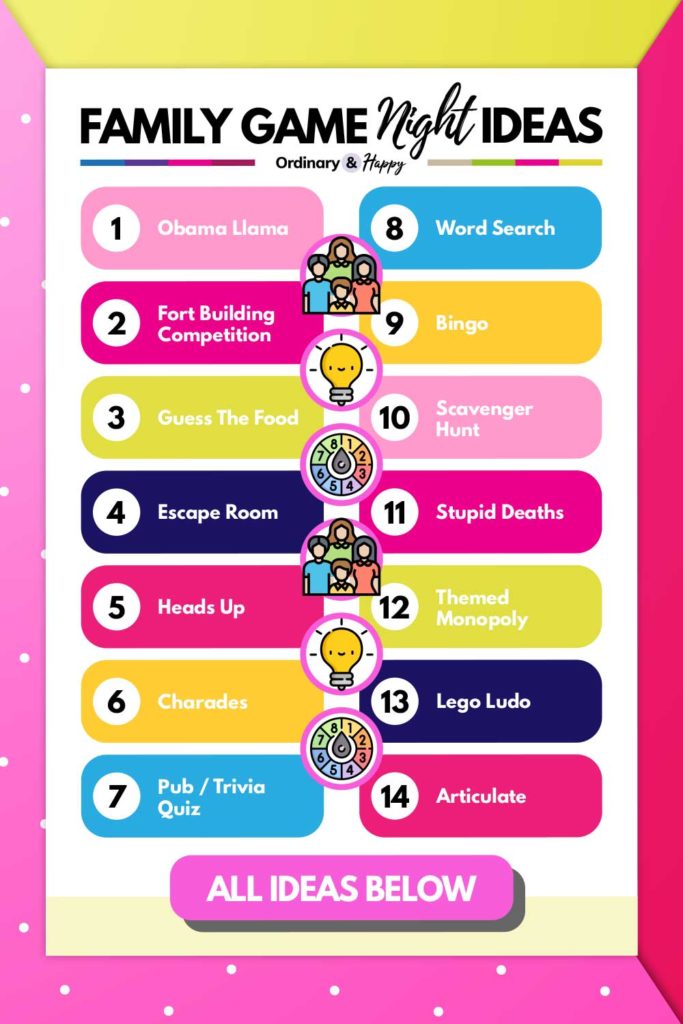 ---
Fun
1. Obama Llama
The funniest game with the best name! Obama Llama is a card game that is a cross between Charades and Articulate.
Players have 30 seconds to guess or mime the rhyme provided by the card. For example, "Michael McIntyre breathing fire" could be a famous comedian mimicking a dragon. The player with the most correct guesses wins the game.
2. Fort Building Competition
The secret to building the best fort is more hands! So, why not have a fort-building evening for your family game night?
Relive this childhood classic and grab all your old pillows, blankets, and chairs to see who can create the best fort. Younger kids, in particular, will go crazy for this super fun activity.
3. Guess the Food
This is the ideal activity and fun game if your family has some fussy-eaters!
Food tasting is a great way to introduce your family and kids to some new and perhaps obscure foods whilst blindfolding them. Once blindfolded, players have to guess what they are eating and write it down.
At the end of the session, everyone can compare answers to see who got what and if they like it or not.
4. Escape Room
Escape rooms have massively increased in popularity. So much so that now people want it closer to home and to host one in their very own living rooms.
For those out of the loop, escape rooms are rooms where players have to solve puzzles and clues to find an escape.
Since their increase in popularity, many websites now contain printables for families to create escape rooms in the comfort of their own homes – ideal for a family games night!
5. Heads Up
This is an excellent app for games on the go and, of course, family game nights. Essentially, Heads Up is the digital equivalent to a game of guess who.
When assigned a subject, the phone holder has to hold the phone to their head while other players give clues as to what the subject on the phone is.
Each round lasts 30 seconds, and the aim of the game is to guess as many phrases as possible. It's free to download both on Google Play and the App Store.
---
Classic
6. Charades
As classic games go, they don't come more fun-filled than Charades. The rules are simple; players should choose a phrase or word that everyone is familiar with.
Then, they have to act out the chosen word saying what it is. The other players must then guess the word they are thinking of based on the clues and actions provided.
7. Pub / Trivia Quiz
Who doesn't love a quiz?! A homemade trivia quiz always goes down a storm on family game night! To make it fair, include five rounds with questions ranging in difficulty. By doing this, all family members, both big and small, have a chance at winning family quiz night.
Stuck for ideas? Why not try these rounds for size!
General Knowledge
Film
Music
History
Bonus Round
8. Word Search
You'll need to get your creative juices flowing for this one! Word searches are super easy to make, which means fun the entire family.
Have each family member create their own word search and swap them to see who can complete who's first.
9. Bingo
Watch out; things could get competitive quickly! A classic game of Bingo always goes down well with family members, no matter their age.
Its adaptable nature means you can always switch between themes if you don't want to go down the traditional route with numbers.
Furthermore, creating your own bingo cards doesn't cost a penny, and if you are looking to save time, there are plenty of free templates you can use instead.
10. Scavenger Hunt
What kid doesn't like a treasure hunt? For this family game night activity, create a scavenger hunt around the house for your kids to solve with clues and prizes hidden along the way.
For added fun, make it pirate-themed, and create a map that features an X marking the spot. Then, center your scavenger hunt around finding the secret treasure and purchase some chocolate coins as mini-motivators.
---
Family Board Games
11. Stupid Deaths
Fans of "Horrible Histories" will love this one! This board game is all about testing your gruesome history knowledge whilst trying to escape the hands of the grim reaper. Through the game's trivia cards, players must determine whether the 'stupid death' written on them is true or false.
Depending on the outcome, players will move away or closer to the grim reaper. Ultimately the players that fail to escape will be eliminated whilst the player that goes around the board without getting caught wins.
12. Themed Monopoly
No family game night is the same without the hugely popular game of Monopoly! Instead of dusting off your traditional board, why not try out some of the themed ones? Popular versions include:
Fun Fact: Did you know there are over 300 versions of Monopoly? The board game classic has generated over $1.4 billion of revenue during its lifetime.
13. Lego Ludo
Board games don't have to be boring, as this game goes to show. Lego Ludo is a great twist on an old classic which combines the best elements of Lego and the competitive elements of Ludo.
Like a traditional game of Ludo, Lego Ludo requires players to try and get their team around the board before other players.
Equipped with various types of Lego people, players can sabotage and delay others by rolling the dice. The board also being made out of Lego enables players to customize their bases and Lego people while playing competitively.
14. Articulate
The perfect game to exercise your brain. This classic has proven to be quite the staple for family game nights. In teams, players have to describe words/phrases from six different categories (object, random, nature, person, world, and action) as quickly as possible.
Depending on how many words they have correctly guessed, the players will then move around the board. Articulate also includes a spinner for extra help and bonuses and is great fun for all ages, including older kids, young adults, and parents and grandparents.
15. Pass the Bomb
The key to success with this game is not to panic! 'Pass the Bomb' is an excellent game for those who want a family game filled with tension that's also very challenging.
The aim of the game is to come up with as many words/phrases as possible before the timer runs out. The player holding it when the timer runs out will be eliminated, whilst the last player standing wins.
---
Family Card Games
16. Exploding Kittens
Trust us when we say the title sounds a lot more sinister than the game itself! This fun card game is an entertaining addition to family game night.
The game's objective is to get rid of as many cards as possible before obtaining an 'exploding kitten' card. Players that acquire the card will face elimination.
Exploding Kittens was made a reality through crowdfunding and has increased in popularity over the years due to the number of expansion packs you can add to the game.
17. UNO
No card game collection is complete without UNO! As much as the game has competitive elements, it also helps children learn about number and color recognition.
Since its inception in 1971, it has become one of the best games on the market, selling over 151 million copies worldwide! In addition, popular variations of the game can be found both digitally and in stores. Notable UNO variations include UNO Extreme and DOS (Uno's new best friend).
18. What Do You Meme?
This card game in particular will resonate with millennials and Gen Z kids, who have grow-up online. What Do You Meme pits players against each other to come up with the best caption for a meme. Players then must vote amongst themselves for whose caption is the funniest.
19. Kids Against Maturity
Ever wish there was a PG-friendly version of Cards Against Humanity? Well, it's here! Kids Against Maturity is a card game that challenges players to compete for the funniest combination of cards.
Parents created the game itself for families looking to inject some fun into their games evenings, so there's a mixture of toilet humor and innuendos – it's fun for the whole family!
20. Throw Throw Burrito
If you have any valuable items on display, it's best to take them down before playing this game! Throw Throw Burrito is a family card game that requires players to find matching combinations whilst being deterred by trigger cards.
Described as a 'dodgeball card game', these trigger cards have instructions such as 'throw burrito', which requires the cardholder to get into a burrito fight with other players. So, if you are looking for a simple but active card game to play for your next game evening, then this could be the one for you and your family!
---
Funny
21. Pie Face
If there's an opportunity to put a pie in dad's face, who wouldn't take it! Pie Face is a hilarious game that requires players to try and see if they can avoid getting hit in the face with a whipped cream-topped pie.
Players are challenged to complete their turn by twisting the handle as many times as the dice/spinner has told them to. The player with the most points at the end of the game wins. The loser gets a commiserative pie in the face!
22. Speak Out
This ridiculous game is bound to have the whole family in stitches! By wearing a mouthpiece, players must successfully decipher what is being said.
Phrases such as "Peter Piper picked a peck of pickled pepper" can prove to be quite the spit shower for those unfortunate enough to not be wearing mouthpieces!
23. The Sentence Game
Don't have the money to spend on a new board game but want something just as entertaining? Why not try the sentence game?
Also known as the 'what if?' game, the sentence game requires players to come together and generate the most ridiculous stories possible.
Then, by taking turns writing down parts and passing them on to each other, players must read aloud the stories they have collectively written and vote on which is the funniest.
24. Cereal Box Game
Got an empty cereal box going spare? A pair of scissors handy? Test your family's flexibility by playing the cereal box game.
The aim of the game is to try and grab the cereal box using only your mouth with your hands behind your back.
As the rounds progress, the difficulty increases as the box is cut down in size, making it harder for people to bend down and reach. The person who successfully manages to pick up the box the most is the winner.
---
Active
25. Balloon Tennis
This game combines the fun of both tennis and keepie uppie! For this, you'll need a couple of tennis rackets and some blow-up balloons.
Like a typical game of tennis, players need to volley the balloon between each other until the balloon hits the floor or is out of bounds. The player that scores the most points is declared the Wimbledon champion.
26. Paper Aeroplane Making
Long gone are the days of making paper airplanes just for fun; it is now a competitive sport! Task your family with creating the best, most durable paper airplane and engage in some races to see who is the fastest.
27. Nerf Gun Fight
When nerf guns come into play, there are so many possibilities! Challenge your family to a traditional Nerf Gun Fight or set up some obstacles for them to knock over by using the guns.
Nerf Gun fights are a great way of keeping your family active while having some awesome family time together.
Quick Tip: Don't have any Nerf Guns to hand? Grab some water pistols, head out into the backyard (weather permitting) and turn it into a water fight instead.
28. The Floor Is Lava
Turn this childhood classic into a fun exercise for all the family! The basic premise of The Floor Is Lava is to try and complete a homemade obstacle course without falling into the lava (aka losing your balance).
This game can be done either inside or outside, depending on the amount of space you have available, and the obstacle course can simply be done by using pieces of furniture. For added pressure, introduce a time limit for your family members to complete the obstacle course.
29. Sardines
If you did not play this game with your family members growing up, you are missing out!
Sardines is pretty much a game of 'hide and seek' but in reverse. The game starts with all players searching for the hider; however, if a player finds the hider, they have to join them.
As the game progresses, more and more seekers join the hider squeezing together in their hiding place, looking like a bunch of Sardines. The last player to join the group becomes the first person to hide in the next round.
---
Adult-Only Games
30. Cards Against Humanity
This controversial card game has become almost commonplace within any young adult's board or card game collection.
Cards Against Humanity is the perfect game to play if you and your friends enjoy a bit of dark humor, thanks to its hilarious expansion packs and the downright bizarre cards.
31. Hunt a Killer
If you are a fan of any true crime YouTubers, then you may have heard of this one. Hunt a Killer is a subscription-based detective game that requires players to solve murder mysteries via the clues provided in the box.
With every clue you solve, the closer you get to reveal the killer's true identity. Hunt a Killer is an extremely entertaining game for true crime fans; with over 300 episodes to choose from, it's a fail-safe option for any adult game evening.
32. Twerk Pong
You are encouraged to unleash your inner Minaj and Lopez for this game! Players are given two boxes, belts and ping bolls, and are challenged with a twerk off to see who can get all the balls out of their box first.
Although not strictly adult, Twerk Pong can serve as a great ice-breaker before any night out or adult games evening.
33. Beer Pong
No adult game night is the same without a game of Beer Pong! You'll need 12 plastic cups, beer, and a couple of ping pong balls for this drinking game.
To set up, split the party into two teams, and place six plastic cups full of beer on opposite ends of the table.
Players must then aim to successfully throw a ping pong ball into one of the opposition's cups to try and get them to down their drink.
If a player is successful, the empty cup must be removed to make it harder for the opposite team to score again. The first team to get rid of all cups wins!
---
Fill your family game nights with so many activities, challenges, and games that both adults and kids love, and get inspired with some of our choices on this awesome list.
You Might Also Like to Read
---
Want to host a family night that lives long in the memory? Keep these family game night ideas for safekeeping by saving this article to one of your Pinterest boards.