This post may contain affiliate links, meaning if you book or buy something through one of these links, I may earn an affiliate commission at no additional cost to you. Learn more
Make the most of glorious weather and the great outdoors with these enjoyable things to do outside, helping you stay active, have fun, and embark on some memorable adventures.
Best Things to Do Outside
---
Fun
1. Geocaching
Get your treasure hunting hat on and head out for an adventure the whole world is getting involved in.
You can use the Geocaching app to find 'caches' that people have buried in a whole manner of different places, across the globe.
Some just have a piece of paper to sign, whereas others have trinkets you can swap out and move to other locations.
2. Fly a Drone and Take Footage of an Awesome Place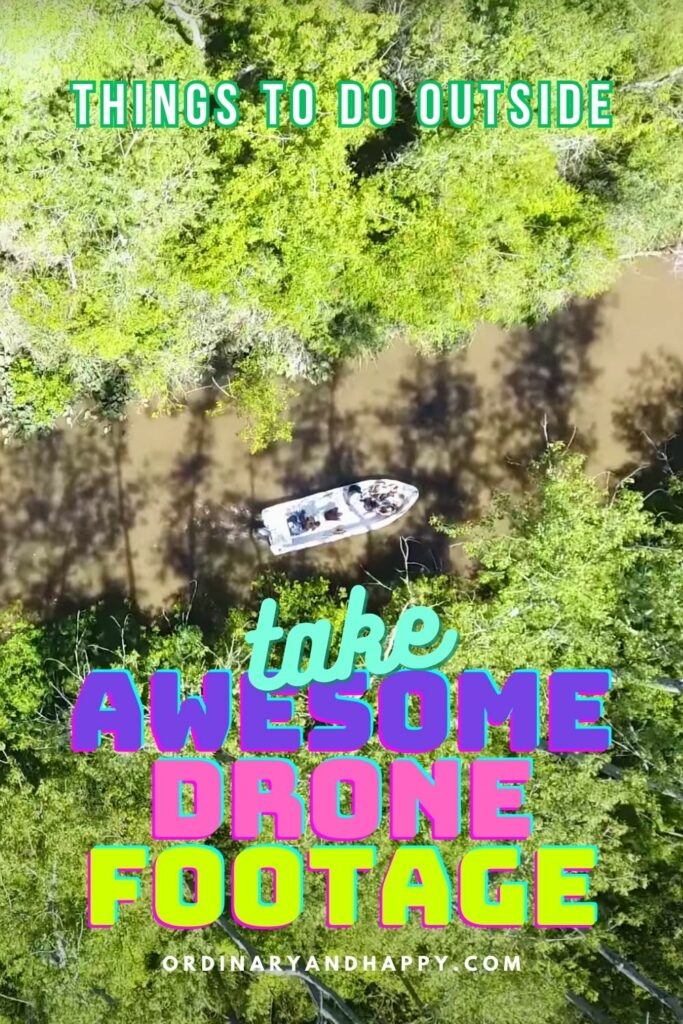 Today drones are widely available in many different sizes, and flying a drone is not only a fun pastime but also a great to see the great outdoors or a neighboring town in a whole new way.
Be sure to check the rules on flying drones in your area first. Once you've spent time gathering footage, make a montage or b-roll video of some of the places you filmed.
3. Take a Trip to the Beach
The fresh sea air, the sand between your toes, the sound of the waves – what's not to love?
Top your trip to the beach off with cold ice cream or refreshing drinks, and you have the ideal recipe for a great day out with friends or family.
Read more: Beach Bucket List (100+ Fun Things to Do at the Beach)
4. Spend a Day at an Amusement Park
Looking for plenty of thrills and adventure? Spending the day at an amusement park promises lots of fun and excitement, both for adrenaline junkies and those who want to take things a little easier.
Amusement parks are packed with rides for all ages and different paces. From white-knuckle rollercoasters to scenic pedalo rides on shimmering lakes, there's something for everyone to enjoy.
5. Host an Outdoor Dance Party
Be it in the daytime with some summer tunes playing or at night holding glowsticks to a range of dance classics, the great outdoors has so much potential when it comes to dancing.
Gather your friends and get your groove on in a range of different places. Whether it's in someone's back garden, at the beach, or in a green field (with permission), the feeling of dancing outside is quite like no other.
6. Host an Outdoor Movie Night
Creating an outdoor movie theatre in your garden is a truly rustic and enjoyable experience. Get yourself a projector, a white sheet to hang, some garden chairs, and plenty of drinks and snacks.
Create an ambiance with fairy lights, and choose a movie everyone will enjoy watching for an evening to remember with those nearest and dearest to you.
---
With Friends
7. Roast S'mores Over a Campfire
Get the biscuits, chocolate, and marshmallows and gather around a campfire with blankets for some spooky stories or fun games.
Either drive to a nearby campsite to spend the night or find a spot nearby (if permitted) to set up your campfire.
8. Go to a Food or Drink Festival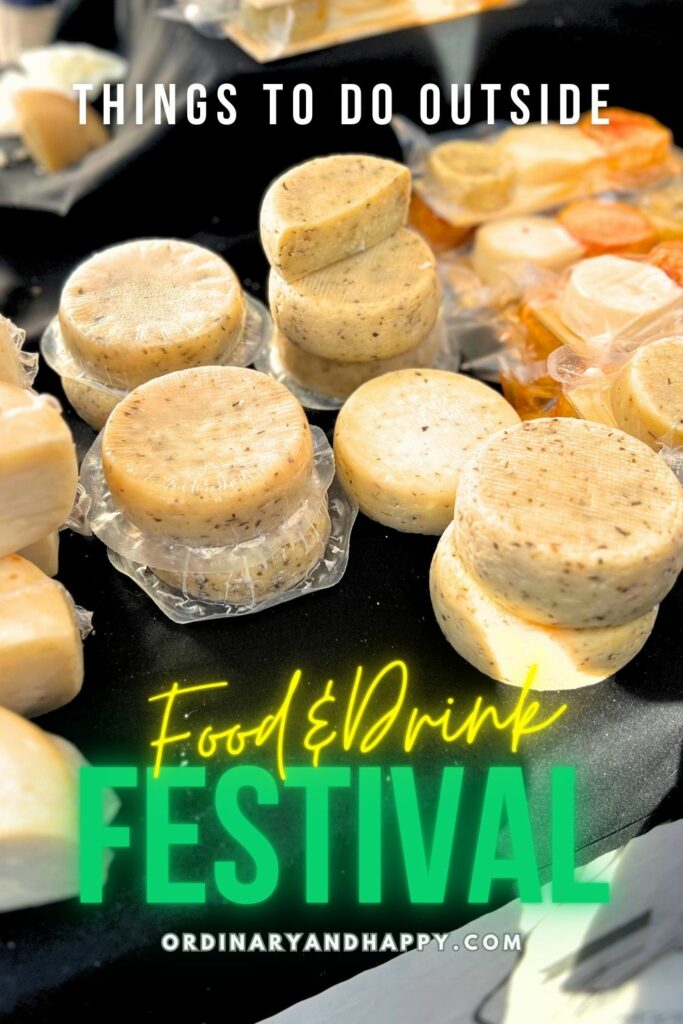 Whether it's a local food festival with cheese and chutney a-plenty or a cultural smorgasbord to discover new foods, there's something for everyone at a food or drink festival.
Choose to share dishes with your friends so you can sample the goods on offer without filling up too much.
9. Host a Games Tournament
From active competitions like limbo dancing or Twister to fun board games you can play outside, spend the afternoon playing different games with your friends.
Keep a scoreboard, and see which team, or individual, can become the ultimate game master!
Related: Best Party Games for Adults
10. Host a Cocktail or Mocktail Party
Take turns to make your own cocktail or mocktail, either based on classic recipes, or from your own imagination.
Take turns to try each other's drinks, and make it a friendly competition by scoring elements of the drink, such as flavor and visual presentation.
11. Play Crazy Golf/Mini Golf
Playing mini golf is a laughter-filled way to spend a few hours outside together, regardless of your ability.
Everyone can join in on the fun, and crazy golf strikes the perfect balance of friendly competition, while still being able to chat and have fun together.
---
With Kids
12. Plant Seeds or Bulbs in Pots in the Garden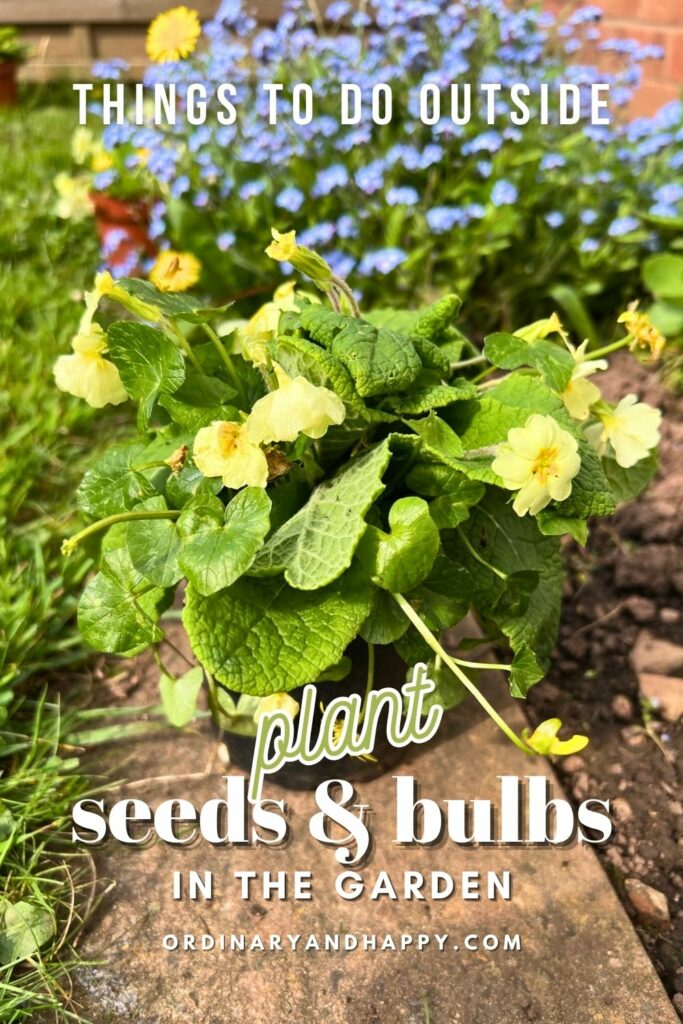 Kids love to feel like they are doing important jobs, and few activities are more rewarding than tending to plants and watching them grow together.
Whether you grow a bee-friendly flowerbed, a vegetable patch, or a succulent garden, gardening is fun for both you and your kids.
13. Conduct Fun Science Experiments
We all remember certain science experiments from our childhood with such fondness, such as building rockets or making our very own slime.
Get your kids involved by purchasing a kit you can do together, such as a model rocket, and spending an afternoon out on the patio or in the garden getting creative.
14. Host a Scavenger Hunt
Hide a series of objects for your kids to find in the garden or a close-by area, and either let them find them on their own or help them out with a series of clues.
Either way, your kids are set to have a super fun time outside exploring and searching.
15. Go on a Bug Hunt
Collect, identify and marvel at the different creatures in the outdoors, and get your kids involved with trivia and drawing sessions.
Once you're finished, remember to return the bugs to their natural habitat.
16. Create Chalk Drawings on the Sidewalk
Chalk drawings are a great way for kids to express their creative side through drawing, while not causing any damage to property as chalk is easily wiped or washed away.
---
With Your Partner
17. Go on a Hike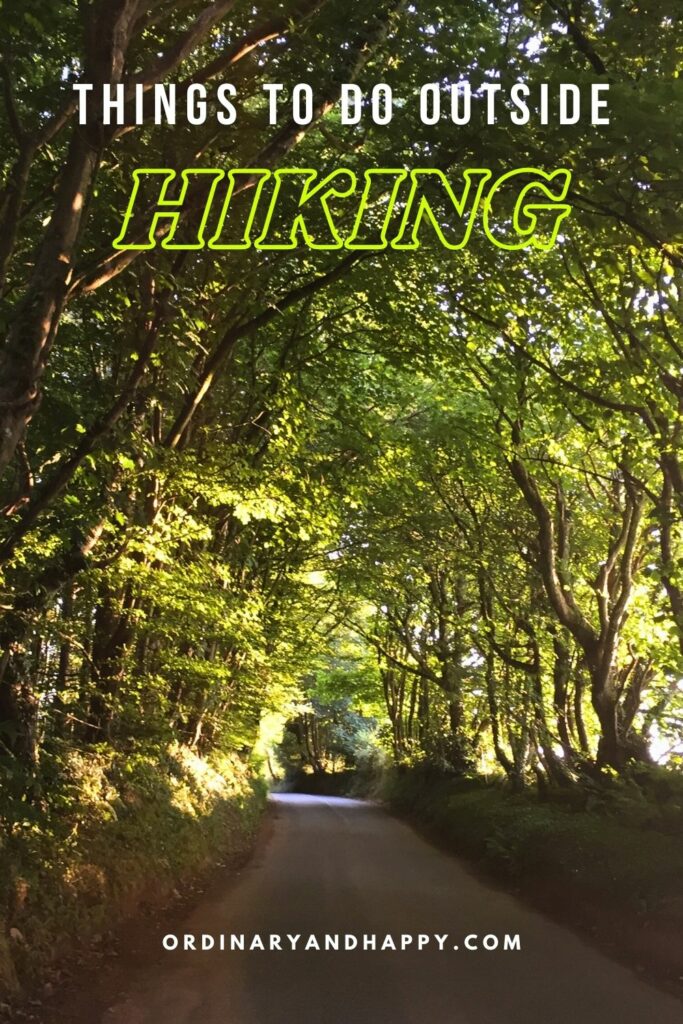 Trek to a place with breathtaking views for a romantic end to your hike, or find a good spot to sit and have a chat or a picnic.
Even a short hike that isn't miles long is a great opportunity to switch off from the digital world and spend quality time with your significant other.
18. Have a Date Night Under the Stars
Grab a blanket, look up some constellations or download a constellation app and lay back and relax beneath the night sky.
Spotting constellations is a great way to spend time with your partner, and looking into the night sky is sure to spark some interesting conversation and intimate moments.
Related: 210+ Date Ideas (The Only Date Night List You Need)
19. Go Sightseeing in Your Own Town or City
There are often many great tourist spots in your hometown or city you never get the time to visit.
If you and your partner have a spare afternoon, play tourists and go see some of the sights you've walked or driven by so many times, but never actually took the time to experience.
20. Go Horseback Riding
Enjoying the wonders of nature on horseback is a fun and romantic way to spend time together.
Take a trip to a nearby stable or paddock, and see if either of you could have been cowboys or cowgirls in the age of the Wild West.
21. Watch a Sunset or Sunrise
Nothing says 'romantic' quite like snuggling up together to watch the sunset or sunrise.
Set your alarm early or clear your evening schedule, find a cozy spot, and watch the awe-inspiring colors in the sky together.
---
By Yourself
22. Take Your Workout Outside
Whether you prefer to roll out the yoga mat or power through a HIIT workout, doing a workout in a quiet spot in the great outdoors is a fantastic way to complete your exercise routine.
23. Try Some Summer-Themed Photography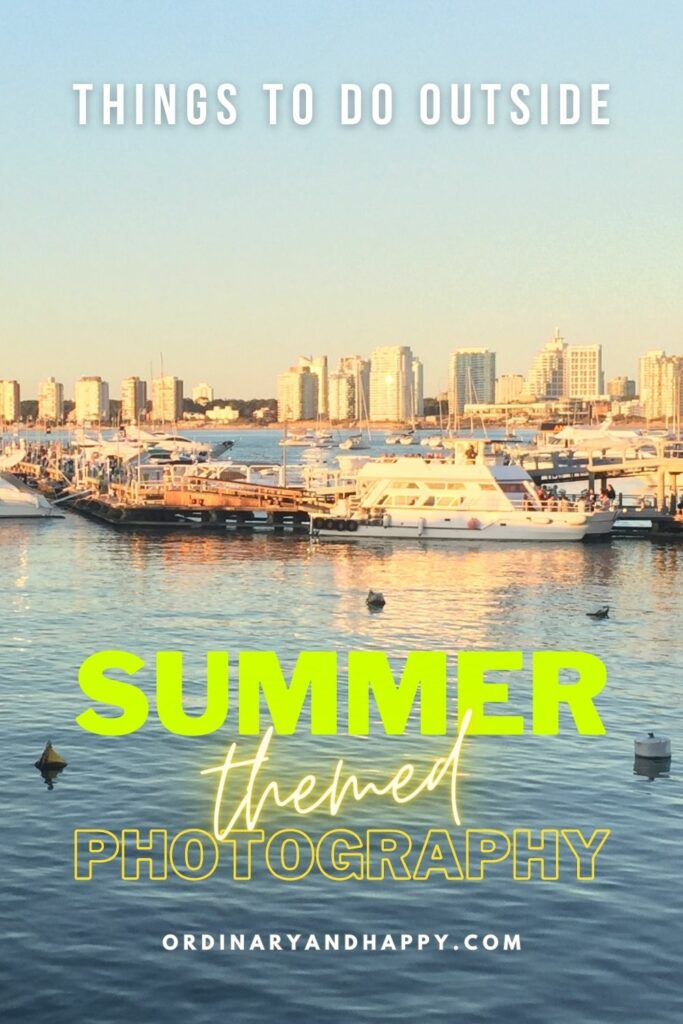 You can find a huge variety of things to photograph outside, from rolling hills and cultural landmarks to dainty flowers and beautiful insects in the garden.
You don't even need to venture too far to practice your skills, as there is beauty to be found everywhere if you look for it.
24. Make Art with Natural Materials
As with photography, being outside gives you a huge variety of inspiration when it comes to being creative.
From daisy necklaces to petal mandalas, use the beauty of summer to get creative and make some awesome outdoor art.
25. Read a Book in a Hammock
The idyllic picture of relaxation – lounging in a hammock on a hot summer's day with a good book.
Whether you get a hammock for the back garden or go to a quirky coffee shop or bar with one outside, this is a great way to spend time outdoors.
26. Try Hula Hooping
There's so much fun outdoors to be had when you try hula hooping. Get those hips moving, and see how many hoops you can do.
---
On a Nice Day
27. Host a Water Fight in Your Own Backyard
Get your adrenaline pumping and lose yourself in some childish fun with a water fight!
Whether it's pistols, water balloons, or good old-fashioned buckets, this is a great way to spend a summer afternoon with kids, family, or friends.
28. Create Your Own DIY Trampoline Water Park
If you have a trampoline in the backyard, get a sprinkler or hose and put it underneath your trampoline.
The spray created when you jump will add an extra layer of fun to your jumping, while also cooling you off at the same time. Just be sure to exercise caution!
29. Take Pedal Boats Out on a Nearby Lake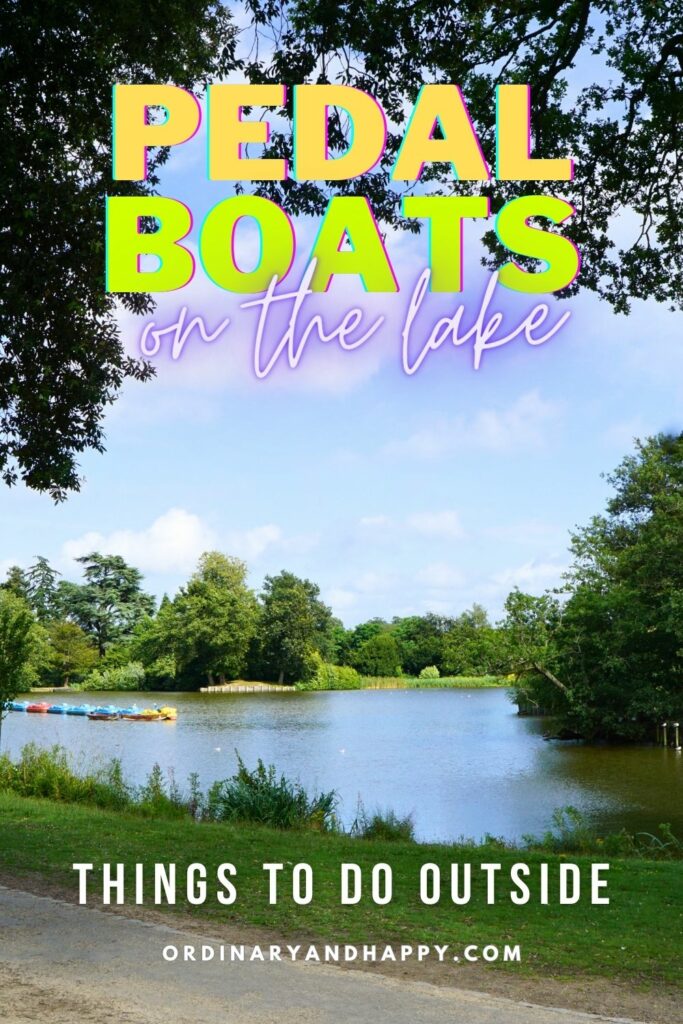 Pedal boats are a great activity for a warm day.
Many areas with bodies of water often have pedal boats to rent, so you should be able to partake in this calming and enjoyable activity if there's a body of water within driving distance from you.
30. Go Paddleboarding on a Nearby River or Lake
For an outdoor activity that so many people can enjoy, paddleboarding is an excellent way to find some zen while keeping fit.
You can either buy your own and head to a nearby river or lake or look online to find a place that does paddleboard rentals.
31. Try Open Water Swimming
If you find swimming pools too busy and chaotic, try swimming in the great outdoors. Whether it's at the sea or at a shallow lake, open-water swimming is one of the most exhilarating outdoor activities you can try.
Be sure to research beforehand if it is safe to swim in the body of water you are visiting.
---
On a Rainy Day
32. Visit a Spa with an Outdoor Pool or Jacuzzi
Even when it's raining, outdoor pools, particularly if the water is warm, can be a wonderful experience.
Let both the rain and pool water nurture your skin, and if the downpour gets too heavy, you can always go back inside.
33. Splash in the Puddles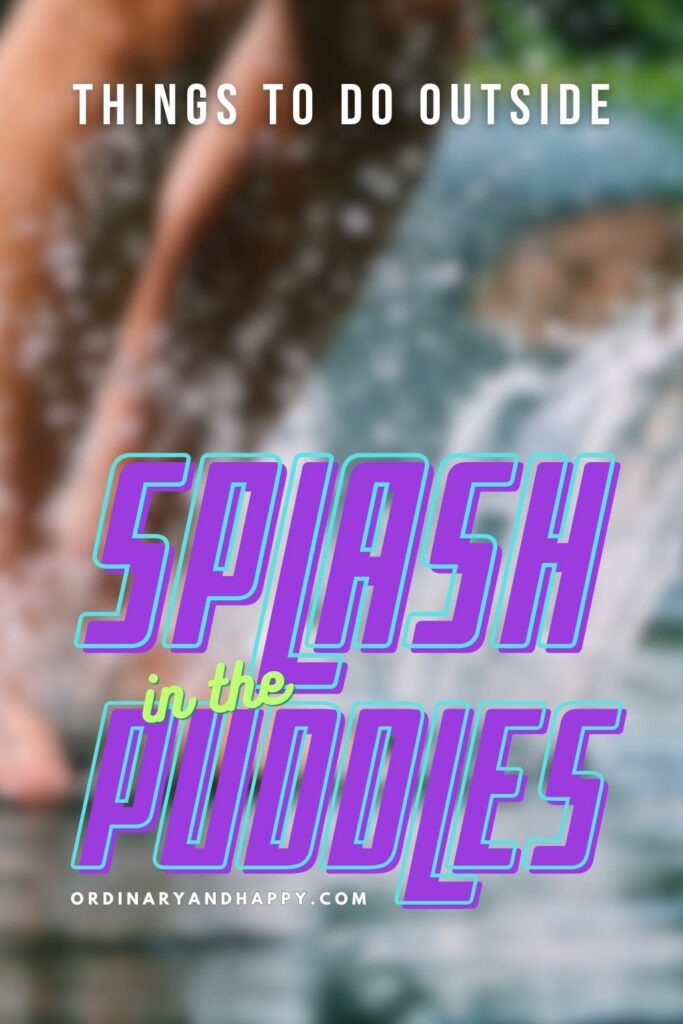 Channel your inner child, get your wellies on, and see how many puddles you can hope it while it's raining.
Take your partner, friends, or kids along for the ride for a memorable afternoon of laughs and fun.
34. Make Rain Art
Use thick paper and paints that run well, then let dripping rainwater create unique and beautiful patterns on your canvas for an original and fun way to make art.
35. Make Some Music
There's a reason people listen to rain sounds to help them sleep – it's relaxing!
Use items around the house to experiment with the rain and the sounds it makes. For example, you can put a pan outside and listen to the ring of the rain bouncing off it.
Record the sounds and see what music you can make from them.
---
On a Budget
36. Make a DIY Bird Feeder
Get creative with wood and other materials in your back garden, and give the birds plenty to get excited about by making your very own bird feeder for the garden.
37. Have a Picnic in a Field or Park
Keep it simple with some sandwiches and sausage rolls, or go all-out with an Instagram-worthy charcuterie board.
Spending an afternoon munching homemade food on a blanket in the sun is the perfect way to relax and spend time with family and friends.
Related: Best Picnic Essentials and Best Picnic Food Ideas
38. Decorate Rocks
Head to the beach for an afternoon of pebble collecting.
Then, get your creative hat on by painting patterns, faces, and other doodles on your rocks and pebbles, and create an amazing collection to keep at home and photograph.
39. Photograph the Alphabet Outdoors
There are two ways you could do this – either try to take a picture of something starting with every letter in the alphabet, or try to find things in nature that look like letters.
Create a collage of all your found typography once finished.
40. Camp in the Backyard
Don't have the time, equipment, or money to go further afield for a weekend of camping? Dig out your old tent and instead camp in the backyard.
You can enjoy all the wonders of camping in the great outdoors, while still being able to use your house for food, supplies, and anything else you need.
---
More Things to Do Outside
Still looking for inspiration for more super fun outdoor activities? Use some of these ideas to get inspired to put on your shoes, step outside, and spend your time in an enjoyable way.
41. Play Flashlight Tag After Sunset
42. Join a Rock Climbing Club
43. Create Your Own Butterfly Garden
44. Host a Garage Sale and Declutter Your Home
45. Road Trip to a National Park
46. Create a Rope Swing with an Old Tire in Your Backyard
47. Make a New Dish from Ingredients Bought at a Local Farmer's Market
48. Host a Giant Game of Frisbee Golf in a Nearby Field or Open Space
49. Go for a Scenic Bike Ride to a Nearby Park
50. Have a Surf 'N' Turf in the Backyard
51. Host a Game of Beach Volleyball at the Coast
52. Go Fruit or Berry Picking and Bake a Pie at Home
---
There is no end to the fun and joy you can have when you head outside. But if you're stuck for ideas, this list of outdoor activities is a great place to start.
Whether you're looking for new places to explore or some family fun beneath a clear sky, the great outdoors offers so much for both your physical and mental health. Get out of the house, and see what adventures you can go on!
You Might Also Like to Read
---
Keen to plan some outdoor activities? Keep this article for safekeeping by saving it to one of your Pinterest boards.