This post may contain affiliate links, meaning if you book or buy something through one of these links, I may earn an affiliate commission at no additional cost to you. Learn more
Give a groom-to-be a night to remember before their big day with these bachelor party ideas, and plan an event that everyone invited will enjoy to the max.
Best Bachelor Party Ideas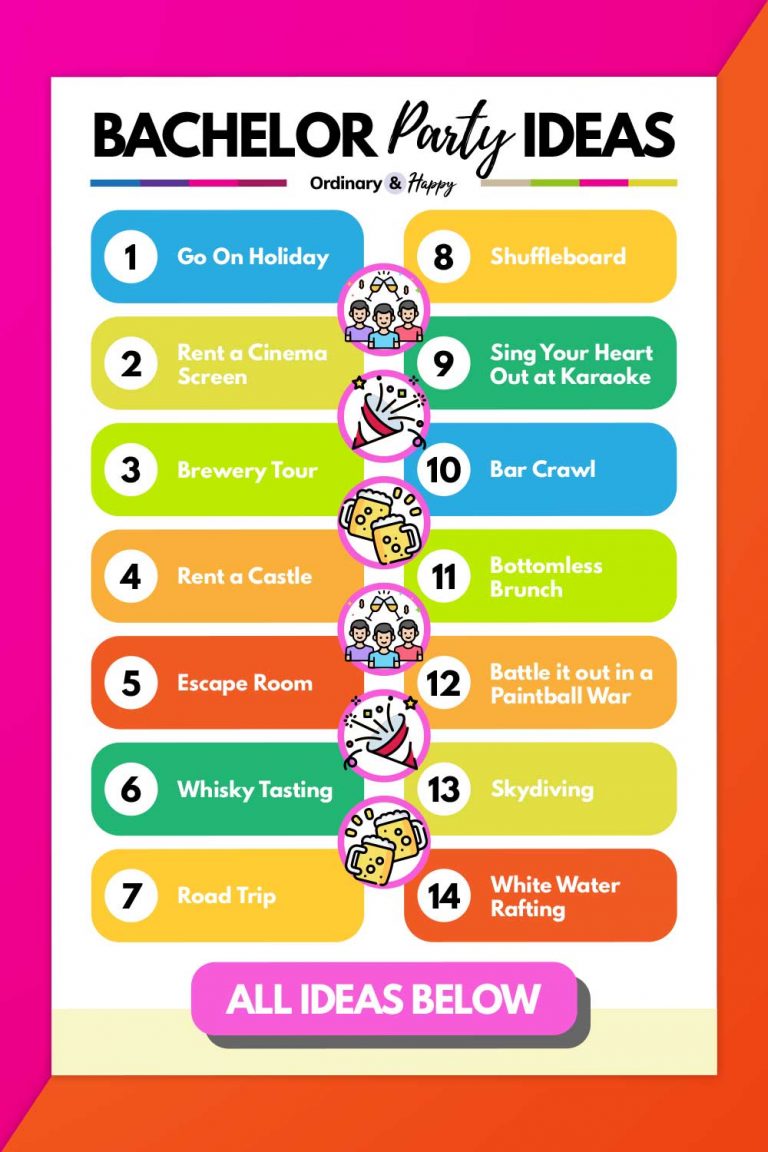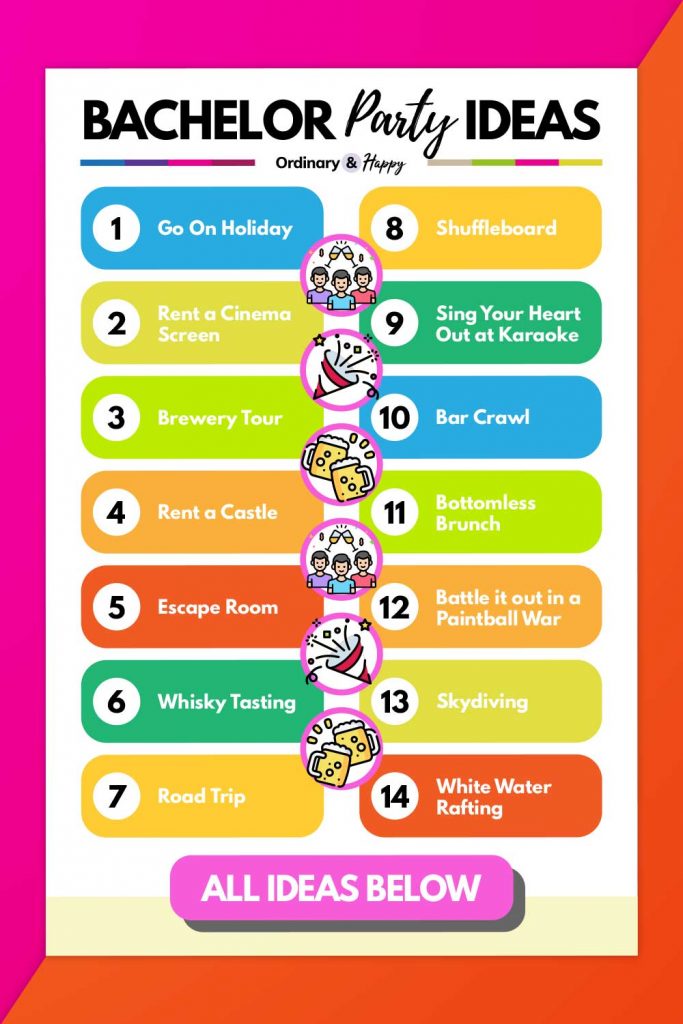 ---
Fun
1. Go on Holiday
The best way to celebrate a bachelor party? A holiday, of course!
Las Vegas is the classic bachelor party destination, but if you're on a tighter budget, head to a destination closer to home and hire a large house for you and your friends. 
2. Rent a Cinema Screen
For a silver screen experience like no other, find an indie cinema that allows you to rent out the whole screen for a private viewing.
Assemble your best buddies and order the groom's favorite film for a night to remember with a screen all to yourselves.
3. Brewery Tour
If the bachelor in question enjoys drinking local craft beer and learning about the brewing process, a brewery tour is the perfect bachelor party activity.
Not only can you try a range of delicious beers, but you'll also get an exclusive behind-the-scenes look at how they're made.
4. Rent a Castle
There are tons of unique accommodation options available on booking sites, including treehouses and yurts. But did you know that you can stay in an actual castle?
Sites like Airbnb offer unique accommodation in the form of genuine castles that you can rent for the weekend for you and your loved ones.
Make the groom feel like a (literal) king at his bachelor party and enjoy a once-in-a-lifetime experience at one of these historic sites.
5. Escape Room
Test the groom and groomsmen's sleuthing skills with an escape room! Escape room experiences put you against the clock to find your way out of a locked room using hidden objects and clues around the room.
Escape rooms also serve as an icebreaker when the groomsmen don't know each other well since the whole group has to work together to beat the clock and escape from the room.
6. Whisky Tasting
If the bachelor in attendance is a fan of bourbon and scotch, organize a whisky-tasting session with whisky experts who can offer their advice on the best way to enjoy this iconic drink.
Whether you like yours neat or on the rocks, you're guaranteed to leave with a head full of whisky facts.
7. Road Trip
Before your friend settles down with his significant other, grab your best friends and take the car for one last road trip to a destination of your choice.
To add an element of adventure, grab a map of your local area, close your eyes, and drop a pin somewhere on the map. The pin's location can be your road trip destination.
8. Shuffleboard
Shuffleboard is a game where players push weighted discs across a board to score points depending on where the discs land.
Get competitive with a round of this quirky game – the loser has to buy drinks!
9. Sing Your Heart Out at Karaoke
A group of best pals? Check. A night of showing off your vocals with some tasty drinks? Check. A blonde wig and the lyrics to 'Baby One More Time' for your best Britney impression? Check.
Grab a group of friends that you're happy to look silly in front of, and head to karaoke. You can celebrate the groom-to-be's last night of freedom by singing your heart out to some nostalgic classics.
10. Bar Crawl
The classic bachelor party involves a bar crawl. Assemble a group of your most party-loving friends and hit the town – hopping from bar to bar to try a range of tasty drinks.
To spice things up, create a bucket list for your evening, with challenges such as fooling a felly partygoer that you're a famous person or performing a dance routine in front of the whole bar.
Related: Bucket List Printable Templates (Free and Premium)
11. Bottomless Brunch
Delicious brunch food, but with unlimited drinks? Yes, please. A bottomless brunch is the perfect daytime bachelor party activity for a groom that likes to party.
---
Adventurous
12. Battle it Out in a Paintball War
If you're looking for a quirky bachelor party activity and not afraid of a little competition, give paintballing a go.
To up the stakes, add a dare for the losing team, or get them to buy drinks for the whole group.
13. Skydiving
For a truly exhilarating bachelor party, look no further than skydiving. Although not for the faint-hearted, this extreme sport offers a once-in-a-lifetime adrenaline rush that you won't find at a regular bachelor party!
14. White Water Rafting
Beautiful views? Check. Adrenaline rush? Check. Teamwork and bonding? Check. For a bachelor party, the groom-to-be will never forget, sign you and your buddies up for an afternoon of white water rafting.
This activity is guaranteed to add some adventure to the groom's last day as a bachelor, and you'll get to check out gorgeous views along the way.
15. Hit the Slopes
For a bachelor party that will excite your inner adrenaline junkie, sign everyone up for a skiing session.
Many cities have indoor slopes that offer skiing and snowboarding for all ability levels. If you've got a generous budget, take your bachelor party to the next level with a trip abroad for a skiing holiday on authentic snowy slopes.
16. Archery
Take it back to medieval times with an archery session. If you've ever wanted to use a bow and arrow, now's your chance with this quirky and adventurous bachelor party activity. You never know, you might find a new favorite hobby.
17. Drive a Race Car
If the groom is a fan of expensive cars, book for him and the rest of your group to go race car driving.
With supercars from the likes of Ferrari and Lamborghini on offer, you'll give the groom a day to remember with this once-in-a-lifetime driving experience. First stop bachelor party, next stop Formula 1!
---
Outdoors
18. Play Golf
Whether it's an entire 18-hole course or a round of mini-golf, unleash your competitive side with a friendly game of golf against your closest friends.
Bonus points if you combine your day on the green with a trip to a pub afterward to celebrate your win or commiserate your loss.
19. BBQ
Sometimes the best celebrations are the low-key ones: and the ones that involve burgers!
Gather your nearest and dearest at your house for a BBQ, complete with some ice-cold beers and outdoor games to keep you occupied.
20. Go Camping
If the groom-to-be is an outdoorsy type, a camping trip is the perfect bachelor party activity.
You'll get to bond with your buddies over a BBQ and boost your mental health with vital time in the fresh air. Bonus points if you camp near a lake – you can try your hand at water sports like kayaking.
21. Play Sports
What bachelor party activity combines fresh air, exercise, and a healthy dose of competition? A sports tournament!
For a cheap, outdoors, healthy alternative to traditional bachelor party activities, assemble your buddies for a sports tournament.
If you're more of a sports observer than a player, ditch your bat and ball and buy tickets to a game where one of the groom's favorite teams is playing.
---
At-Home
22. Dinner Party
Bachelor parties are renowned for their debauchery, but you can make the one you're organizing a little more sophisticated by hosting some of the groom's closest friends and family members for a dinner party.
Tasty food, fancy wine and drinks, and revealing conversations. What's not to like?
23. Hire a Personal Chef
Want to celebrate your best friend's bachelor party with dinner but can't cook? Hire a personal chef!
Organize for a top chef to come to your house and rustle up a delicious dish for you and your closest friends. You're guaranteed a night of tasty food without having to cook any of it yourself. Win-win!
24. Throw a Themed Party
80's style. Black tie. Superheroes. Star Wars. These are just some of the themes you could choose for an at-home themed party.
Choose a TV show, decade, or style, and ask your guests to come dressed in attire related to it. The decorations, music, and activities should also reflect your theme, making it a fully immersive experience!
25. Pizza Party
The only thing better than eating pizza is eating pizza with friends. Assemble the groom's closest guys at your house for a make-your-own pizza night.
Simply rustle up some homemade dough, then let each guest create their dream pizza at the topping station.
Indulge in some beer to wash down the pepperoni, and line up some video games for the evening entertainment.
---
On a Budget
26. Games Night
More money doesn't always mean more fun when it comes to a bachelor party. For a simple bachelor party activity that will guarantee you an entertaining evening with minimal cost, look no further than hosting friends for a games night.
You can choose from classic board games or nostalgic card games. Either way, it's a chance to unleash your competitive side!
Read more: Best Party Games for Adults to Try
27. Murder Mystery
What do you get if you combine acting skills, a script, several suspects, and amateur sleuths? A murder mystery night!
If a bar crawl isn't up the groom's street, try something different by hosting a murder mystery evening at your house.
28. Video Games Night
Want to get competitive on a budget? Invite your best buddies over to your house and have a video game competition extravaganza.
The only catch is that you'll have to prove you can actually beat your friends at Mario Kart like you've been claiming for years!
29. Bowling
If you want to organize an activity out of the house but your budget is limited, opt for a good old-fashioned game of bowling.
To add some humor to the party, indulge in some bachelor-themed bowling shirts for the whole group.
---
Unique
30. Rock Climbing
So the groom is adventurous but not enough of an adrenaline junkie for skydiving? Find the happy medium with a day of rock climbing.
This fun activity is certainly challenging, and you're guaranteed a fun afternoon with your buddies competing to see who can climb the highest.
31. Attend a Music Festival
If you and your pals are big music fans, you can't go wrong with a live music festival.
You'll get the chance to see some of your favorite bands and dance the night away surrounded by like-minded people. Bachelor parties don't get much better than this!
32. Go to the Races
If dressing in black tie and indulging in the occasional bet are two of the groom's favorite things, head to the horse races.
There are several large racing events across the country to choose from, each promising an entertaining day out for any groom-to-be.
33. Ultimate Frisbee
Ultimate frisbee is not the same game you remember playing with your grandparents on the beach as a child.
Ultimate frisbee is regular frisbee's fast-moving, competitive, cooler older brother. Assemble your most athletic pals for an afternoon playing this heart-pumping, non-contact sport.
34. Drone Racing
If you're a tech lover, celebrate your best buddy's bachelor party with the unique experience of flying a drone.
These quirky gadgets will guarantee you hours of fun, and you'll come away from the experience with a brand new skill.
---
Virtual
35. Quiz Night
If you're taking things online for your friend's bachelor party, you can't go wrong with a quiz night. Connect with your buddies virtually for a night of testing your knowledge and catching up with friends.
To give your quiz a bachelor party-themed twist, create a round dedicated to questions about the groom or, for an even tougher challenge, the bride!
36. Virtual Vegas
If you can't go to Las Vegas, bring Las Vegas to you, with a virtual black tie and casino night to emulate the bright lights of Nevada's infamous sin city.
You're guaranteed an evening of fun as you battle it out to see who pulls a Royal Flush and who needs more time to refine their poker face.
37. Virtual Roast
If the groom's got a good sense of humor, assemble the groomsmen on zoom for a roast!
Tell funny stories and jokes about the groom-to-be and let the groom select a winner. But be careful to dish it out if you can't take it.
At the end of the roast, the groom will return the favor and have the opportunity to roast the groomsmen too.
38. Virtual Drinking Games
If you can't organize an in-person bar crawl, take the bachelor party online with some virtual drinking games.
Tell every attendee on the call to grab a pack of cards and let the fun begin!
---
Make your friend's bachelor party one that will live long in the memory, and plan something that everyone will love and enjoy.
These bachelor party ideas cover all types of interests and personalities and can help kickstart your planning if you're struggling for ideas.
You Might Also Like to Read
---
Been tasked with planning a bachelor party? Keep this article for safekeeping, by saving this article to one of your Pinterest boards.