This post may contain affiliate links, meaning if you book or buy something through one of these links, I may earn an affiliate commission at no additional cost to you. Learn more
Give a beloved coffee enthusiast in your life a little something they'll cherish for a long time with one or more of these awesome gifts for coffee lovers, perfect for striking that fine balance between thoughtful and practical when it comes to birthdays or the holidays.
Gifts for Coffee Lovers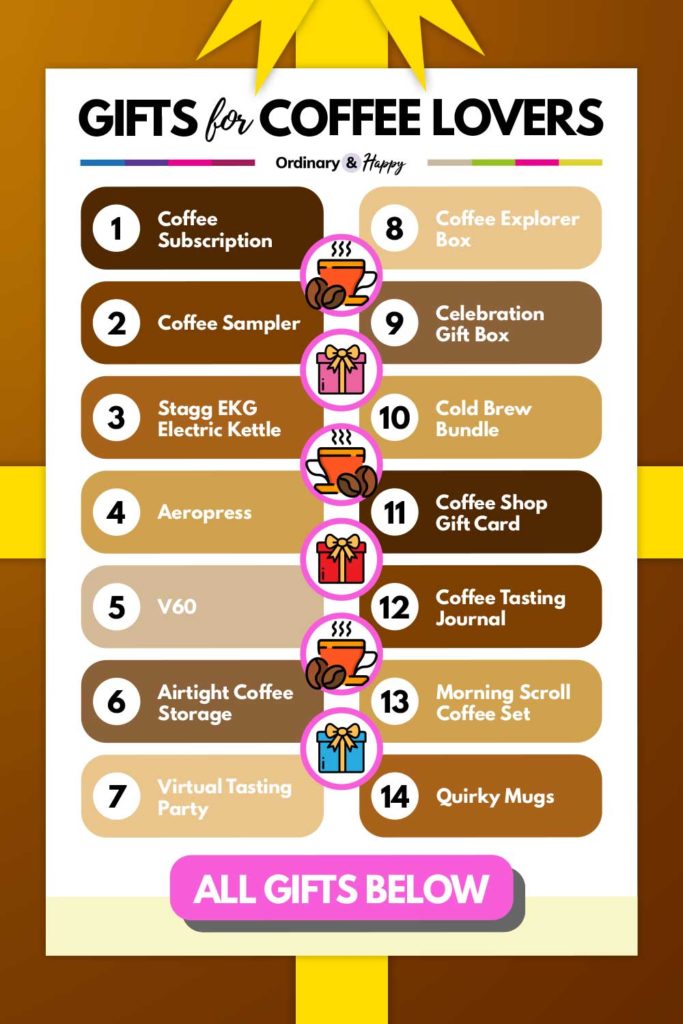 ---
Great Gifts
1. Coffee Subscription
What to buy for the coffee lover who already has every coffee-themed item imaginable? A coffee subscription, of course!

With a personalized coffee subscription like the one from Driftaway, your loved one can receive coffee pouches customized to their taste.
That way, they'll get to try something new every week or month while supporting farmers around the world. The best part? They may discover their new favorite coffee in the process!
2. Coffee Sampler
Check Price on Amazon
For true coffee lovers, there's no such thing as too much coffee. Gourmet coffee sampler kits offer a wide variety of coffees from various countries with different roasts.
The coffee lover in your life can sharpen their expertise with tasting notes and roaster profiles included in the box.
Plus, they'll get to enjoy a completely different cup of the good stuff every morning with breakfast. For coffee enthusiasts, it doesn't get much better than this.
3. Stagg EKG Electric Kettle
Check Price on Amazon
The perfect ingredients for a cup of coffee? You need some expertly-roasted coffee from sustainable sources, perhaps some milk, and maybe some syrup. But one of the non-negotiable ingredients? Water at the perfect temperature.

The best type of kettles for making coffee offer pouring precision and the ability to choose a water temperature that best suits your cup of coffee or tea. Plus, with a sleek aesthetic, you can make your favorite hot drink in style.
4. Aeropress
Check Price on Amazon
Popular with coffee enthusiasts worldwide, the AeroPress coffee maker is the perfect accessory for that just-right cup of coffee.
While the French Press's long steeping time can cause bitterness if not used correctly, the AeroPress is rapid, resulting in coffee with the ideal depth of flavor and none of the bitterness.
This stylish home appliance can make 1 to 3 cups of American coffee in about a minute and can also be used for espresso-style coffee to use in lattes, flat whites, cappuccinos, and more.
It's the perfect coffee accessory to show off to your brunch guests – plus, it will look great on your kitchen countertop!
5. V60
Check Price on Amazon
If the coffee aficionado in your life likes to do things the traditional way, they'll love a V60 ceramic coffee dripper – an accessory that supports a coffee brewing style with a rich history.
Expertly designed to produce a cup of coffee with a balanced flavor, the V60's unique con shape and spiral ridges allow for deep layering of the coffee grounds.
The result? A rich, umami flavor that will tantalize the tastebuds of any coffee lover with minimal faff.
6. Airtight Coffee Storage
Check Price on Amazon
We've all been there. You invest in a special flavored coffee for when you're feeling particularly lavish. You store it in a tin for special occasions, then by the time you come to use it, it's past its best.
Make sure your favorite coffee lover never has to experience this again with an airtight coffee container that promises to keep coffee fresher for longer.
Run out of coffee? No problem. You can use this container for other pantry items, such as herbs, spices, and tea, before you top up your coffee supply.
---
Fun Gifts
7. Virtual Tasting Party
Even the most dedicated coffee lovers can still learn a thing or two about the humble coffee bean! Surprise your loved one with a private virtual coffee tasting like this one from Driftaway that they can attend with friends or family.
They'll have the opportunity to try some delicious coffees and learn more about different coffee varieties, so it's a win-win for all coffee fanatics!
8. Coffee Explorer Box
Don't have the budget to take your coffee fanatic friend or loved one around the coffee capitals of the world? No problem!
Give them the gift of travel with a delightful coffee explorer box from Driftaway filled with coffee samples from around the world, featuring a delicious variety of single-origin coffee beans. It's like a holiday, but for your tastebuds.
9. Celebration Gift Box
What is the best part about buying for a coffee lover? There is an almost unlimited variety of coffees out there, so you're bound to always find something new for the coffee connoisseurs in your life to try.
If you're unsure of their favorite type or simply want to gift them something new, opt for a celebration gift box from Trade featuring a selection of expertly-picked coffees to take their tastebuds on a journey like no other.
10. Cold Brew Bundle
Is the coffee addict in your life obsessed with cold brew? If so, treat them to a cold brew maker bundle from Chamberlain Coffee containing everything they need for the perfect cold brew!
With equipment to store the cold brew correctly at all times, they'll be thrilled with an updated twist on a classic coffee lover gift.
11. Coffee Shop Gift Card for their Favorite Coffee Shop
If the lucky recipient of your gift is always spending time at their favorite coffee shop, give them a voucher so they can spend the day working remotely, with all the coffee refills and tasty bakery snacks they could wish for.
---
Quirky and Unique Gifts
12. Coffee Tasting Journal
Do you know somebody passionate about trying almost every coffee on the market?
With a coffee tasting journal, they can keep a note of the flavor and mouthfeel of their favorite coffees and jot down which ones they'd like to buy again.
Plus, many journals are filled with helpful tasting notes, including flavor and aroma references and tasting methodologies.
13. Morning Scroll Coffee Set
What are the first two things most people do when they wake up? Reach for a coffee and check their phone.
Combine these two experiences into one handy gadget with a morning scroll coffee set, which includes a mug holder and space for a phone.
Not only is it a stylish addition to your bedside table, but it also saves space and keeps your phone in a handy upright position – perfect for scrolling!
14. Quirky Mugs
Sometimes, what you use for drinking the coffee is as crucial to your coffee-drinking experience as the coffee itself.
If the coffee aficionado in your life is a little short of stylish mugs for their coffee table, treat them to a quirky mug in a unique pattern.
With the perfect blend of creativity and everyday practicality, quirky mugs such as this geometric formation mug on Uncommon Goods can make that morning cup of coffee all the more enjoyable.
---
Luxury Gifts
15. Nitro Cold Brew Coffee Maker
Does the coffee lover in your life spend tons of money per year buying coffee on their way to work? Save them plenty of money by treating them to a nitro cold brew coffee maker.
That way, they can create café-standard coffee from the comfort of their own home and boast a stylish addition to their kitchen counter.
The only downside? They might experience an uptick in morning visitors wanting to come and try their homemade brew of delicious coffee!
16. Fellow Ode Brew Grinder
Check Price on Amazon
If you have some cash to spend on that special someone, treat them to a stylish electric coffee grinder for café-quality coffee without having to leave the house.
With multiple settings available, users can get their ground coffee's perfect consistency and fineness in minutes for a cup that suits their taste.
17. Espresso and Coffee Weighing Scale
Check Price on Amazon
If you're buying a gift for somebody who takes their coffee seriously, try an espresso and coffee weighing scale, allowing them to use the perfect amount of coffee for the drink of their choice.
If they're an espresso fan, opt for a smaller espresso weighing scale they can take with them on their travels. Because why shouldn't the espresso lovers in your life enjoy expertly brewed espresso wherever they go?
---
Budget-Friendly Gifts
18. World Atlas of Coffee
Check Price on Amazon
For the coffee lover in your life who's also an avid reader, look no further than The World Atlas of Coffee as the ideal gift for a special occasion.
This book explores coffees from every corner of the world, presenting various types of beans, the people who farm them, and how they're made with expert information.
The perfect addition to any coffee table, this book is the ultimate guide to exploring the globe through coffee and leveling up your coffee knowledge at the same time.
19. Coffee Scoops
Check Price on Amazon
No coffee experience is complete without luxury items to give it that 'special occasion' feel.
If the coffee fan in your life likes their kitchen accessories to be aesthetically pleasing, they'll adore a set of luxury coffee scoops, which measure precisely the right amount of coffee while being a stylish addition to any collection of utensils.
20. Coffee Stirrers
Check Price on Amazon
Coffee is just one of the many beverages that deserve time and care over its drinking experience.
If your gift recipient or loved one is a fan of everything from cocktails to coffee, they'll love a set of stylish coffee stirrers that can double up to stir all types of drinks, from cocktails to hot chocolate and even spirits and mixers.
21. Glass Mugs
Check Price on Amazon
One of the best things about enjoying coffee at a local café is the beautiful selection of glassware they tend to offer.
The good news is that the coffee lover in your life can also enjoy their coffee in stunning glassware with a set of clear glass mugs to use at home.
Typically made with borosilicate glass known for its insulative properties, glass mugs offer a quirky alternative to ceramic mugs for the coffee aficionado who's equally as passionate about style.
---
Personalized Gifts
22. Personalized Coffee Mugs
What is the only thing better than a coffee mug with a cool design? A personalized coffee mug, of course!
For a sentimental gift to treat your loved one who's crazy about coffee, look no further than a coffee mug engraved with their name or a photograph.
That way, they'll be reminded of how much you care for them every time they go to sip their morning coffee.
23. Personalized Tumblers
Is the coffee fan in your life also passionate about pollution? If so, they'll love a personalized travel tumbler for taking their coffee with them everywhere.
With a personalized coffee tumbler, you can enjoy two benefits – an environmentally friendly alternative to plastic coffee cups and a stylish cup that's personalized with a picture or inscription for a sentimental touch.
24. Latte Mugs
Everyone who loves coffee, without a doubt, has their favorite coffee order. Whether it's a cappuccino, flat white, or latte, there's a perfect mug for every coffee variety.
Since lattes are larger than coffees like espresso, latte mugs tend to be large and wide, so they're ideal for somebody who likes as much bang for their buck as possible.
If you want to treat the latte lover in your life to something special, opt for a personalized latte mug with a photograph or text of your choice.
---
Funny Gifts
25. Funny Coffee Coasters
Check Price on Amazon
Does the coffee lover in your life like a laugh? If so, they'll fall in love with a set of funny coffee coasters featuring hilarious quotes.
The best part? Not only will these coasters bring a smile to the faces of any guests, but they're also perfect for keeping coffee tables and other surfaces free from unsightly drink marks.
26. Funny Coffee Sign
Check Price on Amazon
If the lucky recipient of your coffee-themed gift also loves cheeky home decor, they'll be thrilled to receive a funny coffee sign.
Not only will a funny coffee sign add some humor to the home, but it will also show all guests just how much they truly love coffee.
If they have a designated coffee corner in their kitchen, filled with all their coffee accessories, a funny coffee sign can proudly sit at the top.
---
Give a special person in your life who loves to drink coffee a gift they'll never forget, and get inspired with this impressive list of coffee-themed accessories and ideas.
From coffee brewing equipment to gift ideas that tickle the intrigue of avid coffee aficionados, there are so many coffee gifts out there to get excited about.
Embrace their love of one of the world's favorite beverages, and prepare to see their smile widen when they unwrap your fun, creative, and thoughtful gift.
You Might Also Like to Read
---
Looking for a gift for an avid coffee drinker that means a lot to you? Keep these great gifts for serious coffee drinkers in a safe place, by saving this article to one of your gift idea Pinterest boards.