This post may contain affiliate links, meaning if you book or buy something through one of these links, I may earn an affiliate commission at no additional cost to you. Learn more
Turn up the fun factor tenfold with these awesome 40th birthday party games, helping everyone at your party celebrate this milestone age in a fun, enjoyable, and memorable way.
40th Birthday Party Games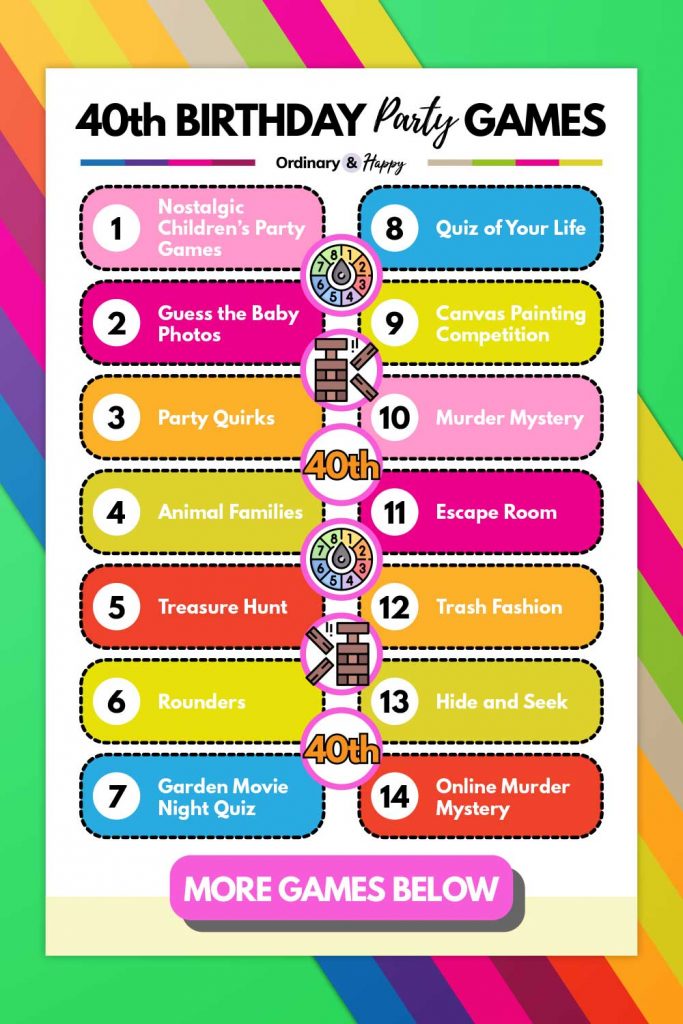 ---
Fun
1. Nostalgic Children's Party Games
Just because you're 40 doesn't mean you have to act like a grown-up. Why not surprise your guests with some classic children's party games with a twist?
Try 'pass the parcel' with silly dares. Set up a game of musical statues with a big bottle of wine for the winner. You could even give your friends and family party favors as they leave.
2. Guess the Baby Photos
Everyone loves photographs of cute babies, particularly at special events. For this game, take a trip down memory lane and ask each of your party guests to send you a photograph of them as a baby – the funnier, the better!
Display the pictures at your party and ask everyone to guess who's who. They can write down their answers on a sheet of paper, and the guest with the most correct guesses wins a prize.
3. Party Quirks
This madcap game can be played with any number of people. Before your party, prepare a list of funny 'quirks' for your guests to perform. For example:
Keep getting names wrong
Get people up to dance
Swap clothes with the other guests
When you have enough 'quirks' for the number of guests, mix them up in a bowl. Each guest must perform their task throughout the party. At the end of the night, everyone guesses each other's 'quirks.'
4. Animal Families
Want a silly game that will get your guests up and moving? Animal families takes a little preparation, but it is well worth it.
On separate pieces of paper, write a range of different animals, each with a mummy, daddy, and baby version. For example, Mummy Tiger, Daddy Tiger, Baby Tiger.
Then mix them all up in a bowl. Each guest, without making any noise, must mime their animal and team up with the rest of their 'animal family' on one chair (Daddy standing, mummy sitting, baby on lap). The last 'family' will be left without a chair and is out of the game.
Continue with different animals, making each round harder. For example, you might have snakes and worms which will look very similar. Create enough rounds to leave one winning group of three at the end.
---
Outdoors
5. Treasure Hunt
Let's face it – we all loved a good treasure hunt when we were young, whether it was hunting Easter eggs in the garden or working out clues and riddles. But the fun doesn't have to stop when you grow up.
Why not set up a treasure hunt in your garden with a few clever clues? The questions could even test how much the guests know about the host.
Prizes might include chocolate treats or even a few bottles of wine to get the party started.
6. Rounders
Classic games last the test of time for a reason. Nothing beats a sunny afternoon in the park playing a game of rounders with your nearest and dearest. If you don't already own a rounders set, you can easily buy one online like this rounders set on Amazon.
Split your guests into two teams and set up your pitch with cones. With a bat and a few balls, you can quickly get your friends and family to show their competitive sides.
A few action photos will help capture some great memories too.
7. Garden Movie Night Quiz
Do you have a favorite movie? Perhaps you're mad about sci-fi, in love with romantic comedies, or a big fan of horror.
Why not organize an outdoor movie night under the stars with a projector, a few pillows, and plenty of popcorn?
After the movie, quiz your guests on the film to make sure they were paying attention.
Related: 100+ Movie Trivia Questions and Answers for a Hollywood-Themed Quiz Night
---
Indoors
8. Quiz of Your Life
How well do your friends and family really know you? Write your own personal quiz, all about you, and get ready for plenty of laughs and some memorable answers.
Maybe you could test your guests on your childhood pets, or perhaps you could quiz them on your favorite bands or movies. You could even ask them to describe your most embarrassing moment!
9. Canvas Painting Competition
Let your artistic sides free with a spot of painting. Buy enough canvases for each of your guests and provide a selection of paints and brushes. There are hundreds of painting ideas to choose from.
Pick a painting idea and see how everyone interprets the picture differently. Some will no doubt be more successful than others, which can only add to the fun!
Once everyone has finished, vote on a winner to receive a special prize or homemade trophy.
10. Murder Mystery
There's nothing like a bit of intrigue and suspicion to put some spice into a party. A murder mystery night will give your guests a chance to dress up and show off their best amateur dramatics.
You can buy murder mystery packs like this "Murder at the Manor" pack or this "Murder at the Theatre" pack to help you plan the evening. If you're feeling ambitious, however, you could even write your own.
11. Escape Room
Escape rooms have become increasingly popular, testing people's logic and teamwork skills.
For a small group, look for a nearby escape room you can book in advance. If not, you can even buy at-home kits like this "Walking Dead" escape room in a box.
12. Trash Fashion
Let your guests become fashion designers for the night. Divide your friends into teams and select one person in each group to be the 'model.'
The rest of the team has to dress their 'model' in a wild, stylish outfit made from whatever random materials you've got lying around: bags, cardboard boxes, newspaper, bottles, or anything you can find!
Once the time is up, judge the designs on the catwalk, and be prepared for plenty of laughs and entertainment as you go.
13. Hide and Seek
Adults can get just as silly as kids when they're squashed in a hiding place, trying not to giggle!
For a fun alternative, try sardines – a version of hide-and-seek where one player hides and the rest try to find them. The twist is, if you find the hider, you have to join them in their hiding spot.
Once a big group of you are packed in together, trying not to be spotted, you'll be desperately trying not to burst out laughing!
---
Virtual
14. Online Murder Mystery
Looking to set up a virtual party with a difference? There are a number of interactive murder mystery games available online, like this Tiny Theatre interactive murder mystery online experience or this murder mystery escape room online experience.
Communicate with your group over video call and solve an exciting mystery from the comfort of your own home.
15. Online Escape Room
With the increasing popularity of real-life escape rooms, there is now a fantastic selection of online versions for you to try, like this Haunted Mansion online escape room game or this Mystery Escape Room with Holiday Specials.
Team up with your friends and solve a series of themed clues and puzzles for a memorable and unconventional experience.
16. Online Quiz of Your Life
Just like the in-person party version, why not create a virtual quiz to find out how much your friends and family really know about you?
You could use the online element to your advantage by playing video clips, showing slides, or even having an interactive scoreboard.
17. Online Poker Tournament
Are you a fan of card games? Why not get your buddies together for a virtual poker tournament?
With the computer taking care of everything from dealing to statistical probabilities, you can all focus on playing the game and having a good time.
Free websites will let you play against your friends for online 'chips' – so you don't need to worry about losing money; just look forward to the bragging rights when you win!
---
Board Games
18. Pictionary
Check Price on Amazon
This classic drawing game is bound to get your guests laughing. Put your creative skills to the test and use your artistic abilities to help teammates to guess the phrase on your card. Terrible attempts can make it all the funnier.
19. Telestrations
Check Price on Amazon
Telestrations is a modern alternative to Pictionary. Each player is given a drawing booklet and must illustrate the phrase or word on the card. They then pass it to the next player, who has to guess the drawing.
This is then passed on to the next player, who draws what they think the word is until all players have had a go. The drawings get stranger and stranger, with hilarious end results.
20. Articulate
Check Price on Amazon
Get your tongues racing with Articulate! This team game is all about describing words from different categories against the clock. Teams who guess the most correct answers win.
It sounds easy, but when you're running out of time, and the pressure is on, your brain can freeze.
21. Codenames
Check Price on Amazon
Codenames is a perfect game for a small group. Give your team one-word clues for particular words on the board, linking multiple words together.
The other players have to guess without accidentally choosing the other team's words. This will get your brain working overtime!
22. Cards Against Humanity
Check Price on Amazon
This game has become a modern classic. Use your answer cards to complete phrases in the funniest or most shocking way possible.
Caution: some answers aren't for the prudish, so maybe don't play this one with your grandparents!
---
For Big Groups
23. Pick a Winner
This game is great with a large group. Start with a category where two people can battle it out. Examples of tasks could include:
Who can do the most press-ups in one minute?
Who can name the most countries beginning with A?
Who can sing the most words to a Disney song?
Who can do the best impression of the host?
Two people then each pick someone in the group they think will do well at this task. Whoever 'picked the winner' wins that round and chooses the next category.
24. Sports Day
Do you remember those fun summer days at school? Recreate your childhood with your very own sports day, and let the thrills commence and the nostalgia ring true.
Organize your guests into teams and set up a series of classic outdoor games, including an egg and spoon race, long jump, and three-legged race, among many others.
25. Band Leader
Sit everyone in a circle and ask one person to leave the room. While they're gone, pick a secret 'band leader.' When the guesser returns, the band leader must lead the rest of the group in a silent musical instrument mime.
For example, air guitar, or moving fingers up and down an imaginary piano. The other guests must all copy but shouldn't make the leader obvious. The leader should change the instruments regularly without being spotted.
26. Karaoke Talent Show
Do you fancy yourself as a cool rock star? Or maybe you like to belt out hits from musicals. Get a karaoke machine, and put your friends' talent to the test with a karaoke talent show.
27. Team Games
Team games can be played with any size group. Teams line up and take part in a series of races and games, often with hilarious results.
Passing a balloon without using your hands, a kitchen obstacle course, and throwing items into a laundry basket after spinning around are all great ideas.
Feel free to get creative, and often the sillier the game, the better. As always, no matter how ridiculous, these things always get competitive!
---
For Small Groups
28. Photography Competition
For a gentler pace of celebration, why not organize a photography competition with your friends?
Take an afternoon stroll around your local area and snap away at whatever takes your fancy – wildlife, fashion, architecture. Compare your snaps at the end of the day and vote for a winner.
29. Cocktail-Making Competition
Do you love a good martini or cosmopolitan? If so, organize a cocktail-making competition as part of the birthday celebrations. Some bars have organized events you could try.
Set everyone the task of creating some classic cocktail recipes, and everyone can try them at the end. You could even challenge your buddies to invent a delicious drink named after you on your special day.
30. Bake-Off
Great if you have a spare afternoon for some birthday activities, a bake-off is a perfect way for everyone at the party to showcase their talent.
Either alone or in teams, everyone involved gets to bake a tasty treat of their choice within a time limit.
Decorate your bakes with all kinds of weird and wonderful designs, and get to enjoy plenty of scrumptious desserts at the end of it all.
31. Mr and Mrs
Chances are, at 40, most of your friends are coupled up. But how well do your friends really know their partners?
A game of Mr and Mrs is the ultimate couples competition and is sure to bring about plenty of laughs and some hilarious answers along the way.
32. Charades
Check Price on Amazon
This classic party game is sure to bring out your guests' competitive sides. Simply act out a word or phrase to your teammates and receive a point for a correct guess.
Mad gesticulating and pointing are encouraged. You're guaranteed a good night with this timeless favorite!
---
You Might Also Like to Read
---
Planning an upcoming 40th birthday? Keep this list of games for safekeeping for inspiration by pinning this article to one of your party planning boards.