This post may contain affiliate links, meaning if you book or buy something through one of these links, I may earn an affiliate commission at no additional cost to you. Learn more
From birthdays to work do's and icebreakers to going away parties, these group activities for adults promise plenty of fun, enjoyment, and memories, no matter the occasion.
Group Activities for Adults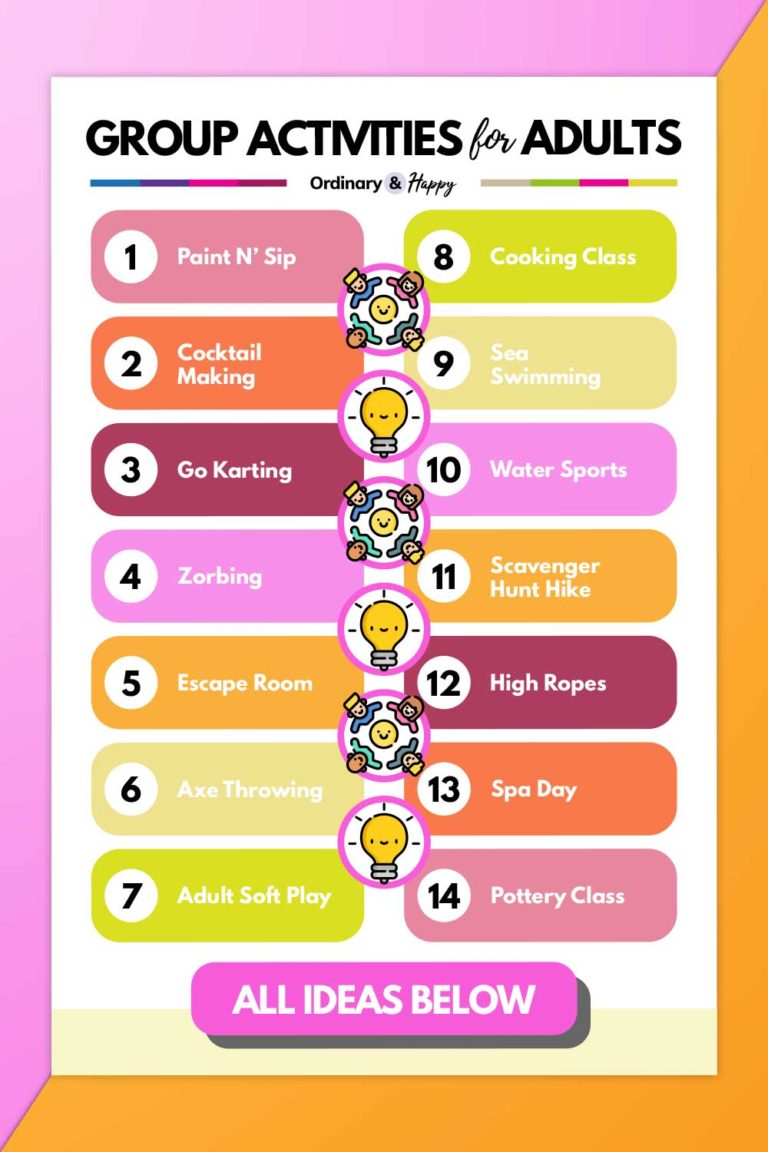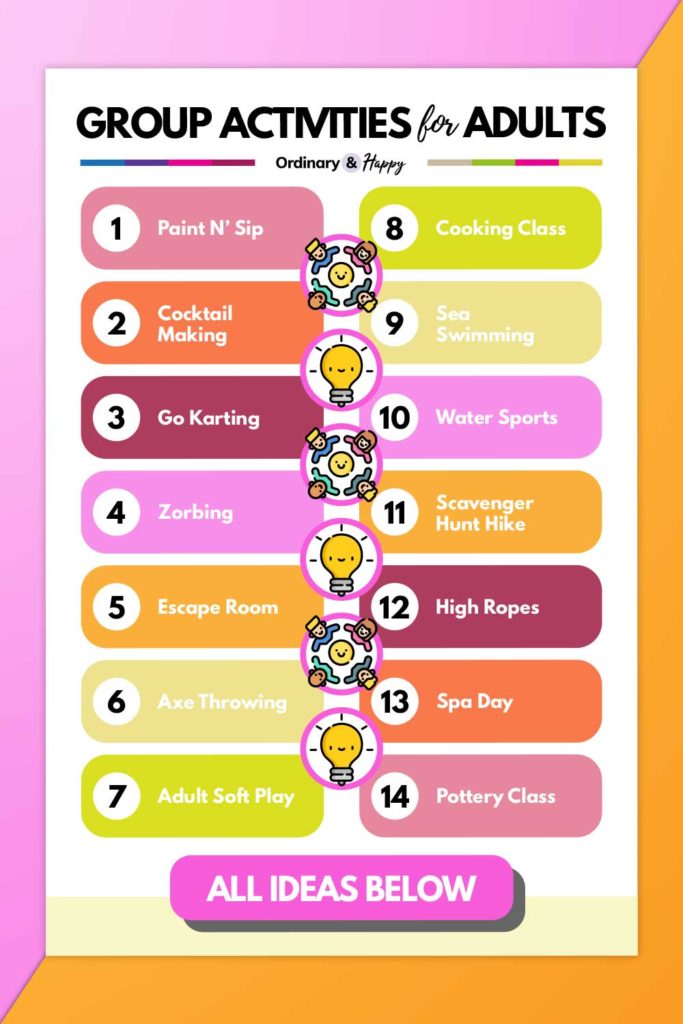 ---
Fun
1. Paint and Sip
Ready to unleash your inner Picasso? Book a paint and sip at an art studio or alternatively buy a couple of blank canvases, paint sets, and some wine, and host your own "paint n' sip" evening.
It's a super-fun group bonding activity with some artistic takeaways!
2. Mixology Class
It's time to unleash your inner mixologist and create some yummy concoctions! Cocktail-making is the perfect group bonding activity as it's a perfect icebreaker for all participants.
Of course, if a party member doesn't drink, include some mixers to create virgin mocktails. Luckily, cocktail-making is incredibly versatile, so no one's left out.
3. Go-Karting
It's time to test your need for speed! If you and your friends are looking to burn some rubber, book a group go-karting experience.
Go-karting is a great experience for those of mixed abilities, and the competitive element makes any adrenaline junkie swoon at the opportunity.
4. Zorbing
This group activity takes the phrase 'personal bubble' quite literally! In a nutshell, zorbing is an outdoor activity that requires the participants to be enclosed in a plastic orb/bubble throughout.
With many activities to do, such as downhill racing or bubble soccer, the comical aspect of the orb generates a LOT of laughs.
---
Indoors
5. Escape Room
Have you got a couple of brainiacs within your friendship group? Then an escape room might be the perfect group activity.
For those out of the loop, escape rooms are rooms where players have to solve puzzles and clues to find an escape.
With their recent increase in popularity, you can also buy escape-room-in-a-box kits like this 'Escape Room The Game' to recreate the experience in the comfort of your own home.
So, whether your group wishes to venture to a local center or incorporate it as part of a home games evening, there are options for everyone. 
6. Axe Throwing Centre
Anyone in the group got an ax to grind? With this activity, you might be in luck! Ax-throwing centers have increased in popularity since the end of the pandemic.
Typically recommended for couple's date night, ax throwing is perfect for small groups as participants take turns throwing the axes onto a target to see who can get the best score. This group activity is deceivingly tricky. 
7. Adult Soft Play
No one can turn down the opportunity to satisfy their inner child. Move aside, kids; the adults are in town!
Due to high requests, many local children's soft play areas now offer adult evenings for those looking to indulge in a bit of playful nostalgia.
If going down the death slide while accompanied by your friends and alcoholic beverages tickle your fancy, book an evening quickly as they are incredibly popular. 
8. Cooking Class
Channel your inner Gordon Ramsey and indulge in a group cooking class. As a group, you can either book into a local learning center for classes or find online tutorials and host one at home.
Cooking together is a great group bonding exercise as it not only does it provide everyone with some tasty takeaways but also allows participants to get to know each other in a more relaxed and intimate setting.
Read more: Online Cooking Classes You Need to Try
---
Outdoors
9. Sea Swimming
Oh, we do like to be beside the seaside! Sea swimming or open water swimming has become a popular extracurricular activity among adults.
So, come rain or shine, invite your group to submerge themselves in the sea's waves and just keep swimming. Remember, though, to follow necessary precautions when going open-water swimming.
10. Water Sports
Arguably the best summer group activity, all water sports forms can be quite the memory maker! With an array of activities to choose from, such as kayaking, paddleboarding, and surfing, the group will never get bored.
When summer is in full swing, watersports become increasingly accessible, with most destinations now offering cheap rental hires for those looking to make a splash.
11. Scavenger Hunt Hike
Fancy getting some steps in? Why not set up your own scavenger hunt hike?
Alternatively known as orienteering, outdoor scavenger hunts are a great way to get the group out and about while basking in what mother nature offers.
To create the best scavenger hunt, equip participants with a map and various clues leading to prizes and places. The first group to find all the locations wins.
12. High Ropes
If any group member has a fear of heights, you might want to skip this one! But, if you're an adrenaline junkie craving their next fix, read on.
With activities such as abseiling, zip-wiring, and ariel obstacle courses available, the group will have no choice but to put their faith in each other as they embark on their outdoor adventure—an ideal activity for groups looking to incorporate trust-building exercises into their next day out.
---
For Small Groups
13. Spa Day
Do all these activities seem a little too intense for your group's liking? Why not book a small group getaway to a luxury spa. Or, if money is tight, host a mini spa day from home.
For the best home spa day, stock up on sheet masks, foot baths, and essential oils to create your own atmospheric paradise.
14. Pottery Class
After seeing Ghost, we don't think any group can turn down the opportunity to go to a pottery class.
Ideal for small groups, pottery classes have become quite the viral sensation amongst Tik Tokers looking to incorporate something different for group days out.
With the opportunity to create and take home your own clay models, this group activity is perfect for those looking to do something both fun and sentimental.
15. Group Yoga
Are you looking for something slightly more zen? Consider booking into a group yoga class or doing one together at home through an online tutorial or YouTube.
Aside from its relaxation benefits, yoga has many benefits, including improving heart health, relieving symptoms of arthritis, and improving strength and flexibility. Namaste!
16. Board Games Evening
Sometimes, when it comes to hosting a decent group activity, simplicity is key!
Open the games cupboard, dust off the boxes, and host a board games tournament from home.
There's nothing like a competitive game of Monopoly to bring everyone even closer together!
Read more:
---
For Large Groups
17. Laser Tag or Paintballing
This activity is excellent for large groups and families. Paintballing or laser tag can be the perfect group bonding activity if you want to get down and dirty.
Typically, the activity involves splitting the group into two teams where they are challenged with shooting each other. The team with the most players remaining at the end of each round wins.
Fair warning, those looking to do paintballing may incur some painful bruises; as a result, if this doesn't sound like your thing, opt for laser tag instead.
18. Raft Building
Let's hope this group activity is nothing like the titanic! Raft building is a traditional group bonding exercise that requires participants to create a float/raft using the materials they have at their disposal, such as barrels, rope, and wood.
Then, participants are tasked with testing the raft in the water to see whether they sink or float.
To learn more about raft building, visit your local watersports center and inquire about group teambuilding activities.
19. Pub or Bar Quiz
C'mon, who doesn't love a quiz?! Whether you venture to your local bar/pub for a quiz evening or host one from the comforts of your own home, a pub quiz always goes down as a treat for large groups.
Are you tired of traditional pub quizzes? Try these themes for size!
20. Silent Disco
A festival favorite! As the name suggests, Silent discos are discos without music. Okay, we lied, you do get music, BUT it's through your own set of headphones.
Accompanied by different channel settings, silent disco headphones play music that individuals can listen to while dancing along with others who might be listening to a different thing. This group activity is great for those who have varying tastes but still want to boogie together. 
---
Remote or Virtual
21. Screen Share Pictionary (Zoom)
Are your drawing skills up to scratch? Well, for this online group activity, they should be!
To play Pictionary virtually, participants need to use Zoom's screen share feature and load up Microsoft paint.
Then, like a traditional game of Pictionary, players are given ninety seconds to guess what the other player is drawing.
Quick Tip: there are a variety of Pictionary apps to play via mobile or tablet if the computer setup seems offputting. 
22. Among Us
Among Us is an online sci-fi murder mystery game where players must come together to figure out who the murderer is.
With it being readily available across platforms such as mobile app stores and Nintendo switch, the free virtual teamworking game allows players from all across the globe to come together.
23. Presentation Evening
Okay, so public speaking and presentations might not be everyone's cup of tea, but who's to say you can't make it fun! 
For this group activity, have participants create a PowerPoint presentation on a subject they are passionate about.
For example, you could present topics such as "why pineapple doesn't belong on pizza" or "why Lord of the Rings is better than Harry Potter."
The shared screen option can offer an excellent presentation evening via Zoom.
24. Dance Party
Want a boogie without the hassle of getting dressed up to the nines and spending money at the bar? Why not create your own virtual dance party?
To successfully do this, you'll need to set up a Zoom room, use the widescreen option and share a collaborative Spotify playlist, including requests from participants.
Collaborative playlists on Spotify ensure that all bases are covered when it comes to song requests, meaning that no one in the group gets left out.
---
More Activities
25. Arcade Day
Thanks to technology, video games are easy to come by these days, but there's nothing like a day at the arcade!
A day at the arcade is an excellent activity in a group setting as many of the games at arcades are multiplayer, and their large variety allows the group to go off into pairs if they wish.
It's time to get rid of any loose change and spend it on something fun.
26. Baseball Match
Let's see if you can try and recreate that Twilight baseball scene! A home baseball match is perfect for those in large group/family settings.
With only a baseball, bat, and glove necessary, this simple set-up can provide hours of fun in your backyard or local park.
27. Pole Dancing
Over the last decade, attitudes surrounding pole dancing have completely changed, citing that the once frowned-upon activity actually has many health benefits.
Whether your group is looking for a boost in confidence and sexiness or simply wants to work out their core, pole dancing is an entertaining group activity for all involved.
28. Old School Sports Day
Fancy reliving some schooltime nostalgia? If you are looking for a fun group activity, why not host your own sports day?
With various activities, such as obstacle courses or three-legged races, an adult twist to a childhood favorite always goes down successfully.
Stuck for ideas? Here are a few Sports Day Activities:
Egg and Spoon Race – challenge participants to see who can make it across the finish line first whilst balancing an egg on a spoon.
Sack Races – purchase large fabric sacks and challenge participants to see who can make it across the finish line first.
Three-Legged Race – Split participants into pairs and tie both of their legs together. Then, challenge them to a free-legged race to see who can make it across the finish line first.
---
Whatever you're planning, these group activities for adults are a surefire way to bring plenty of fun, energy, and challenge to your event or gathering.
Get inspired, plan an activity everyone will enjoy, and remember – you're never too old to have some childlike fun!
You Might Also Like to Read
---
Keep these group activities for adults in a safe place, ready for future event planning, by saving this article to one of your Pinterest boards.