This post may contain affiliate links, meaning if you book or buy something through one of these links, I may earn an affiliate commission at no additional cost to you. Learn more
Ensure your Christmas is a very merry one, full of joy, fun, and wonder, with our ultimate Christmas bucket list, packed with 100+ ideas to make Christmas special!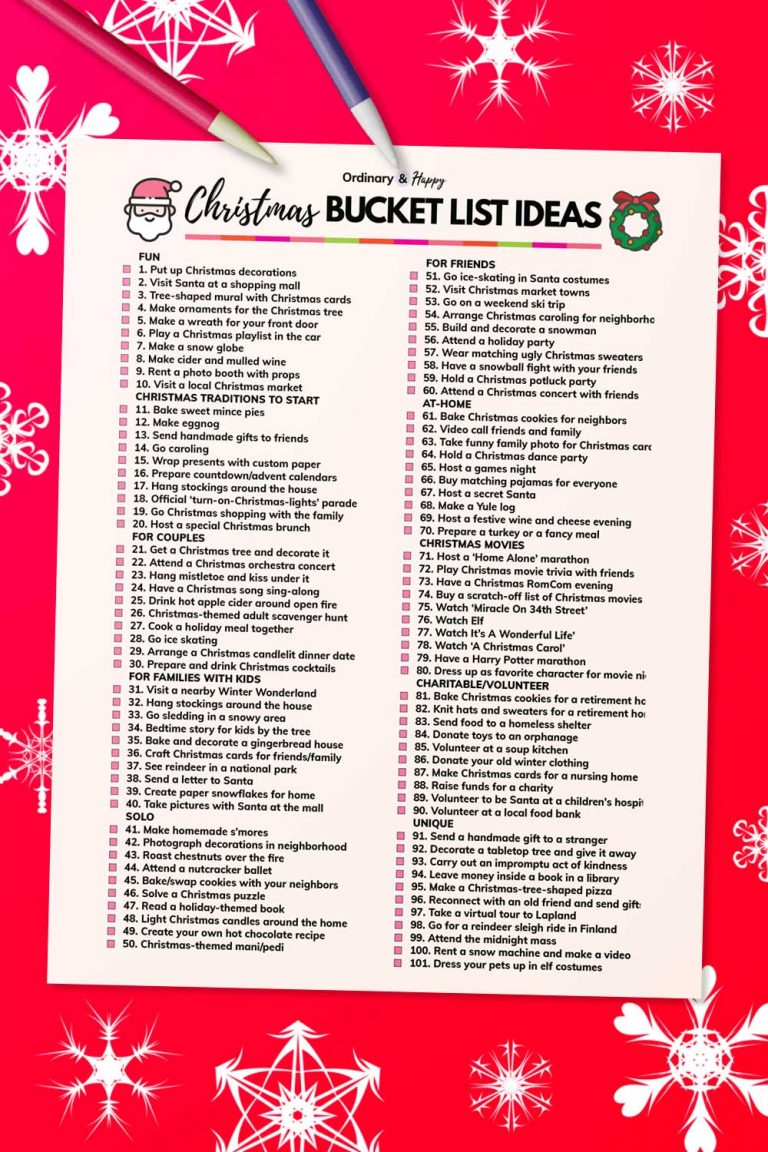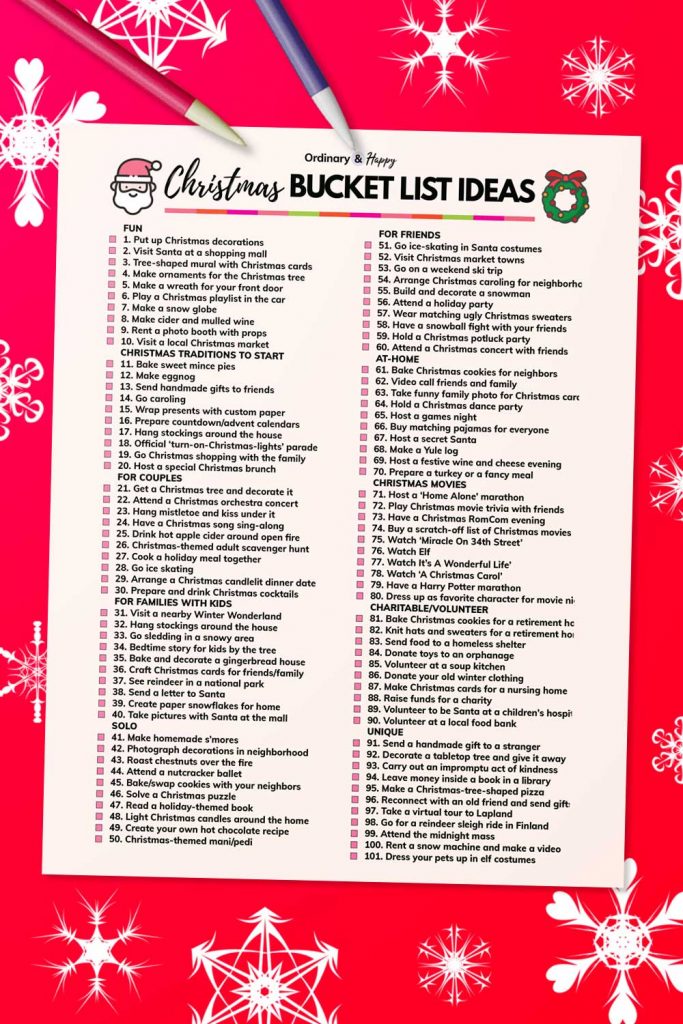 Christmas Bucket List
Whether you're hosting family, keen to make it magical for the kids, or want a holiday adventure, our exciting list of ideas has something for everything.
If you'd like to download our ultimate Christmas bucket list as a printable PDF, scroll to the end of the article to get it for yourself and try as many of these ideas as you like.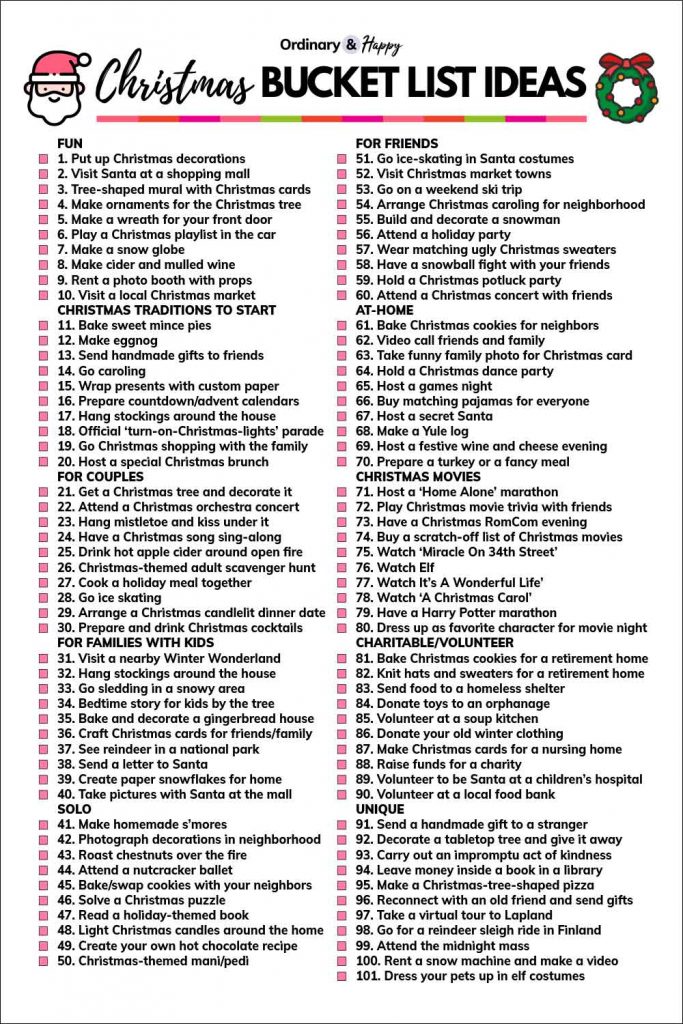 ---
Fun Activities
Turn up the feel-good factor during the festive season by giving some of these fun Christmas activities a go on your own, or with friends and family.
1. Put up Christmas decorations around the house
2. Visit Santa at a shopping mall
3. Make a tree-shaped mural with your Christmas cards
4. Make ornaments for the Christmas tree
5. Make a wreath for your front door
6. Play a Christmas playlist in the car
7. Make a snow globe
8. Make cider and mulled wine
9. Rent a photo booth with props
10. Visit a local Christmas market
---
Christmas Traditions to Start
Even though Christmas is celebrated by so many of us, we all have our own little way of doing things to make it 'our' Christmas. Get everyone excited about the holidays by starting a few of your own Christmas traditions.
11. Bake sweet mince pies
12. Make eggnog
13. Send handmade gifts to friends and family
14. Go caroling
15. Wrap presents using custom wrapping paper
16. Prepare countdown/advent calendars
17. Hang stockings around the house
18. Go to an official 'turn-on-Christmas-lights' parade
19. Go Christmas shopping with the family
20. Host a special Christmas brunch
---
Great For Couples
Plan a festive season straight out of a beloved rom-com with your partner or spouse by giving some of these Christmas activities for couples a try.
21. Get a Christmas tree and decorate it
22. Attend a Christmas orchestra concert
23. Hang mistletoe and kiss every time you step under it
24. Have a Christmas song sing-along
25. Drink hot apple cider around an open fire
26. Play a game of Christmas-themed adult scavenger hunt
27. Cook a holiday meal together
28. Go ice skating
29. Arrange a Christmas candlelit dinner date
30. Prepare and drink Christmas cocktails
---
Great for Families with Kids
Christmas really is a magical time for kids, so be sure to make the most of the festive season with your little ones, and fill it with plenty of amazing experiences and activities.
31. Visit a nearby Winter Wonderland
32. Hang stockings around the house
33. Go sledding in a snowy area
34. Read a bedtime story to the kids by the tree
35. Bake and decorate a gingerbread house
36. Craft Christmas cards for friends and family
37. See reindeer in a national park
38. Send a letter to Santa
39. Create paper snowflakes for your walls and windows
40. Take pictures with Santa at the mall
---
Great Solo Activities
If you're spending Christmas on your own, that doesn't mean you can't have an incredible time. Fill your time with some of these super enjoyable activities you can do by yourself.
41. Make homemade s'mores
42. Walk through the neighborhood and photograph the decorations
43. Roast chestnuts over the fire
44. Attend a nutcracker ballet
46. Solve a Christmas puzzle
47. Read a holiday-themed book
48. Light Christmas candles around the home
49. Create your own hot chocolate recipe
50. Enjoy a Christmas-themed manicure and pedicure
---
Activities with Friends
Make Christmas a 'bestie bonanza' by filling the holiday season with lots of these ideas and activities you can do with your best friends.
51. Go ice-skating in Santa costumes
52. Visit Christmas market towns
53. Go on a weekend ski trip
54. Arrange Christmas caroling for the neighborhood
55. Build and decorate a snowman
56. Attend a holiday party
57. Wear matching ugly Christmas sweaters
58. Have a snowball fight with your friends
59. Hold a Christmas potluck party
60. Attend a Christmas concert with friends
---
At-Home Activities
Embrace those cozy evenings wrapped up warm while the weather outside is cold, and make your time at home both magical and memorable with some of these awesome Christmas activities.
62. Video call friends and family
63. Take a funny family photo for a Christmas card
64. Hold a Christmas dance party
65. Host a games night
66. Buy matching pajamas for everyone in the house
67. Host a Secret Santa
68. Make a Yule log
69. Host a festive wine and cheese evening
70. Prepare a turkey or a fancy meal
---
Christmas Movies to Watch
Who doesn't love a classic Christmas movie? While these ten movie bucket list ideas are a great place to start, be sure to check out our ultimate Christmas movie bucket list, complete with 100 films to get you into the festive spirit!
71. Host a 'Home Alone' marathon
72. Play Christmas movie trivia with friends
73. Have a Christmas RomCom evening
74. Buy a scratch-off list of Christmas movies
75. Watch 'Miracle On 34th Street'
76. Watch Elf
77. Watch 'It's A Wonderful Life'
78. Watch 'A Christmas Carol'
79. Have a Harry Potter marathon
80. Dress up as your favorite character before movie night
---
Charitable and Volunteer Activities
While for many of us, Christmas is a time of celebration, family, and reflection, not everyone is so lucky.
A little good deed goes a long way, so put some of your free time toward helping those less fortunate than you with some of these charitable ideas to do around the holidays.
82. Knit hats and sweaters for a retirement home
83. Send food to a homeless shelter
84. Donate toys to an orphanage
85. Volunteer at a soup kitchen
86. Donate your old winter clothing
87. Make Christmas cards for a nursing home
88. Raise funds for a charity
89. Volunteer to be Santa at a children's hospital
90. Volunteer at a local food bank
---
Unique Things to Do
Want to host a Christmas unlike any before? Fill your holiday season with some of these unique Christmas activities, and remember those amazing days or evenings for many years to come.
91. Send a handmade gift to a stranger in your neighborhood
92. Decorate a tabletop tree and give it away
93. Carry out an impromptu act of kindness
94. Leave money inside a book in a library
95. Make a Christmas-tree-shaped pizza
96. Reconnect with an old friend and send them gifts
97. Take a virtual tour to Lapland
98. Go for a reindeer sleigh ride in Finland
99. Attend the midnight mass
100. Rent a snow machine and make a YouTube video
101. Dress your pets up in elf costumes
---
Get Your Free Christmas Bucket List PDF Printable Here
Make Christmas a time of wonder, joy, and magic, and use these ideas to inspire you during the festive season. Christmas comes but once a year, so be sure to make it memorable!
You Might Also Like to Read:
---
Keep this ultimate rundown of Christmas bucket list ideas by saving this article to one of your seasonal Pinterest boards, ready for the holiday season.