This post may contain affiliate links, meaning if you book or buy something through one of these links, I may earn an affiliate commission at no additional cost to you. Learn more
Get inspired to plan a day, afternoon, or evening of fun and romance with these virtual date ideas to help ignite the spark when you can't physically be together.
Virtual Date Ideas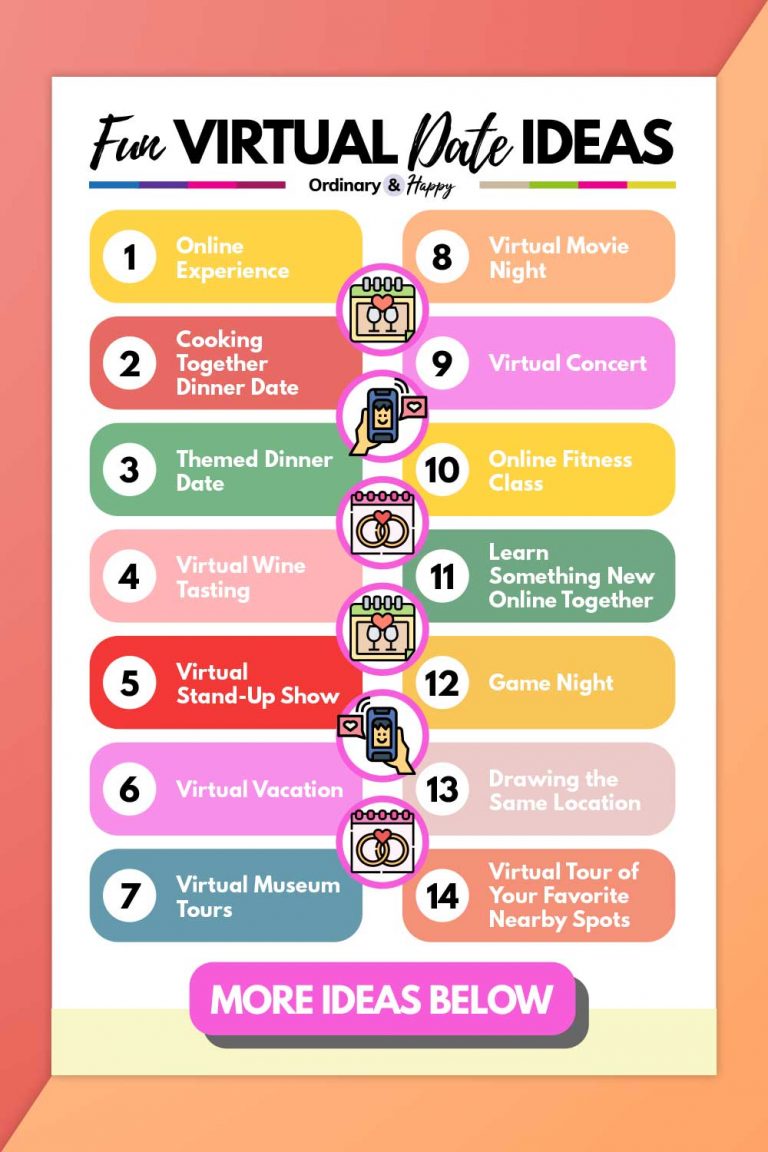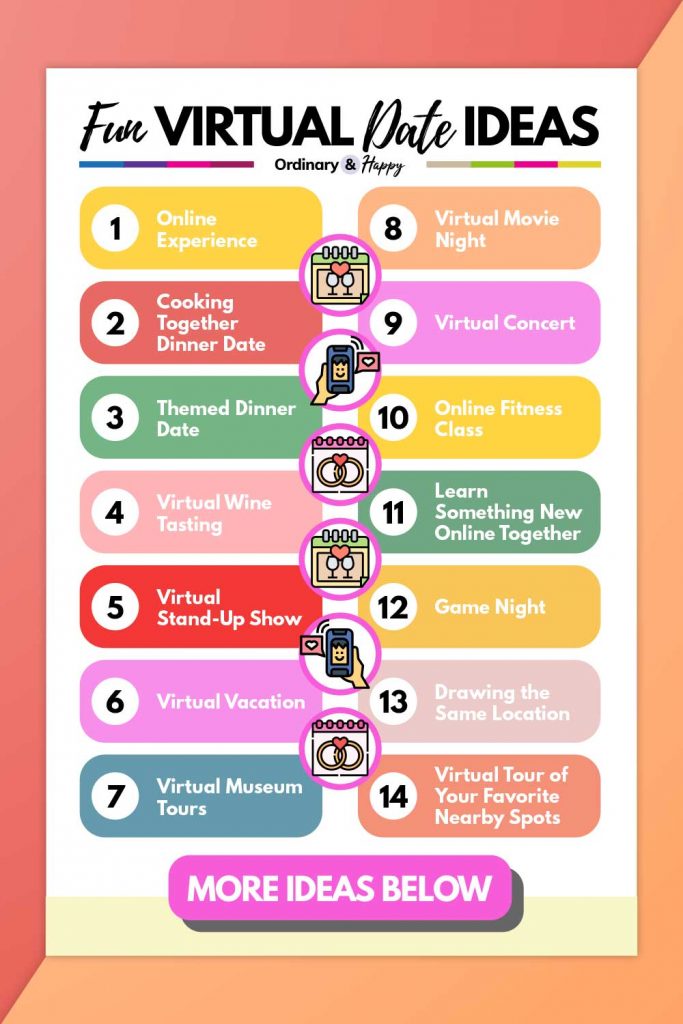 This fun, creative, and memorable list of virtual date ideas is perfect for long-distance couples.
Don't let distance ruin the romance. A little planning and creativity are all it takes to ignite passion, love, and laughs over the internet.
---
Fun
1. Online Experience
So many cool and innovative companies run unique and fun experiences online. Depending on the experience, all you generally need is an internet connection and a few tools or ingredients.
From cooking classes to solving fun challenges working together, there is a wide range of online experiences to make your date night fun and memorable.
---
Cool Online Experiences Ideas:
---
2. Cooking Together Dinner Date
If you can't book a table at a luxurious restaurant, why not bring the delicious food into your own home and try cooking dinner together?
Cooking the same meal together gives you a different experience. It is fun, challenging, and intimate. Whether you opt for a meal subscription box or follow an expert chef online, there are many ways to make a delicious, romantic meal at home together.
And to really up the romance factor, you could try a recipe exchange and take turns cooking each other's favorite recipes. This is a fun way to enjoy virtual dating from the comfort of your own home.
---
Cooking Resources:
---
3. Themed Dinner Date
If you're a little less adventurous when it comes to cooking, make things easier for yourselves. Choose simple foods you both love, such as Mexican tacos or Italian pizza, and theme your virtual dinner date the way you want it.
Add in some drinks, champagne, or easy-to-make cocktails, and you've got a virtual date that's a lot of fun for both of you.
By keeping the food and drinks simple, you can focus on meaningful conversations, sharing stories, and making each other laugh.
4. Virtual Wine Tasting
Wine tasting and tours are a wonderful day out, and many wineries or experts run virtual experiences to guide you through some of their favorite wines.
From the comfort of your homes, you can enjoy new and flavorsome wines while the on-screen tour guide tells you all about their taste, style, and pairings.
---
Virtual Wine Tastings & Wine Subscriptions:
---
5. Virtual Stand-Up Show
Laughing together is one of the most powerful ways you can connect. But why put the pressure on yourselves to be funny when you can watch someone else make you both laugh?
Stand-up is one of the best shows to translate online. Whether through a ticket vendor or social media channels such as Facebook Live or YouTube, there are plenty of ways to watch your favorite comedians or comediennes.
Sit back with a glass of champagne and let the thrills, giggles, and bellyaches commence.
---
Check out this list of online comedy shows happening this month via Eventbrite.
---
6. Virtual Vacation
If you can't travel in person together, that doesn't mean you can't experience fun, new, and exotic locations.
Virtual vacations are an inexpensive virtual date idea and much easier to organize than a romantic holiday together.
Choose somewhere you'd love to see and enjoy exploring a whole new world in a relaxed, romantic way. There are so many virtual tours to choose from, the world's your oyster!
---
Some Cool Virtual Vacation Ideas:
---
7. Virtual Museum Tours
Soak up plenty of art, history, and culture together by taking a fun and exciting virtual museum tour.
Write down things you are interested in, then swap notes and find an area of interest you would both enjoy.
Together, from the comfort of your couch, you can both take an awe-inspiring tour through some of the world's most famous museums. Pour a glass of wine, and enjoy the museum exhibits together.
---
Virtual Museum Tours:
---
8. Virtual Movie Night
Movie nights are the classic romantic date idea. If you can't get to the cinema, move theaters, or a drive-in movie, get creative and recreate that nostalgic cinema vibe at home.
You could watch movies as part of a group of like-minded people. Or, if you can't settle on a movie together, both choose one, then watch them back-to-back together.
Dim the lights, get yourselves a bowl of popcorn and a drink, and enjoy some simple and exciting quality date time together.
---
Virtual Movie Night Resources:
---
9. Virtual Concert
Music, similarly to movies, transfers wonderfully well to a virtual environment. Whatever your tastes in music, there's so much online to experience and enjoy together.
Virtual concerts are a great date idea if you're both at home or connecting long-distance.
You could find an artist you both love and see if they're live streaming music, or try something new and exciting, such as jazz or an electronic music festival.
---
Virtual Concerts Resources:
---
10. Online Fitness Class
The things you have in common can be an incredible driver behind you growing as a couple. If you're both into fitness, why not make a date out of it?
Virtual fitness classes are a great way to spend time doing something you both love together. Because you're being taught by an instructor, you can then go at your own pace.
Plenty of gyms run spin, workout, and other classes, and yoga studios likewise run virtual yoga classes.
---
Creative
11. Learn Something New Online Together
Ever wanted to learn the piano, write a script, or play chess? Why not use your date night to challenge each other and learn a new skill together?
There are thousands upon thousands of classes for you to learn fun new skills as an absolute beginner.
Use your date night to flex your brain skills, challenge each other, and work as a team.
---
If you're interested in learning something online together, check out our article "30 Skills to Learn Online."
---
12. Game Night
Game nights are so much fun. If you're isolated or apart, there are still plenty of ways to enjoy the thrills and fun of many classic or current games online.
You could invite other couples and friends to join you for a fun game night playing games like charades or beloved board games like Monopoly virtually.
If you enjoy gaming, online multiplayer games together, or with a larger group, can help you have fun together, without the intimidation of too much intimacy.
Or your game night can be just the two of you, sharing stories, being goofy, or outwitting each other.
13. Drawing the Same Location
Drawing is a fun, therapeutic, and romantic way to spend a date. It doesn't matter if one of you is the self-proclaimed 'worst artist in the world' as this is all about having fun and trying something different.
Pick a favorite outdoor location near you. Stream the location and you can draw it in person while your partner can draw it off the online stream.
Forget about the end result. This is all about spending time in a new, creative, and enjoyable way together.
14. Virtual Tour of Your Favorite Nearby Spots
If the two of you live in different cities or countries and can't be together for your date night, why not become your own virtual tour guide and take your date or partner on a whirlwind tour of your local area?
Make your own itinerary of monuments, sightseeing spots, and points of interest near you. Then, using your phone or tablet, stream yourself as you travel from spot to spot while taking your partner with you on video chat.
Or, if you can't go in person, put together a playlist of YouTube videos showing nearby spots or a slideshow of photos of famous landmarks near you. You can then tell your partner or date all about your local area while sharing stories and plenty of laughs.
This is a great way to have a unique, creative, and intimate virtual date together.
15. Write a Love Letter to Each Other
There's something truly intimate about receiving a physical love letter from a loved one. Writing to each other allows you to connect in new ways on a deeper level.
Not being able to see your partner yet feel they are there through their words can be a powerful act of intimacy. The anticipation, creativity, and romance can all help intensify your desire for each other.
Lovers have written to each other for thousands of years. In an age of online connection, the power of the written word can still be one of the best ways to show someone how much you love them in real life.
If you can't physically send a letter, you can still write to each other virtually. Set up a Google docs template, invite your date via email, and take it in turns to write to each other.
16. Virtual Happy Hour
After a long week of work, seeing your partner's face can be one of the most desirable things on a Friday evening. If you're not physically together, setting up a Zoom date or video call and uncorking a bottle of wine for happy hour can be a great idea.
From the comfort of your kitchen or living room, you can spend quality time together while not having to leave your comfort zone.
You could even mix it up with some online cocktail classes or let loose with a choreographed TikTok dance to your favorite songs to really get that Friday feeling!
There's no better way to finish the work week than with your loved one. Make your virtual date night relaxed, enjoyable, and without pressure.
---
First Dates
17. Double Date
Hate the pressure of first dates after meeting someone on apps like Bumble and Tinder? Why not make it a double date?
You and your friend could join a double date over a video call, virtual event, or have some fun with online games or a movie online together.
If the nerves are overwhelming, virtual activities with friends can be a lot of fun, and help take the spotlight off you to talk all the time.
18. Play Games Online
Keep it fun and casual with one of the best virtual date ideas for spending time in a more natural way. The pressure of having to constantly look at each other and keep talking can be too much.
Online games allow you to partake in a fun activity together while giving you the chance to talk to each other in a more natural way.
19. Virtual Dance Party
Love meeting people amid the heat and energy of a bar or nightclub? A virtual dance party may be a great idea if you love dressing up and getting your groove on.
Whether you love to dance with style and rhythm or just love to let loose and go crazy, dancing is a great way to let your date see you in a totally different way.
20. Play a Virtual Escape Room Together
As long-distance date ideas go, this is definitely one of the most fun. Together, or joining in with another party, solve challenges and experience the thrill of escaping in the allotted time.
---
Romantic
21. Take a Love Language Test Together
A fun way to better understand how online dating works for you both is to take a love language test.
You can learn about what each of you needs in the relationship, your most important love languages, and make it a fun and intimate activity.
22. Write a Bucket List for Next Year
Start making plans together, and talk about what you want to achieve together next year. Create a shared document, and add to your list throughout the year.
Related: Free and Premium Bucket List Printables and Templates
23. Go House Hunting for Your Dream Home
If you want to take your relationship to the next level, talk about the future together. Go on property websites, set no budget, and have looking for your dream home.
Many property websites now include video and 3D listings, so you can virtually explore your dream homes together.
24. Send Each Other a Care Package
A date night idea with real thought, give yourselves an amount of time to put together a fun and creative care package, then send them to each other.
In long-distance relationships communication skills are key, so wanting to prepare a care package will naturally help you both open up and find out more about your interests, desires, and what matters in life.
---
Low-Key
25. Binge-Watch YouTube Videos
Go down a YouTube rabbit hole together, and enjoy plenty of laughs and creative storytelling in each other's company.
26. Screen Share Treasure Hunt
Keep the spark alive and play a creative and fun game you can both do together. Set up folders on your desktop, each with questions to answer about images, video, or other memories you can put in the folder.
Screen share and take turns to answer each other's questions, working your way across the desktop to an end prize.
This prize could be an online experience, tickets to a concert, or a surprise gift for the two of you to enjoy together.
27. Play Truth or Dare
Engage in plenty of deep and intimate conversation, and go beyond the casual questions of dating life with someone you're getting to know better.
As virtual date nights go, this is definitely one to try once you're more comfortable with each other.
Our list of 'truth or dare' questions can give you plenty of ideas if you're struggling to think of interesting questions to ask.
---
More Virtual Date Ideas
28. Take a Virtual Yoga Class Together
If you both like your virtual dates to be more than sitting at a screen, this is a great idea for you.
Sign up with a recommended instructor, and enjoy a relaxing, feel-good session in each other's company.
29. Play Bartender and Make a Personalized Cocktail
Choose ingredients that suit each other's personalities, and watch each other making a cocktail that represents the other person. Talk through your creation, and enjoy this fun virtual experience together.
30. Pixel Art and Wine Evening
If you don't have art supplies handy, create art together using a free online pixel art service, and share screens while you create your art.
Swap stories, listen to music, and enjoy a drink or two while you create beautiful pixel art. You can even share them on social after the date.
Whether it's for Valentine's Day, an anniversary, or a much-needed date night after a long week of work, don't let distance leave you wondering how to make your evening fun and exciting.
---
Use our fun virtual date ideas to conjure up a romantic, magical evening that both of you will love and remember.
Whether you're from different parts of the world in a long-distance relationship, one of you is away from home, or you can't be together right now, sometimes a video call or phone call just isn't enough.
Have fun, get creative, and plan a virtual date that allows both of you to have a great time.
---
Never get stuck thinking of fun virtual date ideas by keeping this article saved to one of your relationship or seasonal Pinterest boards, ready for reference.