This post may contain affiliate links, meaning if you book or buy something through one of these links, I may earn an affiliate commission at no additional cost to you. Learn more
Bring a bucket load of magic to the holiday season with these winter party ideas, perfect for celebrating with friends and family in style regardless of the weather outside.
Winter Party Ideas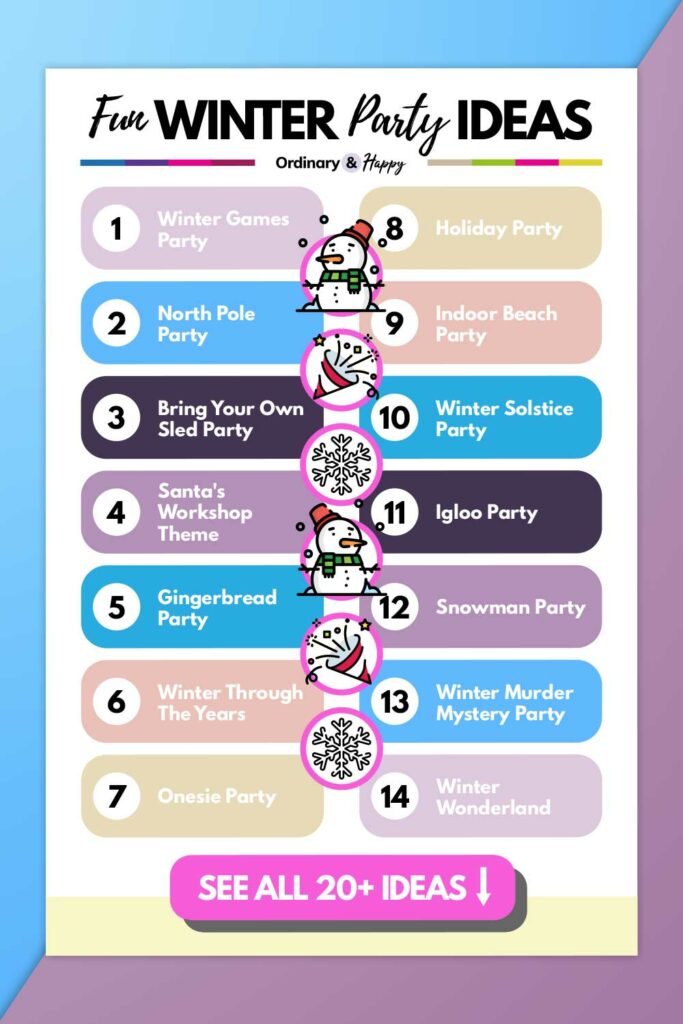 ---
Fun
1. Winter Games Party
A Winter Games-themed party is a great way to spend quality time with loved ones of all ages. You can get creative and come up with your own winter games or use some of the ideas below.
Be sure to keep track of points during your winter games, as you'll want to reward your 1st, 2nd, and 3rd place winners when all is said and done.
Snowball Toss: Make a tower with cups and throw either real or fake snowballs to knock the cups down. The first person to knock down the most cups wins!
Snowy Ski-Ball: First, set a timer. Then use either real or fake snowballs and roll or toss them into cups or buckets for points. The person with the most points when the timer goes off is your winner!
Snow Shovel Race: For this, you will need fake snow, a couple of shovels, and buckets. Get your teams set up on one side and see who can shovel all their snow the fastest.
Have your teams shovel snow from one bucket to the next. Once they have done this, they will need to return to the starting line so they can pass their shovel to the next person. The first team to finish shoveling their snow wins.
2. North Pole Party
Decorate your home as though it were the North Pole. Serve delicious treats and beverages that would most likely be served at the North Pole.
Your winter party guests will enjoy indulging in some hot cocoa with marshmallows and peppermint.
Invite your guests to participate in a treasure hunt, where you give them clues to find the abominable snowman, Santa's hidden workshop, or the top of the world.
3. Bring Your Own Sled Party
If the snow has fallen and created a winter wonderland outside, no matter their age, invite your guests to bring their own sled for a fun afternoon of sledding if safe to do so.
If you have a hilly backyard or have room to create ramps, great! If not, no worries, head on down to your local park or nearest hill for some sledding fun.
You could even get a tournament set up and have everyone race each other. The winner of the tournament gets first dibs on a cup of hot chocolate.
---
Creative Winter Party Ideas
4. Santa's Workshop
Decorate your home as though it was Santa's workshop.
Invite your guests to dress up as elves, Santa, or Mrs. Claus, and wrap some simple Secret Santa gifts, such as chocolate or comfy mittens, to hand out to everyone at the party.
5. Gingerbread Party
This winter party idea is sure to have your home smelling truly delicious! In order to host a gingerbread party, you will want to stock up on your gingerbread or have your guests bring their own.
Set up a few areas where people can get creative. You and your guests can enjoy the smell of gingerbread while decorating cookies and gingerbread houses.
6. Winter Through the Years
This winter party idea is better suited for an older crowd. Invite your guests to pick their favorite past winter memory. Have your guests bring some pictures or videos of their favorite winter memories.
Create a set space so that guests can place their pictures, thus creating the Winter Through the Years collage. Cook some of the most memorable dishes from your guests' past winters and enjoy a night of memories.
---
Indoors
7. Onesie Party
Hosting a onesie party is easy and fun. All you really need to do is invite your guests to wear a onesie. As the host, provide your guests with comfort food, as this is a night of comfort.
Have a few games ready to play with your guests. Some great games to play are trivia games, Pictionary, or Quelf. These games will get your guests engaged while having a great time at your party.
Related: 30 Best Party Games for Adults to Try
8. Holiday Party
Celebrate all winter holidays in one night. Pick the ones your friends celebrate or celebrate all the different holidays that take place during winter.
You can celebrate the more well-known holidays such as Kwanzaa, Christmas, New Year, Hanukkah, Chinese New Year, or Diwali. Create designated areas in your home for every holiday you want to celebrate.
Invite your guests to bring dishes, potluck-style, or games that relate to one of the holidays chosen. Enjoy the day traveling the world by celebrating holidays from different cultures.
9. Indoor Beach Party
An indoor beach party is perfect for those of you missing the warmer seasons. Decorate the inside of your home as though it was a beach or tropical island.
Invite your guests to don their best Hawaiian shirts, and cook summer, beach-themed dishes such as hot dogs, surf and turf, ribs, and hamburgers.
Serve these dishes with a choice of warm and chilled drinks, and recreate the summer vibes most people are craving.
---
Outdoors
10. Winter Solstice Party
The Winter Solstice happens on December 21st of every year. The Winter Solstice is a time to release and set new intentions.
A warm fire is a perfect addition to any Winter Solstice Party. Make DIY lanterns to set free into the night sky and feed the birds and other animals with food from a pre-bought or DIY feeder.
11. Igloo Party
This winter party idea requires a bit of work, but it will be well worth it when all is said and done.
Either decorate your house like the inside of an igloo, complete with paper snowflakes and plenty of icy blue and white decor, or, if safe to do so, set up a big dome tent in the backyard.
Invite your guests to come inside your fort or Igloo and host your party there. Offer warm food and beverages, play games, and enjoy the winter atmosphere.
12. Snowman Party
Who doesn't love building snowmen? If there's fresh snow on the ground, a snowman party is great for all ages.
Work together to build one giant snowman, or have everyone build their own.
This is a great time to use any old clothes you no longer want or wear. Use them to add some style to your snowmen.
If you're someone who enjoys friendly competition, you can have your guests vote on who built the best snowman.
If there's no snow, you can still have lots of fun building DIY snowmen indoors. You could get crafty with the kids with putty or play-doh, make paper lantern snowmen, or print off blank snowmen outlines on paper and get everyone to draw and paint their perfect snowman.
---
Elegant and Classy
13. Winter Murder Mystery Party
Send out stylish invitations to all your guests. Your invitation should include your guests' character, dress code, and any other important information needed for the party. Make it winter-themed with characters like 'Ice Queen' or 'Bad Santa,' and serve icy cocktails and classic holiday foods.
You will need to set up a murder scene somewhere in your home for your guests to discover later on.
The party will revolve around your murder mystery game. You can either create your own or buy a ready-made murder mystery game to save you too much hassle and get the games going!
14. Winter Wonderland
Create your very own beautiful Winter Wonderland-themed party at home. Fill the house with silver and blue winter backdrops, and hang snowflakes, lights, and icicles.
Serve some of your finest dishes and beverages for your guests to indulge in. Ask that your guests come in their finest attire, as you will be hosting a night of winter magic.
---
Budget-Friendly
15. Snowflake Party
This one is great for people of all ages. All you'll need is some white paper and scissors. Pass the paper and scissors around to your guests.
Create unique snowflakes to hang up as decorations. You can add some glitter and color to them to make your snowflakes really stand out.
Put on a holiday-themed film or show and serve finger food to make a proper evening of it.
16. Holiday Movie Party
A holiday movie party is great for anyone on a budget looking for a cheap, easy winter party idea. Pick out your favorite holiday/winter movies and invite your guests to do the same.
Get all cozy with blankets and some snack food. If you're one that enjoys games you can easily spice up movie night by playing trivia-based games on the movies you're watching. Otherwise, just sit back and enjoy your holiday movie marathon.
Can't decide what to watch? Our 100+ Christmas movie bucket list is packed with holiday classics and titles across all genres.
Still looking for ways to inject fun into your movie night? Place fake mustaches onto your TV and play the mustache game! Whenever any character in the movie wears a fake mustache, the person who placed that mustache on the TV will earn a point.
17. Homemade Fort Party
Families will enjoy this winter party idea. Grab all blankets, pillows, and any thick clothing you can find, and build a fort large enough for everyone to fit in.
Your kids will truly enjoy this winter party idea as you bring in games and treats to share with your family.
If you'd like, you can leave an opening in the fort so that you can watch movies when you're done playing games.
A homemade fort party is both family and wallet-friendly as it costs very little to host.
---
More Ideas
18. Ice Fishing Theme
Heavy coats, a few classic fish-themed games like Sounds Fishy, and some seafood treats are all you need for a creative winter party theme with a difference.
19. Antarctica Party
Travel down to Antarctica for a day and invite your guests to come along for the ride. Decorate your home as the South Pole for a day, and enjoy the fun that comes with it.
You can do this by spreading around fake snow and hanging Antarctica-styled backdrops. Add in some images or cutouts of animals that live at the South Pole to really pull this theme together.
Play games, watch nature documentaries, and enjoy some winter-themed fun.
20. Winter-Themed Costume Party
Who doesn't love a good costume party? Have your guest wear winter-themed costumes. Decorate your home with winter-themed props, and serve your guests hot foods and warm beverages.
Add some competition by having your guests vote on who wore the best winter costume. Play winter-themed games, such as a snowball toss or pin the nose on a snowman.
---
Capture the spirit and magic of winter with one or more of these awesome winter party ideas, and give everyone invited, from kids to family friends, a time to remember.
You Might Also Like to Read
---
Planning a winter party? Keep these ideas for inspiration by saving them to one of your party planning boards.