This post may contain affiliate links, meaning if you book or buy something through one of these links, I may earn an affiliate commission at no additional cost to you. Learn more
Take your cooking, mixing, or baking game to new levels with these fun online cooking classes, and host dinner parties like you're a celebrity chef!
Online Cooking Classes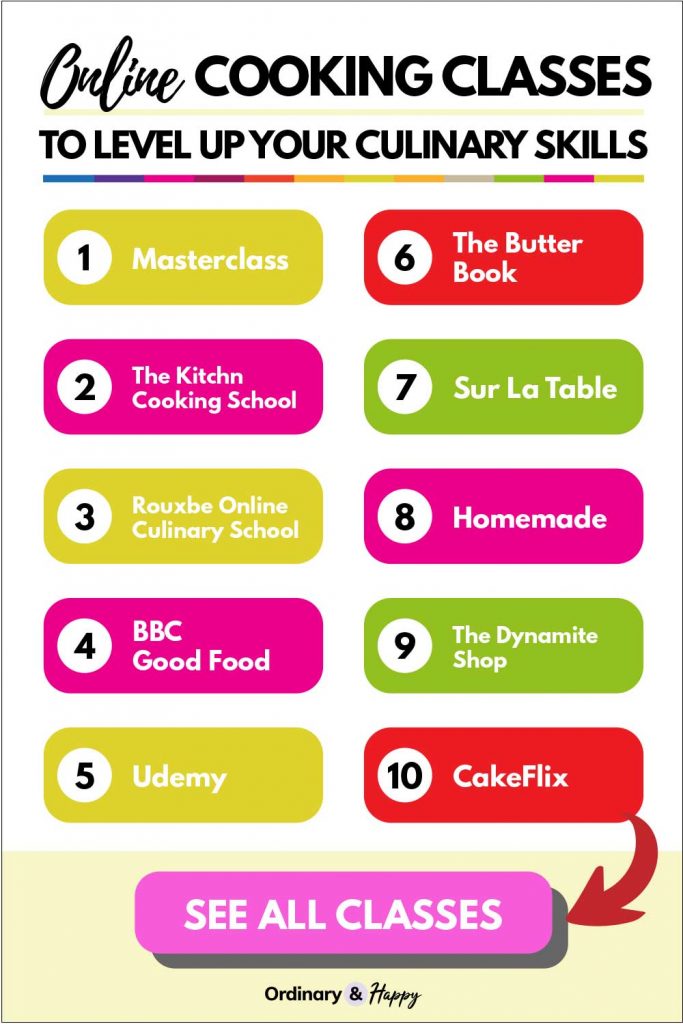 The growing popularity of online learning means that today, even if you're a total cooking novice, in time you can cook, sizzle, bake, and serve up incredible food at your own pace.
But in a vast world of online courses, not all of them are value for money. Our guide will give you insight into some of the best online cooking classes out there so that you can find a course that is right for you.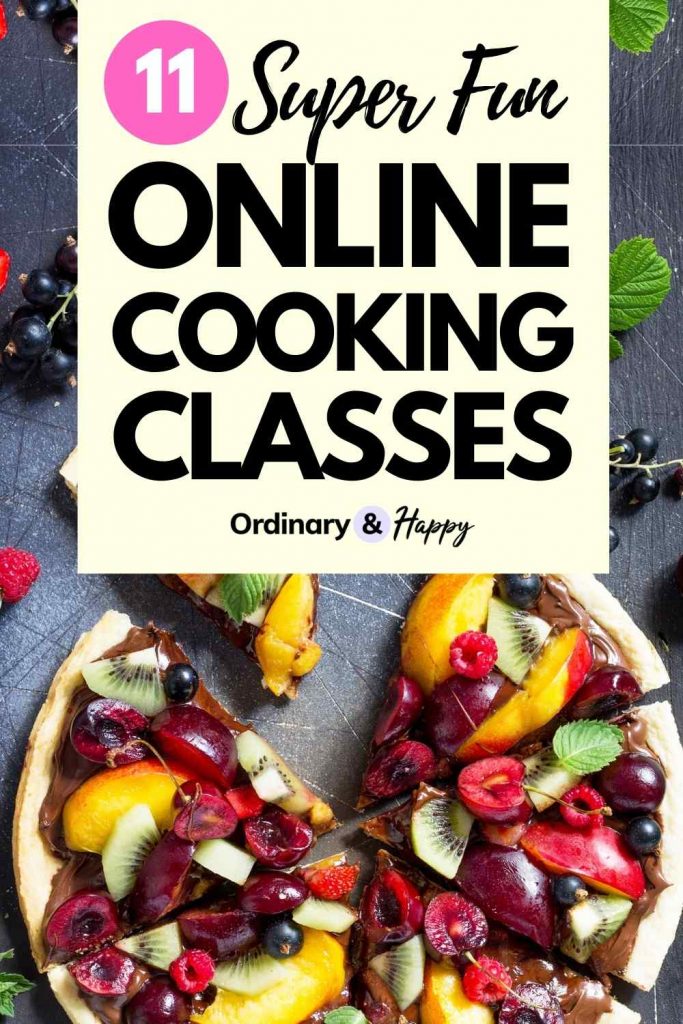 ---
Boasting some serious star power, Masterclass runs courses covering any and all topics you can think of, led by both celebrities and experts from different fields. The platform has a number of exciting classes that cover food and mixology, taught by a myriad of celebrities, including Gordon Ramsay, Thomas Keller, and Lynette Marrero.
Whilst the sessions on Masterclass mostly center around developing the kind of skills you'd find being used in a restaurant – or to impress your guests at a dinner party – classes are created for all skill levels, so a vast culinary knowledge isn't necessary before starting.
Instructors share their expertise on tips and techniques for sourcing ingredients, as well as how they cook and prep in their own kitchens.
Types of Masterclasses you can take include Knife Skills, Basic Cooking Techniques (Pasta, Meats, Vegetables, Eggs, Stocks, and Sauces), Restaurant Recipes, Global Cuisine, and Mixology. Each individual class contains between 11 and 26 mini-course video lessons, as well as a workbook.
---
A course that comprises 20 bite-size lessons over 20 days, the Kitchn Cooking School offers techniques to help you nail the basics of cooking – and best of all, it's completely free of charge.
The classes are suitable for both beginners and seasoned cooks alike; whether you've been cooking for a few weeks or a few years, the course can be utilized to learn new skills or sharpen up existing ones.
The course focuses on teaching no more (and no less) than what's really needed for you to become the great, confident cook you've always wanted to be.
After signing up, each day from Monday to Friday for four weeks, you'll receive your cooking lesson straight into your inbox. These consist of video instructions, a daily assignment, and ideas for further practice. A new topic is covered each day, starting from knife skills, before finally working up to how you can cook and throw an entire dinner party.
As well as providing great, informative content, the Kitchn Cooking School keeps the tone light, yet professional. They also provide the opportunity to socialize with other learners through the company's Instagram and Twitter pages, so it feels more like an authentic cooking class.
---
Rouxbe is considered one of the leading virtual culinary school among professionals in the sector, and one of the only online cooking schools that's validated by the American Culinary Federation Education Foundation. The company offers a range of virtual cooking classes that teach aspiring cooks both classic and contemporary cutting-edge techniques.
Led by an entire team of world-class chef instructors – and former culinary school executives – the platform caters to all tastes and preferences. Lessons run across 13 introductory courses, such as dry and moist-heat cooking methods, how to make soup, how to make stock, and more.
They also boast other, more niche, certified programs that cover a range of topics – from plant-based cooking, to how to perfect seafood, and the art of mastering pastries.
Whilst Rouxbe is best for folks who already have a fair amount of working culinary knowledge, it's not a requirement. As well as gaining access to all of the instructional videos and recipes, you also get access to personalized instructor support when you sign up.
---
These bite-sized cooking classes are best suited for those with busy lifestyles, who want to learn new cooking tips and skills, but don't always have time for full-length culinary lessons.
The BBC Good Food website and their YouTube channel has thousands of short, time-lapsed how-to videos and past live streams about how to prepare and perfect just about any food you can think of.
The website itself is free to use, and the bite-sized tutorials and recorded live sessions won't set you back a penny. For those who want to set their sights a bit higher, the service also offers more advanced, paid on-demand classes.
Ranging from 40 minutes to one and a half hours in length, the BBC Good Food Learn section hosts webinars featuring top chefs that teach the learner to master specific skills. Examples include instructions on how to make flawless macarons, top-notch homemade pasta, and the art of creating the perfect seasonal cheeseboard.
---
Udemy is a huge online learning platform, offering over 150,000 courses, mostly ranging from $10 to $100 in price. If you're looking to learn something specific, Udemy is a great place to start. The use of filters enables you to narrow down courses by a number of factors, including length, difficulty level, and price.
The platform hosts food and drink courses in relation to just about anything you can think of. Whether you want to learn how to make Japanese pastries, become a tea aficionado, or cultivate your own exotic mushrooms for home cooking, Udemy has it all.
One helpful feature is the ability to see individual instructors' bios and ratings, helping you choose your course with confidence.
Another of Udemy's real standout features is its vast range of bartending courses – aspiring mixologists, spirit enthusiasts, and home brewers alike are spoiled for choice. All paid course graduates come away with a certificate upon completion.
---
This is one for any budding bakers in the house – if you prefer the idea of whipping up your own artisan bread and pastries over carefully curating a dinner party for six, The Butter Book is for you.
It was founded by Sébastien Canonne, M.O.F, and Jacquy Pfeiffer, two world-renowned French chefs, who also founded the French Pastry School. The Butter Book's main focus centers on inspiring and teaching home bakers to craft sweet, delicious creations in the kitchen.
The knowledge found within The Butter Book's baking and pastry classes is time-tested, drawing on techniques that have proven popular across centuries of European tradition.
Consisting of hundreds of instructional video lessons, as well as expert chef articles, hundreds of pro tips, and a glossary of over 4,000 industry-related terms, there's enough content to keep the average home baker entertained in the kitchen for months.
Before you know it, you'll be crafting mouth-watering macarons and delicate Danishes from scratch. There's also a 10-day free trial when you sign up, so you can try before you buy.
---
When you hear the name Sur La Table, you might sooner think of high-end retail comprising cookware, cutlery, and kitchen electronics than you do culinary school.
However, the luxury kitchenware chain also hosts fully interactive online cooking lessons that deliver content through password-protected Zoom sessions, rather than pre-made video tutorials. Each session lasts between 90 and 120 minutes, so participants are free to ask questions as they follow along with each step.
Courses are delivered by expert chefs and the variety of classes taught changes by week. All sessions are available to book on a month-to-view calendar and run a few times throughout the month, so you can reserve your spot on a course that doesn't clash with your schedule.
Classes at Sur La Table mainly focus on creating delicious household meals from scratch, such as gnocchi, pies, and pasta, though the baking section also boasts an impressive repertoire. From cherry cheesecake macarons to apple cider spiced cupcakes, Sur La Table has it all.
If you'd prefer to learn something a bit more general rather than specific recipes, the website also has a Focus Series, comprising multi-session courses exploring classic cuisines and cooking industry techniques.
---
Homemade is ideal for those who want to gain new skills and know-how in the art of cooking, but just want to dip their toes to get a feel for professional culinary classes, or who maybe don't have much of a budget to splash out.
The folk over at Homemade HQ believe that cooking should be engaging and approachable for all, and so rounded up some of the most entertaining, top-quality chefs in the industry to bring accessible cooking classes to everyone.
Similar to Sur La Table, the instructors at Homemade teach learners how to nail specific recipes. The classes are also broadcast live via Zoom; you can sign up for sessions by adding dishes you like – and that fit with your schedule – to your cart before checking out.
It's worth getting in early, though, because classes book up to full capacity fairly quickly after being announced, as these free virtual workshops have proven highly popular since their inception.
Handmade also offer more intimate, hands-on cooking classes in the form of their Cooking Clubs – bundles of recipes that fit a certain theme, such as Baking Club or Korean Cooking. These compilations aren't part of the free service, though.
---
The Dynamite Shop is an online culinary school – with separate clubs for both cooking and baking – aimed at younger audiences, specifically those aged 7-17.
For many parents, the school holidays can be tough to fill with enough fun, stimulating activities for their kids to keep busy while school's out.
Enter: The Dynamite Shop. Offering drop-in classes, weekend sessions, semester-long programs, and even customizable cooking parties, The Dynamite Shop focuses on empowering young people to express themselves through the lens of food.
Though not designed as an online cooking school for adults, The Dynamite Shop's impressive repertoire of hearty, healthy recipes – not forgetting the Baking Club's sweet treats, of course – can be enjoyed by children and their adults alike.
You'll both have the opportunity to learn something new, from sheet pan pizza to slow-cooker bread, and the joint effort you both put in can be a real bonding experience.
---
If, like me, you're seriously obsessed with binge-watching those intense, dramatic, yet seriously impressive cake competition shows (Cake Boss and Cake Wars, we're looking at you) and you're feeling inspired, then throw on your baking hat and head over to CakeFlix.
With over 1300 online cake-making tutorials featuring world-class tutors (such as company founder and master baker Paul Bradford), regular live shows, feature-length video courses added weekly, and its own learning community, you'll never run out of ideas and things to bake with CakeFlix. The service offers a seven-day free trial, so you can get a real feel for the platform before committing to a subscription.
CakeFlix is fairly unique in that it doesn't focus on the art of baking as a whole, but instead centers specifically around cake-making and decorating. It doesn't matter if you're new to the world of cake artistry or you already know your fondant from your ganache, as there are classes and projects for all skill levels.
There's even an option to upgrade your subscription to Pro membership, which has the additional feature of a whole section of extra lessons, centered on the fundamentals of turning your cake-making hobby into a business.
---
Another online cooking school with some of the most formidable famous names in the business, Learning With Experts teaches you… well, to learn with experts.
You could explore the art of foraging for local delicacies to incorporate into your dishes, cooking in the wild, and also get a real feel for sustainable, farm-to-table cuisine with the River Cottage Cooking Diploma, taught by Hugh Fearnley-Whittingstall himself.
If that's not your thing, maybe you'd prefer an authentic culinary journey across Japan with Andrew Kojima – AKA Chef Koj – the award-winning British Japanese chef and MasterChef finalist.
Classes start from £35. There's an option available to learn in online classrooms with other students – this is the cheapest way to use the platform, and provides the opportunity to get the most out of shared knowledge and community learning.
Alternatively, for a significantly higher price, you can get marked assignments, personalized feedback, and individual tuition from the experts themselves. Some courses also come with a diploma upon completion, so you can learn how to whip up delicious cuisine and gain a qualification at the end of it.
---
Learning how to cook can be done from the comfort of your home kitchen. All you need is patience, a can-do attitude, and the right course to guide you.
Be you looking to improve in a particular area of cooking, or feel hopeless in the kitchen and want to start somewhere, these online courses will help you hone your skills in a range of disciplines.
Have fun learning new things in the kitchen, and once you're confident enough, be sure to wow your friends, family, or partner with your delicious dishes!
You Might Also Like to Read
---
Eager to take a cooking class in your spare time? Keep this article for safekeeping, by saving it to one of your Pinterest boards.