This post may contain affiliate links, meaning if you book or buy something through one of these links, I may earn an affiliate commission at no additional cost to you. Learn more
Unleash your wild side with these 100+ crazy bucket list ideas to help you live life to the fullest!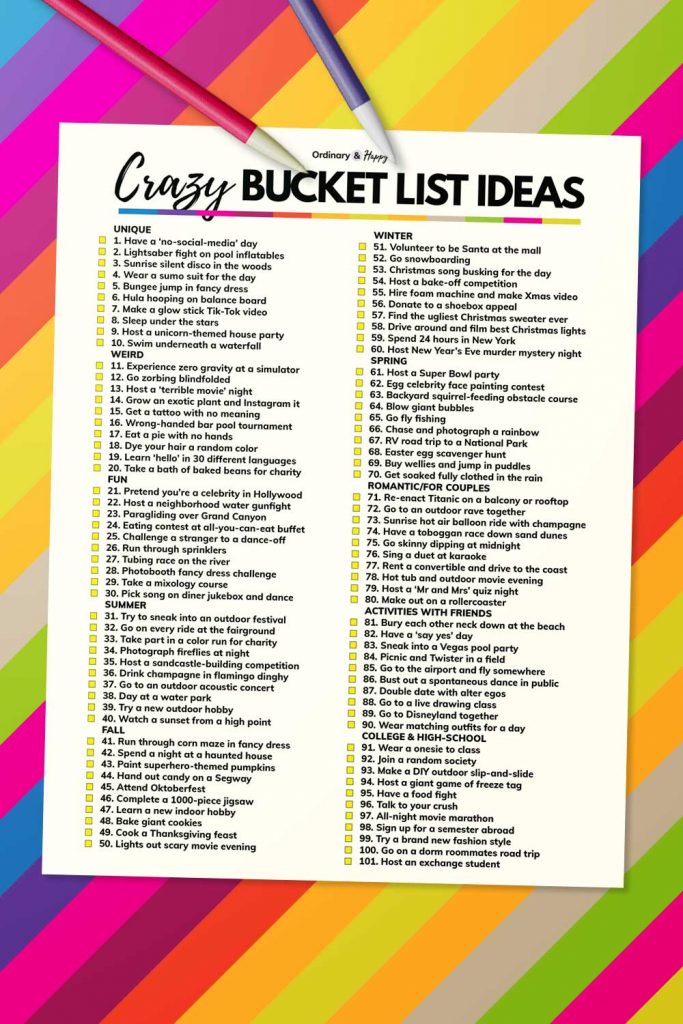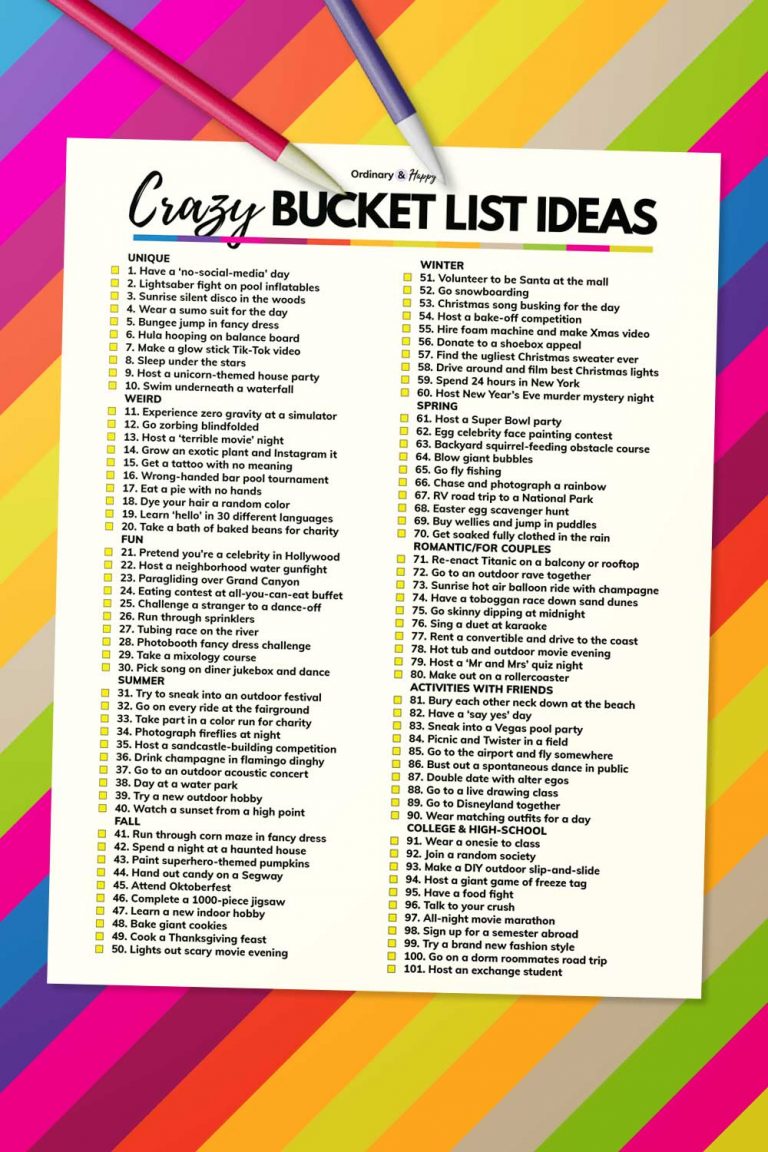 What is life without a little fun, chaos, and spontaneity? If you feel like you're stuck in a rut, you can get out and try something fun and crazy!
Whatever time of year, or whatever stage of life, our crazy ideas will help you overcome fears, achieve goals, and try something totally new.
Want to make trying crazy ideas a habit? You can download our crazy bucket list ideas printable here, and make it your life's mission to try as many as you can!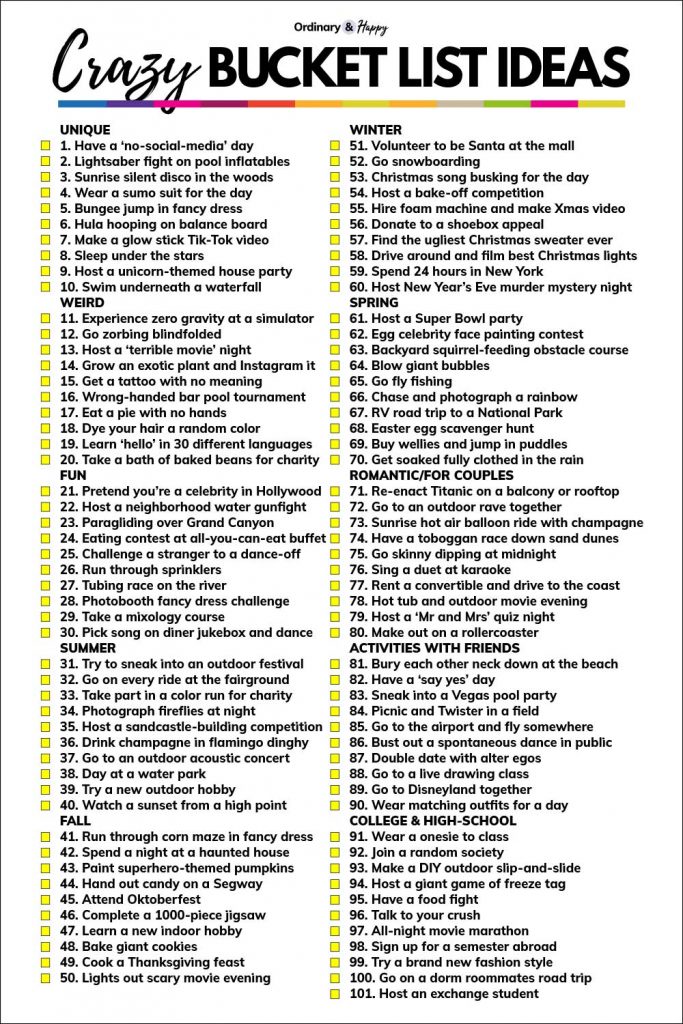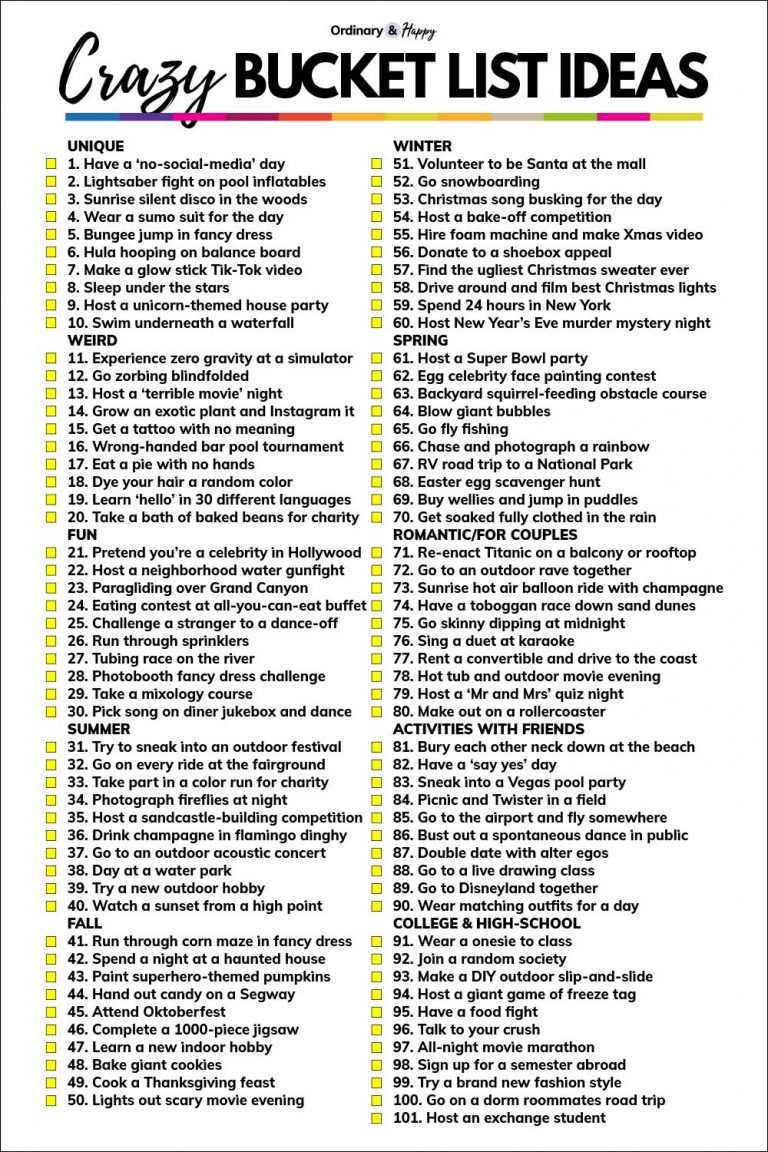 Unique Crazy Bucket List Ideas
1. Have a 'no-social-media' day
2. Lightsaber fight on pool inflatables
3. Sunrise silent disco in the woods
4. Wear a sumo suit for the day
5. Bungee jump in fancy dress
6. Hula hooping on balance board challenge
7. Make a glow stick Tik-Tok video
8. Sleep under the stars
9. Host a unicorn-themed house party
10. Swim underneath a waterfall
Weird Crazy Bucket List Ideas
11. Experience zero gravity at a simulator
12. Go zorbing blindfolded
13. Host a 'terrible movie' night
14. Grow an exotic plant and Instagram it
15. Get a tattoo with no meaning
16. Host a wrong-handed pool tournament at a bar
17. Eat a pie with no hands
18. Dye your hair a random color
19. Learn 'hello' in 30 different languages
20. Take a bath of baked beans for charity
Fun Crazy Bucket List Ideas
21. Go to Hollywood and pretend you're a celebrity
22. Host a neighborhood water gunfight
23. Paragliding over Grand Canyon
24. Eating contest at an all-you-can-eat buffet
25. Challenge a stranger to a dance-off
26. Run through sprinklers
27. Tubing race on the river
28. Photobooth fancy dress challenge
29. Take a mixology course
30. Pick a song on a diner jukebox and dance
Summer Crazy Bucket List Ideas
31. Try to sneak into an outdoor festival
32. Go on every ride at the fairground
33. Take part in a color run for charity
34. Photograph fireflies at night
35. Host a sandcastle-building competition
36. Drink pink champagne in a flamingo dinghy
37. Go to an outdoor acoustic concert
38. Day at a water park
39. Try a new outdoor hobby
40. Watch a sunset from a high point
Fall Crazy Bucket List Ideas
41. Run through a corn maze in fancy dress
42. Spend a night at a haunted house
43. Paint superhero-themed pumpkins
44. Hand out candy on a Segway
45. Attend Oktoberfest
46. Complete a 1000-piece jigsaw
47. Learn a new indoor hobby
48. Bake giant cookies
49. Cook a Thanksgiving feast
50. Lights out scary movie evening
Winter Crazy Bucket List Ideas
51. Volunteer to be Santa at the mall
52. Go snowboarding
53. Christmas song busking for the day
54. Host a bake-off competition
55. Hire a foam machine and make a Christmas video
56. Have a clearout and donate to a shoebox appeal
57. Find the ugliest Christmas sweater ever
58. Drive around and film the best Christmas lights
59. Spend 24 hours in New York
60. Host New Year's Eve murder mystery night
Spring Crazy Bucket List Ideas
61. Host a Super Bowl party
62. Egg celebrity face painting contest
63. Create a backyard squirrel-feeding obstacle course
64. Blow giant bubbles
65. Go fly fishing
66. Chase and photograph a rainbow
67. RV road trip to a National Park
68. Easter egg scavenger hunt
69. Buy wellies and jump in puddles
70. Get soaked fully clothed in the rain
Romantic Crazy Bucket List Ideas For Couples
71. Re-enact Titanic on a balcony or rooftop
72. Go to an outdoor rave together
73. Sunrise hot air balloon ride with champagne
74. Have a toboggan race down sand dunes
75. Go skinny dipping at midnight
76. Sing a duet at karaoke
77. Rent a convertible and drive to the coast
78. Rent a hot tub and have an outdoor movie evening
79. Host a 'Mr and Mrs' quiz night
80. Make out on a rollercoaster
Crazy Bucket List Ideas for Activities with Friends
81. Bury each other neck down at the beach
82. Have a 'say yes' day
83. Sneak into a Vegas pool party
84. Picnic and Twister in a field
85. Go to the airport and fly somewhere for a night
86. Bust out a spontaneous dance in public
87. Double date with alter egos
88. Go to a live drawing class
89. Go to Disneyland together
90. Wear matching outfits for a day
College & High-School Crazy Bucket List Ideas
91. Wear a onesie to class
92. Join a random society
93. Make a DIY outdoor slip-and-slide
94. Host a giant game of freeze tag
95. Have a food fight
96. Talk to your crush
97. All-night movie marathon
98. Sign up for a semester abroad
99. Try a brand new fashion style
100. Go on a dorm roommates road trip
101. Host an exchange student
---
Get crazy. Get weird. And if you can, get your friends or partner involved! Life too's short to spend it doing the same things, every day.
You Might Also Like to Read:
---
Need a little crazy in your life? Keep this awesome bucket list for safekeeping by saving this article to one of your Pinterest boards.