This post may contain affiliate links, meaning if you book or buy something through one of these links, I may earn an affiliate commission at no additional cost to you. Learn more
Treat yourself or someone close to you with these wonderful self-care gifts, ideal for reducing stress, improving wellbeing, and helping you relax.
Self Care Gifts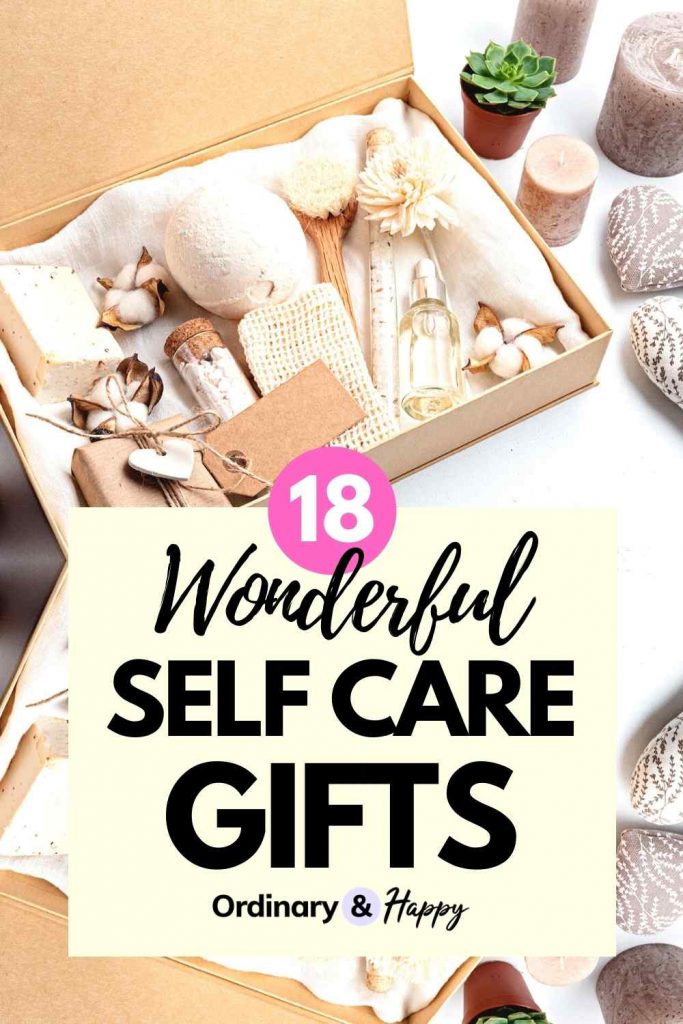 We can all take better care of ourselves. But sometimes, with all the distractions, noise, and business of day-to-day life, it can be difficult to get into the right frame of mind to unwind and relax.
These self-care gifts go a long way to helping you achieve this. From therapeutic activities to Friday night drinks, there are so many ways to bring happiness and better wellbeing into your life.
---
Relaxing Self Care Gifts
1. Therabox Self-Care Gift Box
The Therabox self-care gift box has been curated by professional therapists to give you or a loved one a monthly set of goodies to improve your self-care in many ways.
Each monthly subscription box contains an activity to help boost your happiness and mental health, along with a range of wellness products, from sleep masks to aromatherapy oils.
This box is great if you want to try a few ways to improve your mindfulness and wellness, without having to spend hours finding products yourself.
2. Tea Subscription
Drinking tea regularly has a range of health benefits, both for your physical and mental health.
Whether you're a tea lover or have never tried tea before, this subscription set is an excellent way to try new and exciting teas. For tea lovers to enjoy a therapeutic cup of tea, this is a truly great gift idea.
From matcha to peppermint, there are flavors from all over the world to try. Each tea is rich in various nutrients and vitamins and can help you relax, feel calm, and help bodily functions, such as digestion.
---
Beauty & Spa Self-Care Gifts
3. Unwind Lavender Gift Set
Bring the aromatic and soothing qualities of lavender into your home with this creative lavender gift set, ideal for evenings of calm and unwinding.
This 4-piece gift set allows you to unwind in a number of ways. A lavender plant, soy candle, pillow mist, and eye mask make the perfect quartet for improved wellness and relaxing evenings.
4. Plush Robe
Check Latest Price
Replicate that comfortable spa environment with a silky soft, warm, and comfortable plush robe, ideal for your at-home spa day or for relaxing in the evening.
Warmth and comfort will help ease your tired body into a state of relaxation and allow you to switch your mind away from work and distractions.
Snuggle up between the soft layers as you watch television, unwind with a face mask, or let your smooth skin dry after a hot bubble bath filled with essential oils.
5. Comfy Slippers
Check Latest Price
Blood circulation is key to our bodies working efficiently and seamlessly. After a long day of work, while taking your socks off feels amazing, your feet can quickly become icy cold.
So get yourself, or someone close to you, a pair of soft, comfy slippers. As soon as you slip them on, you'll instantly be able to switch from work mode to relaxation while keeping your feet and toes warm and circulating.
6. Bamboo Bath Tray
Check Latest Price
When it comes to bathroom decor, few materials can match the organic feel and raw beauty of bamboo.
A bamboo bath tray is a thoughtful self-care gift for yourself or for someone you love, and it's both practical and luxurious.
In elegance and style, you can keep all your self-care essentials and products in one easy-to-find place.
Plus, you can use the holders to hold your cold glass of wine or stow your iPhone as you lie back into the soothing waters of your bubble bath and unwind to a chillout playlist or audiobook.
---
Budget Self-Care Gifts
7. Self Care Journal
Check Latest Price
While aromatic baths and luxurious spa accessories no doubt help you feel calm and relaxed, sometimes it's little things we need to do, every day, to help us get into a better mental state.
If you, or someone you know, are going through a period of anxiety or worry, a self-care journal could be an excellent way to deal with and document your emotions.
Self-care journals allow you to get everything out of your head and out on paper for you to see and process.
You can also use your journal to document things like gratitude lists and to help you focus on the positives in your life rather than the negatives.
8. Stress Less Cards
Check Latest Price
Stress-less cards are great for you or someone you know who prefers to take action when it comes to better self-care rather than writing and reflecting.
This 52-card card lays out a range of activities and exercises that are designed to relieve anxiety, improve wellbeing, aid in meditation, and improve your self-care.
This is a simple self-care gift, that could go a long way to improving wellness through basic but highly effective activities.
9. Mindfulness Card Set
There is a wide range of activities and thought processes you can do to improve wellness, and this mindfulness card set puts them in the palm of your hand.
Colorful and beautifully designed, a mindfulness card set helps you focus on positivity and wellness through prompts, breathing exercises, and acts of kindness.
Mindfulness doesn't just have to be something you focus on in meditation or yoga class. These cards can help you, or a friend or loved one, address mindfulness throughout the day and at night.
10. Sunflower Garden Grow Set
Find therapy and positivity through gardening by gifting yourself, or someone close to you, a sunflower garden grow set.
Sunflowers are perfect for both seasoned gardeners and complete novices. They grow quickly, look gorgeous, and bring color and beauty into your life.
The feeling of growing and nurturing plants from their seed to flowering is a feeling like no other. It is an integral part of why gardening is such a useful activity for anyone striving to improve their wellbeing.
---
Self-Care Gifts for Him
11. Beard Grooming Kit
Check Latest Price
Looking smart and feeling confident when you look in the mirror every morning contributes greatly to a healthy state of mindfulness and well-being.
For men, a beard grooming kit brings the feel and aroma of a stylish barbershop into your humble bathroom, giving them the tools to maintain, shape, and care for their facial hair.
Complete with beard oil, comb, and a range of instruments, a grooming kit helps any man low on confidence look better and feel better, while the act of grooming provides invaluable therapy and positive feelings.
12. Mancrates
Be it you, your husband, or a close guy friend, Mancrates gives you everything you need to assemble the perfect gift to bring joy, excitement, and positivity into your life.
Mancrates allows you to tailor a personalized package, focusing on key areas. Their food and drink options allow you to pack your crate with an impressive selection of artisanal alcohol and delicious food and snacks.
Or you can tailor your package more toward activities and interests, with a range of tools for making cool products, or stylish self-care gifts, such as signage and draft glasses.
For men from all walks of life, this is the ultimate self-care gift to make them feel happy, relaxed, and positive once more.
---
Luxury Self-Care Gifts
13. Weighted Blanket
Check Latest Price
Take those evenings on the couch to a whole new level of comfort with a luxurious weighted blanket and feel as snug as a bug in a rug for hours on end.
Soft and breathable, a quality weighted blanket keeps your body warm, including your hands and feet, and it helps improve circulation.
Under the warmth and comfort of such a blanket, you'll ease yourself into a better headspace to unwind, relax, and grow into a state of positive thinking and feeling.
14. Noise-Cancelling Earbuds
Check Latest Price
In a world of constant stimulation, noise, and notifications, it can be incredibly difficult to simply be in the moment and phase out the noise to silence.
Noise-canceling earbuds are ideal for getting into the right mindset for quality alone time and working on your wellness.
Earbuds slip seamlessly into your eyes, meaning you don't have to wear heavy, bulky headphones to shut out the noise.
Once switched on, you can simply enjoy the white noise or unwind to some of your favorite tracks. This is a truly underrated self-care gift that can change the way you approach meditation and mindfulness.
15. Kindle Oasis or Paperwhite & Kindle Unlimited Subscription
Check Latest Price
In a world where we're constantly looking and screens and being bombarded with messages, colors, and ads, reading more than ever has become a wonderful way to escape the constraints of reality.
Kindles are lightweight to hold and so easy to use. Within your Kindle, you can dive into a library of books to dazzle, thrill, fascinate, or pull on the emotional strings, depending on what you love.
Kindles also emit no blue light, so you can read for hours without having to worry about the negative effects of too much screen time.
And with a Kindle Unlimited membership, you can instantly borrow thousands of titles without having to buy them, and return them once you have read them.
Whether you love reading or want to do more of it, a Kindle is the perfect self-care gift to facilitate your escapism into books.
16. Audible Gift Membership
Audiobooks continue to surge in popularity, and an Audible gift membership is the ideal self-care gift to immerse in a world of compelling stories and enjoyable books.
You can listen to audiobooks while relaxing on the couch, on a long drive, or throughout a long, hot bubble bath.
Audiobooks can help you escape into a world of possibilities and positivity. As self-care goes, they are incredibly helpful.
17. Healthy Food Box Subscription
Hello Fresh is a simple and delicious food box subscription that could be a great self-care gift for anyone who leads a busy life and struggles to find time to cook.
A healthy and balanced diet is an integral part of controlling your emotional state and keeping your mind active and positive.
But the ease and convenience of takeaway food is nearly always more appealing when you're busy and pushed for time.
A food box subscription is delivered to your door. Complete with all the ingredients you need and easy-to-follow instructions, you can be cooking up delicious and healthy meals in under thirty minutes.
18. Wine Subscription
For anyone who loves to unwind with a glass of wine after a long, tiring day, a wine subscription could be the gift they'll wonder how they lived without!
Winc curates a box of 4 bottles to your personal tastes and delivers it to your door every month. With new and exciting flavors, there's always a sense of intrigue and excitement with each and every bottle.
While us wine drinkers all have our favorites, it's always fun to try new brands and styles. If you enjoy your Friday nights with your feet up, the movie on, and glass-in-hand, this is the subscription to have.
---
Favorite Self-Care Gifts
19. Bath Bombs
A great way to give yourself a little self-love is with a hot bubble bath and aromatic bath bombs.
Taking a bath with bamb bombs is an easy way to reduce stress levels and relax yourself in the evening, ready for a good night's sleep.
20. Bath Salts
When it comes to self-care, bathwater with plenty of bath salts is a great way to soothe sore muscles.
There's no better way to unwind in the evening, particularly for new moms or people who are always up and on their feet. Let the water ease the tension as you relax with a good book.
21. Essential Oil Diffuser
An essential oil diffuser is a great option for creating a relaxing atmosphere in your living room, bathroom, or generally throughout the house.
With little effort, you can fill your home with soothing scents, that either you or the entire family can feel the benefits from.
22. Sheet Masks
Sheet masks are one of the best self-care gifts to both relax with, and help take better care of you skin.
Great to put on in your free time while watching TV or relaxing with a good book, sheet masks help hydrate your skin, nourishing it, and helping you look and feel better.
An evening wearing a sheet mask can be enjoyed on your own, with your best friend, or another family member you spend a lot of time with.
Try out Charcoal Sheet Masks for pore care, Honey Sheet Masks for nourishing your skin, and Pearl Sheet Masks for brightening.
23. Himalayan Salt Lamp
A Himalayan salt lamp will sit perfectly on your coffee table, home office desk, or window sills throughout the house.
This thoughtful gift not only helps create a calming atmosphere, but it can also improve air quality, improving your circulation and helping you sleep better.
A perfect way to improve the overall feel of your home, a Himalayan salt lamp is a great birthday gift or wellness gift for yourself, or someone close to you.
24. Portable Light Therapy Lamp
Known to help with skin cell growth, if you're looking for unique gifts, a portable light therapy lamp could be a great choice for someone looking to improve their skin care.
Light therapy is a form of self-care many use to combat aging of the skin. A good way to contribute to self-care in a simple way, such lamps can be great gifts for mother's day, the holidays, or someone looking for beauty products to improve their skin quality.
25. Air Purifier
Cleaner air helps contribute to general wellbeing and a healthier lifestyle. And while many of us can't live in less-polluted rural areas, an air purifier is the next best thing to at least improve air quality at home.
Purifiers provide a better way to live at home, particularly if you live in an apartment or a home with poor air circulation.
26. Shea Butter
When it comes to natural ingredients, shea butter is an ideal self-care gift idea to consider. Not only does it help soften skin, its anti-inflammatory properties help both heal skin and improve skin quality.
Often found at body shops, applying shea butter to your skin on a regular basis in your free time can help heal, soothe, and soften all areas of the body, including the face.
27. White Noise Machine
When the noise and distractions of everyday life get too much, a little time with a white noise machine turned on can help reset and refocus your mind.
Not much time of calm and quiet is needed to give you the time you need to escape for a few moments, particularly in a busy household.
28. Gift Basket of Wellness Gifts
Intrigued by one or more of these ideas? Why not take your gift-giving to the next level, and put together a gift basket of multiple gifts.
With multiple self-care items, you can help yourself, or someone close to you, improve their self-care in a number of different way.
---
Don't try to work on your self-care rituals and self-care activities without the right tools. Use these self-care gifts to make it easier, smarter, and faster to relax, switch off, and focus on your mindfulness.
Be they for you, or someone close to you, we all need at least a little help when it comes to taking better care of ourselves.
You Might Also Like to Read:
---
Looking to get yourself or someone you love a self-care gift for an upcoming celebration, birthday, or event? Keep this diverse list in a safe place by saving it to one of your gift guide or self-care Pinterest boards.