This post may contain affiliate links, meaning if you book or buy something through one of these links, I may earn an affiliate commission at no additional cost to you. Learn more
These unique and creative white elephant gifts are a real hoot and perfect for items with charm, humor, and character to exchange with someone this holiday season.
White Elephant Gifts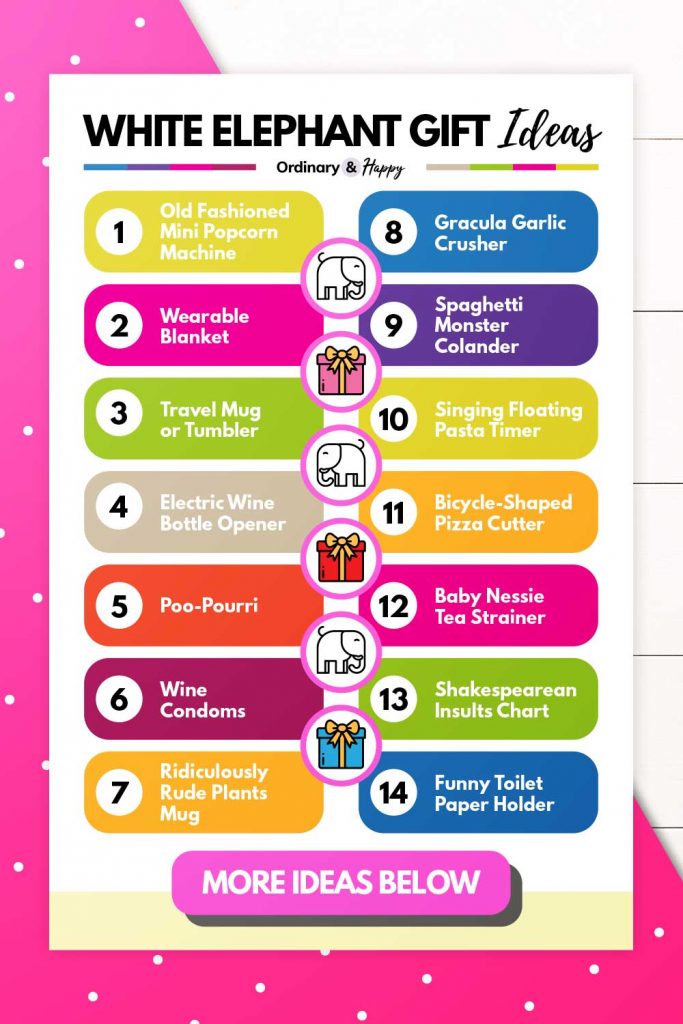 Be it for a beloved family member or butt-of-the-jokes coworker, white elephant gifts can still be thoughtful, memorable, and lots of fun, whoever they're for. Delve into our list, and get excited!
---
Best Gifts
Bring plenty of smiles and laughs with these best white elephant gifts and find that perfect balance between fun, comical, but also kinda useful!
1. Old Fashioned Mini Popcorn Machine
Check Price on Amazon
Bring some classic cinema vibes into someone's home on movie night with an old-fashioned mini popcorn machine.
A throwback to the golden age of theatre and cinema, every crackle and pop is sure to bring a smile to you or a fellow movie lover's face. Oh, and the popcorn is pretty delicious, too!
2. Wearable Blanket
Check Price on Amazon
A fun gift with a snuggle factor like no other. This wearable blanket initially looks comical, but your gift recipient will be wearing it in no time.
Evenings on the sofa and those winter nights at home are about to get a whole lot cozier!
3. Travel Mug / Tumbler
Check Price on Amazon
It's time for your gift exchanger to kiss goodbye to lukewarm coffee or icky hot sodas with this cool travel mug or tumbler.
This is a white elephant gift that may look simple at first glance, but will quickly become a valued travel companion for any day trip or weekend away.
4. Electric Wine Bottle Opener
Check Price on Amazon
Opening wine bottles can be quite an effort. So wine lovers, in particular, will love this electric wine bottle opener as it will help them pop open their next bottle.
5. Poo-Pourri
Check Price on Amazon
When we have company or are guests at someone's house, when nature calls, the embarrassment can be mortifying!
So help someone you know spare their blushes, and give them a bottle of Poo-Pourri to keep in their toilet, or take with them to dinner parties.
That way, the toilet will smell wonderfully fresh, no matter how long they're in there. This one is sure to bring the house down with laughter!
---
Funny Gifts
Can't resist a little novelty and humor? These gifts are great for anyone who loves practical jokes, is easy-going, and truly embraces the spirit of the white elephant gift exchange.
6. Wine Condoms
Check Price on Amazon
Here's one to get everyone chuckling at house parties and dinners! Not only is this white elephant gift funny to use and observe, but it will also help keep an opened bottle of wine fresh throughout the evening.
Who says hilarious novelty gifts can't also have a worthwhile purpose? Next time you're drinking flat wine, I'm confident you'll be thinking of wine condoms!
7. Ridiculously Rude Plants Mug
Know someone who can't help but giggle at a little innuendo? Ensure they drink their morning coffee from a ridiculously rude plants mug, and bring about plenty of conversation starters and laughs along the way.
8. Gracula Garlic Crusher
Check Price on Amazon
The Gracula garlic crusher takes kitchen puns to a new level. Fun to look at and show off to friends, it also seamlessly takes care of one of the kitchen's most laborious tasks: crushing garlic.
9. Spaghetti Monster Colander
Check Price on Amazon
This funny spaghetti monster colander, complete with googly eyes, is a great white elephant gift for anyone with a quirky sense of humor.
Both kids and grownups can find plenty of novelty scooping and serving spaghetti from this delightful and fun piece of kitchenware.
10. Singing Floating Pasta Timer
Check Price on Amazon
How brilliant is this novelty little gift for the kitchen? Simply add the timer to your pasta water, and prepare to be wowed by its singing voice.
The pasta timer will sing beautiful opera arias at certain time intervals, entertaining you, and letting you know when your pasta is ready to be served.
Hilarious, over-the-top, and totally unnecessary, this pasta timer captures the true essence of white elephant gifts!
11. Bicycle-Shaped Pizza Cutter
Check Price on Amazon
Novelty gift lovers will find a place in their kitchen for this super fun bicycle-shaped pizza cutter. It may be a pizza cutter, but it's an unnecessarily cool pizza cutter!
12. Baby Nessie Tea Strainer
Check Price on Amazon
Looking for a gift for a tea drinker? This super cute tea strainer is so much fun and is sure to bring a smile to a few faces. Making tea has never been so mysterious!
13. Shakespearean Insults Chart
A gift recipient with a foul mouth will find plenty of humor in this hilarious Shakespearean Insults Chart for their home office or bedroom wall.
Or, you could gift it to someone who never curses or swears, for an extra funny and novelty gift.
14. Funny Paper Towel or Toilet Paper Holder
Check Price on Amazon
There's just something ridiculously comical about how this funny paper holder is the shape of an outstretched cat. You're bound to get some laughs with this hilarious gift.
15. Toilet Night Light
Check Price on Amazon
A gift almost guaranteed to tickle some ribs, this toilet night light will ensure late-night trips to the bathroom will never be the same again.
With a range of colors and good, light-hearted fun for the whole family, this is a great white elephant gift for anyone with a sense of humor.
---
Practical Gifts
Take a look at these great gift ideas if you want to gift something with real value and practical use.
16. Cast Iron Skillet
Check Price on Amazon
Any foodie or home cook in your gift circle would love a cast iron skillet that can really take their cooking to the next level.
Ideal for a range of cooking techniques, cast iron skillets retain heat brilliantly well, while locking in some serious flavor.
17. Perfect Cookie Baking Mat
Check Price on Amazon
Put a smile on the face of someone who loves to bake with this perfect cookie baking mat, and let them bake a range of delicious cookies to spherical perfection.
If you're lucky, they may be so good, they won't be able to resist sharing them in the office or at a dinner party with you!
18. AeroPress Portable Coffee Maker
Check Price on Amazon
Any coffee lover in your gifting group, especially one who travels, will find plenty of use for an AeroPress portable coffee maker.
Equipped with their favorite coffee, the AeroPress allows them to brew delicious coffee, the way they like it, in a matter of minutes. Simply add coffee, hot water, and press.
19. Card Multi-Tool
Check Price on Amazon
The phrase 'more gadgets than a Swiss army knife' is very much on point when you're equipped with this super diverse card multi-tool.
From blades to bottle openers, this awesome tool slips perfectly into a wallet or purse, making for a lightweight practical gift that can prevent some real headaches.
Anyone can find a use for a card multi-tool, making it a neat choice for a white elephant gift exchange.
20. Steamer for Clothes
Check Price on Amazon
The frustration of creased shirts and dresses when traveling for both business and pleasure is all too real for so many people.
This lightweight steamer is easy to use and can help your gift recipient steam their clothes to photograph-presentable perfection, no matter what hotel room or apartment they're staying in.
---
Cheap Gifts
If you're working with a tight budget, roughly up to $10, here are some gift ideas you could get that are still fun and thoughtful, without breaking the bank.
21. Snail Soap Dispenser
Check Price on Amazon
This snail soap dispenser is guaranteed to get some laughs and glowing comments from your gift recipients.
It's a quirky, fun, and delightful little gift to package up for someone who enjoys a little novelty in their home.
22. Mandalas Adult Coloring Book
Check Price on Amazon
Mandalas adult coloring books can provide hours of enjoyment, fun, and relaxation for both creative minds and people who lead busy lives.
The satisfaction of coloring such intricate patterns is huge, while coloring can be a great activity for improving mental health and well-being.
23. Beer Sleeping Bags
The thoughtful gift any beer drinker needs in their life, these beer sleeping bags will keep bottled beer ice cold in a brilliantly fun and snug way.
Complete with a backpack clip and a bottle-opening notch, this budget gift will find a home with anyone who loves to kick back with a cold one at grills, parties, or while watching the game.
24. Wine Glass Holder for the Bath
Check Price on Amazon
This budget beauty of a gift is any wine lover's dream. Simply attach it to the wall, and enjoy a glass of crisp white or cold red with a soothing hot bubble bath, without worrying about resting your glass on the edge of the bath.
25. Mini Tabletop Cornhole Game Set
Check Price on Amazon
This mini tabletop cornhole game set takes the classic backyard game into the home and is great entertainment at parties and gatherings for both adults and kids.
Beautifully designed and easy to travel with, anyone with a love of games and easy entertainment will find plenty of joy from this novelty gift.
---
Budget Gifts
Have a little more to spend, but still working to a tight budget? If you can push your spending to around $25-30, these gifts have plenty of potential to bring a smile to someone's face.
26. Breakfast Sandwich Maker
Check Price on Amazon
Anyone who enjoys chowing down on a hearty breakfast sandwich is going to have their mind blown when they set eyes on this awesome breakfast sandwich maker.
Designed to press a classic egg, cheese, and meat sandwich, you can also experiment and make sandwiches in any way you like. Breakfast will never be the same again!
27. Super Portable Bluetooth Speaker
Check Price on Amazon
Most people love to get the party started! This super portable Bluetooth speaker gives you amazing sound quality for such a small device and is ideal for both indoor and outdoor use.
Great to travel with, your gift recipient can get the tunes pumping at barbecues, beach days, camping trips, and many other social events.
28. Mini Waffle Maker
Check Price on Amazon
An awesome gift for people on the go, or just those who love a hearty bite to eat, this mini waffle maker can take pride and place on their kitchen countertop.
Great for pressing rich and delicious waffles, hash browns, and paninis, they also come in a range of colorful designs. From dorms to apartments, this is a game-changer at breakfast, lunch, and even dinner!
29. Hot Dog Toaster
Check Price on Amazon
Want a gift with some real wow factor? Prepare to blow someone's mind with this sleek, retro-themed hot dog toaster.
Simply pop in the sausages and buns and pull down the lever, as you would a standard toaster. With this charming gift, quick and great-tasting hot dogs are only minutes away.
30. Cards Against Humanity
Check Price on Amazon
Cards Against Humanity is the perfect small and inexpensive gift for anyone with a dark sense of humor.
Great for playing at parties and gatherings, Cards Against Humanity is sure to provide plenty of laughs to someone who loves their jokes more than a little risque.
---
Experience Gifts
31. Spa Package or Treatment
Who wouldn't want a weekend of self-care and relaxation? A thoughtful spa package or treatment is sure to make someone very happy indeed.
32. Audible Subscription
So many people have rediscovered their love of reading through audiobooks, and an Audible subscription makes getting into audiobooks very simple.
Be it in the car or out on the morning jog, your gift recipient can lose themselves in thousands upon thousands of titles, while still going about their everyday business.
33. Uncommon Goods Fun Experiences and Classes
From painting pet portraits to mixing delicious cocktails, Uncommon Goods has a brilliant selection of affordable and fun experiences and classes that a creative and curious gift recipient would have plenty of fun attending.
34. Make Your Own Hot Sauce Kit
Passionate foodies who love to tackle the Scoville scale will go crazy for this Make Your Own Hot Sauce Kit, complete with lots of ingredients and easy-to-follow instructions to make them very own fiery sauces to dollop on a range of foods.
35. Portable Karaoke Microphone
Check Price on Amazon
For anyone who loves to get the party started, their eyes are going to light up when they get their hands on this portable karaoke microphone.
Stylish, complete with Bluetooth connection, through the app anyone can choose from a huge selection of classic sing-a-long numbers to belt out and let the good times roll.
---
You can have so much fun with white elephant gifts. Whether you prefer all-out novelty or a gift with a thoughtful purpose, assure you add a little magic to the gifts at the white elephant exchange with one or more of these awesome choices.
There's plenty on this list to bring a lot of joy and laughs to someone, no matter who they are or what they enjoy doing.
You Might Also Like to Read
---
Keep these fun and unique white elephant gifts for safekeeping, ready for the holiday season, by pinning this article to one of your boards.