This post may contain affiliate links, meaning if you book or buy something through one of these links, I may earn an affiliate commission at no additional cost to you. Learn more
A little good deed goes a long way, and these random acts of kindness are so easy to do, yet can go a long way to helping someone in day-to-day life.
Being a good person doesn't require over-the-top gestures from you. Try doing a few of these things, and see for yourself the instant impact they will have on people.
Random Acts of Kindness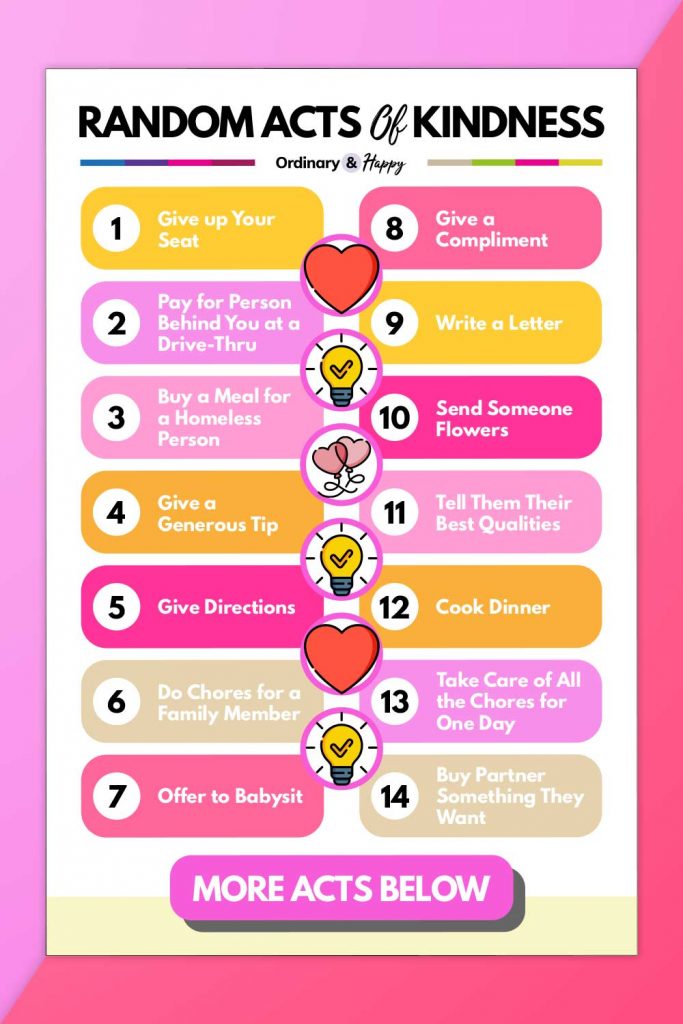 ---
For Strangers
1. Give up Your Seat
If you're on public transport and you see somebody pregnant, elderly, or struggling, give up your seat for them.
This is an easy way to make somebody's day less stressful and more comfortable and ensure they feel energized by the time they reach their destination.
2. Pay for the Person Behind You at a Drive-Thru
Have some spare cash and feeling generous? The next time you're at a drive-thru, pay for the order of the person behind you in the queue. You'll save them money and restore their faith in humanity with this generous act.
3. Buy a Meal for a Homeless Person
It's important to recognize the privileged position of having access to shelter, clean water, and food. Many people across the globe aren't that lucky.
Give to those less fortunate than you by buying a meal or a coffee for somebody sleeping rough. It's a great way to help out those in your community and ensure nobody goes hungry.
4. Give a Generous Tip
If a server truly goes above and beyond to give you an exceptional experience, reward their kindness with a generous tip.
If you're low on money and would like to reward them another way, mention their excellent customer service to their manager.
5. Give Directions
If you see somebody looking puzzled whilst studying a map or desperately trying to look for street signs, stop them and ask if you can offer directions.
Many people tend to be too embarrassed to ask for directions in a new place, so your kind offer will remove any embarrassment and save them from hours of squinting at a map.
---
For Friends and Family
6. Do Chores for a Family Member
Is one of your family members going through a busy period? If so, they may be struggling to find time to clean the house, shop for groceries, or do laundry.
Helping them with these chores is a great way to show you care and free up some time for them to be able to focus on the essential things in life.
7. Offer to Babysit
If you're a parent or have spent time with parents, you'll know how tricky it can be for people with children to find time for themselves.
Give a friend or family member the gift of time by offering to babysit their children for an evening, allowing the parents to go on a date night, catch up with the latest movies, or visit a bar for a well-deserved glass of wine!
8. Give a Compliment
We often forget to tell our friends and family how much we love them or what their best qualities are.
Make a loved one's day by complimenting them on one of their best qualities or features – it's guaranteed to put a smile on their face!
9. Write a Letter
With the introduction of technology such as emails and SMS, letter writing has fallen to the wayside.
Bring back this beautiful way of communicating by writing a letter to a close friend or member of your family. It will provide a wonderful surprise through their letterbox!
10. Send Someone Flowers
Flowers are universally smile-inducing and a great way to show a friend or family member how much they mean to you.
Order some flowers for your loved one along with a note explaining why they're such a valuable part of your life. This random act of kindness is guaranteed to warm their heart.
---
For Your Partner
11. Tell Them Their Best Qualities
We often argue with our partners, but we may forget to tell them how truly amazing they are.
Make sure your significant other knows how much they mean to you by writing them a list or telling them the things you love most about the person they are. They're sure to be pleasantly surprised, and you never know, they might return the favor!
12. Cook Dinner
If your significant other has had a stressful day at work, treat them to a homecooked dinner to cheer them up.
It's a great way to show your partner how much you mean to them, and you'll both enjoy some delicious food to boot.
13. Take Care of All the Chores for One Day
If you and your partner live together, give them a day off from cooking, cleaning, and laundry, by offering to do all the chores for one day.
That way, your other half can sit back and relax without worrying about keeping the house tidy.
14. Buy Your Partner Something They've Been Wanting
So you've noticed the same tab open on your partner's internet browser repeatedly – whether it's a luxury face cream or a pair of high-performance running shoes.
Surprise your significant other by treating them to the item they've had their eye on for weeks. They'll be thrilled with the gift, and what's more, you'll have earned some serious brownie points!
---
For the Community or for Charities
15. Give Blood
Giving blood saves lives, so it's one of the best random acts of kindness you can do for the community.
The blood you donate will be a lifeline for patients in need. You never know whose life your donation might save.
16. Donate Supplies
If you're privileged enough to enjoy shelter, food, water, and luxuries, contribute to a better world by donating supplies to those less fortunate.
Donating money to a food bank or mattresses to a homeless shelter is a great place to start. Many charities also take donations for items such as clothing and toiletries.
17. Volunteer at a Homeless Shelter
There's an unlimited number of ways you can help your local community, but volunteering at a homeless shelter is something everybody can do.
Helping rough sleepers get back on their feet is an excellent way to spend your time, and this random act of kindness will likely remind you to be grateful for your own privilege.
18. Help Fundraise for a Local Project
Is there somebody in your area who wants to start a business but doesn't have the funds? Are local charities strapped for cash?
Help fundraising projects in your local community by hosting fundraising events such as bake sales or setting up a Go Fund Me page to encourage donations.
19. Share Homegrown Veggies
If you grow fruit and veg in your garden or allotment, offer some of your produce free of charge to neighbors and local community members.
That way, everybody enjoys your fresh produce, and you can get to know new people in the process.
---
At Work or For Coworkers
20. Help Out on a Project
If you see a coworker struggling with a difficult project, offer to lend a helping hand. If the project isn't something you can assist with, ask if there's any other work you can take off their hands to free up their time for the project.
21. Mentor Someone
A mentor is a trusted adviser that offers support and wisdom to somebody new to a particular field or industry.
If you've been at your company for a while or you're exceptionally knowledgeable about your industry, pass on that knowledge to a junior colleague by mentoring them.
Your advice may prove invaluable to their career, and it may even help them attain a future promotion.
22. Compliment a Colleague's Performance to Your Boss
We tend to raise issues with our manager, but how often do you compliment your colleagues' work to your manager?
Pointing out somebody's hard work to management may put them in line for a future pay rise or promotion, and recognizing the hard work of others is a great way to build connections in the workplace.
23. Do a Coffee Run
Is it one of those afternoons in the office when you can feel the energy draining from your team? Do your colleagues need a pick-me-up before going into an important meeting?
Surprise your coworkers with a hot drink from a local coffee shop to set them up for the busy day ahead.
24. Get to Know a New Member of the Staff
Starting a job in a new workplace can be daunting, so help new staff members fit in by making an effort to get to know them and show them around the office. You never know – you might make a new friend or lunch buddy!
25. Stay Late to Cover a Colleague
If there's a project that looks like it will seep into overtime but your coworker has a family commitment, offer to stay late to cover the project and allow them to honor their personal obligation.
Not only is this a thoughtful thing to do, but you may have the favor returned when you have a personal commitment that requires you to leave work early.
---
Acts of Kindness that You Can Do From Home
26. Donate to Charity
Most charities now take online donations – so you can give to a good cause without leaving your sofa.
Giving to charity is a great way to support causes that you care about, and donations make a huge difference to the work that a given charity can carry out.
27. Leave a Positive Review
People tend to leave negative reviews of products or activities they didn't enjoy, but you can make the world a more positive place by leaving a glowing review of a place, person, or experience that impressed you.
Praising businesses that provide excellent customer service – especially small, independent businesses – will likely encourage more people to shop or eat there. Therefore, you'll be supporting hard-working business owners.
28. Call Your Parents or Grandparents
Your parents and grandparents love you more than anyone else on the planet, so make sure you check in with them from time to time with a phone call to update them on what you're up to.
29. Make an Extra Batch of Cookies
If you find yourself baking on a lazy Sunday afternoon, make an extra batch of cake or cookies to give to your neighbors or people in the community.
This random act of kindness offers a great way to get to know people, too, as your generous bakes will likely start a conversation.
---
Free
30. Help Somebody Carry Their Shopping
If you see somebody struggling with carrier bags in the car park, perform the free and speedy task of helping them carry their bags to the car.
You'll help make their day a little easier and remind them that strangers really can be kind!
31. Pick Litter
Picking up litter when you see it is kind to the community and kind to the planet. If you have the time, join a local litter-picking group to keep your streets (and your conscience) clean.
32. Help out at the Local Animal Shelter
Charities often need as many volunteers as possible. This is especially true of animal shelters where the animals require a lot of physical work, such as feeding and grooming.
Helping out at your local animal shelter is not only a wondering thing to do, but it will also fulfill you since you'll be creating bonds with some wonderful animals.
33. Walk a Neighbour's Dog
Walking a dog every day can be tricky for somebody with a busy schedule, so offer your neighbor some time to relax by walking their dog whenever you have the time to do so.
Your neighbor will be able to have a day off from walking the dog, and you'll get the added perk of spending the whole day with an adorable pup!
34. Send a Thank You Email
Most of us have somebody in our lives who massively impacted our school or work experience for the better.
Show your gratitude to the individual in question – whether it's a teacher or manager – by emailing them to let them know how valuable you found their support and how it's helped you get to where you are.
35. Go Easy on Yourself
Being kind to others often comes naturally, but self-compassion tends to be more challenging.
Don't forget to show kindness to yourself by not holding yourself to impossible standards. You're allowed to fail, set boundaries, and struggle, so indulge in some self-care and silence your inner critic, at least for one day!
---
Make someone's day, be it your partner, a family member, or a stranger, by doing one or more of these simple acts of kindness.
It always feels good to help someone out, and none of these random acts require too much energy or involvement. A little thought goes a long way!
You Might Also Like to Read
---
Keep these random acts of kindness for safekeeping by saving them to one of your Pinterest boards.