This post may contain affiliate links, meaning if you book or buy something through one of these links, I may earn an affiliate commission at no additional cost to you. Learn more
These retirement party ideas are perfect for celebrating retirement in fun and enjoyable ways surrounded by family, closest friends, and favorite co-workers.
Retirement Party Ideas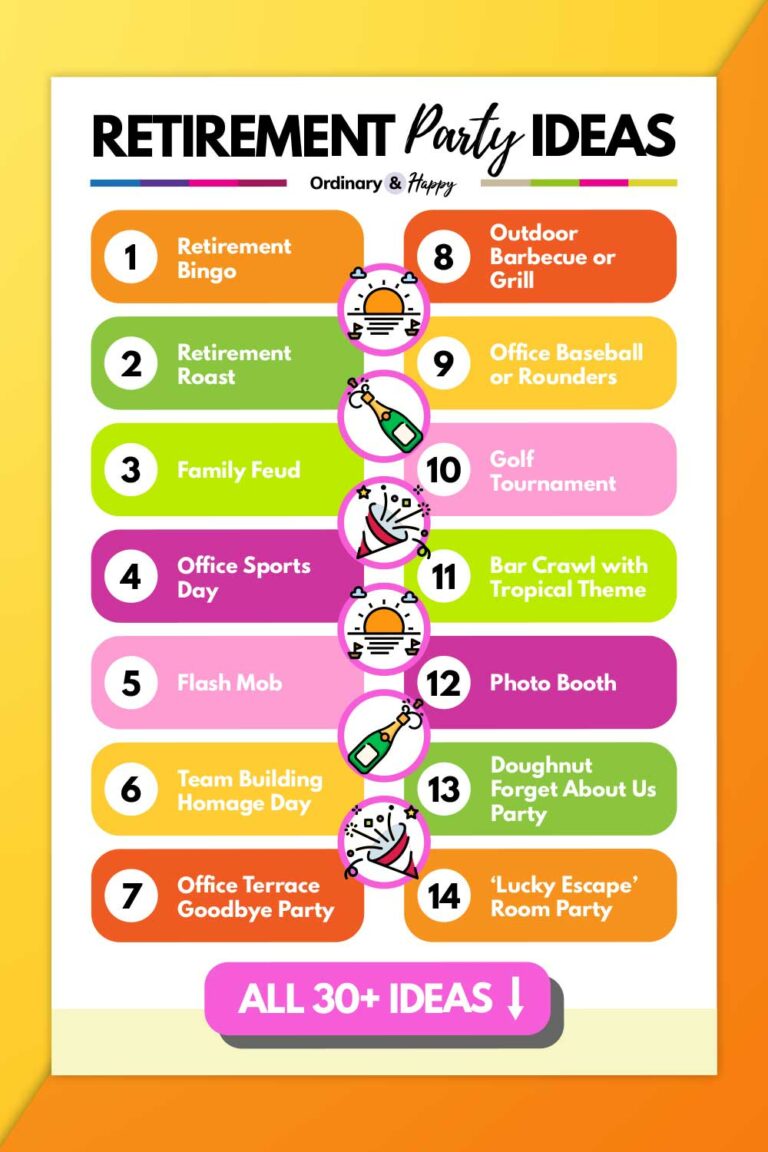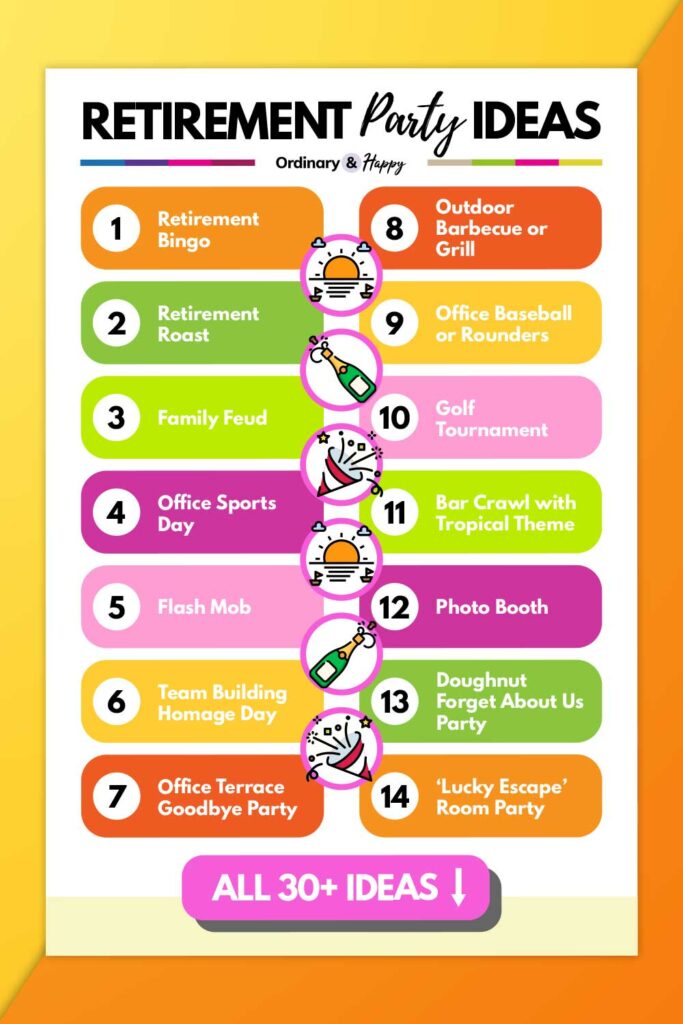 ---
Fun
1. Retirement Bingo
Check Price on Amazon
There's no game better for a retirement party than a good old-fashioned game of bingo for the retiring guest of honor!
Incentivize co-workers with prizes such as fun experiences, drinks, or goodies and center the game's answers around the retiree, including phrases and symbols related to the retiree's lifetime career.
2. Retirement Roast
If your retiree can take a bit of heat, why not host an office roast battle?
While competing in pairs, the retiree's co-workers must come together and prepare a roast about the retiree.
The person retiring then judges whose roast was best, with prizes and awards to follow.
3. Family Feud
This retirement party idea is great if you want to involve family and relatives. For your colleague's retirement, why not host a classic game of family feud?
Unleash your inner Steve Harvey and have participants split into two teams (famil-feud style).
Then, with two buzzers at the ready, have the teams compete for the winner's title, including a few trivia questions about the person retiring.
4. Office Sports Day
This retirement party idea is perfect for those in education sectors like schools or colleges!
For this retirement party, host an adult-themed sports day. Including traditional school sports day activities such as:
Egg and Spoon Races – where participants have a race and see who can cross the finish line first without dropping the egg they have balanced on a spoon.
Sack Races – colleagues race to see who's the fastest whilst jumping in old potato sacks.
Obstacle Courses – participants race to see who's fastest whilst overcoming various hurdles such as high jumps and crawling.
Three-Legged Races – split the participants into pairs and tie their legs to one another, then have them race against other pairs to see who comes first.
5. Flash Mob
Fancy bringing these 2000s trends back? Surprise the colleague leaving by putting together your very own office flash mob!
To commemorate the occasion, ensure the event is recorded so the retiree can look back on it for years to come.
Then, to make the mob even funnier, choreograph it to a song about leaving, such as hit the road jack or N Sync's bye bye bye!
---
Outdoors
6. Team Building Homage Day
If you've ever worked in a corporate environment, you'll know that the odd office team-building day is an essential part of the experience.
So if a co-worker is leaving, why not mark the special occasion by hosting one final team-building day involving the retiree?
Unsure what team-building activities to include? Try these:
Raft Building – a challenge where teams must come together to build the best and most durable raft. The one that fits everyone on board and floats for the longest period of time wins.
High Ropes – an activity normally featuring ariel obstacle courses and zip wires.
Orienteering / Scavenger Hunts – Set up a scavenger hunt featuring maps and clues, split the congregation into teams, and see who can find/solve all the hints first.
All of these activities can be easily done by visiting local businesses such as activity/adrenaline centers.
However, to ensure the best outcome, book in advance and make sure the retiree is okay with heights and/or watersports.
7. Office Terrace Goodbye Party
If your office has an outdoor area or terrace, use it to host a happy retirement party, which could also double as a themed event.
Hire in food, drink, and some fun outdoor activities like a ping pong table, fun garden games, and maybe even a portable karaoke machine to really belt out those goodbye duets!
8. Outdoor Barbecue or Grill
The perfect activity for a summer send-off! For this retirement party idea, invite the retiree's friends, relatives, and co-workers to an outdoor barbecue or grill.
To make it budget-friendly, encourage guests to bring sides, food, and drinks for others to share.
Perhaps, even host a grill-off and have the retiree judge and crown someone master of the grill.
9. Office Baseball or Rounders
With competitiveness at its core, you'll be sure to score a home run with this retirement party idea.
All you need is some equipment, an outdoor place like a nearby field or park, and plenty of willing co-workers.
Split the office into two teams and host your very own baseball game for added fun; you could even include personalized baseball shirts and caps to mark the occasion.
10. Golf Tournament
Golf is one of the classic retirement hobbies, so whether the retiree is already a keen golfer or has never swung a club in their life, get the whole office involved with a day of golfing.
You could opt for a driving range, play a proper round of 9 or 18 holes if there are serious golfers on the invitee list, or keep things fun and casual with an afternoon of mini golf.
11. Bar Crawl with a Tropical Theme
They say the dream is to sail off into the sunset when you retire, so why not pre-empt this with a colorful tropical-themed goodbye party for a retirement party theme full of fun?
Wear tropical-themed shirts, have a pre-party in the office with a tropical retirement cake, and then head out into your local area and have drinks at a few bars for a casual yet great retirement party everyone can enjoy.
---
Indoors
12. Photo Booth
Photo booths are perfect for retirement parties as they give the person retiring something to look back on for years to come.
The set-up is also pretty simple, meaning you don't have to burn a hole in your pocket hiring a booth if the office budget is tight.
Rent a photobooth, get some fun props, and make it the centerpiece of the retirement party in the office.
Make sure everyone gets in on the act and has a photo with the person who is retiring.
If you want to DIY it, you'll need a white sheet, Christmas lights, a tripod, and various props and dress items for co-workers to use.
Everyone can then set up their smartphones on the tripod and take awesome photos featuring the person going away, allowing the perfect opportunity for a great group photo.
13. Doughnut Forget About Us Party
If the person retiring always is the first in line for office treats, this idea will undoubtedly be successful!
For this, host an office tea party accompanied by a variety of doughnuts and sweet treats.
Then, have your colleagues compete in a bake-off and have the retiree judge to see who's brought in the most delicious sweet snack!
14. 'Lucky Escape' Room Party
Wish your colleague all the best of luck by throwing a tongue-in-cheek 'lucky escape' room party for the retiree.
For those out of the loop, escape rooms are rooms where players have to solve puzzles and clues to find an escape.
Escape room retirement parties can easily be done in-house (via online packs you can buy or download) or by visiting a local escape room with the whole team.
15. Favorite Hobby Party
Does the person leaving have a lot of extracurricular activities they do in their day-to-day?
Throw a retirement party they'll remember by including hobby stations consisting of the activities and hobbies they love to do.
For example, one station could be a round of crazy office golf, and other stations could include things like favorite foods or cocktail making.
You could even make a competition out of it, awarding points for each activity to competing teams.
16. Reunion Party
This one will take a little effort, but if the retiree has worked at previous places and still keeps in touch with former co-workers, throw them a retirement reunion party and invite guests from throughout the person's career.
Rent a local venue, set a fun theme, and enjoy a night of storytelling and celebrating the retiree's life.
Oh, and make sure they give a retirement speech at the end of the night!
---
Elegant
17. Wine Tasting
Fancy something with a little more class for your colleague's retirement party? Why not host a wine-tasting event?
You could set up a tasting in the office with fancy wines or order a tasting session at a nearby wine bar or vineyard to really make the party special.
Quick Tip: want to make their retirement party even more sentimental? Ask the organizer to include a wine that was made during the year the retiree started work, if possible.
18. Dinner with Speeches
Speeches don't have to be long-winded and boring! Sometimes they can provide lots of laughs, especially for those thinking of retiring.
For this activity, invite colleagues, family members, and friends to create a speech for the person retiring.
Then, like the roast-off, have participants compete for the 'best speech' award and get the retiree to judge who is best.
19. Well Wishes Party
This theme is excellent for those looking to throw something pretty sentimental. As a requirement, ask guests to bring a photo of themselves and the person retiring.
Purchase a few blank photo albums and ask guests to cut and stick pictures in the album, writing mini-anecdotes alongside them at the retirement party.
At the end of retirement, the person leaving will be given photo albums to reflect on their working career.
20. Fundraiser Party
Feeling charitable? Why not throw a mini-fundraising festival or soiree for the person retiring and donate the money to a charity of their choice?
Opting for a fundraiser enables co-workers to extend their thanks beyond the office by making a real-world contribution.
21. Black Tie Awards Evening
It's time to dust off your bowties and ball gowns! If the person retiring loves to indulge in a bit of class and sophistication, hosting a black-tie awards evening might be a perfect choice.
Get their friends, family, and co-workers together and have them share ideas for the types of awards they can nominate fellow co-workers for, with an extra special one for the person retiring.
---
Budget-Friendly
22. Leavers Shirt
Make sure you have an endless amount of sharpies for this one! Before the retirement party, purchase a plain white office shirt so colleagues can write on it.
Then, once the retiree arrives, have them wear the shirt, give attendees a sharpie each, and get people to write personal farewell messages on the shirt.
23. Surprise Party in Their Own Home
Simple but effective! Sometimes, traditions remain traditions because of their high success rate. For this retirement party idea, throw the person retiring a surprise party.
For the best results, get relatives, co-workers, ex-colleagues, and friends in on the action to help set up and plan an evening of party food, drinks, and trips down memory lane.
Naturally, speak to their spouse or a family member to decide whether it's a good idea first. However, doing it in their home or a close family member's home means you don't have to rent a venue.
24. $10 Retirement Gift Challenge
Set a small budget of, say, $10, and get everyone in the office, and include friends and family, to find a funny or thoughtful gift.
Enjoy some post-work drinks on their final day, and get them to open all their gifts.
25. Retirement Wishes Jar
For this retirement party idea, have attendees write personal anecdotes and farewells for the person retiring.
Once everyone is finished, collect them, fold them up, and put them in a jar for the retiree to take with them. Then, the retiree can sit down and reminisce whenever they are feeling sentimental during their retirement.
26. Office Karaoke
For a budget and fun idea, all you need for this one is either a YouTube playlist or a portable karaoke machine and plenty of willing participants to enjoy a sing-a-long with the person retiring and a range of classic songs.
---
Themed
27. Decades Theme
For this retirement party idea, throw an 80s, 90s, or 00s-themed party depending on what decade the person retiring started working.
As part of the theme, attendees must dress up as anything associated with that decade, e.g. for the 80s, you could dress up as a member of Duran Duran or ACDC.
For the music, create a playlist featuring songs from your chosen decade and decorate your workplace with themed items.
28. Military Theme
This theme is ideal for those retiring from the military. As part of the military retirement party, include exercises and activities associated with the military, such as obstacle courses and rope climbing.
Depending on the sector, have attendees dress up in military uniform, e.g. if the person is retiring from the armed forces, require everyone to wear camouflage.
29. Beginning With
'Beginning with' is a unique party theme that has risen in popularity thanks to the likes of TikTok and Instagram.
As part of the theme, all retirement party attendees must dress up as something associated with the first letter of the retiree's name. So, for example, if the person retiring is called John, someone could dress up as the Joker or James Bond.
30. Graduation Theme
If the person retiring works in an educational establishment, a graduation retirement theme might prove incredibly fitting!
For this theme, purchase some graduation caps, gowns, and scrolls and customize the certificates with jokes or awards associated with the retirees working career.
For a special touch, have all the attendees come together at the end and have a cap-throwing ceremony!
31. Bon Voyage Party
For the best Bon Voyage party, opt for a holiday/wanderlust theme. As a requirement, have attendees don their best holiday attire or Hawaiian shirts and decorate the office with props such as flower garlands and palm trees.
As you can tell, this theme is ideal for retirees who are planning on traveling the world. To mark the memorable occasion, at the end of the party, gift the retiree with a special escape or weekend away.
---
Virtual/Zoom
32. Virtual Unwrapping Party
Are you and your co-workers unsure of what to gift the retiree for their leaving present? This is where a virtual unwrapping party may come in handy!
Prior to the event, have the retiree set up an Amazon wishlist of the gifts they may like to receive for their retirement.
Then, share the wishlist with colleagues, family, and friends so that they can purchase items on the wishlist to ensure that they arrive on time.
Finally, for the virtual unwrapping party, have the retiree open the presents during a Zoom party so that everyone can see their reaction.
33. Presentation of Achievements
It's time to get sentimental! For this virtual retirement idea, create a montage or presentation featuring all the retiree's successes.
Then, for added fun, have each colleague and associate create their own presentations for the retiree and have the person retiring judge who's best.
34. Virtual Karaoke Evening
It's time to warm up those vocal cords! For this virtual retirement party idea, host a virtual karaoke evening.
Then, create a Spotify playlist with songs associated with people leaving, such as N Sync's 'Bye Be Bye' or 'Hit the Road, Jack,' among many others.
Tip: Make your Spotify playlist collaborative to enable song requests.
35. Personalized Trivia Quiz
Who doesn't love a quiz?! A virtual trivia quiz always goes down a treat on Zoom.
For this activity, center the quiz around the person retiring and use a platform such as Google Slides or Kahoot.
Stuck for ideas? Try these rounds for size:
Funny Moments
Who said what?
General Trivia
Famous Doppelgangers
Bonus Round
---
Whether you're looking for retirement party themes to take the office party to new heights, or some fun virtual retirement party games, our list of ideas should give you plenty of inspiration to plan a farewell your beloved co-worker will love.
Send them off into retirement in style, and be sure to have plenty of fun and laughs while you're doing it!
You Might Also Like to Read
---
Planning a retirement party in the near future? Keep these ideas for safekeeping by saving this article to one of your Pinterest boards.