This post may contain affiliate links, meaning if you book or buy something through one of these links, I may earn an affiliate commission at no additional cost to you. Learn more
Give the bride and groom-to-be an afternoon or evening of joy, laughs, and memories by adding some of these awesome engagement party games into proceedings, and get the whole family involved in the fun.
Engagement Party Games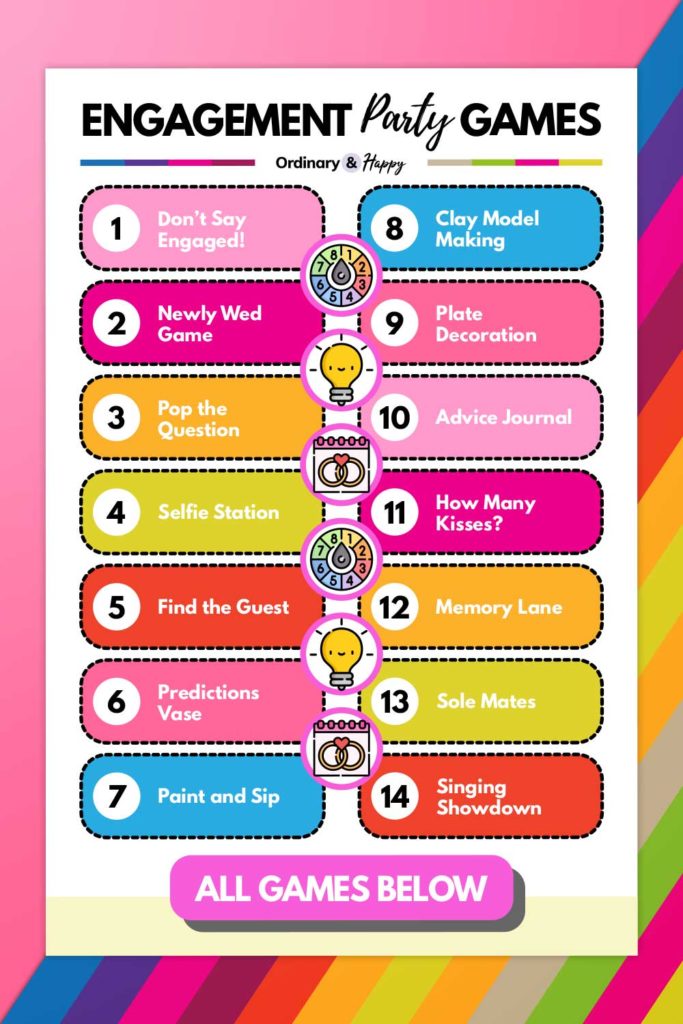 ---
Fun
1. Don't Say Engaged!
Be prepared for slip-ups! Hand guests five plastic rings on arrival and tell them that the words 'engaged/engagement' are banned.
Those who slip up and say either of those words will be forced to give up their ring to the person who tricked them into saying the words.
The person with the most rings at the end of the engagement party is the winner.
2. Newly Wed Game
For this game, you'll need whiteboards, dry erasers, and excellent memory when it comes to your partner.
Teams of couples will be asked questions about their relationship and will score points based on whether or not they come up with matching answers.
Fair warning: try not to upset the in-laws with this one!
3. Pop the Question
Similar to gender reveals, grab ten balloons and write questions on them related to the bride or groom.
Party-goers must answer the questions correctly while the bride or groom reveals the answers by popping each balloon. Things could get messy…
4. Selfie Station
Who doesn't love a good photo to mark a special occasion? Rent a photo booth or set one up yourself by ordering some props online.
Everyone loves a good photo for the 'gram, and it's fun for all family members. 
5. Find the Guest
Prior to the party, have guests send in a funny anecdote or fact about themselves.
Once guests arrive, hand them a random fact and have them figure out which fact belongs to which guest.
As fun ideas go, this is the ultimate icebreaker!
---
Unique
6. Predictions Vase
Buy a vase, pens, and paper, and have guests write down predictions based on your future as a couple, such as 'how many children you will have.'
Then, like a time capsule, read them on your first wedding anniversary to see how many have come true.
7. Paint and Sip
Ready to unleash your inner Van Gogh? Paint and sip sessions have become increasingly popular, especially when it comes to engagement parties.
Buy a bunch of canvases, paint, and stock up on alcohol. Then, print a few family photos and have guests paint the best replicas possible.
Related: 100+ Painting Ideas (The Ultimate Painting Bucket List)
8. Clay Model Making
Fancy something a little more hands-on for your engagement party guests Clay model-making may be more up your alley!
Buy some air-drying clay and have guests sculpt and make clay models. Who knows?! They might even serve as excellent placements at your wedding.
9. Plate Decoration
Want an engagement party game that's a little more sentimental? Have guests decorate their own plates that can be used at the wedding.
For the best results, invest in some ceramic paint at-home kits. This game is perfect for engagement parties involving all the family. 
10. Advice Journal
Naturally, you will have couples from all walks of life at your engagement party. If married, there will be no one better to seek advice for making your marriage last.
Buy a journal and have guests fill it out with their own advice for a happy and long-lasting marriage. 
11. How Many Kisses?
A romantic twist to a fairground classic! Fill up a jar with gummy lips, and throughout the engagement party, have guests guess as to how many there are in the jar.
The person with the correct guess (or the person who's closest) wins the jar.
---
Free
12. Memory Lane
In this game, guests must write down a memory concerning the bride and groom.
The future bride or groom then has to match the memory with the guest. Let's face it, there's nothing quite like nostalgia!
13. Sole Mates
The clue is in the name. For this game, the future Mr and Mrs have to sit with their backs to each other. They then must trade one of the shoes they are wearing and give it to the other player.
The happy couple will be then asked a series of revealing questions about each other such as 'most likely to get arrested' or 'who wears the trousers in the relationship?'.
The couple then has to hold up one of the shoes depending on who they think is most likely to do it.
If the couple holds up the same shoe at the same time, the owner of that shoe gets a point. 
Related: Most Likely to Questions List
14. Singing Showdown
Prior to the party, the newly-engaged couple must create a playlist that is sentimental to them.
Then, at the party, split the guests into two groups and have them compete in a singing showdown.
The future bride and groom then must decide the winning and losing team. Let's hope everyone's not too tone-deaf!
15. Who's Who?
It's time to get out the baby pictures! Have guests send in #throwbacks featuring themselves and the bride or groom prior to the party.
Other guests then have the rest of the party to investigate and figure out who's who.
The guest with the most correct answers wins a prize of your choice, and the soon-to-be newlyweds will definitely enjoy this game!
---
Funny
16. Mad Libs
On pieces of paper, the engaged couple must write down a story involving them but with missing elements.
Guests must then fill in the gaps with whatever words they choose in order to create the best story.
Each guest's version of the story will then be read aloud, and party-goers must collectively vote on which one was the best. 
17. Cocktail Making
Have your cocktails shakers at the ready! It's time for a playful bit of competition.
Split your guests into five groups and allocate them some spirits, mixers, and decorations.
Each group must come up with a 'new' cocktail for the newly-engaged couple to try.
The future bride and groom then must taste each cocktail and determine the winning cocktail by deciding which is the best-tasting drink.
18. Who Said What?
The happy couple has to come up with 10-15 quotes said by their guests and celebrities.
Party-goers then have to determine who said what and which quotes are red herrings.
For added fun, try and mix in some old social media statuses. 
19. Orange Race
There's no engagement game quite as up close and personal as this classic game!
Divide party-goers into two groups, with the future bride and groom-to-be as captains.
Players must then line up behind one another and pass an orange to each other using just their necks.
The team that completes the challenge first will win. If the orange hits the floor, or if anyone is caught cheating, a time penalty of 10 seconds is added. 
---
Indoors
20. Wedding or Bridal Bingo
Quite the old classic game! Prior to the party, create wedding bingo cards containing elements associated with weddings, e.g. 'family speech' or 'ring'.
Upon entry, hand these cards to your guests. Like bingo, the guest who crosses off all the elements first wins.
Fair warning, this could get competitive, especially for the groom's and bride's parents!
21. Him or Her
This is where things will get juicy. Write down stories on a piece of paper concerning either the bride-to-be or groom and mix them together in a bowl.
Party-goers must pull one out of the bowl, and they have to guess whether the events happened to the bride or groom. 
22. Build-a-Tale
Build-a-tale is a playground classic with a newly-engaged twist. Get someone to say an opening line to a fictitious story about the bride or groom.
Party-goers then must go around adding to the story until it reaches its most ridiculous conclusion!
Warning: this game often leads to guests going astray as this game instigates all sorts of wacky and wild conversations.
23. Famous Couples
Is the future Mr and Mrs the next Brangelina or Bennifer? Let's find out!
Divide party-goers into pairs and assign them the roles of 'artist and interpreter.' The 'artist' will be handed a piece of paper containing the name of a famous celebrity couple.
The artist will then have to draw the couple while the 'interpreter' guesses who they are.
Guests complete multiple rounds, and the pair with the most points wins. 
---
Outdoors
24. Ring Hunt
Treasure hunts aren't just for easter! Like an easter-egg hunt, a ring hunt is where you hide 5 – 10 plastic rings outdoors with clues and riddles to help guests find them.
The guest who solves the most clues and obtains the most rings wins! This really is a newlyweds-to-be game to get everyone up and on their feet.
25. Apple of My Eye
Fill three large buckets full of water and fill them with apples until they are floating.
Guests must then try and get as many apples out using just their mouths with their hands placed behind them. The person who obtains the most apples wins.
To make it interesting, you can also fill the bucket with both green and red apples, and either assign guests a color or give different points for red and green apples.
26. Wedding Practice (Beer Goggles Version)
Create an obstacle course involving activities stereotypically associated with weddings, e.g. catching the bouquet or eating the cake.
Party-goers must complete the course and the activities whilst wearing vision-impairment goggles (or a blindfold).
The person who completes the course in the shortest amount of time wins. 
27. Outdoor Jenga
Great fun for family engagement parties! The classic-family game has become so commonplace in most households that it's now bigger and better than ever.
Outdoor Jenga is essentially regular Jenga but super-sized. Split guests and party-goers into teams (bride vs groom works best!) and get players to pull out as many blocks as possible without the tower falling. 
Hint: to spice things up, write truths or dares on the blocks. Whoever pulls out the block must commit to the task given.
Related: Truth or Dare Questions List
28. Ring Toss
A lawn-style engagement game. Party-goers are split into two teams, e.g. bride vs groom or men vs women.
Guests then are given questions about the couple that they have to answer correctly.
The first team to guess the answer correctly then gets a chance at a ring toss, where guests must successfully throw a ring onto a stick.
The team with the most successful ring tosses wins.
All you need to play this game are plastic or rope rings, plenty of guests and other family members, and some super fun questions.
29. Three-Legged Race
Let's hope this classic lawn game is a great ice-breaker rather than a bone-breaker!
Have guests compete in a race in pairs while one of their legs is fastened to their partner's.
Line up some mini champagne bottles as prizes, and the first to cross the finish line wins a bottle of bubbly (or, depending on the outcome, some frozen peas).
30. Scavenger Hunt
Ah yes, the perfect opportunity to get your steps in. For this game, the engaged couple must choose a central location as a starting point.
From there, the guests will be given more clues and a map to hint at where the following location will be.
These chosen places have to have some type of sentiment towards the couple, such as 'the location of the first date.'
Once guests find the correct location, they must take a selfie there as evidence. The guest with the most visited places wins. 
---
Virtual
31. Tarot Evening
Unleash your inner Mystic Meg. With interests in spirituality on the rise, there are lots of virtual tarot readers for hire providing group readings via Zoom and Skype.
This is a particularly great idea for smaller-intimate engagement parties whose guests are open-minded as to what the future holds for them.
32. Love Story Charades
You'll need Zoom for this game of engagement charades. Split your guests into two groups e.g. bride vs groom, and put them into breakout rooms.
The teams then have to decide to come up with a charade related to the bride and groom's 'love story' for the other team to guess.
Both teams have just a minute to guess the other's charade. Those who do it successfully win a point.
33. Two Truths and a Lie
In need of an amazing icebreaker before the wedding? Look no further.
In this game, virtual party-goers have to tell two truths and one lie about themselves and have everyone else figure out what the lie could be.
Your best poker face is necessary for this one!
Need some inspiration? Our 'two truths and a lie' ideas list is loaded with so many ideas for your engagement-themed game.
34. Best Dressed
If there's anything lockdown has taught us it's that Zoom parties are nothing without a bit of fancy dress.
Choose a theme for your virtual engagement party and allocate an award for the best dressed. Acceptance speeches and tissues are a must!
35. Dictionary Game
Pick the most obscure words from the dictionary and have guests guess what they mean.
Then, for extra points, get them to use the word in a sentence with no hesitations!
---
There's so much to can do to make an engagement party fun for everyone, and games can play a huge part in that.
Party games are ideal for getting everyone involved in some light-hearted fun while making sure no one is left sitting on their own with little to entertain them.
Find that perfect balance of fun games with great food and meaningful speeches and interactions, and you have an engagement party that will live long in the memory. Hopefully, these party games will give you a great starting place.
From searching for plastic engagement rings to a hilarious wedding relay race, playing engagement party games allows you to introduce family members and all the other guests to each other before the wedding day.
It also helps keep everyone's mind off the wedding-related events for a short and super fun period of time.
You Might Also Like to Read
---
Planning an engagement party and needing some inspiration? Keep this article on hand by saving it to one of your Pinterest boards.