This post may contain affiliate links, meaning if you book or buy something through one of these links, I may earn an affiliate commission at no additional cost to you. Learn more
Get inspired to make the most of your free time with your partner with these weeknight date ideas.
Whether you're looking for a food adventure, a relaxing spa experience, or a movie marathon, there are plenty of ideas for your next date night!
Weeknight Date Ideas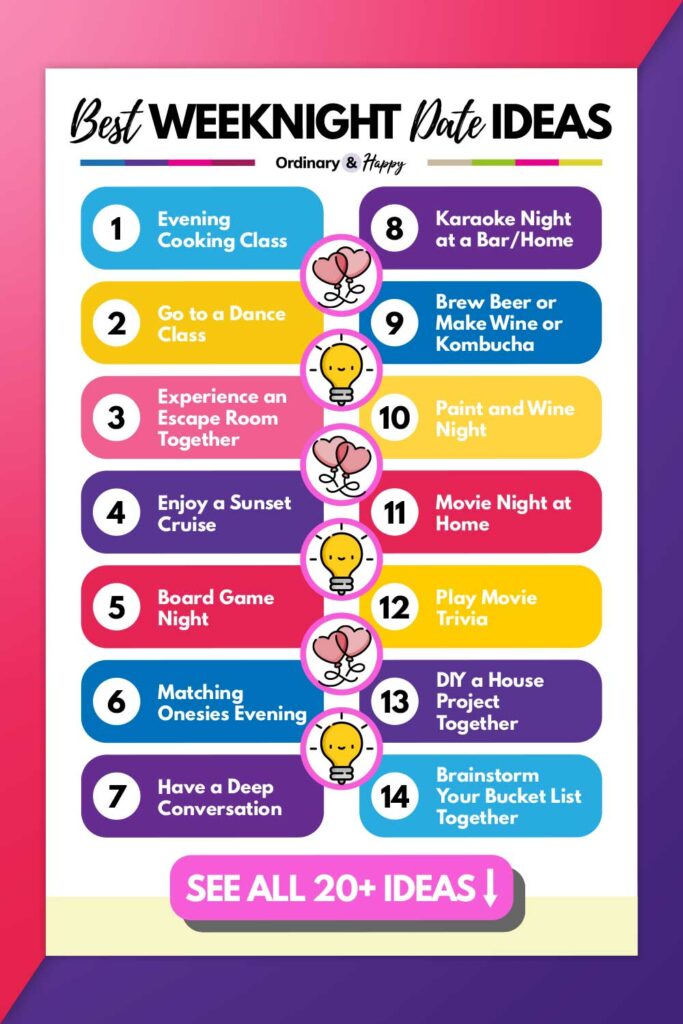 Fun Ideas
1. Sign Up for an Evening Cooking Class
Whether online or in-person, cooking classes are a great date night activity!
Look up local cooking classes that take place in the evening, or simply book an online cooking class, and you can try out new recipes from the comfort of your home.
A good alternative to a cooking class would be signing up for a food subscription box. You could order a box weekly or biweekly and decide on an evening or two when you can cook the recipes in the box (without the pressure of being in a cooking class).
Read more: 11 Fun Online Cooking Classes You Need to Try
2. Go to a Dance Class
Learn how to tango or salsa and improve your general fitness while having fun together.
3. Experience an Escape Room Together
Are you both competitive and love to search for clues and solve puzzles? An escape room adventure may be the perfect fit for your date night!
4. Enjoy a Sunset Cruise
If you're lucky enough to live by a river or lake, you could enjoy a romantic and serene date by going on a sunset cruise.
Breathtaking views, the sun painting the sky with shades of orange, the soft breeze in your hair, and sipping on some Prosecco – is there a better way to unwind after a long work day together?
5. Have a Board Game Night
These fifteen fun board games for couples should give you plenty of ideas for a relaxing but competitive night in at home with your partner.
Unique Ideas
6. Matching Onesies Evening
Check Price on Amazon
For a unique date night, why not try a 'matching onesies' evening? Whether you want to throw a couple's party and invite other friends, or you want to have a dance party at home with just the two of you, matching onesie costumes will make the night a lot more fun!
Check online stores for some couple's onesies. My favorites include this pineapple costume (also pictured above) and this avocado costume.
7. Have a Deep Conversation
Some of the best dates are when you open up to your partner and share your fears, your hopes, and your life-changing experiences. It's one step closer to understanding your partner on a deeper level and connecting in a very intimate way.
You could make yourselves some hot cocoa or a cup of tea, relax on the sofa, and have a heart-to-heart. For inspiration, check out my list of 200+ questions to ask your partner or my list of 200+ deep questions to really get to know someone.
However, if you're on a first date, keep it light with this list of first-date questions.
8. Have a Karaoke Night at a Karaoke Bar or at Home
Check Price on Amazon
If you have a karaoke bar near you, you could make a fun evening out of it.
If you don't have one nearby, don't worry! It's easy to set up a karaoke station at home.
Technically, you don't even need anything besides a YouTube karaoke version of the song you want to sing and a makeshift mic.
However, if you want to upgrade your karaoke experience, you can get a karaoke machine (pictured above) or a karaoke microphone.
9. Brew Beer or Make Wine or Kombucha at Home
Check Price on Amazon
If you both love beer, why not try a beer starter kit for making your own craft beer at home? Alternatively, if you're not a fan of beer, you could try making wine with this starter kit. Or, you could make kombucha for an alcohol-free drink.
10. Paint and Wine Night
Check Price on Amazon
Sign up for a paint-and-sip class or recreate the experience at home. Grab a ready-made kit (like the one pictured above) or get separate supplies (canvases, brushes, and paint) and follow a YouTube painting tutorial.
Budget-Friendly Ideas (Cheap or Free)
11. Have a Movie Night at Home
Snuggle up on the couch and watch a movie included in any subscription you already have, such as Netflix, Amazon Prime, or Hulu. Or, if you have no subscriptions, you can find free movies with ads on sites/apps like Freevee, YouTube, and Crackle.
If you have a little bit of a budget to play with, you could surprise your partner with a DIY movie night gift basket and include little treats such as popcorn, candy, and drinks.
12. Play Movie Trivia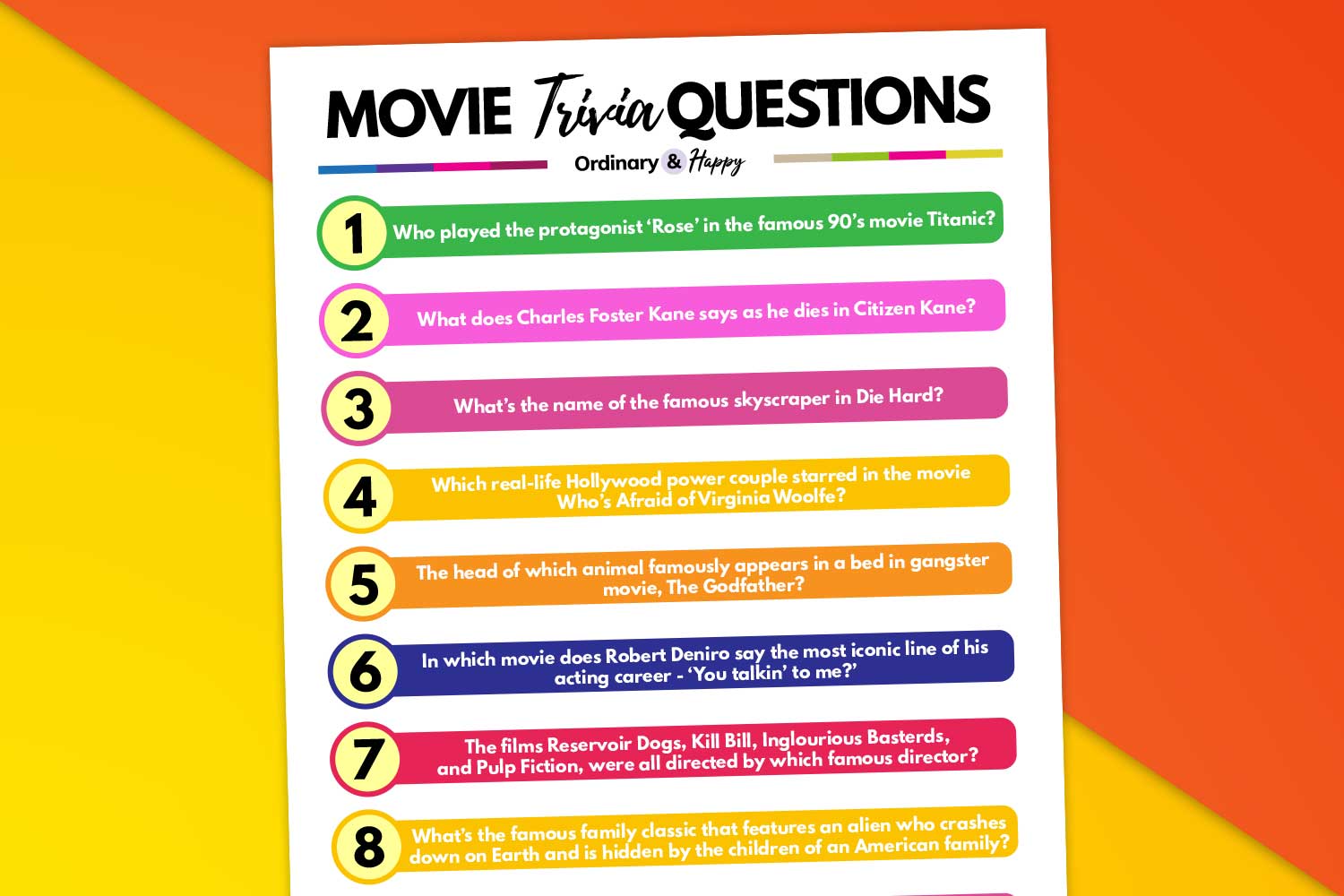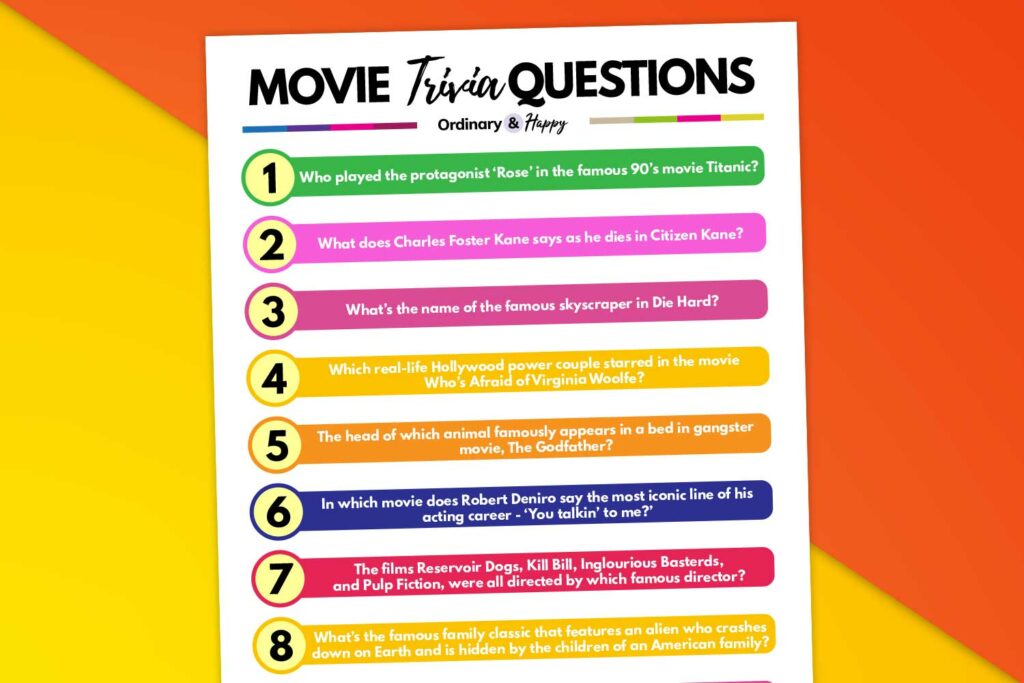 If you're both movie buffs, you will likely enjoy a friendly game of movie trivia. To get started, you can use our free list of 100+ movie trivia questions and answers.
13. DIY a House Project Together
Have you been dreaming about turning your backyard into a Tiki bar oasis? Or perhaps you want to add a summer garden office? Or do you just want to repaint or redecorate your bedroom?
Whatever you decide to take on, a DIY house project will help the two of you connect and spend time together.
14. Brainstorm Your Bucket List Together
Spend the evening sharing your goals and dreams. Whether designing your own couple bucket list, a date bucket list, or a summer bucket list, this activity will bring you closer together as a couple.
Related: 5 Bucket List Printable Templates (Free and Premium)
15. Pilates Evening at Home
Lay down a couple of mats and follow a Pilates or Yoga routine on YouTube. If you already have the mats at home, this will be a relaxing date night that's completely free!
If you don't have mats, you could look for exercise videos or meditation videos that require no equipment!
More Ideas
16. Go for a Drink at a Rooftop Bar
Don't miss out on the opportunity for a late-night date at a rooftop bar. There's something quite romantic about sipping wine or a cocktail while overlooking the city lights or, if you're lucky, seeing the starlit sky.
17. Solve a Puzzle
Check Price on Amazon
Grab a challenging 2,000-piece puzzle (like the one pictured above) and try your hand at completing it. Celebrate with your favorite desserts and drinks once you've finished it!
18. Go for a Couple's Massage or Create a Spa Experience at Home
Book a relaxing or deep-tissue couple's massage or have a spa night at home with my list of spa night ideas.
19. Pub/Bar Trivia Night
Work as a team at a pub or bar trivia night. Order a pint, pick a witty team name, and try to win the top prize!
20. Enjoy a Round of Mini Golf or Topgolf
Challenge your date to a playful round of mini golf or Topgolf and create some fun memories along the way.
For more ideas, check out my date ideas bucket list, which has over 100 ideas (and a printable PDF checklist).
---
No matter what weeknight date idea you choose, just have fun out there and create memories with your partner!
You Might Also Like to Read
---
Keep this list of weeknight date ideas handy by saving this article to one of your Pinterest boards.