This post may contain affiliate links, meaning if you book or buy something through one of these links, I may earn an affiliate commission at no additional cost to you. Learn more
Put a smile on an avid tea drinker's face every time they make a brew with these gifts for tea lovers, and take their love of one of the world's most beloved beverages to new heights.
Gifts for Tea Lovers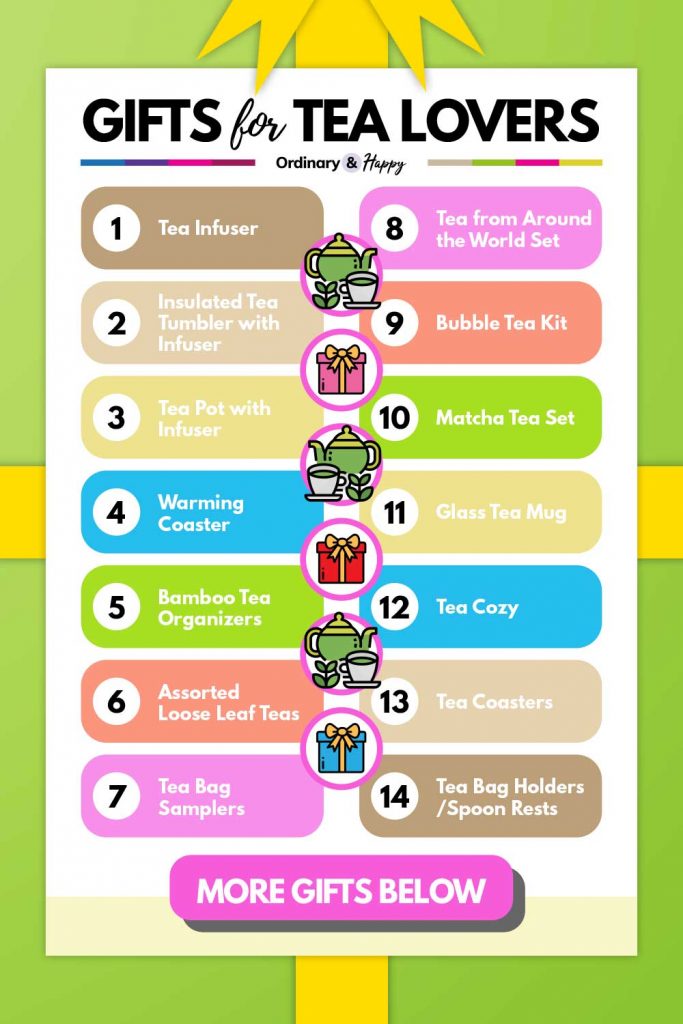 ---
Best Gifts
1. Tea Infuser
Check Price on Amazon
For anyone who loves to brew loose-leaf tea, this nessy-shaped tea infuser is guaranteed to bring a generous dose of warmth and style to their kitchen.
While the infuser helps unlock the flavor of the tea leaves for an intense and aromatic brew, its fun and sleek design is sure to capture the hearts of anyone that sets foot in their kitchen or sets eyes on their tea station.
2. Insulated Tea Tumbler with Infuser
Check Price on Amazon
A thoughtful gift for hikers and outdoor adventurers, with this innovative tea tumbler they can enjoy rich and flavorsome tea no matter where their travels take them.
Kiss goodbye to lukewarm brews and weak roadside cafe tea, and enjoy hot, delightful tea in the car, out on hikes, or on camping weekends.
3. Tea Pot with Infuser
Check Price on Amazon
Brew tea at home with precision, just the way you like it, with this beautifully designed teapot infuser.
Ideal for afternoons or evenings at home with company, or just relaxing, the infuser comes complete with a cozy, to keep your tea warmer for much longer.
4. Warming Coaster
Check Price on Amazon
Tell your gift recipient to say goodbye to tea that cools far too quickly with this sleek, electronic warming mug and coaster set, perfect for maintaining a high temperature and drinking their brew in a stylish way.
5. Bamboo Tea Organizers
Check Price on Amazon
Help a tea enthusiast keep their beloved tea brands and bags organized and easily accessible with a gorgeous bamboo tea organizer.
Beautiful to behold, this tea organizer holds and displays in an effortless way, while bringing a welcome feel of Japan's awe-inspiring nature into the comfort of their home.
6. Assorted Loose Leaf Teas
Check Price on Amazon
Adventurous tea drinkers will beam with joy at the opportunity to taste ten different teas with this assorted loose-leaf tea selection.
Complete with literature on each tea, this set can expand the horizons of plenty of avid tea drinkers, dazzling them with new flavors and aromas.
7. Tea Bag Samplers
Check Price on Amazon
A gift oozing with elegance, this wonderful tea bag sampling set brings a hand-picked set of gourmet teas to the foray, for both casual and enthusiast tea drinkers to try and enjoy.
Packed beautifully and loaded with plenty of fruity and spicy surprises, this is a brilliant choice for a 'wow-factor' festive gift for a tea lover.
---
Unique Gifts
8. Tea from Around the World Set
Take your gift recipient on a unique and flavorsome global tour of tea with a thoughtful around-the-world tea set, and introduce them to new and exotic flavors they may fall in love with.
9. Bubble Tea Kit
Check Price on Amazon
Introduce a tea drinker close to you to the wonderful world of Taiwanese bubble tea, courtesy of this comprehensive bubble tea kit.
Equipped with everything you need to make one of Asia's most iconic beverages, bubble tea could be the drink they wish they'd discovered years earlier.
10. Matcha Tea Set
Check Price on Amazon
Matcha tea is a beloved and wonderful Japanese tea, and a matcha tea set is a brilliant way for a tea enthusiast to give matcha a try from the comfort of their own home.
This set gives you everything you need to brew your own matcha tea, and its decadent and stylish design and packaging make it ideal for a unique and thoughtful gift.
11. Glass Tea Mug
Check Price on Amazon
Give a tea-drinking friend or loved one the opportunity to drink their favorite tea in true glamour and elegance with an ornate glass tea mug.
Majestic to behold and almost certainly a talking point at gatherings and tea parties, few mugs bring such elegance and beauty to tea time as this glass mug.
---
Budget-Friendly Gifts
12. Tea Cozy
Check Price on Amazon
Bring that cozy, 'tea at grandma's' feel into someone's home with this beautifully designed tea cozy, to fit snuggly over their teapot.
13. Tea Coasters
Check Price on Amazon
Be it mugs, glasses, or tumblers, kiss goodbye to stains and spills on tables and surfaces with a set of gorgeous tea coasters.
With their beautiful designs, these coasters will inject plenty of color into any room in the home, while absorbing spills and heat at the same time.
14. Tea Bag Holders / Spoon Rests
Check Price on Amazon
Any avid tea drinker will be quick to relate to the age-old problem of the mess and stains that come with removing tea and tea bags from the mug.
So give a thoughtful gift to a fellow tea drinker with a simple yet elegant set of tea bag holders and spoon rests, to use when their favorite brew is ready to drink.
15. Honey Dipper
Check Price on Amazon
Gift a tea drinker a great way to add honey to their tea with this beautifully designed honey dipper. Beautifully crafted, this dipper can take pride and place in any tea station or on any kitchen work surface.
---
Luxury Gifts
16. Tea Subscription
What better way to bring joy into the life of a tea lover than through a tea subscription like this one from Art of Tea that sends teas from all over the world straight to their mailbox every month!
Tea subscriptions are an excellent way to sample tea that you simply won't find in normal supermarkets, while their literature can provide hours of fascinating insight and enjoyable reading.
17. Tea Gift Set
Check Price on Amazon
Add a generous amount of luxury to a tea drinker's tea time with this ornate and gorgeously designed tea gift set, complete with everything you need to serve and enjoy your favorite tea.
Particularly if they enjoy hosting friends and family for tea, this set is sure to wow anyone who's invited to the gathering.
18. Gold Loose Tea Infuser
Check Price on Amazon
A truly majestic instrument for infusing tea, this gold loose tea infuser looks like something out of a private collection at a museum.
It's a real showstopper of a piece to pique the interest of anyone at a tea party or gathering. If you're going to infuse tea, why not do it with more than a touch of class!
19. Electric Kettle with Bluetooth
Check Price on Amazon
If your gift recipient loves their tech, take their tea-making experience to a whole new level with an electronic kettle, complete with Bluetooth connection and smartphone app connectivity.
From the comfort of their couch, they can brew their favorite tea to the ideal temperature and settings, and enjoy a powerful and precise pour from the unique design of the kettle's spout.
---
Personalized Gifts
20. Engraved Tea Spoon
Check Price on Amazon
An engraved teaspoon is the perfect gift to show a tea lover close to you that you're thinking of them. Preparing and stirring their favorite brew with a spoon adorned with a message close to their heart will never fail to put a smile on their face.
21. Personalized Tea Mug
Check Price on Amazon
Anyone who drinks tea, coffee, or alcohol will no doubt have a favorite mug or glass to drink it from.
So really bring joy to a close tea lover during the holidays or for a birthday with a personalized tea mug.
Be it a funny, heartwarming, or inspirational message, the possibilities to design a gift with real meaning are endless.
---
Fun Gifts
22. Honey Sampler
If you know your gift recipient loves to put honey in their tea, deliver a gift that's sure to blow their minds and tantalize their tastebuds, courtesy of this honey sampler set, consisting of four rich, delicious, and aromatic honey to try, all the way from the rainforests of Brazil.
23. Fun Tea Infuser
Check Price on Amazon
For plenty of laughs and lots of novelty, gift this unique and fun tea infuser to a close tea lover, and see this nifty little gadget bring a smile to their face. Easy to use, and comical to lay eyes on, they can infuse their tea in a fun and enchanting way.
24. Teapot Trivets
Check Price on Amazon
Add a generous dash of decadence to someone's kitchen counter with these beautifully designed teapot trivets, ideal for holding hot kettles and pans as you wait to pour.
A great little gift for a tea enthusiast, stains, rings, and heat damage from hot kettles and pans on their counters or surfaces will be a thing of the past.
25. Tea Book Tin
Check Price on Amazon
Tea packaging doesn't come much more majestic than this. This tea book tin gives the gift of delicious tea, with tin packaging that simmers with elegance and class.
Whether it takes pride and place on a bookshelf or the kitchen counter or is reused to house loose tea, the gorgeous design of this book tin is sure to delight tea drinkers from all walks of life.
---
Funny Gifts
26. Tea Socks
Check Price on Amazon
These novelty socks are sure to bring a smile to anyone who loves their tea throughout the day. Ideal as a stocking stuffer or light-hearted gift, only true tea drinkers can appreciate the message on these simple and comfortable socks!
27. Tea Leaf Reading Kit
A truly unique tea-themed gift, this tea leaf reading kit can offer hours of fascination and discovery for a passionate tea enthusiast.
Discover the ancient art of tea leaf reading with this amazing kit, complete with historical context and a dictionary of the symbols.
The kit even comes with loose black tea to brew in the adorned mug, so that they can brew up a hot tea and start reading the scripture straight away.
---
Bring plenty of joy, laughs, and excitement to a beloved tea drinker for a birthday, celebration, or during the holiday season with these fun, creative, and awesome gifts for tea lovers.
Whether your gift recipient enjoys novelty, function, or trying exotic new teas, there's something on this list for everyone to enjoy.
You Might Also Like to Read
---
Keep this selection of gifts for tea lovers for safekeeping, ready for future birthdays and holidays, by saving this article to one of your gift guide boards.