This post may contain affiliate links, meaning if you book or buy something through one of these links, I may earn an affiliate commission at no additional cost to you. Learn more
Let romance blossom and good times roll once the sun goes down with these late-night date ideas, ideal for fun, excitement, and intimate moments with your partner or date beneath a star-studded sky.
Late-Night Date Ideas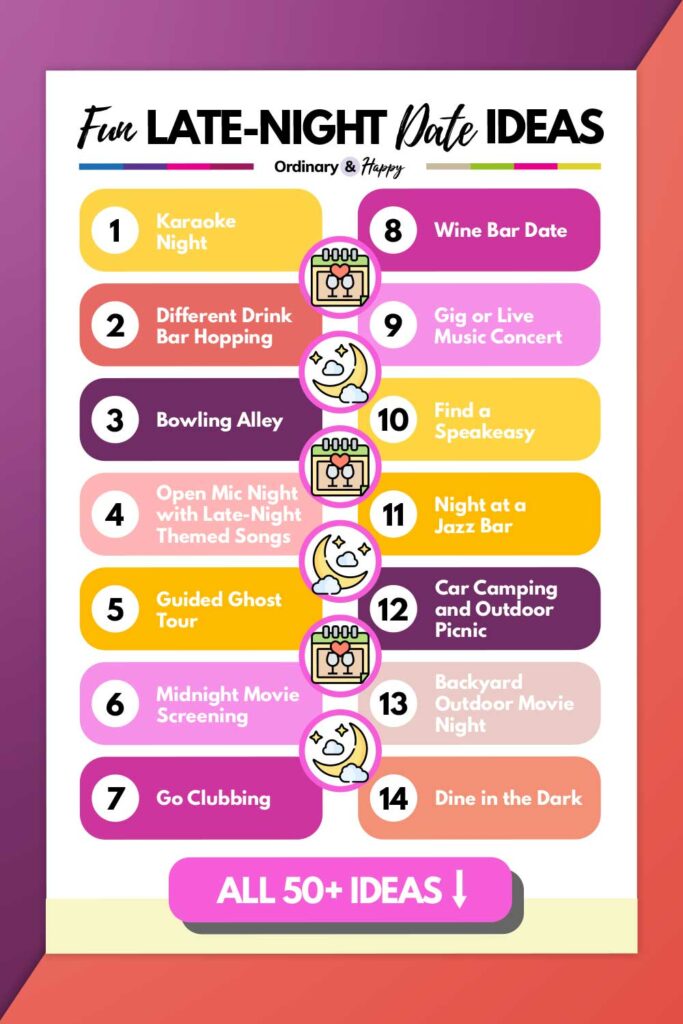 ---
Fun Ideas
Make sure your late-night dates are fun, enjoyable, and memorable with some of these date night ideas for the perfect balance of romance and excitement.
1. Sing into the early hours at a karaoke bar.
2. Go bar hopping and change your drink choices e.g. a beer from a different country in each bar.
3. Enjoy a few rounds of bowling at a bowling alley.
4. Sign up for open mic night as a duet and sing songs like 'Closing Time' or 'I Drove All Night.'
5. Take a night tour of your local or nearby town or city, such as a guided ghost tour.
6. Attend a midnight movie screening of a new release.
7. Go dancing at a nightclub.
8. Enjoy conversation and wine tasting at a wine bar.
9. Sing and dance to your favorite acts or try something new at a live music venue.
10. Find a cool speakeasy near you and enjoy drinks and late-night conversations.
---
Unique Ideas
Want to try something a little different for your date night? Give these unique date ideas a try, and see if the romance blossoms while you enjoy a fun and new experience.
11. Jive and be merry at a jazz bar.
12. Find a scenic spot for car camping and a late-night outdoor picnic.
13. Attend a backyard or outdoor movie night.
14. Dine in the dark.
15. Dress up smart and have a casino night.
17. Host a music date night at home listening to all the hits from when you were teens.
18. Go on a grocery shopping date at a 24/7 supermarket.
19. Create a bucket list together such as a couple's bucket list or travel bucket list.
Related: Bucket List Printables (Free and Premium)
20. See some starry sky sights on a late-night helicopter tour.
21. Head to an after-hours night market and enjoy late-night street food.
---
Indoor or at-Home Ideas
Naturally, due to the lateness of the evening, you may not want to, or be able, to go outside. So whether you're at home or looking for some fun indoor activities, give some of these date ideas a whirl.
22. Enjoy laughs and some friendly competition with a board game night.
Read more: Best Board Games for Couples
23. Order dinner at a 24-hour diner or restaurant.
24. Have a themed weekly movie night (e.g. only Marvel movies or Academy Award-nominated movies from a particular year).
25. Have a spa night at home and get inspired with our DIY at-home spa essentials and ideas.
26. Enjoy an evening of cocktail-making either with an online class or by creating your own recipes.
27. Have fun and spark a little romance by spending the night in an indoor pillow fort with fairy lights.
28. Enjoy a night of video gaming together.
29. Open up, share stories and make each other laugh with some good old-fashioned pillow talk.
30. Enjoy a candlelit dinner at a cozy restaurant.
31. Take an online cooking class and finish with a dinner date complete with wine.
32. Watch late-night reruns of some classic TV shows with drinks and snacks.
33. Stay for last orders at your local pub or bar.
34. Attend an evening or late-night opening at an art gallery.
---
Outdoor Ideas
From city lights to woodlands bathed in moonlight, the great outdoors can be full of peace, beauty, and magic after sunset. If safe to do so, embrace the great outdoors after hours with some of these date ideas.
35. Lie on the grass and try stargazing together.
36. Go for a midnight walk and take photos with a camera with a night lens.
37. Take the plunge with a spot of night swimming (if safe to do so).
38. Go on a late-night run together in your local area, if safe to do so (and not a first date).
39. Go on a late-night/sunrise hike, if safe to do so (and not a first date).
40. Enjoy rooftop terrace drinks and a spot of al fresco dining.
41. Stay up all night and watch the wonderful sunrise together.
42. Find the best view in the city and photograph the skyline at night.
43. Play a few rounds of late evening mini golf or top golf followed by drinks.
44. Take a late-night scooter drive (if safe to do so) to a scenic spot.
45. Slow dance under the night sky in the backyard or on a rooftop.
---
More Ideas
Still looking for some fun, creative, and memorable late-night date ideas? Give some of these cool activities and experiences a try, and see how much fun you can have together.
46. Enjoy some late-night drinks and conversation at a hotel bar.
47. Go swimming at a 24-hour gym with a pool.
48. Try all the games and see how many prizes you can win at the arcade.
49. Go see a DJ together at a club, bar, or music venue.
50. Look up some after-dark events at local museums and book yourself in.
51. Go ice skating at an ice rink with late-night events.
52. Have a tapas night with delicious food and velvety wine.
53. Roast s'mores over an open fire in your backyard or at a campsite.
54. Book tickets for a fun and theatrical cabaret night.
55. Have a late-night coffee shop date.
56. Go on a late-night road trip with snacks to an 80's soundtrack.
---
Embrace the awe, beauty, and wonder of your local town or city in the midst of the night, and give some of these fun, creative, and enjoyable date ideas a try.
You Might Also Like to Read
---
Keep these late-night date ideas for safekeeping, ready for when you're planning a date after daylight hours, by saving this article to one of your Pinterest boards.