This post may contain affiliate links, meaning if you book or buy something through one of these links, I may earn an affiliate commission at no additional cost to you. Learn more
Get inspired with these fun and creative 40th birthday ideas to help you see in your fabulous 40s in a truly memorable way that everyone will enjoy.
40th Birthday Ideas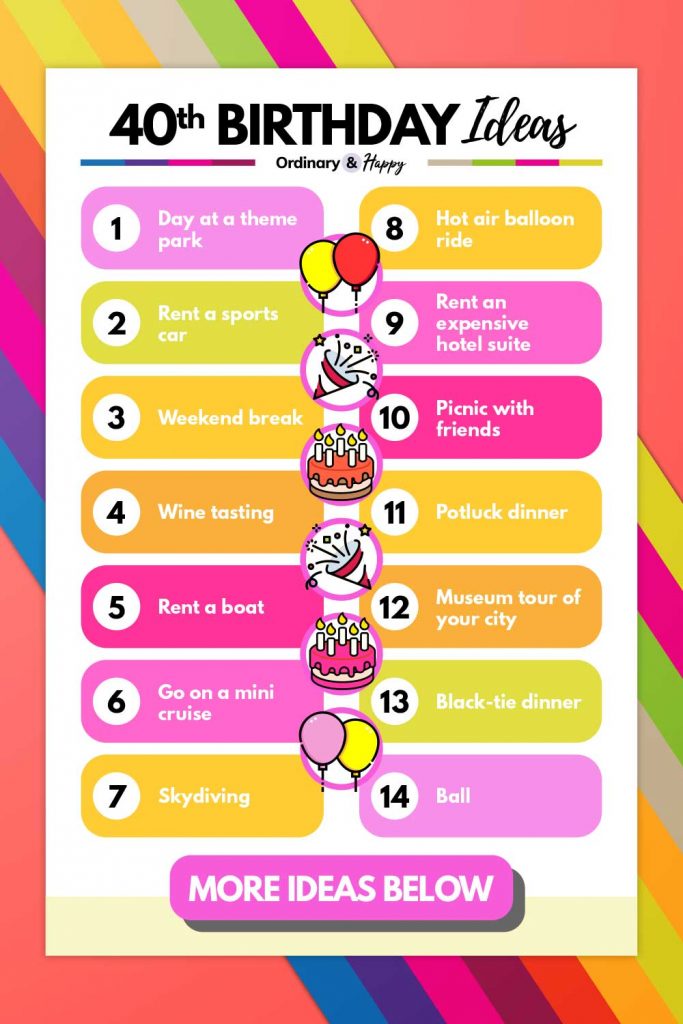 ---
Fun
1. Have Fun at a Theme Park
Who says you can't still have fun at 40? Take a group of friends and spend your 40th birthday at a theme park.
Take a spin on all the old rides and enjoy an indulgent, nostalgic trip. Don't forget to pass by the food truck and buy yourself a gigantic candy floss for the ride home.
2. Rent a Sports Car
What midlife crisis? Spend your 40th birthday in style and rent a sports car!
Whether you take your new friend for a spin around your city or simply try out a fast-food drive-through in a Ferrari, you'll have a memorable 40th and feel younger than ever.
3. Plan a Weekend Getaway
Want to avoid all the "so you're 40 now?" conversations with friends and colleagues?
Your 40th is the perfect time to organize a weekend break and spend your birthday in a foreign city, taking in all the local history and dining out in fancy restaurants!
You'll have the experience of viewing a new city while also avoiding all the pitying conversations from younger friends – win-win!
4. Book a Wine Tasting
What better time to improve your wine palate than on your 40th birthday?
Grab some friends, your family, or a partner and head to a wine tasting for a sophisticated – yet fun – 40th celebration.
Sample wines from all over the world and enjoy feeling cultured, cultivated, and mature, all without feeling old!
---
Unforgettable
5. Rent a Boat
If you have the cash to splash, why not spend your 40th birthday cruising the waves and enjoying a weekend fulfilling your childhood fantasy of being a sea captain?
Whether you rent a yacht, a mini boat, or a speed boat for some thrilling, fast-paced water adventures, you won't forget a 40th birthday spent at sea!
6. Go on a Mini Cruise
If you like the idea of spending your birthday at sea but don't know how to sail (nor want to learn), a mini cruise is the perfect option for a fun birthday on the waves.
Whether you take a mini-cruise around your home country or opt for a trip abroad, you'll love the feeling of being detached from the world with seemingly unlimited leisure time.
7. Skydive
If you're approaching your 40th with a mostly incomplete bucket list, why not use the excuse of your birthday to tick off some bucket list activities?
A skydive is certainly ambitious, but it could make an unforgettable birthday celebration!
Whether you take a friend or opt for a solo skydive, you'll be able to check off a bucket list goal and spend your 40th birthday celebrating your own bravery rather than the slow descent into old age – perfect!
Related: Bucket List Printables (Free and Premium)
8. Go on a Hot Air Balloon Ride
Another bucket list option, taking a hot balloon air ride is the perfect way to spend your 40th.
Combine a thrilling bucket-list activity with minimal effort and an excuse to relax, and you have a truly memorable birthday idea.
Simply take a champagne bottle, a companion, and a camera for the complete hot air balloon experience.
9. Rent an Expensive Hotel Suite
If you've always opted for the twin suite or the standard double, your 40th birthday is the perfect excuse to splash out and rent out the most expensive hotel suite.
Never watched a hotel television in a 5-star penthouse suite? Get to it! Netflix at home will never be the same, but you'll enjoy an unforgettable 40th.
---
On a Budget 
10. Picnic with Friends
You don't need to splash out and empty your bank account to have a fun 40th – if you don't have much to spend, you can spend a fun afternoon and evening enjoying a luxury picnic with some loved ones.
Read more: Best Picnic Essentials to Pack for the Perfect Picnic
11. Host a Potluck Dinner
If you love big gatherings but don't currently have the money for a large fete, hosting a potluck dinner is a budget-friendly option for a fun 40th.
Whether you host at home or find a local hall, invite plenty of guests and encourage everybody to bring a different dish to share with the party.
Bring along some music speakers, and you have a buffet disco! Pay your enthusiast (college-aged) relatives to take care of serving drinks, and you can even enjoy a DIY minibar experience.
12. Go on a Museum Tour of Your City
If you're a history buff, why not take a historic tour of your own city?
Instead of paying extortionate prices for tourist packages, simply take a tour with a partner or friend and head to the local museums and art galleries, and finish the afternoon in a rustic, local bar.
---
Indoors
13. Have a Black-Tie Dinner
If you fancy a more high-key event, why not organize a black-tie dinner in a local hotel or restaurant?
Get creative with this one – customize your invitations, insist on black-tie formal dress, and create luxury gift bags for your guests to take home.
14. Plan a Ball
If you really want to take your black-tie event to the next level, rent a hotel event room and have a ball – literally!
This option may cost a little more, but imagine the fun you could have seeing all your friends and family dressed up to the nines.
Add a photo booth to make sure you remember the occasion.
15. Rent a Movie Theater
Love the cinema, but want to enjoy a more high-key personalized experience than simply going to see a movie?
Many cinemas allow customers to rent out screens for special events – head to your local movie theatre for a private viewing and spend your birthday feeling like a VIP film star.
16. Have a Spa Weekend
With almost 40 years on the planet, you'll surely appreciate some downtime and well-earned pampering at a local spa.
Whether you go for a couple's massage, a mud bath, or simply a cleansing facial or sauna session, you'll finish your birthday feeling revitalized and refreshed.
Related: Create the Perfect DIY Spa Day at Home in Just 10 Steps
17. Book a Chocolate Tasting
Chocolate tasting is a sophisticated way to spend your 40th birthday while still delivering the child-like joy provoked by indulging in all different types of chocolate and sugary goodies.
Sample as much as you like, and make sure to head home with a bag full of varied chocolate to snack on throughout the week.
---
Outdoors
18. Hike a Mountain
What better way to spend your 40th birthday than conquering the great outdoors?
Prove to yourself that age is just a number and show off your fitness with a mountain hike – but make sure to prepare yourself with some climbing training beforehand!
Related: 25+ Outdoor Games for Endless Fun Under Bright Blue Skies
19. Barbecue on the Beach
If your birthday happens to fall during a summer month, take advantage of the weather and spend your 40th having a beach barbecue.
Invite friends and family, cook up some steaks on the grill and maybe even enjoy a game of volleyball.
Read more: 100+ Things to Do at the Beach
20. Picnic in the park
A picnic in the park doesn't have to be low-key or low-budget – bring some garden furniture, hire specially catered food, and enjoy a luxury park picnic with your loved ones.
If you have children in your family, they'll love the freedom of being outdoors, and it means that all your furry friends can come along too!
Related: 100+ Picnic Food Ideas You Will Love
21. Rent a Jacuzzi
Renting a jacuzzi (or a place with a jacuzzi) has never been easier, but still feels incredibly luxe and high-class!
If your birthday falls during the summer months or you live in a hot climate, renting a jacuzzi for the back garden will make for a fun pool party for your 40th.
Kick it up a notch with a DIY minibar and chocolate fountain.
Related: 22 Fun Swimming Pool Games for All Ages to Play and Enjoy
---
Low-Key
22. Go See Your Favorite Sports Team
If you don't always have the time to go see your favorite sports team play, your 40th birthday is the perfect excuse to buy some tickets to their next game.
If they're currently on a losing streak, maybe the presence of a birthday boy or girl will help them finally secure victory!
23. See Your Favorite Band or Musical Artist in Concert
If sports aren't particularly your thing, you could spend your 40th going to see your favorite band or singer live in concert.
Whether you opt for your current go-to band or a childhood favorite, you'll have a ball and forget all about being officially old.
24. Meal for Two in a Fancy Restaurant
That Thai restaurant you've always wanted to go to? The rustic pizza bar that just opened in town?
Whatever your idea of the perfect meal for two is, try to recreate it for your 40th birthday.
Whether that means staying at home and cooking a slap-up meal or even hiring a private chef to do it for you, spending your 40th in gourmet, Michelin-star style is a low-key – yet nonetheless sophisticated – birthday idea.
25. Book a Massage for Two
If you prefer something effortless and need a bit of TLC, a massage for two is the ideal low-key birthday treat.
Spend time with your partner while also enjoying a professional aromatic massage – finish the evening enjoying drinks in the spa bar if they have one.
---
Themed
26. Casino Night
Martini – shaken, not stirred? A casino night is a fun way to get your guests laughing, drinking, and enjoying themselves while forgetting that you're now a whopping 40 years old!
With a Casino Night theme, it's essential to customize every little detail, from the invitations to the goody bags.
Hire a photo booth photographer to make the night truly memorable.
27. Hollywood Icons
Have some fun with this one, and encourage your guests to dress up as their favorite Hollywood star or starlet and enjoy a fun, vintage Hollywood-themed party.
Whether you host your party at a hotel or at your place, you'll probably have as much fun decorating as you will at the party.
You could even organize a Facebook group for your guests to make sure that no two guests come wearing the same costume.
28. Marvel and Superhero (with a Twist)
With new Marvel movies coming out every month (or so it seems), it'd be a fun idea to throw a superhero-themed 40th birthday – but with a twist!
The twist is this: when writing out your invitations, make it clear that the term "superhero" is totally ambiguous.
While you can certainly turn up as Wonder Woman or Superman, you can also turn up as your own personal "superhero" saviors: such as a Mcdonald's after a hangover or the last toilet roll on the supermarket shelf. Let your guests get creative!
29. Seasons
A seasonal theme could make for the most aesthetically pleasing 40th birthday party ever.
Whether it's the deco, the invitations, or the dress code, insist that the theme of your chosen season be respected and expressed in a creative way.
For a fall theme, you could scatter artificial leaves and serve exclusively hot food and drinks.
For a spring theme, you could see your home transformed into full bloom with flowers everywhere and eggs benedict only on the menu. See how creative your loved ones can get!
Related: 25+ Summer Party Ideas and Themes for Endless Fun in the Sun
---
Virtual or Online
30. Organize a Quiz Night
Missing those lockdown Zoom pub quiz nights? If your 40th birthday happens to fall on a day during which you're away from home, you can still spend it with your loved ones.
Organize a Zoom quiz night with a bottle of champagne guaranteed for the winner. You could also spend the time chatting and planning an in-person rendezvous together.
31. Have Movie Night via a Shared Screen
If a quiz night isn't quite your thing and you'd prefer to spend your birthday relaxing and exerting minimal physical effort, a shared-screen movie night is an ideal option.
Many streaming services, such as Amazon Prime Video, now offer shared-screen streaming, so you can ensure that you and your loved ones remain in sync throughout the film.
Whether you're in a long-distance relationship or simply separated due to work commitments, you'll enjoy a somewhat authentic movie experience.
32. Organize a Gaming Night Tournament
If you're unable to spend your birthday with friends due to work, travel, or family commitments, why not have a fun gaming night tournament online?
Enjoy a nostalgic throwback to the good old days of COD battles lasting until the early hours of the morning. Be sure to get in plenty of pizza and beer, and get ready for plenty of nostalgia.
33. Sing Zoom Karaoke
To some, "Zoom karaoke" should be inscribed somewhere in the Geneva Convention. To others, it's a fun party idea!
Whether you're away from home or simply unable to be with friends and family on your birthday, a Zoom karaoke night will allow you to have a laugh with your loved ones – just make sure plenty of cocktails are involved.
---
Age is only a number, and turning 40 doesn't have to be a milestone that you don't make a big fuss about.
40th birthdays can be just as fun and memorable as 21st birthdays, and the sky is the limit when it comes to creativity and putting together a party that's perfect for you, your family, and friends.
You Might Also Like to Read
---
Got an upcoming 40th birthday to plan? Keep these ideas for safekeeping, by saving this article to one of your Pinterest boards.