This post may contain affiliate links, meaning if you book or buy something through one of these links, I may earn an affiliate commission at no additional cost to you. Learn more
Send off a special someone who is moving on to pastures new in style with these going away party ideas.
From your kid going to college to a coworker leaving for a new job, everyone deserves to mark such important milestones in a truly memorable way.
Going Away Party Ideas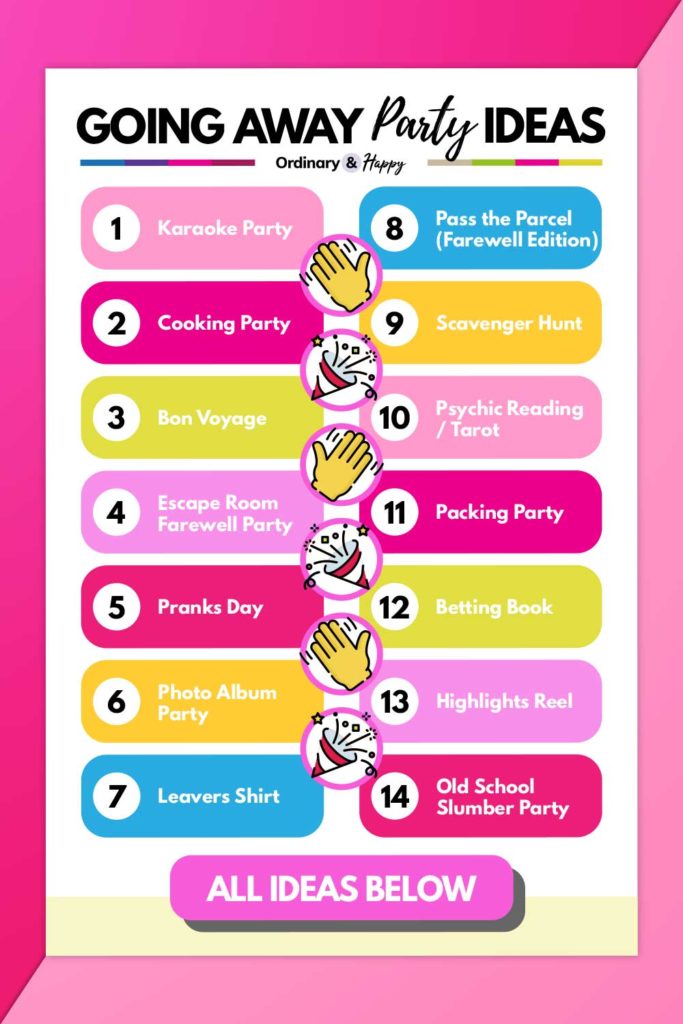 ---
Fun
1. Karaoke Party
There's no better send-off than a good sing-along! If you have a karaoke machine going spare, why not throw a karaoke going away party?
If the person leaving is venturing to another country, why not try some songs in that country's language?
Quick Tip: No karaoke machine? No problem! Platforms such as YouTube and Spotify have plenty of karaoke instrumentals for you to choose from with lyrics available.
2. Cooking Party
Grab a few ingredients and cook up a storm together! Download some online recipes (especially ones relevant to the location the person leaving is traveling to), and cook some delicious delicacies together as a group.
3. Bon Voyage
This fun theme is all about decorating your venue in a 'wanderlust' style.
To achieve this, you'll need maps, miniature or paper airplanes, and compasses. This theme is perfect for those traveling to more than one destination.
4. Escape Room Farewell Party
Are you looking for something slightly more unique when it comes to throwing a farewell party Then, why not opt for an escape room theme?
In a nutshell, escape rooms are rooms where players have to solve puzzles and clues to find an escape.
Whether you visit an official escape room or host one privately, escapes are a great way to bond before a final farewell!
5. Pranks Day
Who doesn't love a good prank? Surprise the person leaving with an array of pranks throughout the day.
To up the anty, refuse to acknowledge that it is the person's last day and carry on like usual. Then act as if each prank is completely random until the big reveal.
Unsure about prank ideas? Try a few of these for size:
Give them fake scratch cards which claim they have won!
Fill up their bedroom or office with lots of balloons.
Wrap all their items in gift wrap.
Of course, farewells can be emotional. So be sure that before you commit to any of these pranks, the person you are targeting is in the right frame of mind before you prank them.
---
Thoughtful
6. Photo Album Party
This theme is excellent for those looking to throw something pretty sentimental. As a requirement, ask guests to bring a photo of themselves and the person going away.
Purchase a few blank photo albums and ask guests to cut and stick pictures in the album writing mini- anecdotes alongside them at the party.
At the end of the going-away party, the person leaving will be given photo albums to take with them on their travels.
7. Leavers Shirt
Make sure you have an endless amount of sharpies for this one! Prior to the farewell party, purchase a plain white shirt so people can write on it.
Then, once the person you are throwing the party for arrives, have them wear the shirt, give guests a sharpie each, and get people to write personal farewell messages on the shirt.
8. Pass the Parcel (Farewell Edition)
Like a typical game of 'pass the parcel,' party-goers must sit around in a circle, listening to music, passing a parcel around until the music stops.
Once the music stops, the person it stops on must unwrap a layer. However, with this version, each layer contains a note with a story concerning the person going away.
When the music stops, the chosen player must read out the story to the group. When the parcel gets to its final layer, it then must be handed to the person that's leaving, leaving them to unwrap the ultimate farewell present.
9. Scavenger Hunt
Who doesn't love a scavenger hunt? To mark the memorable occasion, create a scavenger hunt with clues and surprises associated with the destination the person leaving is traveling to.
To incorporate a more 'explorer' element, equip the person going away with a map and compass to help them in their search for prizes.
10. Psychic Reading / Tarot
Want to see what the future holds for your next adventure? Invite friends over and host your very own clairvoyant-themed going-away party.
For this, you can either hire a virtual tarot reader in person or simply purchase a tarot deck to see the future for yourself.
Gather friends around your crystal ball and gain insight into what's in store for you on your next adventure.
---
For Friends
11. Packing Party
If you feel slightly overwhelmed with the amount of packing you have to do, why not get a friend to lend a helping hand?
Throwing a packing party is not only helpful for the person going away but can generate quite a few laughs as whilst your friends are helping you pack, you can all look back and reminisce together. Three cheers for productivity!
12. Betting Book
With this, you can be as savage or sweet as you want! So unleash your inner Mystic Meg and create a 'betting book' with predictions on what your friend will get up to on their travels.
For this, you'll need a plain notepad, a pen, and a great sense of humor. The person going away can then take this book with them and see if any predictions their friends have written will come true.
13. Highlights Reel
There won't be a dry eye in the house with this one! Similar to that of a 'presentation party', create a montage filled with memories concerning the person going away, grab the popcorn and a projector and watch these cherished memories altogether.
14. Old School Slumber Party
Feel like satisfying your inner child and reliving some nostalgia? Why not throw a slumber party for a fond farewell.
Grab some fairy lights, matching PJ sets, face masks, and a bunch of movies, and you've got yourself a great night in with friends.
---
For Coworkers
15. Fundraiser
Hosting a fundraising event as a farewell always goes down well at work. First, ask the person leaving if there's a particular cause they'd like to raise money for.
Then, at the event, have multiple stalls and activities for coworkers to do, with donations being greatly encouraged.
This way, you'll not only bid your colleague a fond farewell, but you'll also be helping someone else out in the world a little less fortunate.
16. Remember Us
It's not a work party if you don't give your colleague a little something to remember the company by.
So, to host the best 'remember us party', throw a party under the requirement that colleagues must gift the person going away with something they can use in their next job such as an engraved pen or office chair massager!
17. Doughnut Forget About Us Party
This theme is perfect for those with a bit of a sweet tooth! If the colleague leaving always is the first in line for office treats, this idea will undoubtedly be successful.
For this, host an office tea party accompanied by a variety of doughnuts and sweet treats.
18. New Job Survival Kit
Prior to your chosen leaver's party, have your colleagues come together to create the perfect 'survival kit' for the colleague leaving to take with them into their new workplace.
Objects can be tongue and cheek or sentimental, with many opting for gimmicks such as an endless supply of pens and personalized alarm clocks.
---
Themed
19. Destination Party
Arguably the most popular farewell party theme, a destination party theme is great for those who are spending a gap year in one particular country.
For this, throw a farewell party containing items and commodities associated with the place the person leaving is traveling to. For example, if they are venturing to Italy, incorporate activities such as pizza making.
This undoubtedly makes the person going away less nervous and more excited for their next adventure.
20. Color Theme
Perfect for those with a tight budget or those that are looking to keep things simple. A color party is one of the most convenient options for guests and hosts alike. For this theme, you can opt for classic color combinations such as black and gold or a white party.
Quick Tip: If you'd like to incorporate more of a farewell element, why not ask guests to come dressed in the flag colors of the country that the person leaving is venturing to.
21. Military Theme
If you've got someone heading into the military, why not incorporate it into your going away party?
With this theme, items involving camouflage patterns are a necessity! For added fun, include military activities such as obstacle courses and super soaker fights.
22. Home Comforts
As Dorothy once said, when you are in a foreign place, there's no place quite like home! If the person leaving is venturing to a country with a completely different culture, they will most definitely miss their home comforts at some point.
To save the trouble of sending off a care package abroad, throw a going-away party including their favorite treats and recipes for them to take away a piece of home with them.
---
Funny
23. Roast and Toast
This activity is bound to generate a load of laughs! Have party-goers sit around in a circle and share personal anecdotes, funny stories, and roasts about the person going away.
Everyone then must toast to that memory and listen to the next person.
24. Family Feud
Where's Steve Harvey when you need him? For this going away party activity, have party-goers split into two teams (family-feud style).
Then, with two buzzers at the ready, have the teams compete for the winner's title, including a few trivia questions about the person going away.
25. Photo Booth
There's nothing better than marking a special occasion by taking a great photo for the gram!
Photo booths are commonplace at pretty much every personal celebration as guests want memories to look back on for years to come. They are also pretty easy to set up, meaning you don't have to burn a hole in your pocket hiring a company if you don't want to.
To create an amazing photo booth, all you'll need is a white sheet, fairy lights, a tripod, and an array of fancy dress items for guests to pick and choose from.
Guests can then set up their smartphones on the tripod and take awesome photos featuring the person going away.
---
Virtual/Online
26. Quiz Anyone?
For this virtual going-away party activity, you will need to do some preparation and come up with a load of trivia questions based on the person who's leaving.
You then must challenge players and test them to see who can get the most correct answers. Then, to make it even more complicated, include some red herrings to throw players off.
27. Virtual Dance Party
Fancy throwing a virtual rave for someone to remember you by? If so, set up a Zoom room, use the widescreen option and share a collaborative Spotify playlist including requests from all virtual party-goers.
The person going away will then be able to take this playlist with them abroad on their adventures.
28. Presentation Evening
Sure, presentations weren't exactly fun at high school! But, with the right company, they can prove to be quite the hit.
For this activity, have your virtual party-goers create a PowerPoint presentation on a subject they are passionate about.
Where the going away party is concerned, make sure it's something to with the person leaving, such as "what I predict he/she will get up to during their time away".
An excellent presentation evening can be done via Zoom using the shared screen option.
---
While someone going away is always a bittersweet moment, a going-away party is an excellent way to focus on the positives and open up a new chapter of their life with fun and laughter, surrounded by the people closest to them.
Use these going away party ideas to plan a party that everyone invited will enjoy and lets the person leaving know how much they are loved and appreciated.
You Might Also Like to Read
---
Planning a going away party for someone? Keep these party ideas for safekeeping by saving this article to one of your party planning Pinterest boards.