This post may contain affiliate links, meaning if you book or buy something through one of these links, I may earn an affiliate commission at no additional cost to you. Learn more
Getting married is a life event like no other, so give the newlyweds-to-be an event to remember with these engagement party ideas that they, their families, and close friends can all be a part of.
Engagement Party Ideas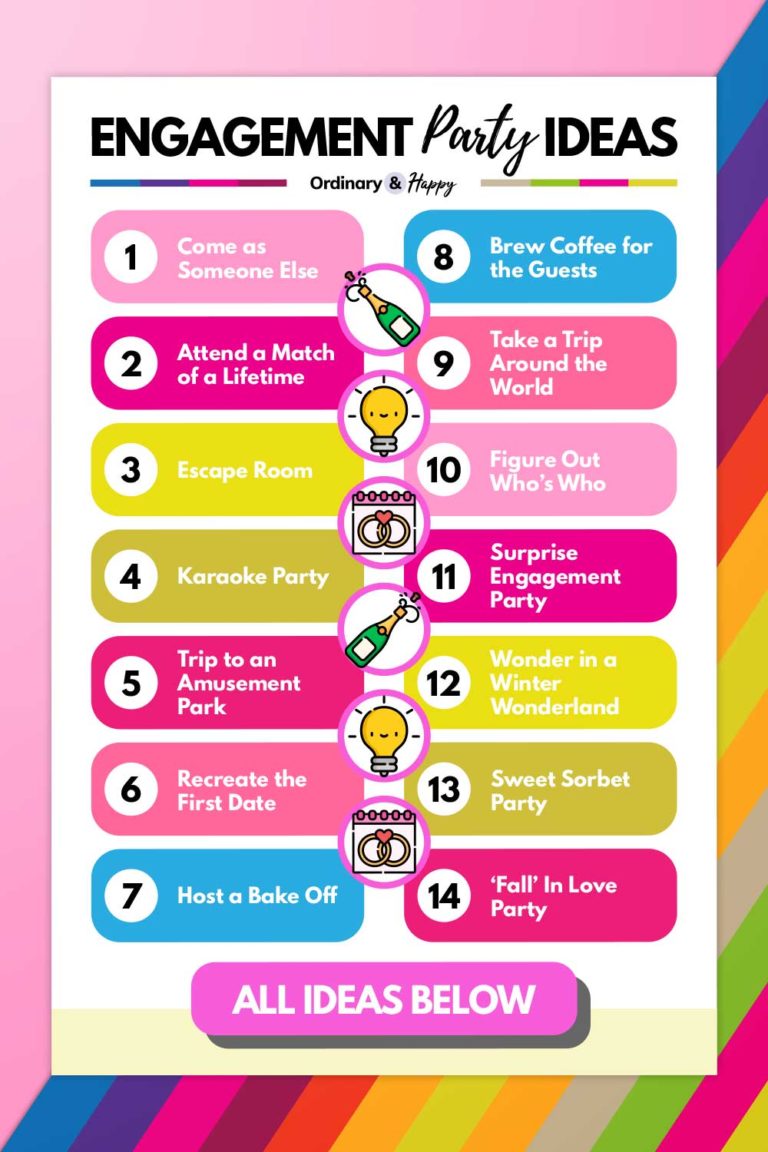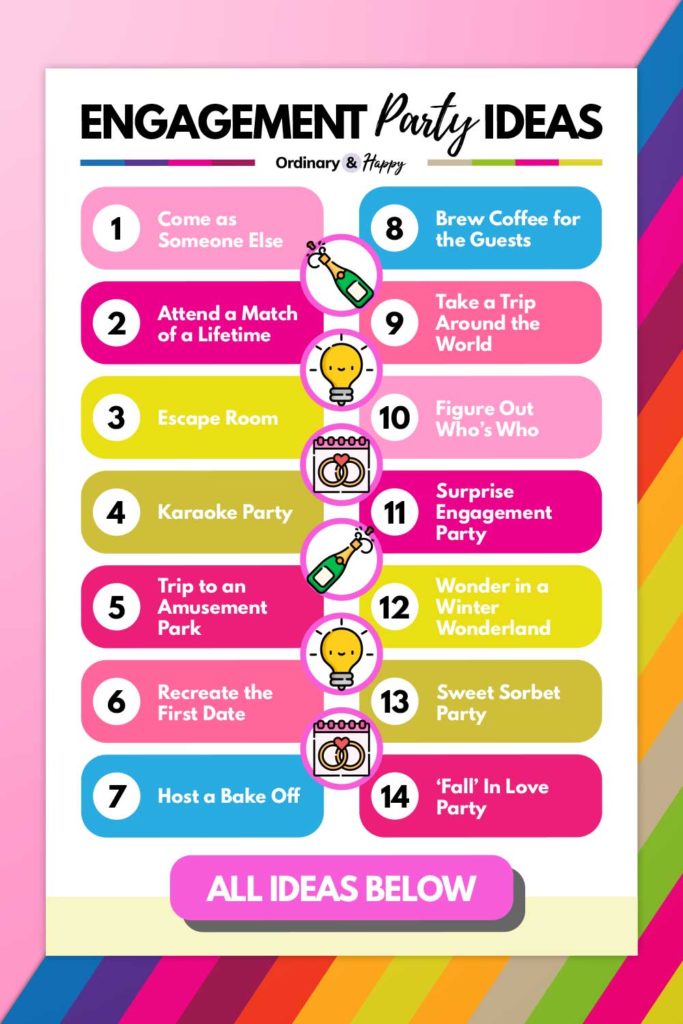 ---
Fun Ideas
1. Come as Someone Else
Go funky and wild with your engagement party theme and host a costume party. Ask guests to show up dressed as their favorite video game characters or celebrities.
You can pick from all kinds of funky costume themes and create your decor around your chosen theme. You'll all end up having a lot of fun, and the pictures will be awesome!
2. Attend a Match of a Lifetime
If you're both sports fans, be it football, baseball, or any sport for that matter, you could celebrate your engagement by catching a game. Invite your friends and family to come along.
You'll have a nice time cheering on the team you both love alongside your loved ones. You even can then enjoy a hearty meal at a bar or favorite restaurant afterward.
3. Escape the Room (Not the Love!)
Escape rooms are a fun adventure fit for an engagement party. Get your guests over to a local escape room and have them solve the problem.
If you have a bigger group, you can divide guests into two teams (with the couple on opposing teams). See who wins the race and treat the winning team with a bottle of bubbly.
4. Karaoke Party
Nothing says 'I love you' quite like a romantic love song (preferably in pitch, of course). If your friends and family are up to it, you could host a karaoke party.
You could find a karaoke bar or hire an entertainment company to set up the equipment in a private room in your chosen venue. Treat your loved ones to tasty bar snacks and drinks to set the mood.
5. Trip to an Amusement Park
Meet up at a local amusement park and go for wild rides with your loved ones. You can spend time playing arcade games, getting on rollercoaster rides, or slowing it down on a carousel.
Amusement parks offer a fun backdrop to an engagement party, with lots of laughs abound! 
---
Unique and Creative Ideas
6. Recreate the First Date
For a newly engaged couple, revisiting your first date for your engagement party can be a wonderful way to do it.
If you met at a bowling alley, take your friends with you this time. Rent a room in a museum or an art gallery, or head to the cinema with your loved ones.
Showing how your story started is a creative and romantic way to celebrate your engagement.
7. Host a Bake Off
Host a friendly baking competition to celebrate your engagement.
You could set a theme based on your favorite sweet treat. Ask the guests to bring their version of the dessert.
Everyone could taste all the creations and vote on their favorite!
8. Brew Coffee for the Guests
You don't need to stick to bubbly and wine for your engagement party. If you are both big coffee lovers, celebrate coffee and your love at a cafe!
Serve guests a variety of coffee-themed drinks. Have a barista teach you all about creating cute coffee art and nailing the secrets of the perfect brew.
9. Take a Trip Around the World
Take your guests on a trip around the world. If you have a bigger venue, you can decorate different corners of the rooms in the style of various countries.
You can pick your countries based on places you've been together or the locations you'd like to go to. Include pictures, flags, and other memorabilia as decor. Serve the local foods and celebrate different cultures by playing local music.
10. Figure Out Who's Who
Get your guests to mingle and know each other with a funky mystery theme. Send little bingo-style cards with different statements and facts along with your invites. The facts can be things like "Has lived in South Korea", "Knows how to play the flute" and "Has been married for +5 years".
At the engagement party, everyone gets to go around and find who is behind the different facts. It'll give people an excuse to get acquainted.
You can also ask guests to dress up as detectives and decorate your venue with spy-themed items like folders, magnifying glasses, and old cameras.
---
Romantic Ideas
11. Surprise Your Guests (or Your Partner!)
There are two ways to hold a romantic surprise party. You could invite your guests to a simple gathering or a house party, only to reveal later that you're celebrating your engagement. The party can be a simple house party to keep suspicions at bay.
If you're really adventurous, then host the party as a surprise for your partner. You can let your guests in on the secret that you're about to pop the question. Get someone to ask your partner out for a meal at a local diner or other suitable location, and have an on-the-spot engagement party!
12. Wonder in a Winter Wonderland
Are you looking for a nice winter-themed engagement party idea? Go with a romantic take on the winter wonderland theme.
Decorate your venue with white roses, pine cones, and fairy lights. Stick to white, silver, and purple colors. Serve classic winter food from hearty soups and pies to hot chocolate and mulled wine.
13. Sweeten Your Love Life
Use sweet desserts as decor and host a sweet sorbet party. Decorate your venue with pastel-colored flowers, meringues, and cupcakes.
Pinks, oranges, and baby blues are the perfect colors to use in your decor. Serve brightly colored cocktails for a sweet and romantic get-together.
14. 'Fall' In Love Party
Are you hosting your engagement party in fall or autumn? Fall in love with the season and create a romantic, rustic experience.
Decorate with warm oranges and rustic browns. Serve caramel apples and other classic bonfire night goodies.
You can even have a bonfire outside the venue and fire off a few fireworks at the end of the night.
---
Elegant Ideas
15. Enjoy a Wine & Cheese Tasting
It doesn't get much more elegant than inviting your friends and family for an afternoon or evening of wine and cheese tasting.
You can find local wine bars to host the event or do it at home. You can personalize wine glasses with your engagement date and hand out wine-tasting scorecards for something fun to do. 
16. Play Your Cards Right
Take your friends and family out for a casino night. You can often rent private cabinets to enjoy food and drinks while trying your luck at the tables.
If you can't go to a real casino, you can host a casino party at home. It's possible to hire tables for blackjack from party companies. Stipulate a black-tie dress code and decorate the place with a red and black color scheme.
17. Transport Back to the 20s
Vintage themes are super popular and very elegant for engagement parties; hence, a 1920s-themed party is a great option for your engagement party.
Fill your party space with glitter, confetti, and champagne towers.
Have your guests turn up in flapper-inspired ensembles and fill the playlist with the best hits from the 20s.
18. Mask It Up in a Masquerade
Create an evening of romance and intrigue with an elegant masquerade ball. Your guests get to dress up and wear fancy masquerade masks.
Decorate with golden hues and serve cocktails and canapés. Add a bit of glitter and set the tone with beautiful classical music.
19. Hire a Professional Chef
If you only have a small group of people you want to invite, host a private dining event with a personal chef.
Your chef can showcase their cooking while you enjoy appetizers and drinks. You can rent a venue or have the chef come to your house.
Get everyone to dress up, and you'll have a wonderful, elegant dinner night.
---
Simple and Casual Ideas
20. Sip Some Afternoon Tea
Host an afternoon tea party for a quintessential British engagement party. You can book afternoon tea at your favorite place or invite friends over to enjoy finger sandwiches and scones.
You can keep it simple and casual, enjoying a lovely afternoon with your loved ones. 
Read more: Fun Tea Party Ideas for Adults (Activities, Games, and More)
21. Throw a Pajama Party
Don't want to spend an evening in a cocktail dress and high heels? Get a few of your friends and family to come over for a simple pajama party.
Everyone can show up to catch old movies, listen to classic tunes from their youth, and play fun board games. Serve some popcorn, pancakes, and hot chocolate for a super casual and fun evening.
Read more: Fun Things to Do at a Sleepover for Adults
22. Go Bowling/Roller-Skating
Keep it simple and invite your friends to the local bowling alley or local roller skating rink.
You can pre-book a space or a few tables and have your guests enjoy whatever drink and food they might want to have. It's simple, fun, and casual!
23. Host an Engagement Party Brunch
You don't need to go all out with your food and drinks. Your engagement party could be a super fun and simple brunch, complete with champagne, snacks, and some light food.
You could host it at home, in your own backyard, or head out to a nearby bar or restaurant.
---
Outdoor Parties
24. Set Sail
Invite your family and friends on a boat ride. An intimate little boat sailing on a river or lake right before the sunset is a beautiful way to celebrate your love.
You can converse with your loved ones and entertain everyone with a few nibbles, like sandwiches and bubbly.
25. Rent a Rooftop Bar or Venue
Renting a rooftop bar or venue is another romantic way to enjoy the night sky. If you live in a big city, you might have lots of quirky options available.
Set out some string lights or candles, play summer music, and enjoy the sights.
26. Go Camping
If you want to embrace a little nature, then set off on a camping trip with your loved ones.
You can pick a nice camping spot, reminisce about your journey together near a campfire, and play card games.
You can even provide food and drinks – kebab sticks and marshmallows are the perfect picks!
27. Walk Down Memory Lane
You could invite your loved ones for a stroll in a nearby park or scenic spot. Pick meaningful locations for your relationship and walk from one spot to another with your guests.
You can explain why the location matters; be it the first place you met or a spot you popped the question. It can even be different places from your childhood.
Hand a snack pack to everyone or finish the tour at a nice restaurant for a hearty meal.
28. Cozy Up at the Zoo
Do you both love animals and the outdoors? Take your guests for a day at a local zoo or animal park.
You can book a tour to learn about the different animals and take fun photos throughout the day. A day at the zoo will be great if you have a lot of children coming to the party.
29. Carnival-Themed Engagement Party
Go all out to celebrate your engagement, and embrace the wonders of carnival.
Get your guests to dress up in colorful attire, set up everything from a photo booth to fun lawn games in your backyard, and encourage guests to take as many photos as possible.
---
Parties on a Budget
30. Have a Picnic in the Park
A traditional summer picnic at the park is a wonderful budget idea for an engagement party. You can just grab blankets or asks your friends to bring their own and make your way to the local park.
Organize simple picnic food like strawberries and cream, stuffed focaccia, and jugs of Pimm's. You can play fun outdoor games and guests are free to come and go as they please for this relaxed affair!
Read more: Best Picnic Essentials
31. Host a Pizza Making Party
For a small engagement gathering, DIY parties are a great cheap option. Invite your friends and family to your home and cook delicious pizzas together. Guests can bring their toppings while you can get the dough going.
You can all enjoy a fun time cooking and eating. Pair your pizza with beer and soda, and take things to the next level with a dessert table if one or more of you has a sweet tooth.
32. Go Virtual
We're all used to holding virtual meetings these days. If your loved ones are scattered all around the country (or even the world!), celebrate this iconic relationship milestone with a lovely virtual engagement party.
Set up a meeting via Zoom or another virtual meeting place. Host online quizzes, talk about your journey together, and have your friends and family tell their love stories and give you an engagement shoutout!
33. Host a Potluck Party
If you don't want to stress over the food and drinks, have your guests participate!
Invite everyone over and ask them to bring their favorite dish or dessert. You'll end up with a nice selection of food and drinks.
You can also play board or card games and simply have a good time together without a care in the world.
Related: Fun Party Games for Adults
34. Outdoor Cozy Movie Night
For a great idea that doesn't need a big budget to rent an event space, turn your own backyard into a cinema and invite your close friends and family to watch a classic rom-com or thriller, depending on what movies you love.
You can enjoy your newly engaged status surrounded by those you love, snuggled up in blankets, and sitting on chairs on the lawn.
With an inexpensive projector and sheet, you can create the cinema experience on a budget, and who needs to rent popcorn machines when you have a microwave?
---
Whether you're looking for a huge party or an intimate evening with a few close friends and family, these engagement party ideas should help you get inspired to plan an event that will be a memorable moment on your wedding journey.
Your love story should be unique to you, and your engagement party should be celebrated with your family and closest friends in a way you will all love and remember for a long time. Get excited with these ideas, and have lots of fun with it.
You Might Also Like to Read
---
Planning an engagement party and struggling for inspiration? Keep this article on hand by saving it to your wedding or party planner boards for a later date.