This post may contain affiliate links, meaning if you book or buy something through one of these links, I may earn an affiliate commission at no additional cost to you. Learn more
Let family and closest friends know the baby's gender in a fun and exciting way with these gender reveal party ideas, and celebrate this landmark moment for the expectant parents in style.
Gender Reveal Party Ideas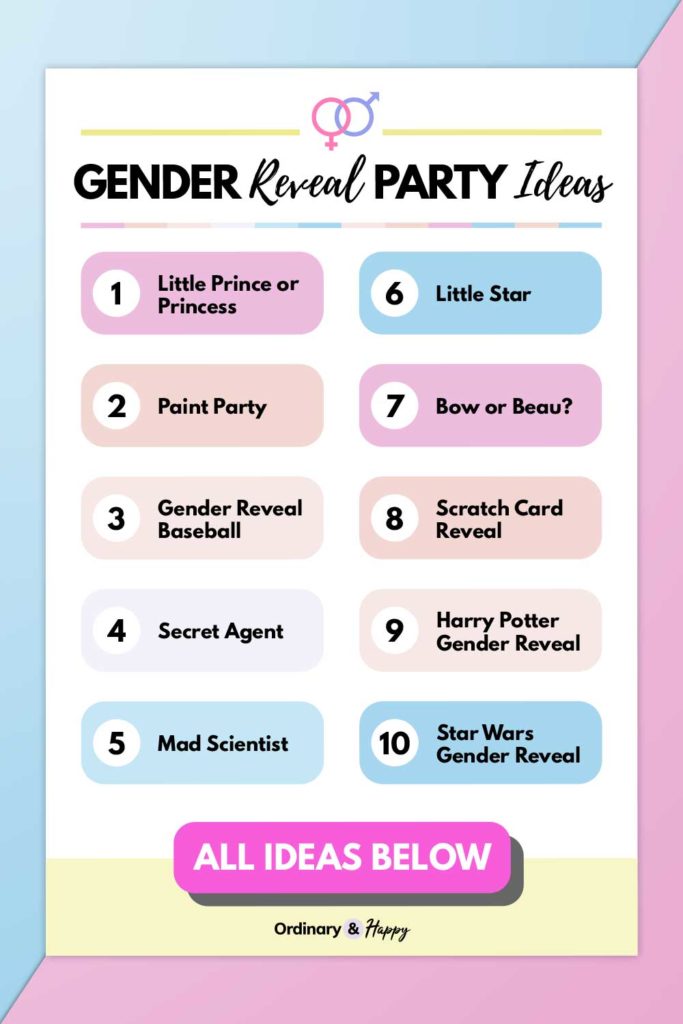 ---
Fun Themes
1. Little Prince or Princess
It's time to dust off your old crowns and tiaras; a new royal is on the way! Rather than a plain "he or she" party, turn it into a regal celebration by having guests cast their votes as to whether your new arrival will be a little prince or princess. Guests can do this wearing either a crown (team boy) or tiara (team girl).
2. Paint Party
For a fun reveal, don't just leave the fun to the kids: have a paint party! You'll need to fill up water pistols with pink or blue washable paint for this theme. Set up the photo booth and have guests try and spray the parents-to-be when revealing the gender. Not only is it great fun, but it also makes a great family photo. Ready, aim, fire!
3. Gender Reveal Baseball
For the more competitive families of the expecting parents, why not try gender reveal baseball? First, split your guests into two teams, e.g. team boy and team girl and give guests baseball caps associated with the gender reveal.
Then, play a good ol' fashioned baseball game, and when it's time, trade the ball for one with pink or blue powder. Next, throw the ball at the parents-to-be, and when the parent hits the ball, the powder should explode, revealing the baby's gender.
4. Secret Agent
The name's arrival, new arrival! Throw a 007-themed gender reveal party by having guests solve clues throughout to guess the new baby's gender. Of course, guests must wear their best undercover outfits and have their magnifying glasses ready.
5. Mad Scientist
Have guests try to see who can do the best Doc Brown impression with this fun party theme! For a Mad Scientist gender reveal, have a party mixed with science experiments and hypotheses building up to one big experiment and gender reveal.
---
Unique Themes
6. Little Star
Twinkle twinkle little star, how we wonder who you are?! This gender reveal party theme is perfect for both reveals and gender-neutral baby showers. First, cover your party venue in celestial-themed decorations and have guests cast their votes by "wishing on a star". Then, reveal the baby's gender through the likes of fireworks or sparklers.
7. Bow or Beau?
Fancy a bit of class and sophistication when it comes to your gender reveal party? Throw a Bow-or-Beau-themed party! For this theme, guests must guess the gender by wearing either a bow (team girl) or bowtie (team boy). Then, decorate the venue with bows and bowties and insist on a smart dress code.
8. Scratch Card Reveal
This one will have you looking around for some loose change! For this gender reveal party idea, hosts must create their own scratch cards revealing the baby's gender. Then, guests have to scratch the card with an old coin to see the result. For added fun, have the scratch cards reveal clues to the baby's gender and ask guests to figure it out via the clues provided.
9. Harry Potter Gender Reveal
Is your new bundle of joy going to be a Gryffindor or Hufflepuff? Slytherin or Ravenclaw? Throw a Harry Potter sorting hat party and have the sorting hat assign guests to houses throughout. Include Harry Potter-themed activities such as Quidditch and potion making, and use the sorting hat in the party's ultimatum to reveal the baby's gender.
10. Star Wars Gender Reveal
Not a fan of witchcraft and wizardry? Venture to the dark side and throw a Star Wars-themed gender reveal. To reveal whether or not your new bundle of joy is the next Jedi or Space Princess, give guests their own lightsabres that will eventually change color based on the baby's gender reveal.
You could also try Death Star-decorated pink or blue balloons or a Luke or Leia baby onesie for the big reveal to announce the baby's gender.
---
Cute Themes
11. What Will it Bee?
Perfect for springtime and gender-neutral showers! "What will it bee?" is a bee-themed gender reveal party. Brighten up your surroundings by including yellow decorations and honey-based sugary treats. Remember, everyone loves a pun. So include bee jokes and references wherever possible for this cute little soiree.
12. Afternoon Tea
Let them eat cake! Throw an afternoon tea-themed gender reveal party by throwing a banquet full of tea, sandwiches, and plenty of cake. Reveal the baby's gender by including cupcakes with food coloring inside. Remember, blue for a boy and pink for a girl.
Tip: to avoid a premature reveal, go light on the food coloring with only a couple of drops. You don't want guests to be able to guess the baby's gender by just looking at the gender reveal cake.
13. Waddle it Be?
This theme is excellent for those that love bathtime! Waddle it be is a rubber-duck-themed gender reveal party. Include workstations affiliated with self-care and bathtime. Hand guests sheet masks, bath bombs, and candles to make it the most indulging experience. Reveal the baby's gender with a color-changing bath bomb at the end of the party.
14. What's the Scoop?
An ice-cream-themed gender reveal is perfect for the summertime! Guests must watch out for brain freeze as they ponder over the baby's gender. To satisfy their sweet tooths, have an array of flavors and toppings on display so they can make their very own sundaes. Then, have guests cast their votes by decorating their icecreams with blue or pink decorations.
15. Mickey or Minnie?
Calling all Disney nerds! This one's perfect for you. Have a load of Minnie and Mickey mouse ears at the ready and have guests cast their vote depending on what set of ears they wear. Then, turn the venue into your personal Disneyland by including references to other Disney characters throughout and having Disney tunes as your song playlist.
---
Outdoor Games and Activities
16. Gender Reveal Piñata
Is a party really a party without a piñata present? Include this outdoor classic at your gender reveal party by filling up a paper mache piñata with pink or blue paper. The parents-to-be must be blindfolded and then take turns with a baseball bat trying to wack the piñata until it breaks open. The blue or pink confetti that will come out of the piñata will determine the new arrival's gender and make for a wonderful gender reveal surprise.
17. Confetti Balloons
You've got to have the stomach for balloon popping with this one! Fill up 36 balloons with a mixture of blue and pink confetti leaving only one dedicated to the gender reveal. Encourage guests to pop each other's balloons whilst searching for the one with the gender reveal. To avoid any premature reveals, ensure that your balloon is dark in color so no one can see the confetti inside.
Tip: Worried about the environment? Invest in biodegradable confetti or flower petals to minimize mess and environmental waste.
18. Pop the Belly
Down with a little mess? Why not opt for this fun-gender reveal party game! Fill up one balloon with a bit of pink or blue paint and the rest with white. Then, blow each of the balloons up and attach them to a board, with them posing as pregnant bellies. Guests have to take turns trying to pop the bellies until the gender is revealed.
19. Baby-Q
Who doesn't love an outdoor barbecue? Have guests guess whether you've got a bun in the oven or burgers on the grill and throw a summer BBQ-themed gender reveal. Simplicity is key with this one; keep the escapades in your backyard for a more chilled-out gender reveal. This theme is perfect for those looking at summer gender-reveal parties or baby showers.
20. Gender Reveal Silly String
Ideal for gender reveals involving young children and family members! Purchase either blue or pink silly string according to your baby's gender and wrap the cans in plain paper to avoid people guessing the gender before it's revealed. Declare a silly string war and have party-goers spray each other with silly string until the gender is revealed.
---
Indoor Games and Activities
21. Gender Reveal Word Search
Want to challenge your guests with some brain trivia? Reveal your baby's gender by creating your own word search game. In your word search grid, repeatedly include the words 'boy' and 'girl'. Depending on the outcome, the most terms found will be your baby's gender reveal; for example, if guests find the word girl more, your baby will be a beautiful baby girl.
22. Gender Reveal Fortune Cookies
Why not reveal your baby's gender by using fortune cookies? Not only is this one of the tastier options, but it could also go very well with other activities such as lantern decorating and flying.
23. Old Wives Tales
Of course, everyone will tell you fables about how to predict your baby's gender before officially finding out. A common one is "the pregnancy glow-up" if you find that you are prettier during pregnancy, it's perceived that you are having a boy as the girls tend to steal the beauty!
Whether you believe in them or not, a great game to play at your gender reveal party is "Old Wives Tales". Players will be given a list of old wives' tales affiliated with pregnancy and gender reveals, and they'll have to determine (depending on the mother) whether they are true or false. Once the gender is officially revealed, party-goers can then create comparisons to decide whether the Old Wives Tales are accurate.
24. Present Opening
Are you strapped for time? Combine your baby shower and gender reveal into one! Have guests present and exchange until the ultimate one is revealed. Then, when it is time, unwrap the reveal that contains a pair of pink or blue baby boots. This is an adorable idea that can prove sentimental for years to come.
Related: Baby Shower Activities and Ideas
25. Baby Trivia
Family-oriented individuals will have a field day with this one! Create a baby trivia game with the answers being associated with baby boys or baby girls. Depending on the answers, players will be given a pink or blue token if they get the question right.
As the trivia game progresses, your guests will start to notice there are more tokens of one color than the other. The first person to recognize that there are more tokens of one colour than the other will reveal the baby's gender.
---
On a Budget
26. Gender Reveal Egg Packages
Unable to get the family together in person for a gender reveal? Why not do it via their letterbox? Gender reveal egg packages are a super cute way of revealing your baby's gender without the hassle and costs of hiring out a venue. Send hollowed-out eggs in paper shred-filled boxes with the fun news inserted. Perfect for gender reveals around Easter!
27. Name Suggestions Ballot Box
Still don't know what to name your bundle of joy? Have you got an idea for girls' names but not boys? Why not have your party-goers help? Upon entry, guests must write down suggestions for the new baby's name. Then, after guests leave, mum and dad can look through and see if they can find any new favourites.
28. Family Social Media Photo
Not your first rodeo? Get your baby's future sibling involved by revealing the gender on a t-shirt or outfit they are wearing. With this fun idea, a simple "promoted to big brother" t-shirt can generate a lot of love and clicks on social media. Hence, no gender-reveal party is needed! Simply upload and share.
29. Bubblegum Picture
No sibling? No problem! Plan a maternity photoshoot with the baby's mother/father present, chew some pink or blue bubble gum, blow a bubble, and take a photo! Then, upload it to social media for the ultimate reveal, and be sure to frame it for the family to look back on the big news for years to come.
30. Balloons in a Box
Fancy less stress and mess with the after-party clean up? Try this one for size. Everyone loves an unboxing party. Buy balloons according to your gender reveal, place them in a cardboard box and open them in front of guests to reveal the baby's gender. Be sure to have a photographer present to capture everyone's reactions.
---
Get your family, close friends, and party guests excited with one or more of these creative ideas to reveal your, or someone close to you, baby's gender in a fun and truly magical way.
From balloon-filled antics to memorable party games, these gender reveal party ideas have a little something for everyone and can help get every family member and friend involved in the fun and memories.
You Might Also Like to Read
---
Keep these gender reveal ideas for safekeeping, ready for when the planning needs to be done, by saving this article to one of your Pinterest boards.