This post may contain affiliate links, meaning if you book or buy something through one of these links, I may earn an affiliate commission at no additional cost to you. Learn more
Whether it's for a beautiful white wedding, milestone anniversary, or just to say thank you, these awesome gifts for couples ideas will help you come up with the perfect gift for the pair of them, no matter what the occasion.
Gifts for Couples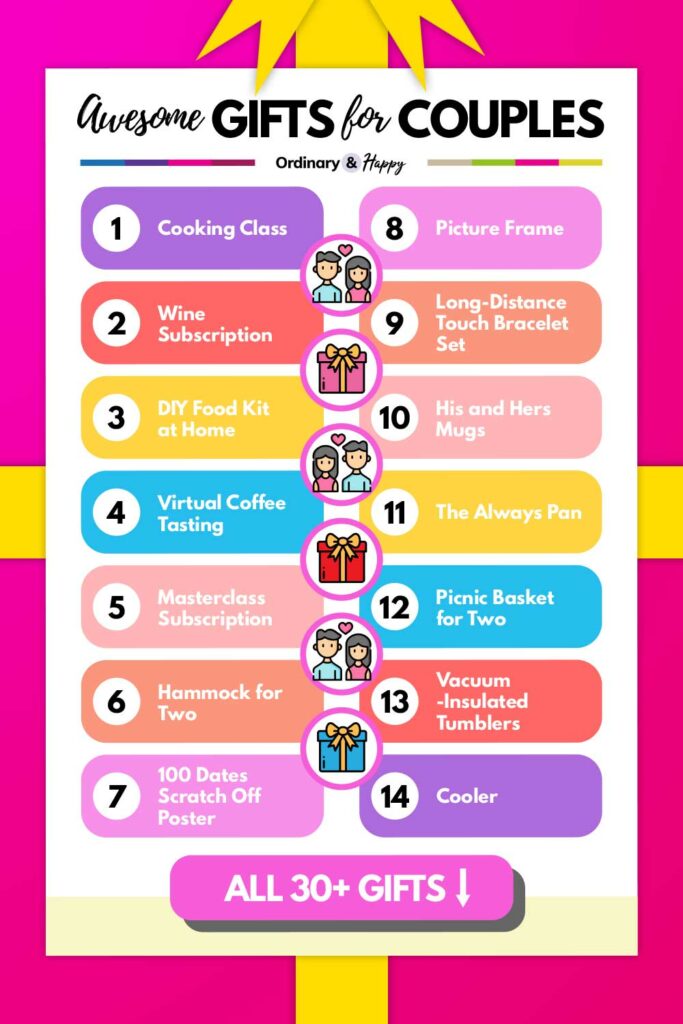 ---
Fun Gifts
1. Cooking Class
If you know a couple who love doing new things together, they'll adore cooking classes.
Whether they're interested in Italian food, comfort cooking, or haute cuisine, there are cooking classes available for every culinary specialty, with experience levels ranging from beginner to advanced. After all, couples that cook together stay together!
If you want to get the happy couple a cooking class, you can buy them a Sur La Table gift card, and they can then use it to book a class at their convenience (online or in-person).
Read more: Best Online Cooking Classes
2. Wine Subscription
Need a gift for the wine-loving couple in your life? Look no further than a wine subscription, like this one from Winc.
Wine subscriptions deliver a range of expertly-selected wines to your doorstep, so they're perfect for people who enjoy trying new grape varieties and vineyards. You never know – you might introduce the wine enthusiasts in your life to their new favorite tipple.
3. DIY Food Kit at Home
Check Price on Amazon
We've all been there. You find a recipe online, but it requires ingredients you don't have. You head to the store and spend tons of money buying 5 rare spices that sit in your cupboard, unused, forever. Luckily, there's an alternative.
For the foodies in your life, look no further than a DIY home food kit, like this mochi ice cream one (available on Amazon), to take their culinary skills to the next level.
For couples who love cooking but appreciate a little helping hand, DIY food kits make the ideal gift. They contain just the right amount of ingredients for the recipe, so you'll never again be left with ingredients you just won't use, plus they'll get to learn how to make a brand new dish.
4. Virtual Coffee Tasting
If you know a couple who love coffee nearly as much as they love each other, a virtual coffee tasting like this one from Driftaway is a great gift idea. The lucky couple will have the chance to try a variety of coffees with different origins and flavors.
Not only will they find new flavors, but they'll also improve their coffee knowledge, taking those Sunday morning brunches to a whole new level with some delicious home-brewed coffee.
5. Masterclass Subscription
Do you know a couple who's passionate about self-development? Masterclass offers online classes taught by world-renowned experts in nearly every field. If the couple in your life loves learning together, they'll adore the gift of a Masterclass subscription.
That way, they'll get to refine their skills for free while enjoying the experience of learning something new together. There are so many classes on Masterclass, you could spend a lifetime learning all the skills available and still not cover everything!
---
Romantic Gifts
6. Hammock for Two
Check Price on Amazon
If the couple you're buying for are old-school romantics, they'll love snuggling up together in a hammock for two. There's truly nothing more romantic about lying together under the stars while discussing future plans.
The best part? Since the hammock accommodates two, there'll be no more arguments about who gets to spend the most time in it. Win-win!
7. 100 Dates Scratch Off Poster
One of the hardest things about any long-term relationship is keeping date nights fresh and interesting. The easiest way to do it? Invest in a scratch-off dates poster.
With a scratch-off dates poster, you can discover new date ideas in seconds, simply by scratching off one of the boxes and revealing the idea beneath. You'll save the couple you're buying for from nights of Googling ideas and arguing over where to go. Plus, they'll enjoy new, unique experiences with the help of this handy poster.
8. Picture Frame
Check Price on Amazon
If you know a couple who love commemorating their time together in picture form, they'll know this anniversary picture frame. The picture frame features space for a picture of the couple, alongside a sweet quote emphasizing their love for one another.
Not only will it make a gorgeous addition to any coffee table, but it's also the perfect way to convey their love to each other to the world.
9. Long-Distance Touch Bracelet Set
Check Price on Amazon
Know a long-distance couple or a couple where one member of the duo travels a lot? They'll benefit from a long-distance touch bracelet set, which each member of the couple can wear and receive vibrations that mimic their partner's touch.
That way, they can still feel each other's affection even if they're hundreds of miles apart!
10. His and Hers Mugs
Check Price on Amazon
If the lucky couple you're buying for are tea or coffee lovers, what better gift to get them than a set of his and hers mugs? Not only will they have a fun new addition to the kitchen cupboard, but it'll also mean no more fighting over the 'best' mug anymore since they'll both have their own matching mug.
---
Practical and Useful Gifts
11. The Always Pan
Want to buy something practical for the couple who are never out of the kitchen? The Always pan from Our Place is the ultimate foodie accessory. This non-stick ceramic pan replaces tons of kitchen equipment since it acts as a frying pan, saucepan, skillet, and more.
It's the perfect gift for any couple who wants to cook – just make sure you get an invite to dinner afterward!
12. Picnic Basket for Two
Check Price on Amazon
There's nothing more romantic than a picnic in the park on a sunny day. If you know a couple who are the outdoor type, treat them to a picnic basket for two like this one for their anniversary or wedding gift. To make it extra special, fill the picnic basket with thoughtful extras such as bamboo cutlery and a bottle of something bubbly.
13. Vacuum-Insulated Tumblers
Check Price on Amazon
Do you know a wine-obsessed couple that likes to take their favorite tipple on trips with them? If so, treat them to a set of vacuum-insulated tumblers. They'll be able to take their favorite wine wherever they go while saving the planet with a reduced number of plastic cups. Win-win!
14. Cooler
Check Price on Amazon
No road trip is complete without a boot full of tasty food and drinks. If you know a couple who like to hit the open road or travel to the beach on weekends, treat them to a stylish cooler like this one, so they can keep picnics fresh to enjoy during their special dates.
---
Unique Gifts
15. Wedding Ring Dish
Check Price on Amazon
When you're buying a wedding or anniversary gift, there's always a risk that you'll double up on a present somebody else already bought. With a unique wedding ring dish, there's no risk of that happening.
Typically featuring a sweet engravement, a wedding ring dish not only serves a practical purpose, but it also makes a stunning addition to their home and serves as a reminder of the special couple's commitment to one another.
16. Personalised Star Map
Check Price on Amazon
Want to help a happy couple commemorate the date they met, became official, or got married? If so, consider getting them a super creative personalized star map like this one.
Custom star maps show the night sky in a particular location on a certain date. There's no more romantic way to cement an anniversary – plus, it will look amazing on their wall!
17. Personalized Couples Leather Luggage Tag Set
Couples that travel together, stay together (though not always in one place)! Looking for a gift for the jet-setting couple in your life? Look no further than a personalized luggage tag set like this one from Not on the High Street, so they can keep their luggage safe and looking good with a unique name tag.
18. Towel Warmer Bucket
Check Price on Amazon
Do you know a couple who love to pamper themselves? If so, a towel warmer bucket could be a great gift idea for them. Towel warmer buckets allow you to heat your towels before using them, guaranteeing a spa-quality bathing experience every time.
---
Luxury Gifts
19. Spa Experience
What to buy for the couple who have everything? A luxury spa experience, of course! Virgin Experiences have a wide range of spa packages to choose from that you can gift to the couple in question. That way, they will get to de-stress while enjoying a day of pampering by each other's side.
20. Weekend Getaway Trips
If the couple you're buying for love to travel, treat them to the ultimate gift of a weekend getaway, like some of these super fun experiences. Whether it's flying to their favorite destination or exploring somewhere new, they'll have an incredible time together while making memories for life.
21. Hot Air Balloon Ride
The only date more romantic than a picnic? A picnic hundreds of feet in the sky! If you know a couple with a daredevil side, they'll love the gift of a hot air balloon ride like this one, so they can enjoy a romantic date while checking out some stunning views.
22. Home Cinema Projector
Check Price on Amazon
Going to the cinema for a date is one thing, but recreating the cinema from the comfort of your own home? Even better. Make every night movie night for the special couple in your life with a home cinema projector, so they can watch their favorite movies on the big screen without leaving the house. Pass the popcorn!
---
Inexpensive Gifts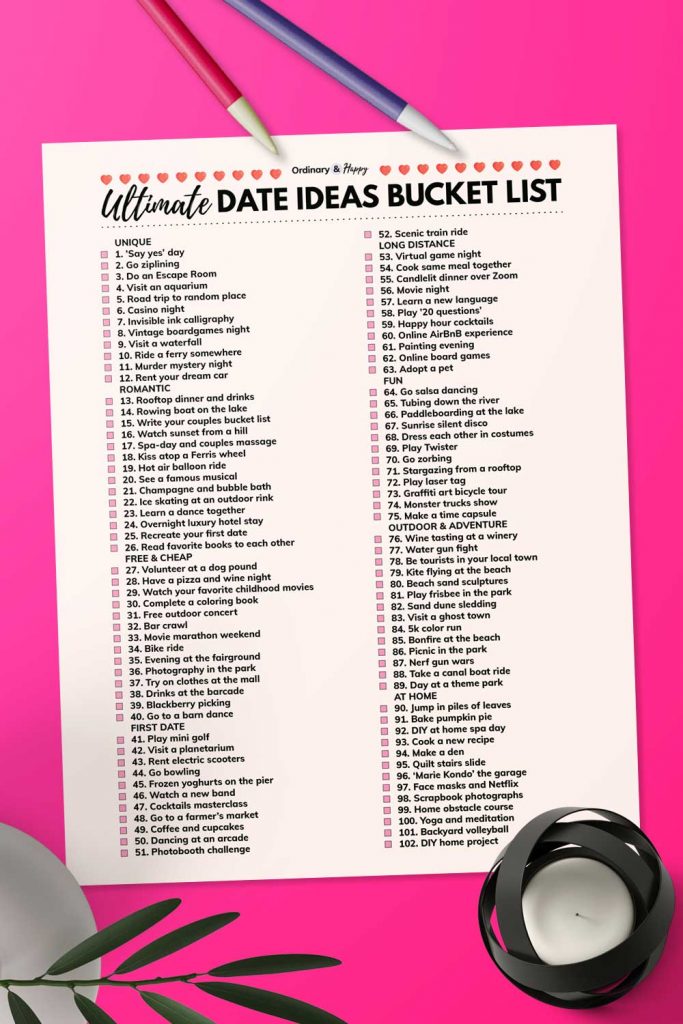 If you're buying on a budget for a happy couple, print and frame or laminate our handy date night bucket list. Filled with ideas of date nights for every interest, they'll never be bored again with our handy list of date night bucket list suggestions, complete with options to suit all budgets.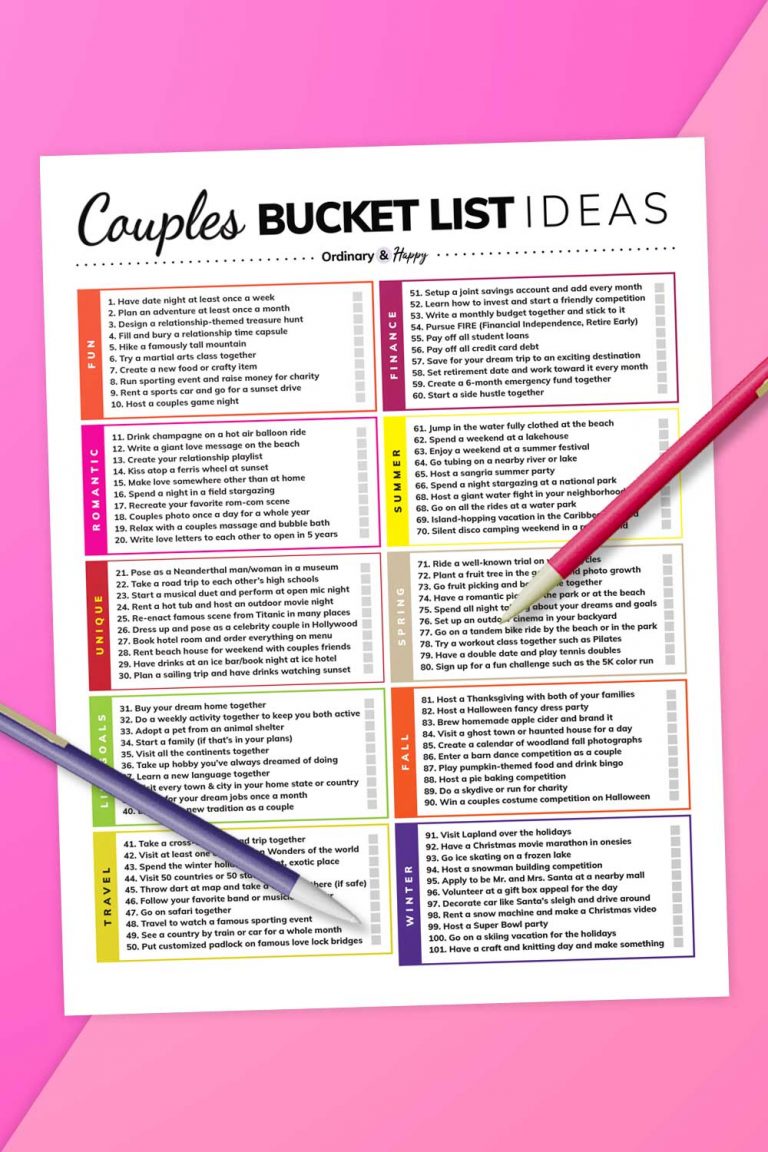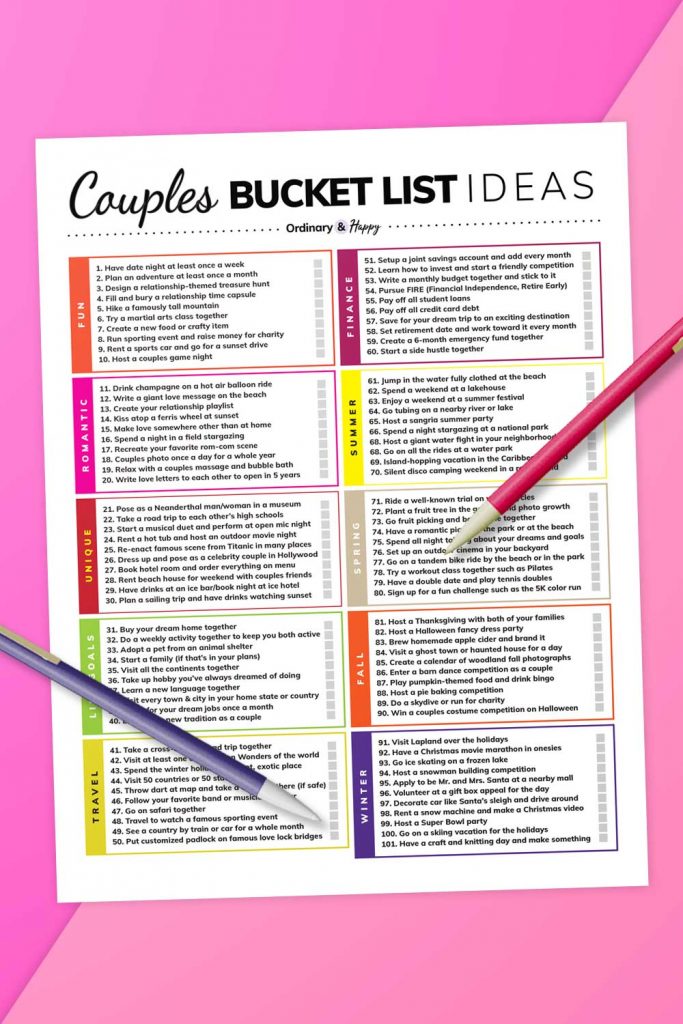 The best gift you can give a couple? Inspiration. With a whole life to spend together, they'll always be looking for new, unique ways to make memories, so give them a helping hand with our ultimate couple's bucket list. Print it and frame it or laminate it to give the gift of adventure to your favorite couple.
25. Personalized Doormat
Check Price on Amazon
If your gift-recipient couple live together, treat them to a personalized doormat like this one. That way, they can welcome visitors with a quote or inscription that's unique to their story – and keep the floors clean at the same time!
26. Personalized Kitchen Towels
Check Price on Amazon
For the couple who love anything personalized and spend lots of time in the kitchen, look no further than a personalized kitchen towel. Whether it's for a wedding or a housewarming party, they'll love this quirky addition to their kitchen. Plus, it will act as a constant reminder of their special relationship.
27. Scratch Off Map for the Couples Who Like to Travel
Check Price on Amazon
Know a couple with tons of wanderlust? They'll love a scratch-off travel map like this one, which they can use to scratch off locations they've visited (and get inspiration for future destinations)!
---
Personalized Gifts
28. Anniversary Journal
If you're looking for a sentimental, personalized gift, an anniversary journal like this one could be perfect. The happy couple can write the memories of each anniversary while using prompts to reflect on their lives together. There are few gifts more romantic for a couple celebrating an anniversary.
29. Custom Address Stamp
Check Price on Amazon
If the couple you're buying for are old-school in their correspondence methods, they'll love a custom address stamp. With a personalized stamp featuring their address, lucky recipients of their mail will know exactly where to write back to. Christmas card writing has never been so fun!
30. Personalized Cutting Board
Check Price on Amazon
Whether the lucky couple prefers cutting cake or veggies, they'll love a personalized cutting board, complete with the couple's names and even wedding date (or another anniversary if they're not married).
It's the perfect combination of a practical gift for the kitchen and a beautiful reminder of their special memories.
31. Personalized Photo Gifts
Photos are the ultimate way to capture memories, and there's no better way to make the most of special snaps than to put them into a customized photo gift like one or more of these from Shutterfly. From photo books to drinkware and everything in between, the gift possibilities are endless.
32. Personalized Wooden Clock
Check Price on Amazon
Want to buy the happy couple something beautiful for the house and commemorate their wedding day or another special date? Do both at the same time with a personalized wooden clock that features their names and the date engraved on a beautiful wooden background. It's as stylish and sentimental as it is practical.
---
Never get stuck for gift ideas again when it comes to close friend couples, mom or dad, or any other couples you're close to. Use these creative and thoughtful gift ideas to help you find the perfect gift that both of them will love, no matter what the occasion.
You Might Also Like to Read
---
Big milestones on the horizon, or the festive season approaching? Keep this couples gift guide for safekeeping by saving it to one of your Pinterest boards.