This post may contain affiliate links, meaning if you book or buy something through one of these links, I may earn an affiliate commission at no additional cost to you. Learn more
Get inspired for the holiday season with our wonderful list of Christmas gift ideas for friends and give someone you care about a gift with true meaning and value.
Christmas Gift Ideas For Friends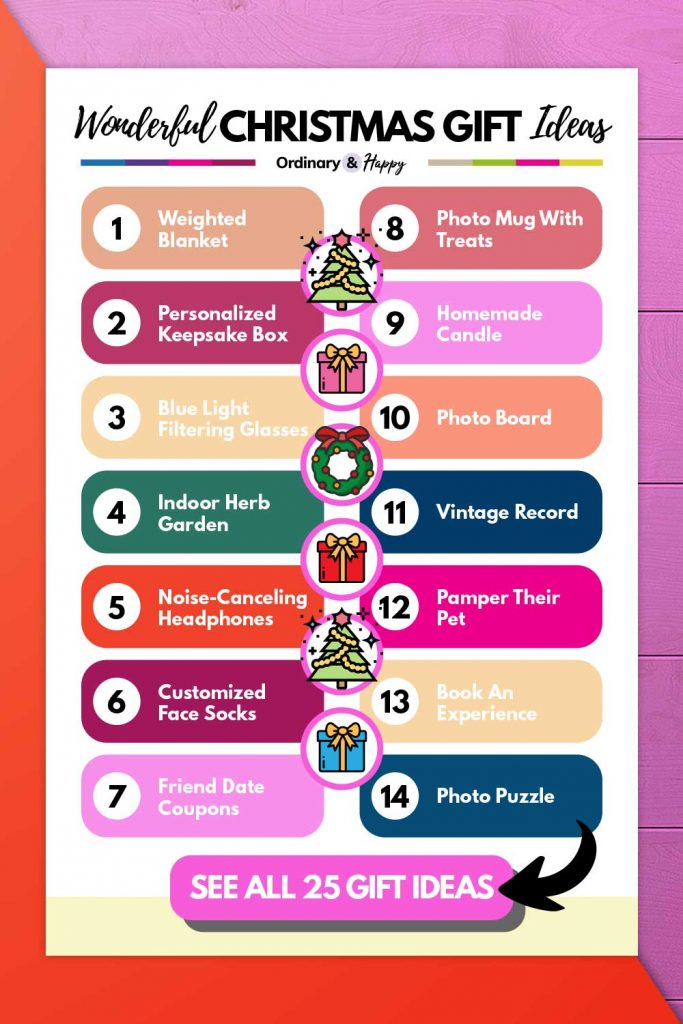 In an age of tech and novelty items, gift-giving can often feel like an obligation rather than something you genuinely care about.
But sometimes, all you have to do is take a step back. Ignore the promotions and the shiny new things, and think about what your close friend, partner, or family member actually cares about.
Once you have that winning formula, you can find a gift with true meaning and value. Our gift guide is a great place to start, with 25 ideas to inspire you to find something they'll genuinely love.
We've grouped them into categories, so you can jump to the section you want: cool // homemade & personalized // unique // cheap // funny // sentimental gift ideas, or scroll through the entire article for a big list of ideas.
---
Cool Ideas
1. Weighted Blanket
Check Price on Amazon
Nothing makes a close friend or loved one feel snug and cozy in their own home quite like a weighted blanket.
Weighted blankets use a technique called deep pressure stimulation, believed to trigger the production of the feel-good hormone, serotonin. It helps the wearer's body relax by giving the feeling of being hugged.
During the past years, where hugs between friends have been few and far between, a weighted blanket is an ideal yet cozy way to wish your BFF a happy Christmas.
2. Personalized Keepsake Box
Check Price on Amazon
Keepsake boxes are the perfect Christmas gift, not only because they're pretty to look at but because they're also a neat little place to store – you guessed it – keepsakes.
Old ticket stubs from concerts you went to together or pebbles you picked up from your last road trip to the beach are ideal for storing inside.
To make your keepsake box that little bit more special, you could even get one that's customized.
3. Blue Light-Filtering Reading Glasses
If your friend is a bit of a bookworm, their ideal Christmas gift this year could be a pair of new reading glasses – though it's likely they already have a bunch of those scattered around already.
A pair of blue light-filtering reading glasses will take your friend's reading game one step beyond, better equipping them to enjoy their latest read from their phone or tablet.
Shop on Warby Parker
4. An Indoor Herb Garden
Check Price on Amazon
Home-grown herbs are a wonderful way to add some fresh ingredients to dinner time, and a mini herb garden is a gift that's great to DIY, as it requires very little creativity or gardening expertise.
An Indoor herb garden comes with everything you, or someone close to you, needs to grow aromatic, fresh herbs from the comfort of your home kitchen.
Or, if you want to design your own, simply purchase a few jars – mason jars are ideal – and fill them with a few pebbles, some soil, and add in the herbs.
Particularly hardy varieties to add include rosemary, thyme, and sage. Just don't forget to put a label on each jar with what's growing inside.
5. Noise-Canceling Headphones
Check Price on Amazon
If your friend is a total music lover, appreciates an audiobook on their morning commute, or enjoys some musical motivation on their daily run, a new pair of headphones is a fab gift to give them this Christmas.
If they're the type that's always on the go, consider getting a wireless set of in-ear buds that link to their phone or smartwatch via Bluetooth – this way, they can listen without the added hassle of having to always untangle the wires. 
---
Homemade & Personalized
6. Customized Face Socks
Are they goofy? Yes. Are they necessary? No. Do we all need some socks with our friend's face on in our lives? Absolutely.
You could liven things up by printing your friend's significant other onto their fancy new socks instead, their pet, or even their celebrity crush. Shutterfly is one of the places that offer this service online.
7. Friend Date Coupons
Check Price on Amazon
If – as is the often hectic day-to-day of adult life – you and your friend are always busy, or your schedules are never clear at the same time, you might find it hard – if not impossible – to squeeze in enough quality time together.
You could get creative by getting out your stationery set and putting together a book of coupons for Christmas, which they can redeem throughout the year.
Fill it with a range of activities such as a shopping trip, a dinner date, or even just a walk in nature.
8. Photo Mug With Treats
Add a photo or message to a mug – you can do that online on Shutterfly – and pack it out with mini treats, such as hot chocolate sachets with mini marshmallows or fancy teas and coffees.
Next time your bestie reaches for their cup of English breakfast or their morning mug of joe, they'll think of you!
9. Homemade Candle
Who doesn't love homemade gifts? To make a candle, all you need to get is some wax (this can be either soy or paraffin), essential oils, candle wicks, and some small jars.
Giving a DIY candle as a gift for Christmas is super thoughtful, and your friend will also love the fact that it's homemade and one-of-a-kind.
10. Photo Board
Surprise your friend this Christmas by digging deep into your camera roll and putting together a cute photo board they can hang in their home.
If you have a photo printer, you can print them yourself, but if not, then don't worry – there are plenty of places online, such as Shutterfly that will print your photos for a nominal fee.
Print your photos onto high-quality matte or glossy paper and arrange them onto a pretty backdrop so that all they'll need to do after unwrapping their gift is find a wall to hang it on. 
---
Unique
11. Vintage Record
Another one for music lovers – find out your friend's favorite song of all time, and get them an old vinyl of it for Christmas.
It might take some savvy searching skills, though, as old-fashioned record shops are few and far between nowadays. If you don't have any luck finding their favorite song, consider getting a slightly different record that's by one of their favorite artists.
Your friend will love owning something so unique, and they'll really appreciate the effort and sentimentality behind their gift.
12. Pamper Their Pet
If your friend is a doting pet parent and has a four (or more!) legged companion, help them make sure their furry – or scaly – friend is well looked after during the festive season.
Prepare a mini hamper full of treats – for dogs and cats this is as simple as putting in a few packs of their favorite food and some treats.
But for smaller pets such as rabbits and hamsters, some fresh fruit and veggies, as well as some dry food, is sure to go down a treat. Give your friend a little something as well so that they feel just as included.
13. Book an Experience
For those friends who are the type of person that already has just about everything you can think of or who just aren't that hot on material things, an experience day can be the perfect Christmas gift.
Consider spending some quality time together by taking a cocktail masterclass, enjoying a spa day together, or taking a fancy car out onto a racetrack.
Alternatively, you could opt for something a bit more niche, like an escape room or blacksmithing.
Check out Airbnb Experiences for many ideas – whether online or in-person.
14. A Photo Puzzle
If there's someone in the group who's gaga for games and puzzles, a photo-printed jigsaw puzzle is a thoughtful and quirky Christmas gift idea.
Shop on Shutterfly
By printing a photo of your choice – maybe of the two of you, of your group of friends, or even their much-loved pet – you can give your friend a new puzzle that's totally unique.
They'll love putting together all the individual pieces, revealing one of their favorite photos at the end.
15. Mushroom Growing Kit
Check Price on Amazon
No, no, we don't mean the psychedelic kind! If you have a friend who's a fungi fanatic or a bit of a foodie, a grow-your-own mushroom kit is an ideal Christmas gift.
These kits will sprout your very own gourmet mushrooms, such as oyster or shiitake. All that's needed is to spray the box lightly with a spray bottle and watch them grow.
Pretty soon, your friend will be cooking dinner with the freshest mushrooms they've ever had, right from their own kitchen.
---
On a Budget
16. Essential Oil Diffuser
Check Price on Amazon
Aromatherapy has been around for centuries and is well known for its ability to help people relax, wind down, and boost their mood.
A beautiful essential oil diffuser that glows softly in different colors is a perfect choice this Christmas to help your friend find their zen and really wind down.
For an extra touch, add some essential oils for them to try out with their new diffusers, such as lavender, patchouli, and bergamot.
17. Stemless Wine Glass or Tumbler
Check Price on Amazon
We all have a wine-lover friend and a clumsy friend, and if your bestie happens to be a crossover between both of these, then a stemless wine glass is a great gift to get them that's both funny and thoughtful.
Whether they're into Malbec or Merlot, Champagne or Chardonnay, they're sure to enjoy their favorite beverage just that little bit more.
Get them one that's engraved with a motivational or personalized quote or message to make their gift even more special.
18. Bath Bomb Gift Set
Check Price on Amazon
The great thing about bath bombs is that they can be enjoyed by almost anyone.
Bath bombs come in a range of scents, colors, shapes, and sizes. Give your friend the gift of a pampering night in at Christmas time with a bundle of bath bombs that will make their bath look beautiful and leave their skin feeling silky smooth.
19. Running Gear
Check Price on Amazon
If you've got a keen runner on your Christmas gift list this year, you can't go wrong with some new athletic gear.
A hydration belt is a great choice. Easily wrapped and not too cumbersome, this nifty device solves the age-old problem of having to run with a backpack or water bottle.
You could also help your friend hit the ground running and keep motivated with some new sweatbands, running socks, or reflective gear for nighttime running.
20. Manicure Kit
Check Price on Amazon
A manicure as a one-off may not cost too much, but if the nail salon is a regular trip for your friend, then the cost can quickly mount up.
Throw in a mini nail cutting kit, a file, cuticle moisturizer, a few different colored nail polishes (bonus points for picking ones in your friend's favorite colors), and topcoat to make a salon-worthy manicure kit.
If you have a little extra cash to splash, consider getting them a UV nail lamp instead.
---
Funny
21. Ugly Christmas Sweater
Check Price on Amazon
Having become pretty much mandatory attire in recent years for parties during the festive season, nothing says "Merry Christmas" among friends and family like a brightly-colored knitted pullover that says "jingle balls" in huge, bold letters.
You could go all out and make sure that your friend wins this year's Christmas sweater competition at work by getting them one that lights up, plays music, or both.
22. Adult Coloring Book
Check Price on Amazon
We all have those days when we're tired of adulting and need a little pick-me-up, and coloring can be an effective – yet calm – way to let off some steam.
Especially, too, if said coloring book brings the added benefit of some comic relief. From books with profanity-laden phrases and motivational quotes to illustrated masterpieces of pooping animals, the choices are vast and hilarious.
Wrap some pretty new coloring pencils in with the coloring book for a Christmas gift your friend will love.
23. Adult Card Game
Check Price on Amazon
For those friends who enjoy a little dark or naughty humor, get them an adult card game such as Cards Against Humanity, or That's What She Said.
The premise of both these games involves each player in the group picking the card out of their deck that gives the most outrageous and funny response to a prompt card, presented by the judge.
People take turns being the judge, so everyone gets to pick their responses. These games are perfect for a night in and will have the entire group roaring with laughter.
---
Sentimental
24. Touch Bracelets
Check Price on Amazon
These sweet and sentimental bracelets are perfect for friends who are long distances apart.
Maybe one of you is at college away from home, one of you has moved away, or maybe you're online BFFs. Whichever one of these best fits your situation, these bracelets are ideal.
To let one bracelet owner know when the other is in their thoughts, simply touch the bracelet, and the other one will glow softly and vibrate.
25. Engraved Jewelry
Whenever we're given jewelry by a close friend or family member, it makes us feel special, so we cherish it and keep it safe.
Giving a piece of jewelry that's engraved takes it one step further, making an already beautiful gift even more precious and sentimental.
Every time your friend dons the pretty piece of jewelry with their name on that you got for them that one Christmas – they'll think of you.
---
With a little thought and creativity, you can make gift-giving this year truly a time of joy and happiness.
These Christmas gift ideas can help you bring a beaming smile to the face of those closest and most beloved to you.
You Might Also Like to Read
---
Eager to get a gift with true meaning for a loved one this Christmas? Keep this gift list for safekeeping, ready to inspire you, by saving it to one of your Pinterest boards.