This post may contain affiliate links, meaning if you book or buy something through one of these links, I may earn an affiliate commission at no additional cost to you. Learn more
Give a friend or loved one a way to escape the challenges and hustle of everyday life for a much-needed break with these fun, relaxing, and effective stress relief gifts.
Stress Relief Gifts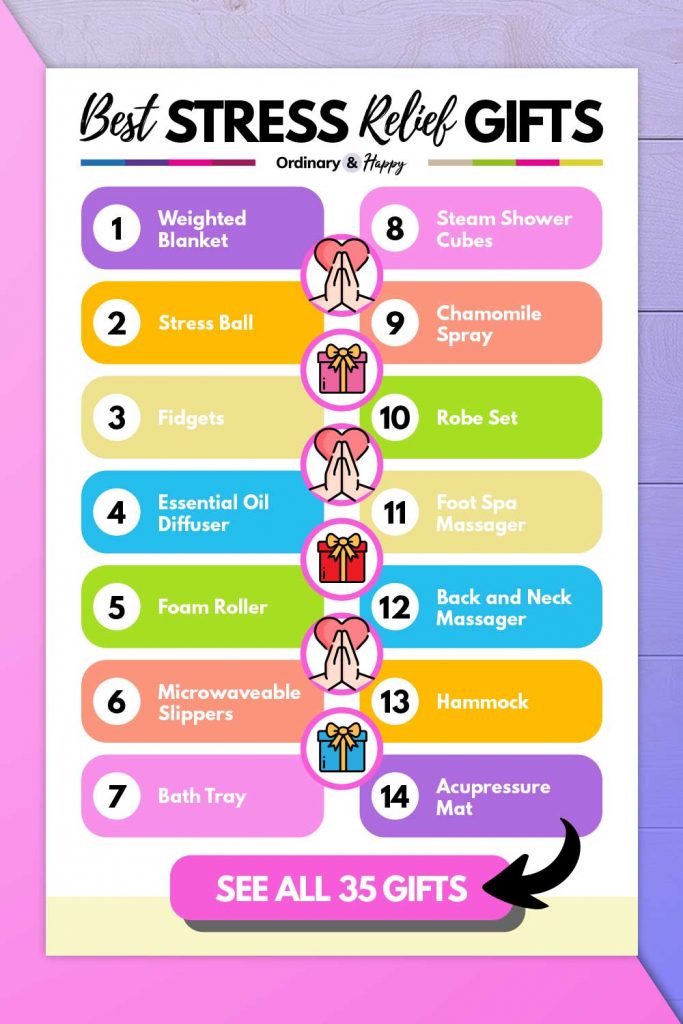 Stress can lead to a whole host of health problems and mental disorders if left untreated or unaddressed. If you have a loved one who needs stress relief gifts, we've got the perfect list for you.
Use our categories to find the ideal gift for your friend, partner, or loved one, and let these wonderful stress-relief gadgets and accessories work their magic.
---
Best Gifts
1. Weighted Blanket
Check Price on Amazon
Few methods quash the burning flames of stress and anxiety quite like the cozy, comforting wrap of a calm-inducing weighted blanket.
This weighted blanket, made from cooling bamboo and stuffed with glass beads, will cocoon you into a state of relaxation, be it on the couch, wrapped up in bed, or wandering around the house.
2. Stress Ball
Check Price on Amazon
A stress ball is a great way to take care of your mental well-being if you need something small and affordable that can be used anytime, anywhere.
Some stress balls can even be heated or chilled for additional relief for sore muscles after exercise. These stress reliever gifts are perfect for people who work in office environments where they are constantly sitting at a desk.
3. Fidgets
Check Price on Amazon
Fidgets are simple, yet effective stress-relief gifts that can you help you, friends, and loved ones with stress or anxiety release pent-up energy.
These nifty little gadgets can be used to keep hands busy, which can alleviate stress and promote a sense of calmness in many people.
Fidgets come in many shapes and sizes and are ideal as a simple gift that's suitable for all ages, genders, and personalities.
4. Essential Oil Diffuser
Check Price on Amazon
Essential oil diffusers can be used to create a stress-free atmosphere in the home. These devices release scents into the air to help create a sense of calm and focus.
Diffusers can release a luscious array of different soothing scents, including lavender, eucalyptus, chamomile, lemon, bergamot, jasmine, and sandalwood oil.
Complete with a spectrum of relaxing mood lighting, while doubling up as a humidifier to enhance at-home air quality, this essential oil diffuser can help you or a close friend or loved one melt into a state of blissful relaxation at home with relative ease.
5. Foam Roller
Check Price on Amazon
Release those tense, rock-hard muscles, bound by the constraints of too much stress, with a deep-tissue foam roller.
Simple to use, and effective for releasing soreness and tightness from most muscle groups, even just a few minutes with a foam roller can reap some encouraging results.
In addition, foam rolling helps with relieving pain, increasing circulation and flexibility, while decreasing muscle soreness.
6. Fuzzy Socks or Microwaveable Slippers
Check Price on Amazon
For many, a state of relaxation starts with warm, cozy feet. A pair of delightfully soft fuzzy socks or microwaveable slippers is a gift that is simple to use and can keep the gift recipient in a constant state of warmth and calm at home.
Fuzzy socks or microwaveable slippers are a simple stress relief gift that is both comfortable and practical. They're perfect for anyone who spends long hours on their feet.
---
Spa-at-Home Gifts
7. Bath Tray
Check Price on Amazon
The perfect companion for a relaxing at-home spa day, a beautifully designed bath tray brings both elegance and function to your soothing hot bubble bath.
Ideal for housing your at-home spa essentials, you can let the hot, bubbly water soothe your aches and pains, with all your bath and spa accessories within reach.
This bath tray is ideal as a stress-relieving gift for someone who enjoys the spa experience at home and has bathrooms and shelves packed with oils, lotions, fragrances, and candles.
8. Steam Shower Cubes
Crave the heat and soothing atmosphere of aromatherapy steam rooms? Now you can bring the steam room to your very own home, with a set of steam shower cubes.
Loaded with natural essential oils, these cubes can be used as both a body scrub or simply placed on the shelf of your shower to release a range of relaxing scents while you're taking care of yourself.
Adorned with beautiful colors, these cubes will help create a truly wonderful atmosphere in your shower.
9. Calming Lavender & Chamomile Spray
Check Price on Amazon
Sometimes, just the scent of a particular flower, herb, or fragrance is enough to help ease the body into a state of relaxation.
This soothing spray contains a lovely, calming lavender and chamomile fragrance. A perfect stress relief gift for someone who needs to decompress, it can be used as a pillow spray, room spray, or linen spray.
10. Robe Set
Check Price on Amazon
Is there a better way to unwind after a long day than wrapped in the plush, soft fabric of a bathrobe, your feet nestled snuggly inside a pair of ultra-soft slippers?
A robe set is a classic comfort gift. Whether for snuggling up on those cold winter evenings, or for recreating that sumptuous spa-day feel, this is a stress-relief gift that is so simple, but highly sought-after.
11. Foot Spa Massager
Check Price on Amazon
For so many of us, stress starts in the toes and balls of our feet. Loosen, unknot, and release those muscles, and the relief will radiate to the rest of our bodies.
Hence, a foot spa massager can be an ideal gift for anyone who loves relaxed evenings on the sofa or craves the at-home spa-day experience.
With this thoughtful gift, you can massage stress away with a foot spa that has various heat functions and intensity settings.
---
Luxury Gifts
12. Back and Neck Massager
Check Price on Amazon
A stress relief gift that is perfect for someone who has a lot of stress in their back and neck area, a back and neck massager is great for use at the office or while relaxing at home.
Simply slip your arms in, and use the desired speed setting to unleash a much-needed shiatsu massage on your tight back and neck, deeply kneading the muscles, and unlocking them for their rigid states.
13. Hammock
Check Price on Amazon
A hammock is a great stress reliever because it's so peaceful and relaxing to lay down in.
Spend hours staring out at the trees, birds, and sky, or set it up at home and simply use it to gently sway, nap, and relax with a good book.
14. Acupressure Mat
Check Price on Amazon
Give those aches and pains an effective dose of acupressure with a simple, ergonomic acupressure mat.
Such mats have been found to reduce stress by increasing blood flow, improving lymphatic drainage, and relaxing muscles and joints.
15. Dinner Delivery Gift Cards
Consider getting dinner delivery gift cards like Grubhub gift cards for your friend or family member who's always on the go.
They can use it to order a healthy meal at any restaurant in their area or have food delivered right to their doorstep so that they don't even need to cook.
Taking care of dinner time with healthy and delicious recipes is a simple way to take one important thing off their plate, no pun intended!
16. White Noise Machine
Check Price on Amazon
White noise machines can relieve stress by blocking out surrounding distractions and creating a relaxing environment for sleep.
The sound of white noise is most commonly described as similar to the whoosh-like ocean waves, or sounds from rainfall, thunderstorms, air conditioners, or vacuum cleaners.
Some people find that listening to rainforest noises soothes them at the end of a stressful day.
---
Gift Baskets
17. A Ready-Made Gift Basket
The classic gift for anyone in need of some at-home TLC. If you can't decide on a particular gadget or stress-relieving accessory, a gift basket can help you bring plenty of love and relaxation to the foray.
From spa essentials to healthy foods, gift baskets for stress relief and relaxation come in all shapes and sizes, such as:
18. Spa Gift Card
Spaweek boasts North America's largest spa network, and through their Spaweek gift cards, you can give a friend or loved one a much-needed afternoon or weekend of relaxation, love, and mindfulness.
Simply use their form to find the ideal nearby spa, select their treatments, and personalize a wonderful gift card for them to enjoy at their own leisure.
---
Gifts for the Office
19. Noise-Canceling Earbuds or Headphones
Check Price on Amazon
Sometimes, stress relief can come from the simplest of things. If you, a friend, or loved one is constantly overwhelmed by the hustle and noise of everyday life, a pair of noise-canceling earbuds or headphones can change the way they work and relax, for the better.
With plenty of reputable brands on the market, this is truly an excellent stress relief gift for someone who lives, studies, or works in a noisy environment.
20. Stress Relief Putty
Check Price on Amazon
Stress relief putty is a great little gift to sit on someone's desk at the office. The therapeutic squish and touch of the dough can help induce a state of instant calm and relief.
Complete with aromatic qualities, this simple little gift offers instant sensory relief to those who need to remove themselves from stressful situations.
Stress relief putty can provide hours of relief and relaxation at the office, at home, or on the commute to and from work.
---
Gifts for Men
21. Man Crate
The warm buzz of whiskey, the sizzle of barbecuing steak, and the therapeutic nature of grooming are just some of the traditional forms of relaxation and escapism men have come to love through the ages.
Man Crates sends men hand-picked items related to their favorite hobbies. Each crate contains an assortment of goodies, often including food and drink, for a partner or close friend who needs a healthy bout of relaxation. Some awesome crates include the Rib Master Crate, the Grill Master Crate, and the Whiskey Appreciation Crate.
22. Beer Bath/Shower Holder
Check Price on Amazon
For most men, sipping a cold beer in a hot, soothing bath or a relaxing shower is very much the dream!
So make that fantasy a reality for a close male friend or partner with a beer bath or shower holder. Simple to attach to your bathroom wall, the stress fizzle from their tired limbs as they enjoy a hot bath or shower while sipping back with a cold one.
---
Gifts for Women
23. Yoga Mat
Check Price on Amazon
Yoga is the go-to exercise for many who want to relieve stress and tension while staying fit and healthy.
Know a close female friend or partner who needs to take a little extra care of their body? A yoga mat can be the perfect gift to kickstart their foray into the wonderful world of yoga.
Yoga also offers many other benefits as well, including improved mood, increased energy levels, and improved flexibility.
24. Meditation Pillow
Check Price on Amazon
Adorned with elegant patterns and a beautiful addition to any women's home decor, a meditation pillow can go a long way to helping you or a loved one relax and improve mindfulness.
This pillow can be used for sitting on the floor or for additional support. Its soft fabric and buckwheat hulls provide both comfort and support, allowing you to focus on being present and your meditation practice.
---
Fun Gifts
25. Head/Hair Scalp Massager
Check Price on Amazon
Just the touch of a head or hair scalp massager on many people's heads can instantly induce a state of relaxation.
Delving yourself into a state of scalp-stimulated bliss can help take your mind off the challenges and strains of day-to-day, even if for a few moments.
A scalp massager is a simple, fun gift, perfect for a birthday or stocking filler, to help a friend or loved one relieve stress at home, with little effort.
26. Foot Massage Bamboo Sticks
Check Price on Amazon
Get ready for plenty of wails and winces! For people on their feet all day, some of the tightest, tension-holding muscles can be found on the feet.
These foot massage bamboo sticks are designed to really get in there, applying deep-tissue massage to all areas of the feet.
Now you can bring the magic of traditional Thai massage into someone's home, with these wonderful little tools.
27. Ukulele
Check Price on Amazon
The ukulele is a stringed instrument that's small enough to carry around with ease. If your stress relief gift recipient loves and plays music, they'll likely love the ukulele!
You can find ukuleles in all shapes, sizes, and colors. This instrument's delightful, delicate sound can help create an atmosphere of calm and joy and occupy your close friend or loved one's mind with a brand new hobby.
28. Aromatherapy Dough
Aromatherapy dough is a stress relief gift that smells great. This stress-relieving putty feels soft and flexible, and its unique texture offers an enticing way to relieve tension by massaging it between your fingers.
It has a relaxing smell and flexible texture, and for many can be far more satisfying than any fidget toy or slime.
This is a wonderful way to bring even the most stressed of friends or family back into a state of childhood bliss!
---
Inexpensive Gifts
29. Lavender Candle
Check Price on Amazon
Scented candles offer stress relief by filling your home or office space with relaxing aromas that can help you relax and focus on deep breathing.
This lavender candle can unleash the therapeutic and aromatic qualities throughout your home, inducing an atmosphere of calm and relaxation in the process.
For those who love to collect scented candles, this can take pride and place in their collection.
30. Sheet Masks
Check Price on Amazon
Sheet masks are a wonderful stress-relieving gift on a budget. The gift recipient can moisturize and revitalize their skin with this wonderful set of flavored sheet masks while relaxing on the couch or while taking a soothing bubble bath.
This face mask pack comes with a range of ingredients, including green tea, honey, and avocado.
Face masks are a fun and effortless way to ease into an afternoon or evening of relaxation.
31. Herbal Tea
Check Price on Amazon
Herbal tea has been used for thousands of years for its medicinal and relaxation properties.
This tea set blends chamomile, spearmint, and vanilla, to create a stress-relieving brew that is ideal for sipping before bedtime.
Whether someone you know and love is already an avid tea drinker, or completely new to the brew, this is a great kit to either start their love for tea or add to their collection.
32. Lavender Pillow Spray
Check Price on Amazon
Lavender is a stress reliever that has been used for centuries. This pillow spray uses natural lavender to soothe and relax the mind, body, and soul.
This would make a great budget gift for a friend or loved one in need of creating a calming, relaxed atmosphere,
33. Ice Roller
Check Price on Amazon
Get ready for an icy-cold bout of stress relief! These ice rollers only need up to 15 minutes in the freezer, before they are ready.
Roll gently, and let the cold reduce puffiness, increase blood circulation, and soothe and cool hot and flushed skin.
Great for easing the pain of headaches and soreness, an ice roller is a super simple yet effective budget gift for anyone whose skin suffers from constant stress and anxiety.
34. Mandalas Coloring Books for Adults
Check Price on Amazon
The elaborate detail and intricate patterns of mandala designs make them truly calming and joy-inducing images to lay eyes on.
A mandalas coloring book can provide hours upon hours of stress-relieving, zen-like activity, as you or a loved one methodically or randomly color the patterns in a palette that brings you the most satisfaction.
This is a great gift for anyone who needs a mind-occupying activity that requires very little physical and mental effort and can be done from the comfort of your home.
---
DIY Gift Basket
35. DIY Custom Gift Basket
Can't decide between these great gifts, or feel like your friend, recipient, or loved one would enjoy several of them? Why not put together your very own custom gift basket!
You could even create a custom basket filled with their favorite goodies, including:
a gift card to their favorite restaurant
hot chocolate
bath bomb / bubble bar
sheet masks
lavender candle
super soft socks
healthy snacks
calm drops
---
If someone you know is suffering from stress and anxiety, no matter how bad, these gifts can go a long way to helping them cope with it.
From the soothing scents of essential oils to the kneading balls of a neck massager, there are so many ways we can help our bodies feel calmer and more relaxed.
These gifts are great for the holidays, birthdays, or just to show a special someone you're thinking about them.
And while stress relief isn't an overnight fix, we all have to start somewhere. These gifts could really help someone work toward a healthier, calmer state of mind.
You Might Also Like to Read
---
Eager to get a close friend or loved one a stress relief gift for a birthday, holiday, or simply a gesture of goodwill? Keep this gift list handy, by saving it to one of your Pinterest boards.