This post may contain affiliate links, meaning if you book or buy something through one of these links, I may earn an affiliate commission at no additional cost to you. Learn more
Whether it's your first year together, or you're celebrating a landmark gold wedding anniversary, get inspired with these anniversary gifts for him to show the special man in your life how much he means to you.
Anniversary Gifts for Him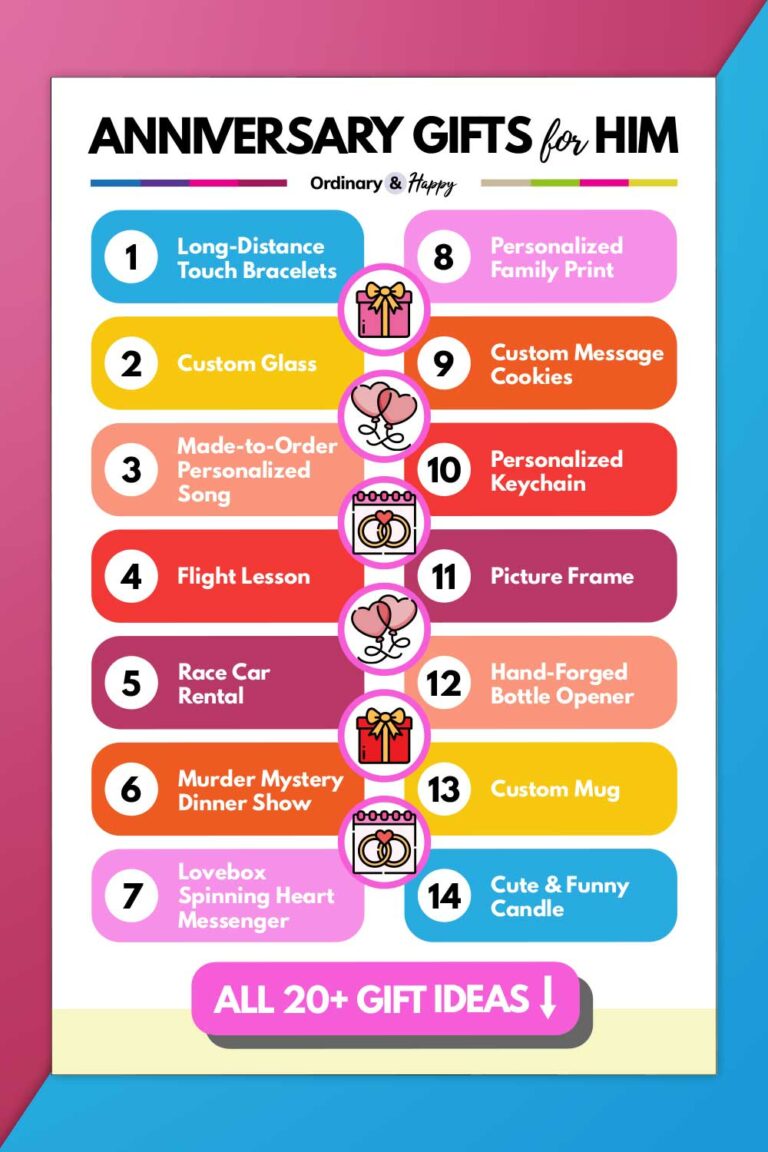 ---
Good Gifts
1. Long-Distance Touch Bracelets
Check Price on Amazon
Have you ever been apart from your loved one and wished they could be right there with you? With these touch bracelets, they (almost) can.
If you're sending a gift to a long-distance partner to bring you closer together, try these unique touch bracelets. Not only do they look sleek and stylish, but you can download an app that connects the set.
You just need to tap your bracelet to send a 'Bond Touch' to your loved one, and their watch will light up and vibrate.
There's never been an easier way to show your love from afar or a more thoughtful gift for a long-distance partner on an anniversary.
On those nights when something extraordinary happens, the nighttime stars glow a little brighter than usual.
With these custom glasses, you can drink to a special memory in your life as a couple with an engravement of the starry night on a date of your picking.
It could be the date you met, your first kiss, or your wedding night – either way, you'll be able to sip together in memory of a night that changed everything. Plus, the glasses look pretty classy in any drinks cabinet.
Do you love expressing your feelings through the media of song? Do you and the special man in your life wish you had a song that was just for you? Have you ever experienced special moments with your significant other and thought, 'I wish our lives had a soundtrack?'
Look no further than a made-to-order personalized song. You simply need to answer a few questions about your relationship and share special memories with the singer/songwriter.
They'll then compose original music and lyrics that match your favorite genre and feature the story of your relationship put to a melody.
Not only will your story be forever encapsulated in a song, but it will also provide a soundtrack to all your future anniversaries and adventures. This gift gives the term 'our song' a whole deeper meaning.
---
Unique Gifts
If the special guy in your life is a bit of an adrenaline junkie, they'll be thrilled with a flight lesson.
A truly once-in-a-lifetime gift, they'll literally be among the clouds while they learn to navigate an airplane or helicopter.
If you like being adventurous together, book yourself along for the right and have this one-of-a-kind experience together. But be warned, you might unlock a desire to change careers and become a pilot!
If your other half has always dreamed of driving one of the world's best cars, why not treat them to a race car rental experience?
They can whizz around a race track with the help of an expert while experiencing an adrenaline rush like no other.
From Ferraris to Lamborghinis, there are plenty of cars available to tickle your fancy. So whatever your partner's dream car, they'll be able to take it for a spin, with you cheering them on from the sidelines.
Whodunnit? That will be the question on everybody's lips at this murder mystery dinner show.
Prep your significant other for an evening of murder and intrigue while they battle the clock to find out who's the secret murderer in the group.
If your partner enjoys a mystery and likes to indulge in some amateur sleuthing, they'll adore this truly unique gift.
7. Lovebox Spinning Heart Messenger
Check Price on Amazon
Looking for an anniversary gift that's basically magic? Look no further than this Lovebox spinning heart messenger.
If you've ever doubted whether romance died when texting replaced love notes, you'll think again with this one-of-a-kind gift. Give this love note box to the special man in your life and write a message via the app.
Whether you have two children and a dog or your family is just the two of you, commemorate it forever in a beautiful personalized family print, created by a talented artist.
Select skin tones, hair, and clothing color, then customize the print with your family name and the year your special unit was established.
Not only is it a wonderfully sentimental gift, but it also looks gorgeous hanging on any wall in the house.
The only thing better than a gift with a sweet custom message is a gift with a sweet custom message that you can eat!
With this set of personalized cookies, you can tell your special man that you love them in two ways – with a handwritten message and with the delicious taste of a specially made cookie. Just make sure they're willing to share one with you…
---
Gifts on a Budget
10. Personalized Keychain
Check Price on Amazon
Celebrating your love doesn't have to mean breaking the bank. With a personalized keychain, you can do three things in one.
First, you can prove your love with sentimental personalization. Second, you can buy them an accessory that will look cool amongst their other essential items.
Finally, you can help them to never lose their keys again – all for a reasonable price. It's a win all around!
Personalized keychains, such as this one, can be custom-made to include a date or phrase that's special to your relationship. That way, your significant other will think of you whenever they use their keys to start the car or open the door.
11. Picture Frame
Check Price on Amazon
Think of some of your favorite memories with the special man in your life. The chances are, they're immortalized in photo form.
Rather than have these photos gathering dust in some never-used photo album or sitting unseen in your phone's camera roll, put romantic pictures at the front and center of your home while reminding your partner of some of your happiest memories.
All you'll need is a stylish photo frame, such as this one. Don't have many snaps together yet? Buy the photo frame as an inspiration to make more memories, so you have photos of special occasions to fill every frame in the house!
12. Hand-Forged Bottle Opener
Check Price on Amazon
Is the man in your life a fan of the occasional beer or soda? If so, there's a gift you can get that's affordable, looks cool, and serves a practical purpose – a bottle opener.
This hand-forged bottle opener can be customized to feature your initials and the date you met or got married.
So next time your partner is tucking into the craft beer of their choice, they'll be reminded of all your special times together. It looks pretty stylish on the kitchen counter, too.
After a stressful day, we all reach for a hot drink of our fancy. Whether your partner is a dedicated tea drinker or loves a steaming cup of Joe, they'll benefit from having a stylish mug to drink it from when they need a little coffee break.
What if I told you you could take a stylish mug and personalize it, to make it a gift that's not only practical but sentimental, too?
That's exactly what you'll get with this personalized mug that contains space for a picture of you and your loved one. For extra brownie points, make them a hot drink to go in the mug when you do your gift exchange!
14. Cute & Funny Candle
Check Price on Amazon
There's only one thing almost as good to come home to as your other half – a burning candle. Scented candles can fill our homes with relaxing aromas and create a peaceful atmosphere, especially on cold, winter evenings.
But what if I told you they could make funny gifts, too? If you're stuck for something to buy the man who has everything and you've got a tight budget, consider getting a funny candle like this one.
Not only will you make them laugh with a hilarious phrase on the front, but it's a gift with a genuine practical purpose, too!
---
Personalized Gifts
Don't you wish you could store all of your favorite memories together in one place, almost like a collection of the greatest hits? If so, we've got you covered.
If you're looking for a sentimental, personalized gift for your significant other, they'll absolutely love this personalized anniversary journal.
Featuring space for photos and prompts for future plans and romantic reflections, working through this journal together will help you grow as a couple while you look back on some of the special memories you've enjoyed together.
The best part? You can personalize it with your names on the cover, so it truly will become the book of your lives together.
Does the start of your relationship feel like the meeting of two souls at, say, an intersection? Turn the metaphor into a reality with this gorgeous print containing two street signs which feature both of your surnames meeting at an intersection.
If you want to give an extra nod to the anniversary you're celebrating, opt for a frame in the material that represents it.
17. Personalized Cufflinks
Check Price on Amazon
Is the man in your life a classy dresser? Do they enjoy putting on suits whenever the occasion allows for it? And do they appreciate the small touches that elevate an outfit from great to fantastic?
If so, we've got just the gift for you. If you're in the market for something that's not only stylish but sentimental, too, you'll simply adore a set of personalized cufflinks which can be engraved with initials of your choice.
18. Personalized Wood Tie Clip
Check Price on Amazon
A tie is an essential part of any formal outfit, but the thing that really sets sophisticated outfits apart from the day-to-day is the small accessories.
If your man likes to look sharp, look no further than a personalized wooden tie clip with custom engraving.
It's a sweet personal gift to celebrate your relationship, and it will also revolutionize their wardrobe – win-win!
One of the most important aspects of cultivating a home with your loved one is filling it with artwork and objects that represent you as a couple.
With custom wall art, you can add a print that best represents your relationship anywhere in your home.
Whether you want a picture of your first holiday together or a quote that means a lot to you, all you need to do is select the size you want and upload your chosen image(s). It's never been easier to create a special gift that your other half will truly love.
---
Last-Minute Gifts
Left your gift buying to the last minute and looking for something to get without having to run to the shops? A MasterClass subscription could be an excellent choice of gift.
With MasterClass, you can give the gift of knowledge by buying your other half an online class created and presented by an expert in their field.
Is your partner an inspiring thriller writer? Buy them a writing class with world-class novelist, Dan Brown. Do they have a secret dream of being a stand-up comedian? Treat them to a comedy class with Steve Martin.
Whatever your partner's interest, you'll find something to suit them on MasterClass.
If you and your significant other find yourself repeating the same dates over and over (movie night, anyone?), treat them to a date night box subscription.
Strengthen your relationship with new challenges and activities that arrive through your letterbox every month. You can simply buy one box for your anniversary night, or you can sign up for a year-long subscription for new date night inspiration every month for 12 months.
---
A little thought in gift-giving can go a long way, and whether your special man has a hobby or passion, big sense of humor, or just likes nice things, there are plenty of great gifts out there for him.
Mark an upcoming anniversary in style, no matter how long you've been together, and get a gift for him that means a lot.
You Might Also Like to Read
---
Keep these anniversary gifts for him in a safe place, ready for an upcoming anniversary, by saving this gift guide to one of your Pinterest boards.