This post may contain affiliate links, meaning if you book or buy something through one of these links, I may earn an affiliate commission at no additional cost to you. Learn more
Give the bride-to-be and everyone invited a super fun and memorable afternoon with these bridal shower games, perfect for adding laughs, joy, and some healthy competition to proceedings while helping everyone celebrate in style.
Bridal Shower Games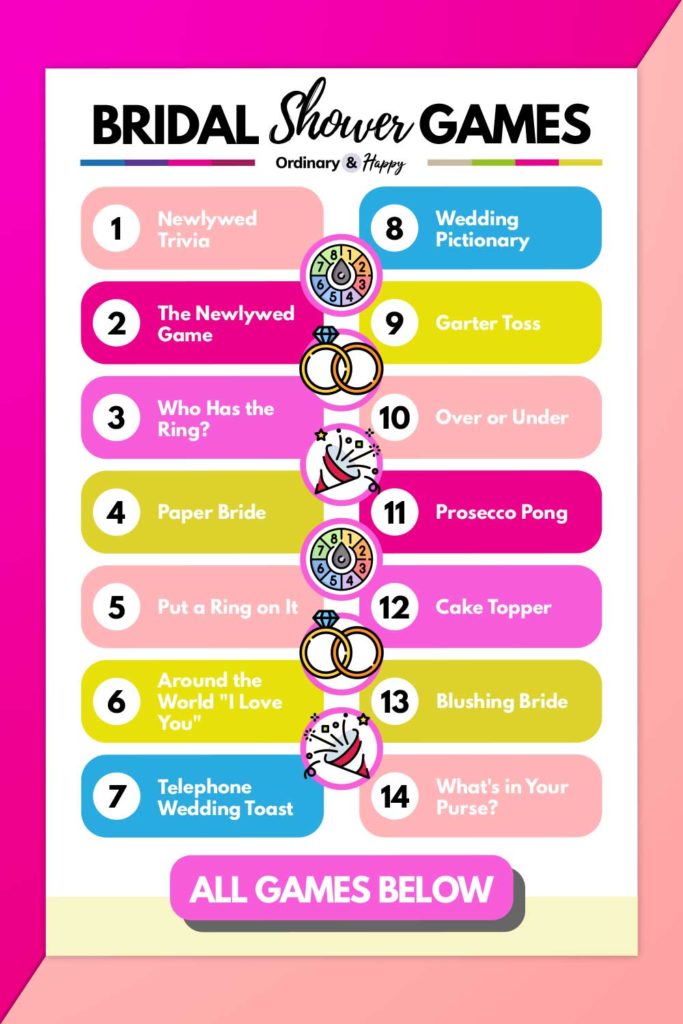 Are you in charge of the bridal shower for your loved one's big day? If you are, then you'll want some fun party games to play with everyone involved. Here are some great ideas for games that everybody will love and enjoy during the event.
---
Fun Games
1. Newlywed Trivia
Who doesn't love a fun trivia-style game? For this game, you'll need to collect information about the married couple-to-be, and design questions around topics such as when they first met, their first kiss, the proposal, and other topics for the bride-to-be and the wedding party to answer.
2. The Newlywed Game
This is a hugely popular game at bridal showers. The bride will answer questions about the relationship, while you'll have had the groom answer the same questions on video. If the bride's answers line up with their partner's, they win a point.
To come up with an original list of questions, check out the following lists of questions for inspiration.
3. Who Has the Ring?
Check Price on Amazon
Get all the guests in on the fun and games with 'Who Has the Ring,' a creative bridal shower game where a deck of lottery cards are handed out to everyone and every guest needs to scratch off their sticker to see if they have found the ring.
The winner screams 'I do!', and all the losers can enjoy reading one of the many funny statements on their card. Easy, simple, and a great way to get the whole party involved without too much hassle.
4. Paper Bride
Divide your group into two teams, and give them each a pack of toilet paper. They then have five minutes to construct a wedding dress out of it.
Once their time is up, one member of each team needs to walk the catwalk in their dress, and the bride will decide who made the best dress. Have your smartphone cameras ready for this one!
5. Put a Ring on It
Check Price on Amazon
This is another classic bridal game that can be played throughout the day and into the night. At the start of the event, give each guest a plastic ring to wear on their finger. When anyone says the words 'bride' or 'wedding,' another guest can steal a ring off of that person's finger. The guest at the end of the night with the most rings wins.
6. Around the World "I Love You"
https://www.zazzle.com/around_the_world_bridal_shower_game-256081185557690050
Great for families from different countries, or to bring more than a little cultural fun to the bridal shower, you can use these 'I love you' translations from countries all over the world as part of bridal games or to laminate and hand out to guests.
---
Hilarious Games
7. Telephone Wedding Toast
A popular game in its own right, you can make telephone toast wedding-themed by starting with wishes to the bride-to-be and seeing what hilarious statements or phrases come about once the whispers reach the end of the line.
8. Wedding Pictionary
Pictionary is a classic party game and can be made even more hilarious with a wedding twist. Gather up some wedding-themed prompts, and then have two teams play against each other and see who wins.
9. Garter Toss
Check Price on Amazon
This is a fun take on the traditional garter toss. Set up some champagne bottles in a row, and then have guests 'ping' garters at them from a distance to try and get them around the bottle. It's a lot of fun, super silly, and anyone who manages to successfully toss their garter over the bottle gets to claim the bubbly as their prize.
10. Over or Under
A great game that the entire room can play, you can use these pre-made statements on paper to download, or create your own and print them off. Next to each quantitative statement, each guest needs to guess how much the statement is over or under 'e.g., bride's shoe size is 10.' The guest with the most correct answers wins.
---
Games for Small Groups
11. Prosecco Pong
Check Price on Amazon
This is a game that's easily set up and a lot of fun no matter how many guests you have. Get some plastic champagne glasses and some ping pong balls. Set the glasses up in a pyramid stack, and get guests to bounce ping pong balls at it. The first person to knock the stack down wins.
For those who would prefer G&T's to prosecco, there's also a G&T pong set you can get on Amazon.
12. Cake Topper
Here's another game you can make with plastic cups that's also a lot of fun. You'll need plastic solo cups and a plastic cake topper.
Each guest will have these items in front of them whilst blindfolded. Their task is to stack the cups into a 'cake', i.e., stack them into a pyramid, and then get the cake topper on top. You can pair guests against each other in 'first to finish' rounds, competition-style, or time everyone and see who is the fastest.
13. Blushing Bride
This is a funny game that's bound to get a lot of laughs. Give guests a picture of the bride-to-be, as well as some cheap makeup such as lipstick, mascara, blusher, and so on.
Then, ask them to create a new look for the bride. Once they're done, the bride herself will choose the winner out of all the hilarious pictures presented to her.
14. What's in Your Purse?
Check Price on Amazon
Create a list of things that you may find in someone's purse (you can add some racier things to the list too, if suitable for the room). Then, ask guests how many items off the list they have with them right now. Those that have the most items win.
---
Games for Large Groups
15. Find the Guest
This is a good way for guests to get to know each other at the event. Compile a long list that describes a characteristic of each guest. Characteristics or statements such as 'speaks two languages' or 'has been married for ten years' or 'has lived abroad' would all be more than acceptable.
It is then up to the guests to get talking to each other and see if they can find out which characteristics or statements are referring to specific guests. You can buy a pre-made list like this one on Zazzle or DIY your own.
16. He Said, She Said
Check Price on Amazon
Before the event, ask both partners getting married the same questions. These should be along the lines of, 'Who makes the biggest mess?', 'Who's more likely to cry at the wedding?' and 'Who takes the most selfies?'. Then, the guests will get the same questions and try to guess the correct answers. The guest that has the most matching guesses to the couples' answers wins.
17. Bridal Emoji Game
Check Price on Amazon
This game is ideal for when the bridge is opening gifts at the shower. You can buy a pre-made set of cards or design your own. The idea of the game is for guests to look at the emoji combinations and figure out what the emojis are trying to say.
For example, a honey pot emoji next to a moon emoji translates to 'honeymoon'. The person who manages to solve the most in a set amount of time is the winner of the game.
---
Indoor Games
18. Wedding Tradition Quiz
Essentially putting everyone's knowledge of wedding trivia to the test, design a series of questions, multiple choice answers, or true or false statements around classic wedding traditions, such as the garter toss or designated ring fingers, for example. Guests can either attempt to answer on their own from sheets or as part of a team in a quiz-style competition.
19. Cold Feet
This is a game that's best played during the summer when it's hot outside. Get a bag of toy rings and a bowl of ice water. Dump the rings in, and then give guests two minutes to plunge their feet in, and get as many rings as they can out with their toes. The one who gets the most wins a prize.
20. Would She Rather
Check Price on Amazon
This game puts all the focus on the bride to be herself, and the guests may well learn a thing or two about her on the night. Before the party, sit down with her to get the answers to some 'either/or' questions. Think 'Mexican or Asian food?' or 'early bird or night owl?', for example. Then, have your guests answer the same questions. The person with the most answers right wins.
You can buy a pre-made game like the one above or DIY your own using our 100+ "Would you Rather?" Questions for inspiration.
21. Bridal Shower Bingo
Check Price on Amazon
At the beginning of the bridal shower, give each guest a bingo card with a bingo dabber pen. The bingo card should be filled with things that may happen during the night, such as someone giving a toast, the bride being given a racy gift, and so on.
Each time something happens, they can check it off. The first person to get a 'bingo,' that is, a full horizontal, vertical, or diagonal line wins.
---
Outdoor Games
22. Wedding Scavenger Hunt
Either print off a pre-made list, or get creative and make your own list of things to look out for at the bridal shower. These can be anything from 'someone giving a toast' to 'bride and groom kissing.
Guests have to take a photo of as many of the items on the list as possible and, once finished, present their photos to the game organizer at the end. The first to get all the photographs wins the scavenger hunt.
23. Musical Bouquet
Check Price on Amazon
You can play musical chairs with a bridal twist at your event. In a circle, have all the guests pass the bouquet around as the music plays. When the music stops, the person holding the bouquet is out of the game. The last person left holding the bouquet wins.
24. Date Nights
Check Price on Amazon
Give your guests all the craft supplies your heart desires, including glitter, and ask them to create a card with a date night ideas on it. Then, these cards will be put into a box for the couple to keep and pick from after the big day. Doing this outside will keep the mess to a minimum.
25. Cocktail Competition
In the warmer months, you can set up a cocktail station outside and challenge your guests to come up with the best cocktail they can. Ensure they have plenty of spirits and mixers to use and don't forget the little paper umbrellas. Have the bride-to-be sample them all and choose the winner. You can also have a mocktail competition if there is no alcohol at the event.
---
Virtual Games
26. Where Were We?
On your video call, bring up pictures of the couple on vacation. You can ask the bride to send them to you, or you can go through social media to find the pictures yourself. Ask your guests to guess where they were. Depending on the picture, this can be a lot harder than it looks!
27. Musical Matching
Here's a game that's going to bring back a lot of good memories for guests. Talk to the extended families of the couple, and find out what their first dance song was. You'll also want photos from their weddings.
Ask your guests to match up the photo of the happy couple to the song. You can then play a slideshow with the photos and a clip of the correct song, so everyone gets the answers at the end.
28. Wedding Word Scramble
You can create your own version of this game or find a pre-made version such as this one from Amazon. Create a list of words related to the bride and weddings, and scramble them all.
Then, give these to your guests, and give them a timer to unscramble as many as they can. The person who can do the most within the time limit wins.
29. Movie Wedding Charades
There are plenty of wedding-themed movies out there, and you can use these to play a fun game of charades. Create a list of movies such as My Big Fat Greek Wedding, 27 Dresses, and Wedding Crashers, among many others.
Then, have a guest pick a movie at random, and act it out for the rest. This is a lot of fun, especially if everyone is enjoying some drinks at the virtual event too.
---
More Bridal Shower Games
30. Who's that Couple?
Create printouts of celebrity couples, and leave one at each table at the event. Ask your guests to identify both the celebrities in the photo. Don't pick huge celebrities, as that would be far too easy. Instead, pick less obvious couples so they will have to really work for that win.
31. Vow Mad Libs
Check Price on Amazon
A wedding-themed take on the popular game mad libs, first print out a set of traditional vows, with blank spaces for verbs, nouns, and adjectives. Then, have the guests fill them out, and then ask the bride to read them out to the others. There's sure to be a lot of hilarity in some of the answers.
32. Whose Memory?
Everyone at the event should have lots of treasured memories about the bride, and this can be great inspiration for a memory-themed game. Have each guest write down a favorite memory they have with the bride. Then, put them in a basket and ask the bride to read them aloud. It is up to the guests (you can split into teams or select particular people to play) to match the memory or instance to the specific guest correctly.
---
These are just a few fun games that you can play at a bridal shower. Pick a handful off the list, and get them prepared for the big day. They're all guaranteed crowd pleasers and a great way to bring heaps of fun, excitement, and memories to the bridal shower!
You Might Also Like to Read
---
Planning a bridal shower and looking for inspiration? Keep this article for safekeeping by saving it to one of your party planner Pinterest boards.