This post may contain affiliate links, meaning if you book or buy something through one of these links, I may earn an affiliate commission at no additional cost to you. Learn more
These stocking stuffers for adults will help you find a gift for all types of people. Whether it's a coworker in the $5 Secret Santa or your practical dad who's impossible to buy for, let me help you find a gift that's just right.
Use the categories below for types of stocking stuffers, or have a scroll through to get plenty of ideas.
Popular | Under $5 | Under $10 | Self-Care | Food | Practical | Unique and Funny
Stocking Stuffers for Adults
I've put all these gifts onto one lovely little shopping list for you. You can find the download link at the end of this article. Print it off, head into town, and let the gift search commence!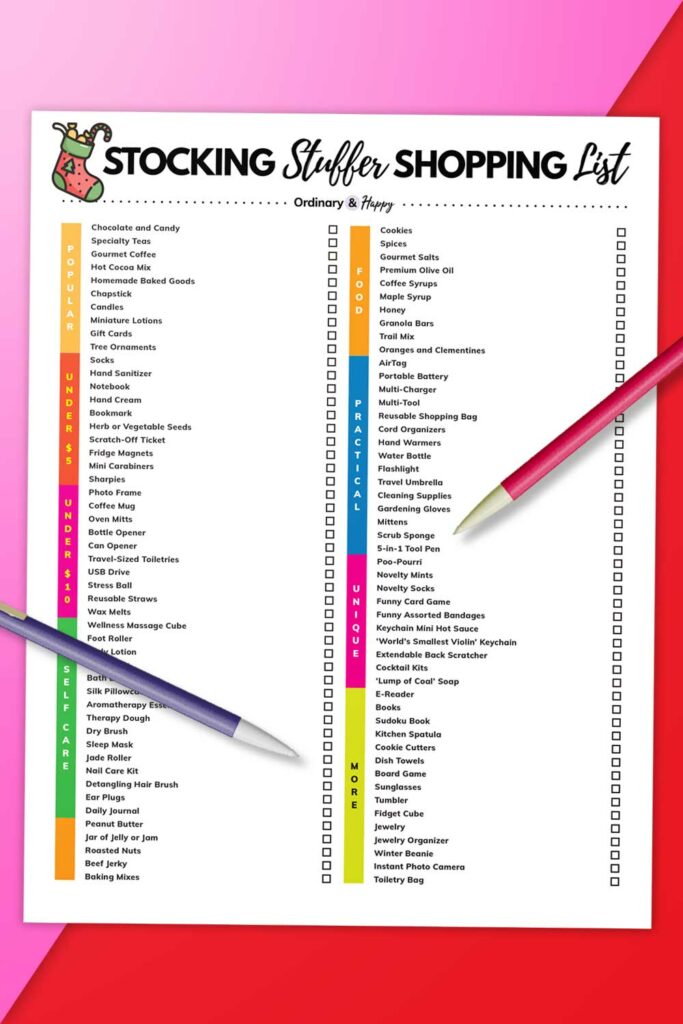 Popular Stocking Stuffers
Let's get started with some tried and tested classics. I often get stocking fillers like these if I'm struggling a little, but I know they like nice things. These are thoughtful and pretty easy to find.
Chocolate and Candy. Popular ones (and my personal favorites) are Ferrero Rocher.
Specialty Teas. I generally like to DIY a stocking stuffer tea box using a variety of teas such as peppermint, lemon ginger, Earl Grey, Darjeeling, green mint, Ceylon, and hibiscus. If you want to buy a pre-made sampler box, there are great options online, such as this one on Amazon from Twinings or this one on Amazon from Tea Forte.
Gourmet Coffee Samples. If your gift recipient has a Nespresso or other coffee pod machine, you can add a variety of coffee pods to their stocking. Otherwise, you can get them a variety pack of ground coffee or coffee beans (like this Coffee Variety Box sold by Atlas Coffee Club on Amazon).
Hot Cocoa Mixes. For hot cocoa mixes, Ghirardelli is one of my favorites. You can buy a big box of hot cocoa envelopes and add a couple of them to each stocking.
Homemade Baked Goods. This is such a great stocking stuffer idea if you like to bake. I often make brownies, macaroons, and various cookies and pack them up in paper bags or candy cookie bags (similar to these ones you can buy on Amazon).
Chapstick or Lip Balm.
Candles.
Miniature Lotions.
Gift Cards. Generally, everyone appreciates a gift card to their favorite store or coffee shop, and the gift cards are fantastic last-minute stocking stuffers you can pick up online or at the nearest CVS/Wallgreens/store.
Tree Ornaments.
Stocking Stuffers Under $5
Shopping on a really small budget? Often, with budgets as small as $5, people tend to go for novelty and tacky. If the person you're buying for doesn't go for humor, these stocking stuffer ideas can be practical and show you're thinking of them.
Socks
Hand Sanitizer
Notebook
Hand Cream
Bookmark
Herb or Vegetable Seeds
Scratch-Off Ticket
Fridge Magnets
Mini Carabiners
Sharpies
Stocking Stuffers Under $10
It's surprising how much the jump between $5 and $10 opens you up to so many more possibilities. These are gifts people would actually use around the house and can easily be found for under $10.
Photo Frame
Coffee Mug
Oven Mitts
Bottle Opener
Can Opener
Travel-Sized Toiletries
USB Drive
Stress Ball
Reusable Straws
Wax Melts
Stocking Stuffers for Self-Care
We can all take a little better care of ourselves, right? I often get stuff like this for my mum. It'll give them an opportunity to stop, take a moment, and treat themselves to something that'll help make them feel better.
Foot Roller
Body Lotion
Bath Salts
Bath Bombs
Silk Pillowcase
Aromatherapy Essential Oils
Dry Brush
Sleep Mask
Jade Roller
Nail Care Kit
Ear Plugs
Daily Journal
Detangling Hair Brush
Food Stocking Stuffers
These yummy snacks and treats can make for a stocking stuffer that puts a smile on someone's face.
Peanut Butter
Jar of Jelly or Jam
Roasted Nuts
Beef Jerky
Baking Mixes
Cookies
Spices
Gourmet Salts
Premium Olive Oil
Coffee Syrups
Maple Syrup
Honey
Granola Bars
Trail Mix
Oranges and Clementines
Practical Stocking Stuffers
Some people just don't buy into the idea of gifts – my dad is one of them! For those people who don't want it in the house if it isn't useful, have a look at these gifts that they can actually make use of.
AirTag or Bluetooth Tracker for Keys
Multi-Charger
Multi-Tool
Reusable Shopping Bag (that folds into a pouch)
Hand Warmers
Water Bottle with Filter
Flashlight
Travel Umbrella
Cleaning Supplies
Gardening Gloves
Mittens
Unique and Funny Stocking Stuffer Ideas
There are plenty of people who really buy into the magic of gift-giving. Giving someone a gift gives you the chance to make them laugh or introduce them to something new.
If you're buying for someone like that, have a look at these creative, off-the-wall ideas.
More Stocking Stuffer Ideas
Still stuck for ideas? Don't worry, I've got a few more here for you to take a look at!
E-Reader
Books
Sudoku Book
Kitchen Spatula
Cookie Cutters
Dish Towels
Board Game
Sunglasses
Tumbler
Fidget Cube
Jewelry
Jewelry Organizer
Winter Beanie
Instant Photo Camera
Toiletry Bag
---
With over 100 to choose from, hopefully there's a stocking stuffer in there for even those 'impossible to buy for' people!
If you want this entire list as a free list to print off, you can get it below. Happy holidays, and I hope everyone loves the stocking stuffers you got them!
You Might Also Like to Read
Save my 100+ list of stocking stuffers to one of your gift idea boards. Every Christmas, you can revisit this list and get more ideas.