This post may contain affiliate links, meaning if you book or buy something through one of these links, I may earn an affiliate commission at no additional cost to you. Learn more
Give a close friend or beloved partner a gift that brings a smile to their face this holiday season and use our best stocking stuffer ideas for men to get inspired.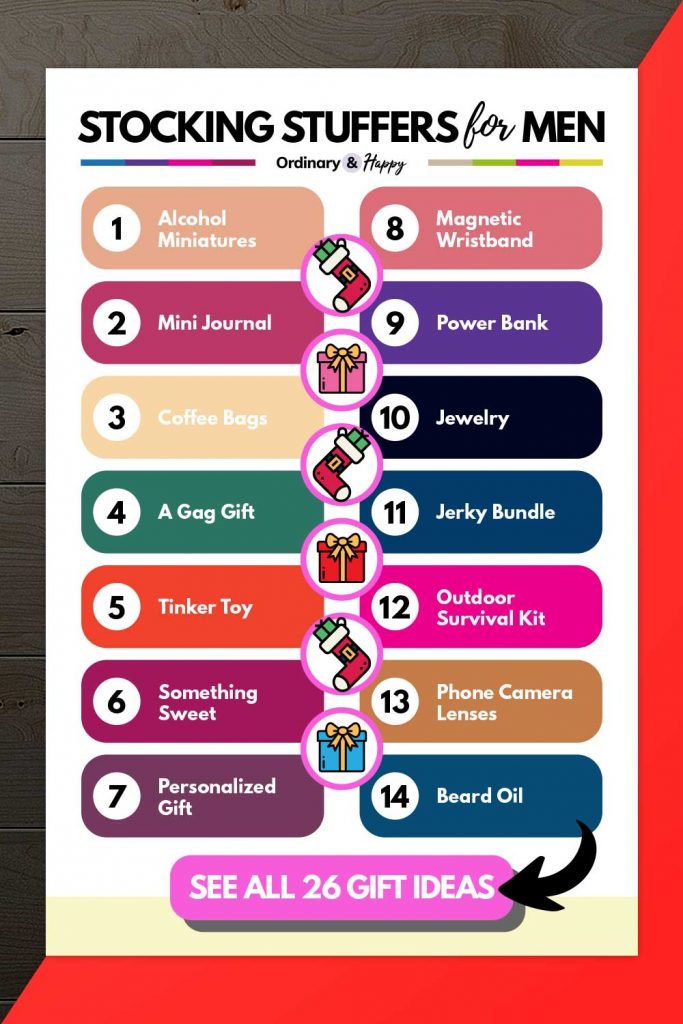 Best Stocking Stuffer Ideas For Men
Tired of the same old novelty gifts and budget toiletries packs? Gift-giving for men has become something of a cliche, but it doesn't have to be that way.
With a little thought, you can gift a close male friend or partner something with real meaning, that they'll love, get a laugh from, or find a good use for.
Our list has ideas for men from all walks of life, with different personalities. Stuff your stockings with some of these great gift ideas for plenty of smiles and hugs come the holidays!
1. Alcohol Miniatures
For the guy in your life who's a whiskey whiz or a cognac connoisseur, some alcoholic miniatures make an ideal stocking stuffer gift.
You can mix and match a few different drink types, or if he's got a particular favorite tipple, you could get a bundle of miniatures from his favorite brand.
2. Mini Journal
Check Price on Amazon
Though we live in an age with almost limitless modern technology at our disposal, some guys still prefer putting pen to paper when it comes to noting things down.
Weekly diaries and pocket notebooks make great little stocking stuffers, especially when they're paired with a sleek, stylish pen.
3. Coffee Bags
Check Price on Amazon
For the guy on your Christmas list this year who's a coffee aficionado, a bag of gourmet coffee bags is sure to make a perfect small gift.
Used exactly the same way as tea bags, they're the ultimate convenient way to enjoy high-end ground coffees without the hassle – or mess – of a coffee machine.
You can get coffee bags with just about every type of coffee you can think of, from Peruvian to Turkish to caramel-flavored.
4. A Gag Gift
Check Price on Amazon
When it comes to stocking fillers, it's almost considered an absolute must to pack in at least one jokey gift or gadget.
Good old-fashioned fart cushions, a mini-golfing set to play on the toilet, a beer holster, or a pair of sandal-printed socks are all choices that are sure to get a laugh – even if they are so cheesy that they'd give a literal block of cheese some serious competition!
5. Tinker Toy
Check Price on Amazon
Seriously, who doesn't love a new toy? Fidget boards and spinners, Rubik's cubes, Lego sets, and DIY model airplanes all make cute little stocking stuffer gifts.
Alternatively, get him a magnetic sphere set, so he can sculpt up anything and everything he can think of.
Whichever you end up choosing, an activity you can team up for to enjoy together can be a sweet way to spend some quality time together on Christmas Day.
6. Something Sweet
If the guy on your Christmas list this year has a taste for the sugary stuff, find out his favorite candy and stuff a few packs in his stocking.
If he's a bit of a confectionery connoisseur, consider getting a few types he's particularly fond of, and make some cute candy cones. Not only is this super thoughtful, but you can also gift or donate any leftover candy cones you have.
7. Personalized Gift
Check Price on Amazon
If you want to really throw in the "aww" factor, then a small, sentimental gift to hang on the Christmas tree will make the perfect stocking stuffer gift.
There are so many options to choose from – you could get a personalized bauble with an important date inscribed on the side, or with a photo printed on it.
Alternatively, you could go for something more outlandish, like a Christmas tree ornament of a character from his favorite show or video game.
8. Magnetic Wristband
Check Price on Amazon
For those guys who enjoy being a bit handy around the house, there are many different tools and bits of equipment that can make life just that little bit easier when they're working on their next DIY project.
A new screwdriver set will easily slide into a stocking, as will a magnetic wristband. This is a truly amazing gift, as all those loose screws and bolts stick to the magnets around your wrist, so they're right there when you need them.
You could even consider a small kit that extracts damaged screws from surfaces.
9. Power Bank
Check Price on Amazon
If there's a techie on your Christmas gift list this year, you can't go wrong with a new bit of kit. Little bits that are perfect stocking stuffer size could include a new power bank so he can keep his favorite gadgets charged on the go.
10. Jewelry
You can delight the special guy in your life with a sweet jewelry gift at the bottom of his stocking this Christmas. Whether he appreciates a nice pair of cufflinks or would enjoy a steampunk-style pocket watch, there's a piece of jewelry out there for just about any guy.
Add a truly sentimental touch by having the jewelry engraved, and not only will he look stylish, but he'll think of you every time he puts it on.
11. Jerky Bundle
Check Price on Amazon
For guys who are more into their savory snacks than sweet treats, a sample bundle of his favorite jerkies can be a thoughtful way to combat his hunger pangs.
There are lots of different types of jerky you can buy nowadays – in fact, there's a good chance that if it exists, there's jerky of it.
This goes for everything from classic, old-fashioned beef jerky to plant-based jerky. There's even a range of exotic jerkies you can buy, made from kangaroo and even alligator.
12. Outdoor Survival Kit
We all know someone who's a bit of a Bear Grylls outdoorsy type, and a survival kit makes a perfect stocking stuffer.
There are plenty of survival kits available to buy ready-made online, or you can always give it the homemade treatment by making it yourself.
Make sure to get a nice pouch with lots of compartments, and pack in items such as first aid items (bandaids, sanitizing wipes, bandages), as well as a torch, a multi-tool pocket knife, a fire-starting kit, a map, a compass, and water purification tablets.
13. Phone Camera Lenses
Check Price on Amazon
For the avid male photographer, some clip-on phone camera lenses will give them the gift of being able to take top-quality photos when carrying around a large camera just isn't convenient.
There is a range of lenses on the market to suit every kind of photo, from wildlife to landscape photography, and to suit every budget. They're also tiny, so they're totally ideal for stuffing into a Christmas stocking.
14. Beard Oil
Check Price on Amazon
If there's a guy on your Christmas gift list this year who's a bit of a beard buff, treat him to a new bottle of beard oil in his Christmas stocking.
Beard oils are conditioners that are specially designed to soften and moisturize beard hair, stubble, and prevent 'beardruff'.
Sometimes it's used to promote beard growth, but usually, people use it to keep their beards soft and in great condition.
15. Whiskey Rocks
Check Price on Amazon
Those who enjoy a whiskey on the rocks will be familiar with the problem of ice becoming gradually less rocky until all that's left is cold, diluted whiskey.
A set of freezable whiskey rocks contain no water so that they won't dilute the drink, and they'll keep your guy's whiskey – or another spirit of choice – cold at the same time.
They're available in different materials such as natural soapstone, granite, and even stainless steel.
16. Stylish Bookmark
A sweet-looking magnetic bookmark will make a fab stocking stuffer gift for any bookworm in your life. They come in just about every material imaginable as well as different shapes and sizes.
Make it even more personal to him by getting a customized one – you could get one with his name on it or maybe even a quote from his favorite book. A new bookmark will pair up perfectly with any new books you've got him for Christmas.
17. Garlic Crusher
Check Price on Amazon
A garlic crusher is an absolute must-have for any aspiring home chef or foodie. This gift would be great in a Christmas stocking, particularly when paired with cookbooks or vouchers for online cooking classes.
Delicious creations can be whipped up even quicker when all the chopping work is taken out of preparing garlic. It will give your guy more time to focus on getting that new dish he's been trying to perfect, too.
18. Experience Vouchers
Speaking of cooking classes, this is a gift that works well as both the main present and a stocking stuffer.
You could go for a well-known and much-loved hobby, surprise your guy with something brand new he's never tried before or give him a voucher for a course to learn a brand new skill.
19. Digital Tire Gauge
Check Price on Amazon
For guys who love to drive, a digital tire gauge is a wonderfully practical and thoughtful little stocking stuffer gift.
After sealing the nozzle onto the valve stem, you'll get an accurate tire pressure measurement with just a single click of a button. This is sure to make any journey, from road trips to the morning commute, easier and more efficient.
Not only does it take away the need to visit a tire pressure station, but your guy will be able to know if there's something up with his tire pressure before it becomes a more expensive trip to the mechanic.
20. Worldwide Travel Adapter
Check Price on Amazon
Every travel fanatic will love a handy travel adapter that's compatible with sockets just about everywhere they go – especially an adapter with USB and USB-C charging points.
It'll come in immensely handy. Not only will it save him a small fortune at the airport, but he won't need to have a big bag of different adapters in his carry-on or rucksack.
21. Heated Razor
Check Price on Amazon
Bring your guy the relaxing, soothing feel of a hot towel shave with a luxury heated razor in his stocking this Christmas.
Designed to turn a daily shave from a chore into a relaxing self-care activity, it'll bring the experience of a barber shave right to his bathroom.
22. Aftershave Balm
Check Price on Amazon
Help the guy on your Christmas gift list this year ditch the itch and ban the burn post-shave with some soothing aftershave balm.
A gentler version of the classic harsh aftershave reminiscent of 1960s advertising, these balms have added moisturizers and suit a wide range of skin types and conditions.
It'll be there to soothe that burning feeling after that clean shave runs a bit too close for comfort – and they smell great, too.
23. Sock It!
Check Price on Amazon
This wouldn't really be a Christmas gift ideas list without the obligatory mention of socks. They're kind of an evergreen gift – everyone can always use more socks.
For some true laughs, try to find a patterned pair, or a truly garish set to go with a Christmas sweater!
24. Multi-Tool
Check Price on Amazon
You can never go wrong with a multi-tool as a great stocking stuffer gift. Get your guy one that has all the bells and whistles – like a seatbelt cutter, a bottle opener, a corkscrew, scissors, and many more.
25. Home Spa Set
Check Price on Amazon
In recent years, spas and relaxation retreats have exploded in popularity – and with good reason! They're a fabulous way to truly wind down and shake off some stress.
Treat the guy on your Christmas gift list to his very own relaxing pamper session at home. When you're stuffing his stocking this Christmas, face masks, moisturizer, some therapeutic bath or shower gel, and a nail grooming kit are all great choices, separately, or as part of a larger set.
26. Beard Shaping Tool
Check Price on Amazon
Another one for the beard fans out there – give your guy the gift of a flawlessly sculpted beard in his Christmas stocking this year with a beard shaping tool.
This nifty little tool is absolutely invaluable when it comes to achieving barber-shop quality beard trims.
The tool is shaped to provide the user with a perfect curve to trim around, as well as a beard comb on the side, so he can achieve a perfectly evenly sculpted man-mane in just minutes.
---
With a little thought and creativity, this year's stocking can be packed with thrills, surprises, and joy for the man you're buying for.
Get inspired with our cool and awesome list of stocking stuffers. From DIY to grooming, there are so many great gifts out there men will love and use, that don't cost the earth and fit snuggly into a stocking.
You Might Also Like to Read
---
Keep this list of stocking stuffers for men ready for the holiday season, by saving this article to one of your gift guide Pinterest boards.