This post may contain affiliate links, meaning if you book or buy something through one of these links, I may earn an affiliate commission at no additional cost to you. Learn more
Organize an unforgettable movie night this Halloween with one or more classic films from our ultimate Halloween movie bucket list – perfect for a night of thrills!
Halloween Movie Bucket List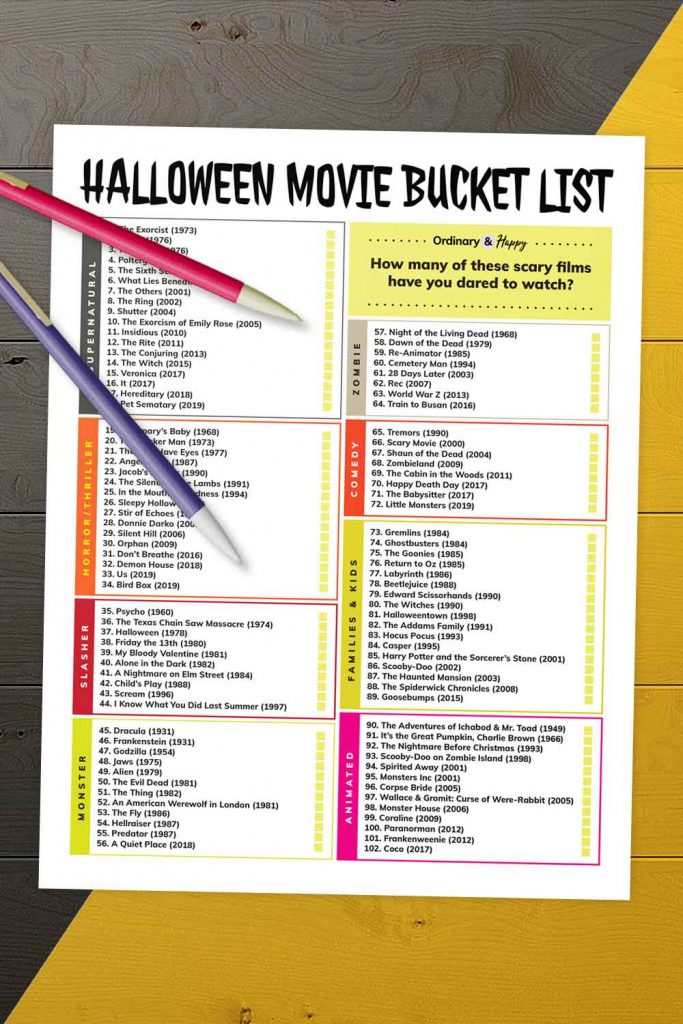 Nothing beats a good ol' spook fest in front of the TV come Halloween. But with so many films online these days, finding one worth its weight in popcorn can be tricky.
So don't dawdle over Netflix's recommendations. Use our 100+ list of classic spooky, scary, gory, and timeless Halloween films to choose a film that's for you, and whoever else is watching.
We've grouped them into categories, so you can jump to the section you want: supernatural // horror & thriller // slasher // monster // zombie // comedy horror // suitable for kids // animated Halloween movies, or scroll through the article for a big list of Halloween movie ideas.
Scroll to the end of this article to download this ultimate list as a printable PDF.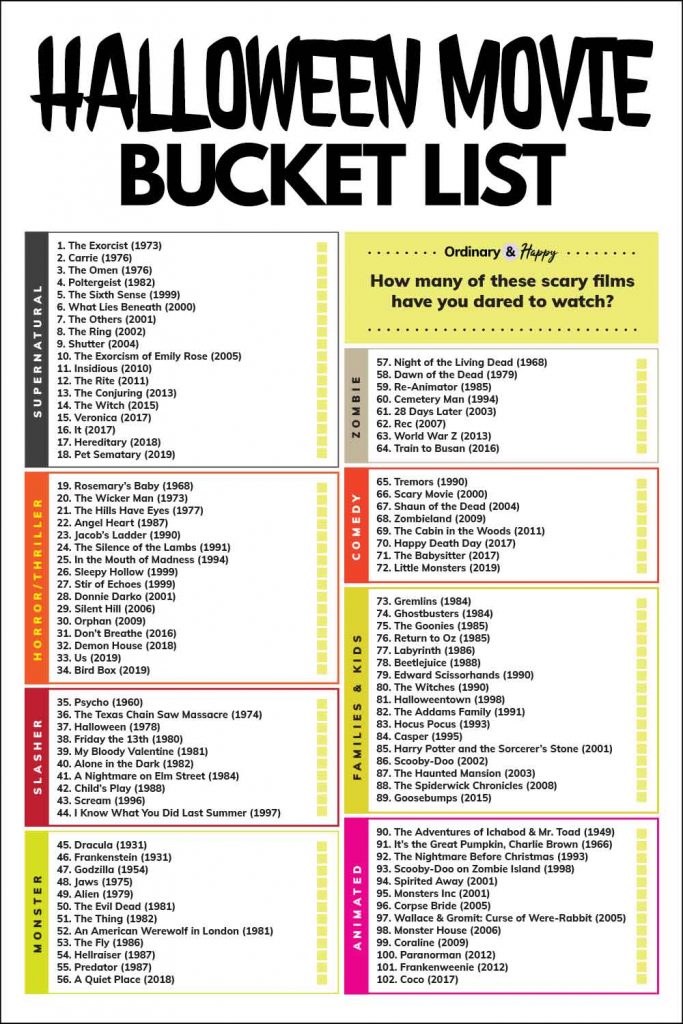 ---
Supernatural
Supernatural movies are filled with tension and plenty of fright. If you love your Halloween movies to fill the room with suspense, give you the creeps, and make you jump for the ceiling, this section is for you.
1. The Exorcist (1973)
2. Carrie (1976)
3. The Omen (1976)
4. Poltergeist (1982)
5. The Sixth Sense (1999)
6. What Lies Beneath (2000)
7. The Others (2001)
8. The Ring (2002)
9. Shutter (2004)
10. The Exorcism of Emily Rose (2005)
11. Insidious (2010)
12. The Rite (2011)
13. The Conjuring (2013)
14. The Witch (2015)
15. Veronica (2017)
16. It (2017)
17. Hereditary (2018)
18. Pet Sematary (2019)
---
Horror & Thriller
From psychological thrillers to murder mysteries, there are plenty of beloved and scary films in our horror and thriller section.
These films offer a little everything. There can be gore, lots of action, plenty of suspense, and a gripping plot. Movie buffs, in particular, should look at some of these films.
19. Rosemary's Baby (1968)
20. The Wicker Man (1973)
21. The Hills Have Eyes (1977)
22. Angel Heart (1987)
23. Jacob's Ladder (1990)
24. The Silence of the Lambs (1991)
25. In the Mouth of Madness (1994)
26. Sleepy Hollow (1999)
27. Stir of Echoes (1999)
28. Donnie Darko (2001)
29. Silent Hill (2006)
30. Orphan (2009)
31. Don't Breathe (2016)
32. Demon House (2018)
33. Us (2019)
34. Bird Box (2019)
---
Slasher
This section is not for the faint-hearted! Slasher films are your classic gorefests, filled with violence, blood, and often helpless teenagers meeting their maker in gruesome ways at the hands (or blades) of an iconic villain.
If you want to truly turn up the fear factor, give some of these slasher films a try this Halloween.
35. Psycho (1960)
36. The Texas Chain Saw Massacre (1974)
37. Halloween (1978)
38. Friday the 13th (1980)
39. My Bloody Valentine (1981)
40. Alone in the Dark (1982)
41. A Nightmare on Elm Street (1984)
42. Child's Play (1988)
43. Scream (1996)
44. I Know What You Did Last Summer (1997)
---
Monster
Fans of the suspense and thrills that come from running from, or evading, the clutches of now-renowned monsters and creatures should choose a film from this list.
These films use the fear and mystery of gigantic animals and mysterious beasts to keep you on the edge of your sofa throughout.
45. Dracula (1931)
46. Frankenstein (1931)
47. Godzilla (1954)
48. Jaws (1975)
49. Alien (1979)
50. The Evil Dead (1981)
51. The Thing (1982)
52. An American Werewolf in London (1981)
53. The Fly (1986)
54. Hellraiser (1987)
55. Predator (1987)
56. A Quiet Place (2018)
---
Zombie
If you want plenty of jumps, action, gore, and mass hysteria, the zombie movie genre has everything you need for a memorable Halloween movie night.
The rush that comes with watching ordinary people hack their way through an army of undead in order to survive can often feel a little too close to home!
57. Night of the Living Dead (1968)
58. Dawn of the Dead (1979)
59. Re-Animator (1985)
60. Cemetery Man (1994)
61. 28 Days Later (2003)
62. Rec (2007)
63. World War Z (2013)
64. Train to Busan (2016)
---
Comedy Horror
Can't face a full-blown evening of gore, suspense, and frights? The comedy-horror genre has some real gems to help lighten the mood with some laughs and humor.
Some films thread in black humor to break up the suspense, while others, such as the Scary Movie franchise, are full-on parodies of the horror genre.
65. Tremors (1990)
66. Scary Movie (2000)
67. Shaun of the Dead (2004)
68. Zombieland (2009)
69. The Cabin in the Woods (2011)
70. Happy Death Day (2017)
71. The Babysitter (2017)
72. Little Monsters (2019)
---
Suitable for Kids
Want to host a Halloween movie night that's fun for the whole family? Give one or more of these classic Halloween-themed films a try.
Most of these films were initially PG-rated, or PG-13 rated today, meaning that while they still have their spooky moments, they are generally a fun watch for people of all ages.
73. Gremlins (1984)
74. Ghostbusters (1984)
75. The Goonies (1985)
76. Return to Oz (1985)
77. Labyrinth (1986)
78. Beetlejuice (1988)
79. Edward Scissorhands (1990)
80. The Witches (1990)
81. Halloweentown (1998)
82. The Addams Family (1991)
83. Hocus Pocus (1993)
84. Casper (1995)
85. Harry Potter and the Sorcerer's Stone (2001)
86. Scooby-Doo (2002)
87. The Haunted Mansion (2003)
88. The Spiderwick Chronicles (2008)
89. Goosebumps (2015)
---
Animated
If animated films are your forte, there are plenty of great choices out there, suitable for watching on Halloween.
If you have particularly young kids, many of these films are a great choice. Often in animated movies, the setting or plot is based around themes of monsters, ghouls, and ghosts, but the frights are kept to a minimum, and the characters are loveable!
90. The Adventures of Ichabod & Mr. Toad (1949)
91. It's the Great Pumpkin, Charlie Brown (1966)
92. The Nightmare Before Christmas (1993)
93. Scooby-Doo on Zombie Island (1998)
94. Spirited Away (2001)
95. Monsters Inc (2001)
96. Corpse Bride (2005)
97. Wallace & Gromit: The Curse of the Were-Rabbit (2005)
98. Monster House (2006)
99. Coraline (2009)
100. Paranorman (2012)
101. Frankenweenie (2012)
102. Coco (2017)
---
Feel free to download our free Halloween movie bucket list PDF and check off as many as you can!
Bring plenty of thrills, frights, and joy from the big screen into your humble abode this Halloween with one or more of these brilliant movies to set the scene for a spooky Halloween.
Whether you're looking for all-out action, an evening hiding behind the sofa, or a movie the kids will love, there's something on this list for everyone.
You Might Also Like to Read
---
Looking to plan a memorable movie night for Halloween? Keep this Halloween movie bucket list in a safe place, by saving this article to one of your Pinterest boards.