This post may contain affiliate links, meaning if you book or buy something through one of these links, I may earn an affiliate commission at no additional cost to you. Learn more
Stuck for something to do? These fun and creative things to do when bored can help you get out of a rut, make better use of your free time, and do wonders for your well-being.
Things to Do When Bored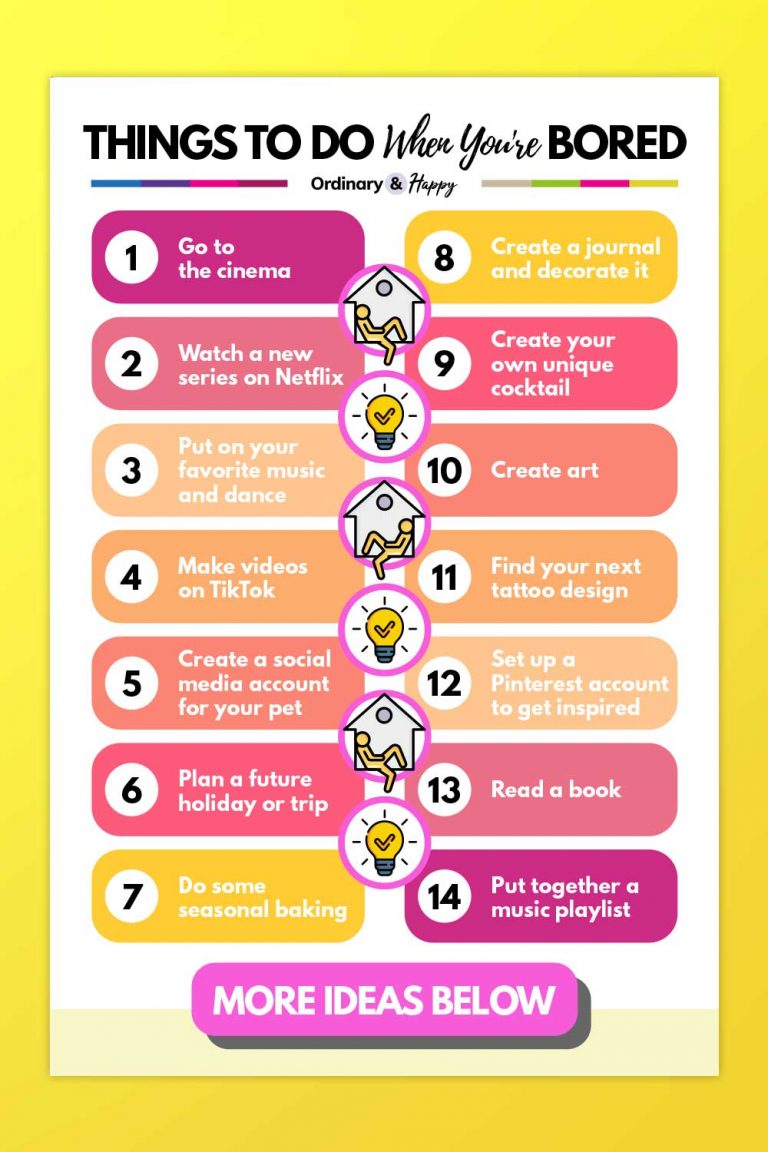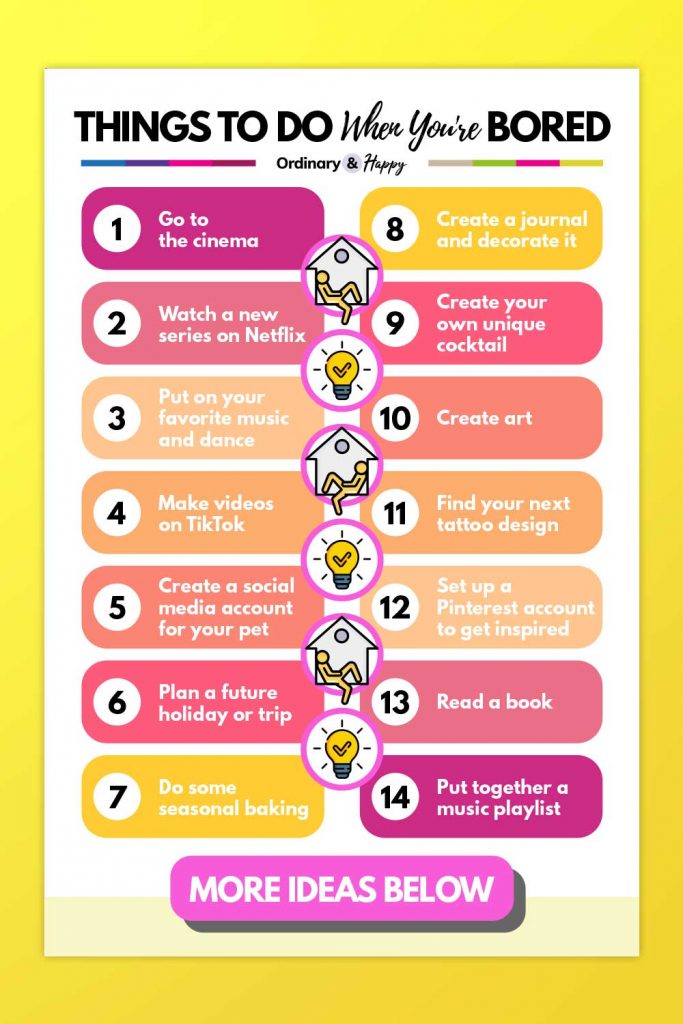 ---
Fun
1. Go to the Movie Theater
Exciting new movies are released every week. No matter your favorite genre, you're bound to find a film to suit your taste.
Plus, going to the movie theater is a great excuse to eat mountains of delicious popcorn!
Related: 100+ Movie Trivia Questions and Answers for a Hollywood-Themed Quiz Night
2. Watch a New Series
If you don't fancy a cinema trip, streaming platforms such as Netflix constantly release new, highly rated series. You're bound to find something to binge-watch.
3. Put on Your Favorite Genre of Music and Dance
Dancing to your favorite music has a range of health benefits. It improves aerobic fitness, enhances muscle tone and strength, and promotes better coordination, flexibility, and agility.
Of course, it goes without saying, but dancing will also make you smile!
4. Make Videos on TikTok
The social media platform TikTok now has over one billion users worldwide! So why not try and create your first viral video?
TikTok users love to see anything from dance routines to recipes and much more. Whatever you're interested in, you'll find a community of individuals on TikTok who will share those passions with you.
5. Create a Social Media Account for Your Pet
Playing with pets, especially cats and dogs, reduces stress, anxiety, and depression and makes you feel less lonely.
If you want to, you can even take it one step further and create an Instagram or TikTok account for your pet. People on social media love cute pet photos; you can never have too much of a good thing.
6. Plan a Future Holiday or Trip
If you haven't planned your next trip away just yet, why not do some holiday planning?
Whether you use a planning app or simply print off a trip planner, there are plenty of ways you can plan your dream getaway, all in one place. Now that most travel restrictions have been lifted, the world is your oyster!
---
Unique and Creative
7. Do Some Seasonal Baking
Whether it's spring, summer, autumn, or winter, seasonal baking is a great way to spend an afternoon.
So why not welcome winter by baking some delicious gingerbread, or say hello to spring with some aesthetically-pleasing floral cupcakes?
8. Create a Journal and Decorate It
Journaling is a great way to keep your thoughts organized and unleash your creativity. Decorate your new journal with illustrations and doodles to make it truly personal.
9. Create Your Own Unique Cocktail
If you've got some alcohol, mixers, and assorted ingredients, such as fruit laying around the house, you could create a new and unique cocktail.
Plus, it's a great way to use up dribs and drabs of drinks that you may have scattered around the house.
Related: Best Home Bar Gadgets and Accessories to Own
10. Create Art
Regardless of your artistic abilities, creating art is innovative, calming, and inspiring.
So, grab a piece of paper and sketch some drawings, or perhaps you could rescue that painting set you haven't used in a few years, and see what you can come up with.
Art stimulates the imagination and even helps to reduce stress.
Read more: 100+ Drawing Ideas List and 100+ Painting Ideas List
11. Find Your Next Tattoo Design
Tattoos enable you to express yourself, and there are thousands of designs out there waiting to be discovered. Have a browse online to see which designs tickle your fancy.
12. Set up a Pinterest Account to Get Inspired
Think about something you've wanted to do for a while. It could be redecorating your room or starting a side hustle.
Then, look through Pinterest to get inspired, and curate boards with your favorite ideas and designs. You'll come away from it with renewed energy and desire to bring your ideas to life.
---
At Home
13. Read a Book
If you're bored at home, why not curl up on the sofa with a good book and read it cover-to-cover, even if you've read it before?
For many of us, the feel of paper and the act of turning the pages never gets old.
But if you're struggling for space or book ideas, get yourself a Kindle Paperwhite. From there, you can take a chance on thousands of titles, all from one device.
14. Put Together a Music Playlist
Log on to your music streaming platform of choice and create a new, inspiring playlist based on your current mood.
If you're looking for some mood-based inspiration, Spotify has a range of playlists based on moods, such as happiness, sadness, excitement, and many more.
15. Have a Bubble Bath
Taking a hot bubble bath is the ultimate form of relaxation. Step it up a notch by lighting some candles, putting on some music, and soaking in the bathtub for as long as you need.
Read more: DIY Spa Day at Home
16. Create an Interesting New Meal Plan
Creating a meal plan saves you time in the week, reduces the amount of food waste, and gives you a more varied diet.
If you're feeling bored at home, creating a meal plan is a great way to prepare for the week ahead.
17. Do an Extended Skincare Routine
An effective skincare routine leads to clear, smooth skin. So, if you're bored at home, do an extended skincare routine to give your skin a treat!
Instead of washing your face and applying some moisturizer afterward, try toner, serum, eye cream, spot treatment, and some face oil, too.
18. Practice Meditation
Are you feeling stressed or anxious? If so, practicing meditation could help as it has a range of benefits.
For example, it reduces stress, helps to control anxiety, and improves sleep quality. If you need a little help, there are plenty of apps, such as Headspace, and YouTube videos to guide you through your practice.
---
With Friends
19. Plan a Costume party
Who doesn't love to dress up? Get together with your friends and plan a fun costume party.
Perhaps you could take it further and set a theme, such as a Hollywood, wild west, or pirate-themed party.
Whichever theme you decide on, you'll all have a great time!
Read more: Best Dress-Up Party Costume Ideas for Adults
20. Play Board Games
Nothing cures boredom like a good old board game. Classic games such as Cluedo, Monopoly, Scrabble, and the Game of Life are family favorites.
However, lesser-known games such as Codenames, Cards Against Humanity, and Exploding Kittens are highly rate and may be a fun alternative to the classics.
Read more: 20 Board Games for Adults for an Evening of Fun with Family and Friends
21. Have a BBQ
If the weather is pleasant, why not fire up the BBQ and have a gathering with your friends?
Great food can always bring people together at short notice, especially if there are juicy burgers involved!
22. Have an Impromptu Spa Day
Trade an expensive spa day ticket for a home DIY spa day. Great choices include sheet masks, bath bombs, bath salts, facial and body exfoliators, bath foam, and essential oils, among many others.
With a little creativity and a few products, you can enjoy an afternoon or evening of wellness and relaxation from the comfort of your own home. You could even have your own mani-pedi.
23. Visit a Local Museum that You've Never Been to Before
No matter where you live, you're likely to find a museum near you, especially if you live in a town or city.
Most museums have free entry, and there are always interesting exhibitions and things you'll learn. Museums are a great way to tackle boredom.
---
On a Budget (Cheap or Free)
24. Start a Blog on the Topic of Your Choice
From creative writing to sharing photography, starting a blog to share your passion online is a great use of your creative energy and can give you something to focus on in your free time.
There are plenty of free services online to get you up and running, and there's no limit to how much you can grow your blog, add new content, and share it through social media.
25. Build a Fort
Bring the outdoors in by camping indoors! Grab some bedsheets and hang them over some chairs to create your very own indoor fort.
Gather some pillows and blankets and cozy up in your fort. If you're feeling creative, why not add some fairy lights to make your set-up feel truly magical?
26. Play Chess
If you've got an old chess set lying around, dust it off and play a few games with a friend or family member.
Alternatively, if you've never played chess before, research the game rules, and give it a try for the first time. There are plenty of online chess websites and apps to help you fall in love with this age-old game of strategy.
27. Go on a Virtual Tour
Virtual tours and experiences can take you anywhere in the world. There's no end to the places you can discover, and the awe and intrigue can draw you in for hours at a time.
28. Be a Tourist in Your Own Neighbourhood
We sometimes take the beauty of our own neighborhood for granted. If you're looking for something to do for free, taking a stroll around the village, town, or city where you live will allow you to fall back in love with your neighborhood.
Perhaps you'll even discover a new shop, landmark, or green space that you haven't visited before.
---
Productive
29. Organize Your Kitchen Cupboards
Tired of cluttered draws and stacks of pots and pans? Organizing your kitchen can be a great way to stave off boredom while being a therapeutic task at the same time.
Work through your kitchen methodically, and reorganize each drawer and cabinet one by one. Try to group certain items together, and stack utensils that fit perfectly inside each other.
Read more: Cool Kitchen Organization Gadgets and Accessories You Need
30. Organize Your Finances
If you haven't done so already, creating a budget can help you manage your money more effectively.
If you find it helpful, you could use a financial planning app to help you keep track of your expenses.
31. Declutter Your Wardrobe
Organizing your clothes by category, removing items you haven't worn in a while, and donating items will help clear both your mind and your living space.
32. Do a Workout
If you're feeling bored but want to do something productive, why not give a new workout routine a try?
You don't necessarily need an exercise machine, either. Instead, you can try a range of at-home workouts that require no equipment.
33. Learn a New Language
There are several reasons to learn a new language. Being bilingual allows you to connect with individuals all over the world and can help advance your career.
Free-to-download apps such as Duolingo will enable you to learn a new language in your own time, and in the comfort of your own home.
34. Clean and Rearrange your Bedroom
Rearranging your bedroom is a gratifying task that many of us endlessly put off.
Taking the leap and doing a deep clean may feel like a chore, but the end result is a tidy, fresh space that you'll enjoy spending time in.
---
Outdoors
35. Go for a Walk in Nature
Walking in nature has various benefits; it improves your mood, reduces feelings of stress, and improves your physical health.
Listen to the birds in the trees and take in all the beautiful colors around you. Spending time in nature is healing.
36. Watch a Sunrise or a Sunset with a Loved One
Watching a sunrise or sunset with someone special is a heartwarming feeling.
If you can, find a spot at the top of a hill with a clear view so you can take in as much of the sky as possible. You won't regret it!
37. Sunbathe
If the sun is out, gather your sun cream, your sunglasses, a towel, and bask in the sun rays.
Whilst you're soaking in some vitamin D, why not read a book or listen to your favorite podcast?
38. Build an Obstacle Course
If you're looking for something fun to do outdoors, why not build a DIY obstacle course for yourself, your child, or your pet?
Spending time outdoors and getting active is essential to your health. You can use skipping ropes, hula hoops, balls, and other objects to create your own personal obstacle course to conquer.
39. Do Some Gardening
Why not roll up your sleeves and get your hands dirty in your garden if the weather allows?
Alternatively, if you don't have access to outdoor space, why not plant some flowers in a windowsill planter? It'll scratch your gardening itch and add a splash of color to your home.
---
More Things to Do
40. Try a New Online Workout
Nothing shakes off the fatigue of boredom better than getting your body moving and energized. Try a virtual workout with an instructor,
41. Watch Your Favorite Music Videos
Indulge in a little musical therapy, and take a trip down memory lane by searching YouTube for some of your favorite music videos.
42. Reorganize Your Kitchen Cabinets
Channel your energy into doing one of those things you always put off and reap the benefits of having a little organization in your life. You could even clean out the junk drawer while you're at it.
43. Start an 'Order Takeout Around the World' Challenge
One week it could be Greek, and the next week, it could be Thai. When you're bored and feeling hungry, you can revisit this super fun challenge and see how many different cuisines you can try.
44. Recreate Your Favorite Restaurant Meal at Home
There are plenty of tutorials online to help you make iconic drinks and dishes for renowned brands.
Get creative in the kitchen, and challenge yourself to recreate a dish you always order when eating out.
45. Create Alternative Artwork for Your Favorite Songs
Get creative with paints, drawing, or photography, and design emotive albums or single artwork for some of your favorite songs.
Channel your emotion, and see what you can come up with.
46. Have Your Own At-Home Spa Day
There are so many simple ways you can recreate the spa experience from the comfort of your own home.
Indulge in a little self-care and wear a face mask, light scented candles, and relax your whole body with an aromatic and hot bubble bath.
Read more: Create the Perfect DIY Spa Day at Home in Just 10 Steps
47. Bake Cookies in the Shape of Famous Characters
Get some molds, and use sweets and icing to create cookies representing beloved characters from shows and animated movies. Video or photograph them, and start social media channels for your creations.
48. Gamify Your To-Do List
Can't face old paperwork or household chores? Write down your chores, and assign rewards for completing each one on the list. Use a housemate or family member to hold you accountable.
49. Watch Video Game Streams
Pass your free time in an entertaining way by turning to the likes of YouTube and Twitch and watching popular gaming channels.
You don't need to play video games to enjoy watching others do it in a fun and entertaining way.
50. Create a New Cocktail Recipe and Get People Online to Name It
Go wild with fresh ingredients and create an exciting new recipe for a cocktail.
Film and photograph it, and then turn to your friends and social following to come up with suggestions for naming it. Put it to a poll if you like more than one idea.
51. Create a Care Package for Someone Who Needs it
Maybe one of your best friends is going through a hard time, or maybe you just want to do something nice for your grandparents.
Find an old box, and fill it with food, clothes, memories, and little things that can bring joy. Deliver it, and enjoy putting a smile on someone's face and reconnecting with them in the process.
52. Upcycle and Decorate Old Furniture
Have a look around the house for weathered or damaged furniture. Watch upcycling tutorials, or get creative with paints, and breathe new life into that old piece of furniture.
You could even sell the furniture on online marketplaces or create an Instagram to showcase your before and after photos and videos.
53. Pinterest Ideas for New Outfits
Get excited about the upcoming seasons, and spend a little time putting together gorgeous outfits that you could shop for online.
54. Start a Writing Group and Meet Weekly
As fun activities go, this is a great way to do something creative and find new friends.
Post on Facebook or Meetup, and choose a cozy cafe in your area to meet up once a week for an hour to write silently together.
55. Revisit Playing a Musical Instrument You're Familiar with
Many of us played an instrument as a child but then stopped practicing and lost interest as we got older.
If this sounds familiar, see if you can ignite that spark once again. Order the musical instrument online, and start playing it again.
56. Walk and Listen to a New Podcast or Audiobook
To help you get some fresh air, find a podcast or audiobook you're interested in. Enjoy listening about something that intrigues you, while enjoying the great outdoors and not being stuck inside.
57. Design Your Own Board Games
Get plenty of pencils and paper, and let your imagination run wild by coming up with new and exciting ideas for board games.
Show them to your friends or post online, and see if any of them have potential.
58. Do Absolutely Nothing and Be Present
Ironically, doing nothing is sometimes the hardest thing to do. When we've been looking at the same walls all day, we often feel trapped and agitated.
Learning how to simply enjoy free time for what it is can be a powerful tool. Don't feel like you have to clean the whole house or do something creative, just be present.
Practice deep breathing to help you, and even venture into a little meditation.
It may feel impossible to do at first, but with time you can learn to appreciate peace and silence for what they are.
---
Don't let boredom suck up your free time and send you into a spiral of frustration and lack of motivation.
Use these great things to do when bored to find fun and creative outlets for your energy and maybe even find a new hobby or passion along the way.
You Might Also Like to Read
---
Feeling bored? Keep these ideas and things to do to keep boredom at bay for later reference by saving this article to one of your Pinterest boards.