This post may contain affiliate links, meaning if you book or buy something through one of these links, I may earn an affiliate commission at no additional cost to you. Learn more
Get inspired to make the most of your free time with our list of awesome things to do at home to quench the boredom, have fun in your own space, and make special memories.
Things to Do at Home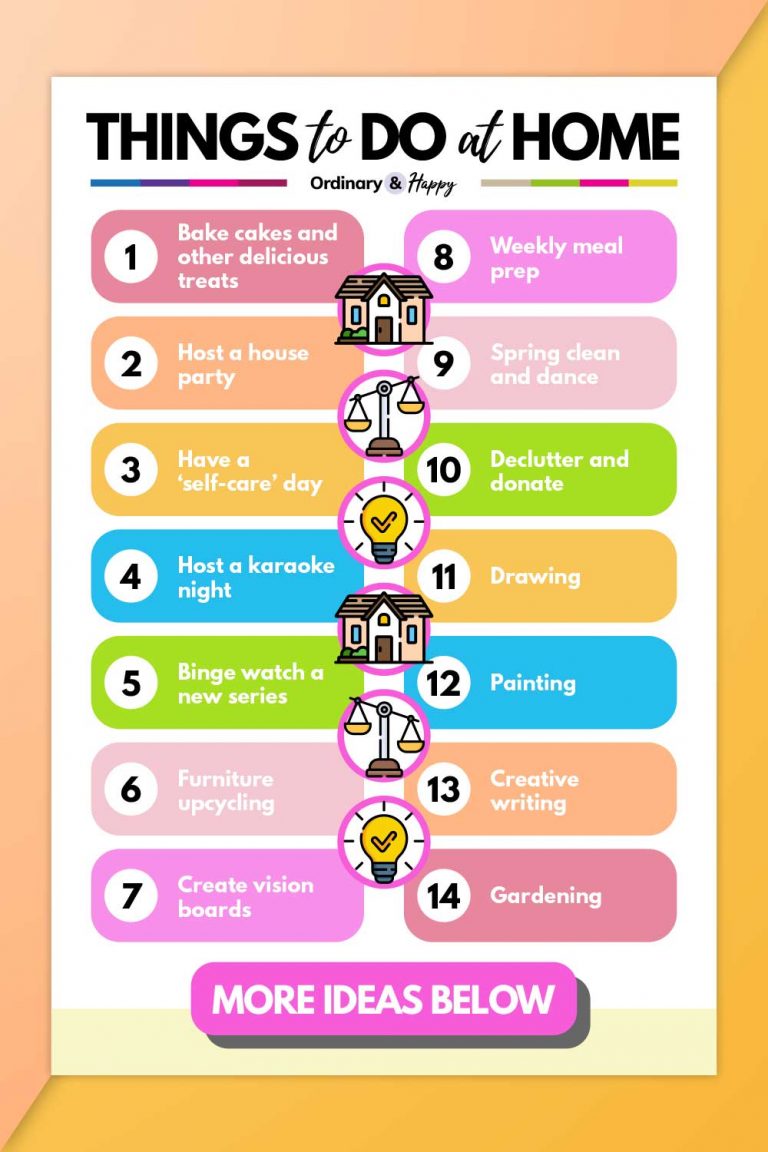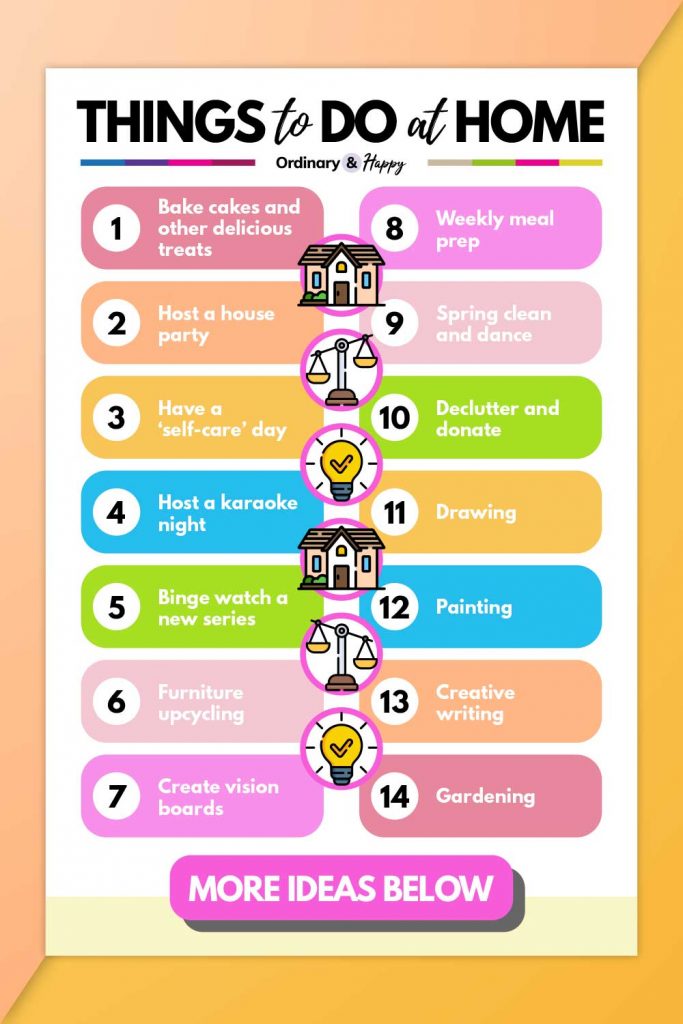 ---
Fun
1. Bake Cakes and Other Delicious Treats
Put a smile on the face of friends, family, and loved ones, and pass the time in a fun and creative way by choosing from a wide range of baked treats to make in your home kitchen.
From citrusy lemon sponge cakes to dainty, icing-covered cupcakes, there are so many baked goods you can try your hand at.
Related: Best Online Cooking Classes
2. Host a House Party
A great excuse to bring friends and family together, there are so many ways you can entertain your guests from your own home.
You could throw a murder mystery night, ignite some competitive spirit with some board games, or bring some class to proceedings with wine and cheese. The opportunities are endless, but the fun will be in abundance!
3. Have a 'Self-Care' Day
Feeling tired after a long week of work, or needing a break from the noise of social media? Keep your physical and mental health in a good place with a wonderful self-care day and some self-care essentials.
Run a bubble bath, enjoy a new series on Netflix, or try a new nail color, all from the comfort of your couch. It's good to unwind and have some 'me' time.
Related: Best Self-Care Ideas
4. Host a Karaoke Night
A night of fun, laughter, and not quite hitting the high notes await if you host your very own karaoke night.
Invite your friends around, and either line up some classic numbers on YouTube, or get yourself a karaoke machine to really take things back to the 90s. Jam out to your favorite tunes, and sing the night away!
5. Binge-Watch a New Series
Sometimes, more than a few hours with a famous detective or a scandalous antihero are in order.
If there's a show you've been meaning to watch for ages and you've got plenty of time at home, gear up for some serious binge-watching!
Curl up on the sofa with your duvet, have plenty of snacks on hand, and lose yourself in gripping plots, suspenseful drama, or all-out action.
---
Productive
6. Furniture Upcycling
Whether it's a chipped cupboard in your spare room or a free wardrobe on Facebook marketplace, furniture upcycling is a fun and productive way to spend time at home.
The joy that comes from repairing something and making it look new is incredibly powerful. Plus, if you're willing to pick up furniture, you could even start a side hustle for extra cash.
7. Create Vision Boards
Often, we are so focused on the day-to-day, we forget to think long-term. We forget about our passions, what we love to do, and dreaming big.
Be it for a much-needed vacation, a career goal, or your adventure bucket list, an afternoon vision boarding your aspirations, goals, and dream life will go a long way to bringing happiness and direction to your life.
8. Weekly Meal Prep
The bustle of life often means daily tasks, such as cooking and eating healthy meals, can become very overwhelming.
If you have some spare time, line up your week by preparing a handful of meals that can be stored and refrigerated, or frozen.
From salads to curries, there are plenty of dishes that are perfect for meal prep. That way, you'll free up your evenings and not give in to the allure of unhealthy takeaway every night.
9. Spring Clean and Dance
House needs a deep clean, but you can't face the hours and energy needed to make your home sparkling? Why not add a little rhythm and fun to your cleaning?
If you're at home, add plenty of fun to your household chores by playing your favorite music.
Whether the music is playing through a speaker or headphones, you can make cleaning fun and enjoyable by dancing, jiving, and singing at the same time.
10. Declutter and Donate
Take the opportunity to go through your drawers, cupboards, and storage, and see if you can downsize your belongings and declutter your life.
For many people, decluttering goes a long way to relieving stress and anxiety.
There are also plenty of charity shops and thrift stores that will happily take unwanted clothes and items you simply don't need anymore.
---
Creative
11. Drawing
Therapeutic and plenty of fun, some paper, pens, and pencils are all you need to find a productive outlay for your creative energy.
You can try still life, watch some online tutorials, and even choose from over 100 ideas with our ultimate drawing bucket list printable.
12. Painting
Hours of fun and positivity await if you decide to try your hand at painting. There are so many different mediums and styles, you're sure to find a style of painting that works for you.
Need a little inspiration? Have a look at our ultimate list of painting ideas, with over 100 to choose from, and save yourself potentially hours of deciding what you should paint.
13. Creative Writing
Be it poetry, intriguing mysteries, or romantic affairs, writing is the ideal creative thing to do at home to challenge yourself and channel your creative flair. You can write on paper or craft your compelling stories on a laptop.
14. Gardening
If you have a garden, there's so much you can do if you get into gardening. From horticulture to growing your own vegetables, the possibilities are endless.
Don't have a garden or outdoor space? That's not a problem! Be it indoor plants, herb gardens, or cacti, there are plenty of ways you can care for plants inside.
15. Take Online Classes
The opportunities to learn online are endless. Be it international cuisine courtesy of Masterclass, or becoming fluent in a second language via Duolingo, use your free time to learn, grow, and open yourself up to new hobbies, interests, and opportunities.
Related: Best Skills to Learn Online
---
By Yourself
16. Spa Day
Treat yourself to some much-needed relaxation with your very own at-home spa day.
Wear face masks, enjoy a hot bath with essential oils, and give yourself a mani/pedi, among many other things.
Use our ideas for an at-home spa day to get inspired, and set aside an afternoon or evening to really unplug and take better care of yourself.
17. Play Online Games
Gaming doesn't just have to be for people with game consoles and love of first-person shooter games. Through your phone or laptop, there are so many amazing games you can try your hand at.
Games such as 'Among Us,' which have a social element to them, can be enjoyed by anyone. With so much choice, there's bound to be a game out there you can enjoy playing while interacting with others.
18. Dance to Music
Sure, we don't all have the moves like Jagger, but if you're at home by yourself and no one can see you, who really cares?
Put some loose clothes on, fire up your favorite tunes, and bust out some serious moves. You'll feel amazing at the end of it all!
19. Learn Something New
If you need some mental stimulation, type a subject, topic, or trend of interest that intrigues you into Youtube or Google, and see what you can discover.
Whether it be through visual storytelling or a well-crafted article, you can spend hours expanding your horizons and acquiring knowledge about something you didn't know before.
Read more: 30 Skills to Learn Online that are Lucrative, Fun, and Life-Changing
20. Read a Good Book
Sometimes, nothing beats curling up on the sofa with a good book. Whatever genre you love, we can all try to find more time to lose ourselves in mythical worlds and intriguing whodunits.
If you don't have the space for books, try getting yourself a Kindle Paperwhite. You'll have access to hundreds of thousands of titles, all from the touch of a button.
---
With Friends
21. Movie Marathon
A movie night with friends is never a bore, especially if you delve into a childhood classic or a timeless trilogy.
Can't decide on what to watch? Try putting suggestions in a hat or bowl and picking randomly.
22. Board Game Night
Be it a battle of general knowledge, a mad rush for points, or delving into magical make-believe worlds, there's no end to the fun you can have playing board games.
Load up on plenty of drinks and snacks, and have a few options to play. That way, everyone can vote to play their favorites.
Related: Best Party Games for Adults
23. Host a Barbeque
If the weather is warm, fire up the grill, prepare some delicious sides, and have your friends round for great food and even greater company.
Don't have a garden, or is the weather poor? Simply host your makeshift barbeque indoors, and prepare the meat in the oven, on a portable grill, or cook it in a pan.
24. Card Games
An evening of cards is a great way to spend time at home with friends. You can choose from so many different card games, including Cards Against Humanity, Uno, Snap, and Cheat.
Or, add a little Vegas to your evening and play some classic card games with a 52-card deck, such as 21, Go Fish, Switch, and Crazy Eights.
25. DIY Olympics
Channel your inner child, and treat your friends to some amazing DIY games and challenges in your very own Olympics.
Whether it's throwing a bean bag closest to a target, some makeshift limbo with a spare curtain rod, or shuttle runs in the garden, there are so many cool games you can play using objects you have at home.
---
For Couples
26. Redecorate a Room Together
Home renovation can be a lot of fun if you do it together. While rooms such as kitchens will need specialists, there's plenty you can DIY in your bedrooms, spare rooms, or garage.
Decide on a theme together, and spend time every week working on the room, from painting to pinning on Pinterest. This is a productive way to spend time together in the home while working toward a long-term goal together.
27. Life Goals and Planning
On the subject of long-term goals, less often do couples sit down together and actually talk about their goals and dreams.
Have an inspirational planning session together. Both talk about what you want to achieve, where you want to go, and so forth.
Together, you can find crossover, and work toward shared and separate goals together, helping you grow as a couple.
28. Around-the-World Cooking
It's great to cook for each other, but cooking together can be so much more fun. Choose a cuisine and a new dish you're unfamiliar with, and make it together.
From Mexican to Lebanese, there's a world of recipes in books and online that you can tap into and make from home.
29. Work Out
It's never been easier to work out from home. From yoga to high-rep cardio workouts, you can choose a home workout that you can both enjoy.
Even 10-15 minutes a day of dancing or circuit training together can be so much fun. In time, as you build confidence together, you can try new workouts, and invest in more home equipment.
30. Couples At-Home Spa Day
We all need a little pampering from time to time. With a little forward-thinking and planning, you can create the spa-day experience, together, from the comfort of your home.
Give each other massages, relax with face masks and a good movie, and create a calm atmosphere with scented candles and mood lighting.
---
With Family and Kids
31. Build a Fort
Every child loves to build forts, so why not try building a fort together? You can use anything from blankets and bedsheets to sizeable pieces of furniture to make a little cubby for you and your family.
Think back to your childhood days and enjoy some childish fun with your kids. Inside the fort, you can read, play games, and watch movies with your kids.
32. Make an Obstacle Course
For plenty of fun and activity, there's plenty of room to get innovative around the home with fun challenges and sports day-inspired games.
The floor is lava, hopscotch, and a jigsaw puzzle are just three of so many activities you could put in your DIY at-home obstacle course.
33. Have an Arts and Crafts day
There's no end to the fun you can have with your kids when you get creative. Whether it's finger painting, card-making, or Play-doh sculpting, let your kids get creative and see what you can come up with together.
34. Host a Costume Party
From astronauts to cowboys, something to beloved Disney characters, so many kids love dressing up and letting their imaginations run wild.
Order in plenty of snacks and have some games and activities in mind for your party. If you really want to get creative, attempt a DIY costume together with your kids from old clothes and items around the house.
35. Cake Baking and Decorating
Baking is good fun for the whole family and a great way to introduce your kids to valuable skills when it comes to the kitchen and knowing how to cook.
For extra fun and games, be sure there's plenty of icing and toppings at hand. Once you've baked your cake, you can all spend time decorating it together, making it look truly colorful and beautiful.
---
More Things to Do at Home
There are plenty more ideas to explore on our list, so keep scrolling and see if you can get inspired to spend more time at home doing fun and creative times.
36. Clean Out Your Closets and Have a Vintage or Decade-Themed Photoshoot
37. Create a Vision Board for Your Goals and Dreams
39. Make Homemade Greeting Cards for the Holiday Season
40. Host a Retro Video Game Tournament
41. Invite Friends Over for a Weekend Brunch
42. Swap Stories and Have Drinks in a Sharing Circle
43. Use any Art Supplies You Have to Make a Unique Piece of Wall Art to Hang Up
44. Have a Themed Movie Night and Wear Costumes
45. Have an Indoor Picnic
46. Print off Family Photos and Arrange Them all into Photo Albums
47. Live Stream Yourself Cooking a Recipe and Host Your Own Cooking Show on Social
48. Host a Virtual Onesie-Wearing Dance Party
---
There's so much fun, joy, and productivity to be had within the four walls of your humble abode. Sometimes, you just need a little inspiration and a willingness to try something new.
These things to do at home can provide you with hours of enjoyment, create plenty of memories, and help discover new passions and talents that you had no idea about before.
You Might Also Like to Read
---
Need helping thinking of ways to spend your time at home? Keep this article for safekeeping, by saving it to one of your Pinterest boards.