This post may contain affiliate links, meaning if you book or buy something through one of these links, I may earn an affiliate commission at no additional cost to you. Learn more
Fill your time in college with adventure, excitement, and unforgettable memories with these amazing college bucket list ideas, and make the most of this special time in your life.
College Bucket List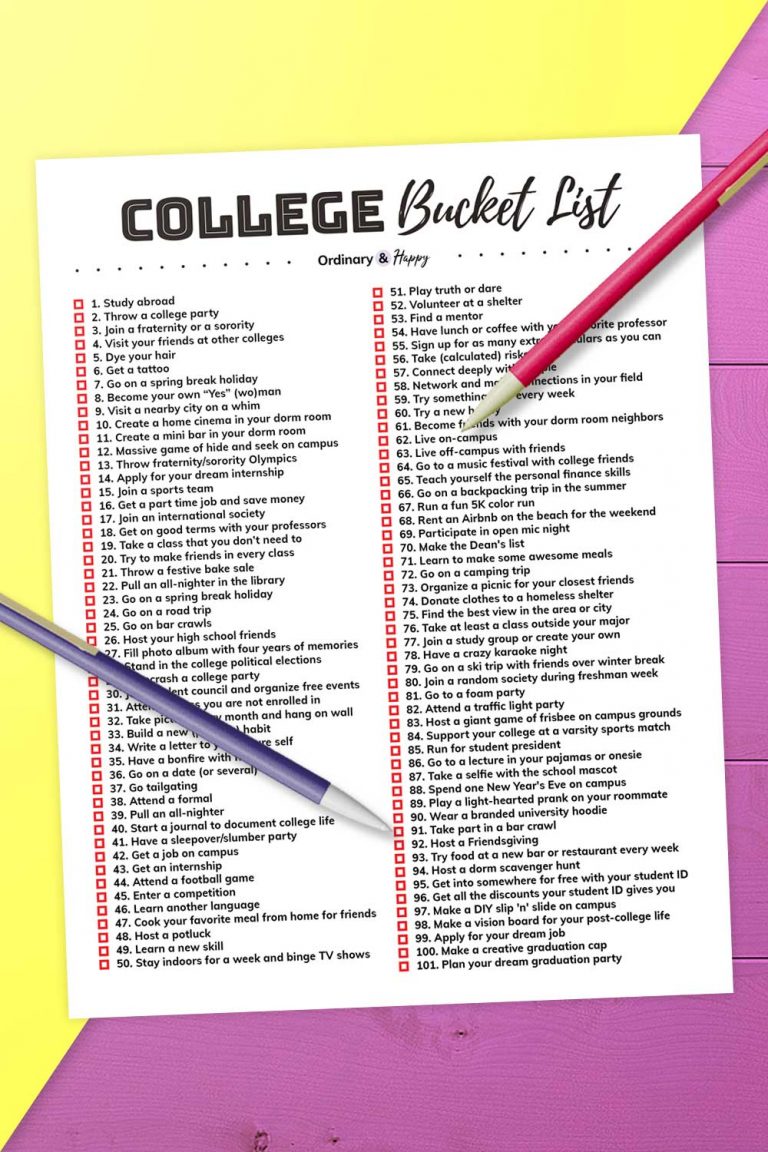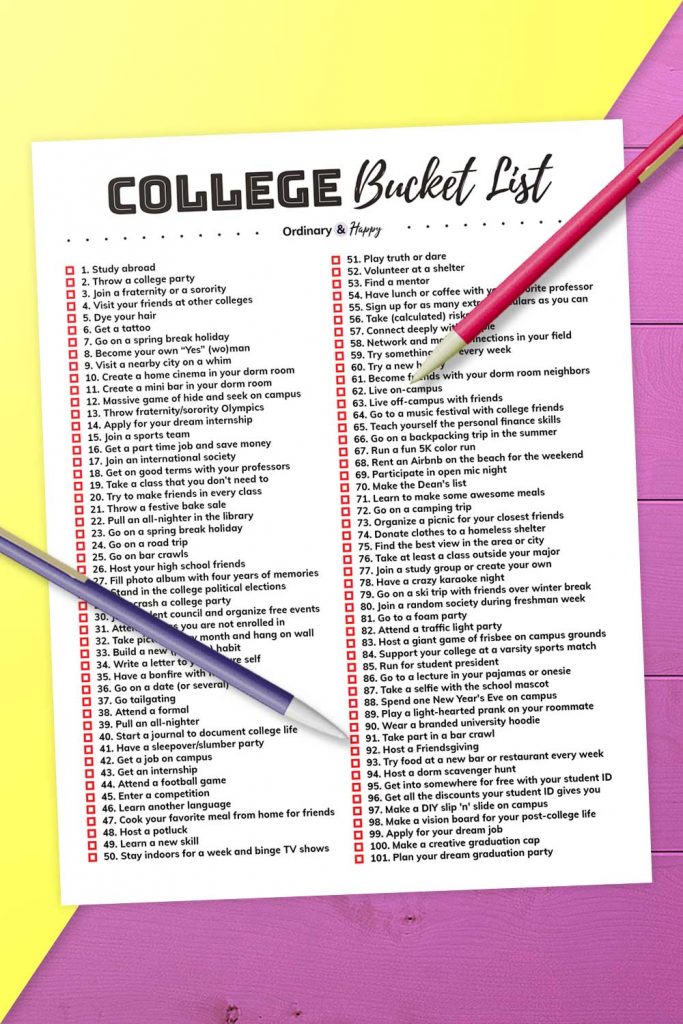 Want to challenge yourself to tick off all 100 throughout your time in college? Scroll to the end of this article to get our free printable PDF to download.
Print it off, pin it to your wall, and see how many you can tick off your college bucket list!
---
Fun
1. Study Abroad
Being at college is one of the only times when you'll have the opportunity to spend a year in another country and not have to worry about visas, excessive costs, or rent.
Take advantage of the opportunity and put yourself forward for the study abroad program – you'll experience a different country and another culture, another way of life, and even perhaps another language. Studying abroad also looks great on your CV!
2. Throw a College Party
College parties are the whole reason people go to college, right? No, but seriously, while college is a serious – and expensive – business, the experience is incomplete without throwing at least one classic, movie-style college party in your dorm.
Invite your classmates, tell them to bring their friends, and stock up on red cups and drinks. Maybe ask a friend to man the doorway if it starts to get out of hand!
3. Join a Fraternity or a Sorority
Joining a fraternity or a sorority is a great way to make solid friends that will last not just throughout your four years of college but well into your adult life.
Being in a sorority or fraternity will also provide endless opportunities to involve yourself in events, parties, historic rituals, and initiations, immersing yourself in the history of your college and its traditions.
It's also a great way to make friends if you're shy or don't know anybody at your school. Join a fraternity or sorority and make your college experience that little bit more exciting!
4. Travel to Visit Your Friends at Other Colleges
When at college, it's important to take advantage of one of the biggest perks of being a full-time student: free time!
Use this free time to do all the things that you won't be able to do when you're a graduate with a full-time job.
For example, travel to visit your friends at other colleges, especially if they're far. If your high school friends have all gone off to various schools and you're worried about losing touch with them, ensure to take a weekend or holiday trip to go visit them.
---
Crazy
5. Dye Your Hair
What better time to dye your hair a crazy color than at college? When you're a graduate searching for a job, hiring managers might frown upon a green bob or pink stripes. But when you're a college student, who cares?
Dye your hair a crazy bright color and fully immerse yourself into the college experience. When you go back home for Thanksgiving, however, you might want to bring a hat just in case.
6. Get a Tattoo
A little more permanent than pink hair dye, a tattoo is still a classic to slap on your college bucket list.
Whether you want to get a tattoo that you had planned for years, commemorate your time at college with a tattoo referencing your four years at school.
Get yourself inked, and have an eternal souvenir of what you will one day look back on as the good old days!
7. Go on a Spring Break Holiday Somewhere Far-Off
Spring break in Cancun or Florida is overrated: why not go somewhere far-off and spend your time off school immersing yourself in a faraway culture or new continent?
Maybe bring an adventurous friend along with you if you're going somewhere that can be dangerous!
Related: Spring Bucket List: 100+ Fun Things to do this Spring
8. Become Your Own "Yes" (Wo)man
Extra-curricular French class? Yes. Halloween costume party on Friday? Yes. Free shots? Yes. Trip to your friend's brother's wedding? Yes.
Without burning yourself out, try to say yes to as many opportunities as you can while you're at college, still young and energized.
When you have a full-time job, you won't be able to say yes to everything – you might even prefer to stay home with a hot cup of coffee and Netflix. Make the most of being young, and say yes to all that you can (within reason)!
9. Visit a Nearby City on a Whim
Another thing that you won't be able to do when you have a full-time job is do things on "a whim," such as a 2 pm haircut, a trip overseas, or a road trip on a whim.
When you've got a full-time job, the "whim" does not exist – just planners and "maybes" and "I'll see how it goes."
Take advantage of your free time and go visit a nearby city on a whim: dine in a local bistro, walk around the local tourist spots, and buy a book in a local bookstore for the train home.   
---
Unique
10. Create a Home Movie Theater in your Dorm Room
If you've got a spare couple of hundred dollars, invest in a projector and a projector screen and create a home cinema in your dorm room by linking up your Netflix or Amazon account.
And if, after a week, the novelty has worn off and that $200 gap in your bank account is looking grim, you can simply rent out your home cinema to your fellow students.
You'll recoup your investment in no time, and your dorm room might become a notorious first-date spot on campus!
11. Create a Mini Bar in Your Dorm Room
If your budget can no longer withstand the $12 cocktails in the local bars, buy a cocktail mixer and a recipe book, and create your own mini-bar or mocktail bar in your dorm room.
Invite friends over to your makeshift minibar, and pop on some jazz music to create an authentic cocktail (or mocktail) bar atmosphere.
12. Organize a Massive Game of Hide-and-Seek on Campus
Another activity that is only acceptable if you're a child or a college student – organize a massive game of hide-and-seek on campus and let the chaos begin!
Instruct students to join a Facebook or WhatsApp group to register who will be participating and hold the game outside of teaching hours.
13. Throw an Olympics Between Competing Fraternities and Sororities
If you're part of a sorority or a fraternity, organize a fake Olympics between the various sororities and fraternities of local and nearby colleges.
Outside of teaching time, get permission to make use of the campus swimming pool, tennis courts, and playing fields to host your competition.
You never know, you might be the architect of what becomes an annual college tradition in your school's town!
---
Productive
14. Apply for Your Dream Internship
While it's important to have fun, it's also important to use your time at college wisely. Start thinking about your post-college plans well before your final year and apply for internships in the field you want to join during the summers.
Once you have a bit of experience, apply for your dream internship, and hope that your transition from college to the workforce will be a smooth one!
15. Join a Sports Team
Joining a sports team is a great way to let off steam from your rigorous studies, channel your stress and get in some good exercise all at the same time.
You'll also make friends with your teammates, and with weekly practice sessions, you'll enjoy something resembling a routine.
16. Get a Part-Time Job and Save All Your Earnings
When you've got a full-time job, you might be dismayed by how much of your paycheck seems to disappear as soon as it's been deposited into your account.
Make the most of your college experience by picking up a part-time job and starting to save your earnings. You'll build some security for your future and ease the stress of paying for all your bills when you finally land a job. 
17. Join an International Society
You've always loved pizza and football, so why not join the Italian society and pick up some of the languages? Colleges are full of international student societies, so if Italian isn't your thing, try out the Greek, French, or German societies.
These student societies are set up to help exchange or foreign students settle into their new colleges, but most societies will accept anybody.
18. Get on Good Terms with Your Professors
Your professors might sometimes scare you with their long lectures and tight deadlines, but if they're an academic in your chosen subject, it means they're passionate, just like you are about your chosen degree.
Get on good terms with them and be a good student: you never know, you might one day need a glowing recommendation from them!
---
Solo
19. Take a Class that You Don't Need to
Whilst ensuring to make the most of your free time, also make the most of your study time: in your first or second year, take one or two classes just for the fun of it. You never know, you might end up loving your class so much that you change your major!
20. Try to Make Friends in Every Class
The college experience is incomplete without amassing a bunch of friends from all over the country – or world – that you can carry with you into adulthood.
Try to be open to as many friendships as you can: I can promise you that you won't want to do this with your future work colleagues!
Related: 100+ Best Friends Bucket List Ideas (Fun Things to Do with Your Best Friend)
21. Throw a Festive Bake Sale
Fact: students are always hungry. Always. If there's a charity you care about or you just want to make a little cash on the side, throw a festive bake sale.
Make a small fortune selling cookies, cakes, and whatever other delicious treats you can come up with in your college dorm kitchen.
---
With Friends
22. Pull an All-Nighter in the Library
When you and your friends are falling behind on classwork, gather some food and some flasks of coffee and do an all-nighter in the library.
You'll catch up on your work and have a laugh whilst you're at it – the college library at 3 am really is a particular kind of atmosphere.
23. Go on a Spring Break Holiday
Gather your friends and your sunscreen and spend your Spring break in a student-friendly location.
Whether you head to a party town or a beach hotel equipped with pools and $2 cocktails on tap, you'll have a ball – and maybe spot Ross from Friends somewhere!
24. Go on a Road Trip
Grab some friends and go on a fun road trip with one single rule to adhere to: no hotels.
Whether that means crashing with friends on the route or bringing camping equipment, you'll make fun memories and perhaps kickstart an annual tradition.
From the east coast to national parks, there are so many awesome places you can visit by car with college friends.
Read more: Things to do on a Long Car Ride
25. Go on Bar Crawls
There's no better way to get to know your new college town than by going on a bar crawl; head out on a Friday or Saturday night to feel your new town in all its happy-hour wonder.
Related: Things to Do on a Friday Night
26. Host Your High School Friends
If your old high school friends are off in distant colleges, invite them over for a weekend and host them in your dorm.
Introduce them to your college friends and take them on a tour of the town and organize for yourself a trip to their college before they leave.
---
On a Budget (Cheap or Free)
27. Fill a Photo Album with Your Four Years of Memories
If you have a camera phone, take photos of everything, and I mean everything. Spider in the dorm bathtub? Take a photo. Friend asleep on the sofa with a sharpie drawing on their forehead? Take a photo.
Accumulate endless memories, and at the end of your four years at college, create a scrapbook filled with photographic souvenirs.
28. Stand in the College Political Elections or Volunteer to Work at the Student Paper
If you're looking for something to do on the weekend where you can socialize and spend zero money, get involved in the student elections. If you're more the studious writer type, get involved with the student paper.
Not only will it occupy your time for no cost, but you'll also get to pop the experience on your CV to show off to future employers. Volunteer opportunities can really help when it comes to getting a job.
29. Gatecrash a College Party
Just because your dorm has run out of beer and chips, it doesn't mean everyone else's has!
Pluck up the courage to turn up to a party that you weren't invited to and help yourself to some drinks and food. Try to sneak out before the hosts start wondering where all the ham sandwiches are going!
30. Join the Student Council and Organize Free Events
If there are no student events going on and you don't have the cash to socialize, join the student council and start to pitch the idea of hosting free student events funded by the college. Crafty, right? 
---
More College Bucket List Ideas
Let your imagination run wild, and make the most of your time in college by getting inspired with these additional college bucket list ideas and challenges.
31. Attend a Class You Are Not Enrolled in
Be college students that are a little rebellious, and see what's going on in another class. You may even make some new friends while you're there!
32. Take a Picture Every Month and Hang Them on Your Dorm Room Wall
This is a wonderful way to document your time in college. It's fun, creative, and perfect for preserving the memories of your time there.
33. Build a New (Positive) Habit
Whether it's getting up early every morning or joining a club to compete in a school sporting event, little changes every day can make a big impact on your day-to-day life.
Read more: Habit Tracker Printables
34. Write a Letter to Your Future Self
Remind your future self what is important in life, to make use of their free time, and to not waste a second of the time you have.
You could open this letter just as you graduate school, many years into a corporate world job, or even later in life, after you've found love or started a family.
35. Have a Bonfire with Friends
Nothing quite beats the flickering flames and intimacy of huddling around a bonfire, swapping stories, and playing games with friends and other college students.
36. Go on a Date (or Several)
You're young and have all the time in the world to find someone you truly love. So go forth and meet new people, go on plenty of dates, and don't be afraid to be yourself.
Read more: Best Date Ideas & Date Ideas Bucket List
37. Go Tailgating
If you've got plenty of time to spare, get involved with some of the people who are avid about college sports. Enjoy grilled food and drinks before the game, and embrace the school spirit.
38. Attend a Formal
Embrace a historic campus-wide tradition, don your formal gown or suit, and introduce yourself to a whole new side of college life.
39. Pull an All-Nighter
Essentially a rite of passage, you haven't lived the college life until you've handed in a college paper wired from energy drinks and severely sleep-deprived!
40. Start a Journal to Document Your Life Through College
Document the moments and the memories in writing as you go through college. Not only is this great for self-reflection, but you'll also be able to look back after college and remember all the wonderful things you did.
You Could Use: Free and Premium Daily Journal Printables
41. Have a Sleepover/Slumber Party
Invite your best friends around and stay up all night playing games, watching movies, and enjoying snack food with plenty of deep conversation or a little gossip.
Read more: Fun Things to Do at a Sleepover for Adults / Best Slumber Party Ideas
42. Get a Job on Campus
Prepare yourself for real life by getting a feel for what it's like to go to a job. A campus job allows you to get paid while you study while still being near your friends and all college activities.
43. Get an Internship
Nothing looks better on your CV than real-world experience, and the opportunities are plentiful.
You can look online for opportunities or volunteer your services to companies you'd like to work at over the summer, to get a feel for whether you see yourself in that career long-term.
44. Attend a Football Game
Most schools go crazy for their college teams. Attending a sports game is a memorable event and so much fun regardless of the outcome.
45. Enter a Competition
Shower the entire campus for opportunities to put your skills to the test, be it maths, poetry, or sports, among many others.
Your college years are a time to take risks and try new things, so never be afraid to put yourself out there and show everyone what you can do.
46. Learn Another Language
A second language on your CV is going to go down well at a career fair or during job applications.
You could either take an online class, use an app such as Duolingo, or get involved with communities in college for overseas students and learn by speaking with them on a regular basis.
47. Cook your Favorite Meal from Home for Friends
Fun activities are plentiful in college, but sometimes nothing beats a homemade meal with your nearest and dearest.
Chat about common interests, spend time with people you're close to, and put your heart and soul into whipping up an awesome meal everyone can enjoy.
48. Host a Potluck Where Everyone Brings a Dish from Home
Want to share the food responsibilities? Host a potluck in your block or dorm room, and ask everyone to bring their own dish.
This is an amazing way to host a dinner party for a large group of people while being introduced to new foods and cultures.
49. Learn a New Skill
Read more: Best Skills to Learn Online
50. Stay Indoors for a Week and Binge on Your Favorite TV Show
51. Play Truth or Dare
Read more: Best Truth or Dare Questions
52. Volunteer at a Shelter
53. Find a Mentor
54. Have Lunch or Coffee with Your Favorite Professor
55. Sign up for as Many Extracurriculars as You Can Handle
56. Take (Calculated) Risks
57. Connect Deeply with People
Read more: Deep Questions to Ask to Really Get to Know Someone
58. Network and Make Connections in Your Field
59. Get out of Your Comfort Zone and Try Something New Every Week
60. Try a New Hobby
Read more: 100+ Hobbies to Try
61. Become Friends with Your Dorm Room Neighbors
62. Live On-Campus
63. Live Off-Campus with Friends
64. Go to a Music Festival such as Coachella or Austin City Limits with College Friends
65. Teach Yourself the Personal Finance Skills They Don't Teach in College
66. Go on a Backpacking Trip in the Summer
67. Run a Fun 5K Color Run
68. Rent an Airbnb on the Beach for the Weekend with Friends
69. Participate in Open Mic Night and Showcase Your Talents
70. Make the Dean's List
71. Level up Your Cooking Skills and Learn to Make Some Awesome Meals
72. Go on a Camping Trip
73. Organize a Picnic for Your Closest Friends
Read more: Picnic Essentials and Picnic Food Ideas
74. Donate Clothes You Don't Need to a Homeless Shelter
75. Find the Best View in the Area or City
76. Take at Least a Class Outside Your Major
77. Join a Study Group or Create Your Own
78. Have a Crazy Karaoke Night
79. Go on a Ski Trip with Friends over Winter Break
80. Join a Random Society During Freshman Week
81. Go to a Foam Party
82. Attend a Traffic Light Party
83. Host a Giant Game of Frisbee on Campus Grounds
84. Support Your College at a Varsity Sports Match
85. Run for Student President
86. Go to a Lecture in Your Pajamas or Onesie
87. Take a Selfie with the School Mascot
88. Spend One New Year's Eve on Campus
89. Play a Light-Hearted Prank on Your Roommate
90. Wear a Branded University Hoodie
91. Take Part in a Bar Crawl
92. Host a Friendsgiving
93. Try Food at a New Bar or Restaurant Every Week
94. Host a Dorm Scavenger Hunt
95. Get into Somewhere for Free with Your Student ID
96. Get all the Discounts Your Student ID Gives You
97. Make a DIY Slip 'n' Slide on Campus
98. Make a Vision Board for Your Post-College Life
99. Apply for Your Dream Job
100. Make a Creative Graduation Cap
101. Plan Your Dream Graduation Party
102. Host your Roommate's Family for a Dinner and Games Night
---
College is a magical time in your life, but it comes and goes so quickly. Soak up every second of it, and make the most of this truly unique time in your life.
A bucket list is a great thing to have, and with four or more years to complete everything, you'll constantly have the motivation to go out and try new and exciting things and experiences.
Download your free college bucket list printable here.
You Might Also Like to Read
---
Whether you're heading to college soon, or already there, it's never too late to start your college bucket list. Keep this article for safekeeping, by saving it to one of your Pinterest boards.