This post may contain affiliate links, meaning if you book or buy something through one of these links, I may earn an affiliate commission at no additional cost to you. Learn more
My dinner ideas list can help you answer the age-old question of 'what should I/we eat tonight?' I have this list on the fridge door, so that I can quickly scan it in the morning, make a decision, and have the rest of the day to prepare.
This list is packed full of classic and delicious ideas. There's nothing too complicated on there. All these dinner ideas you should be able to find plenty of recipes for online, and the ingredients at your local store.
Dinner Ideas List
Want to have this list on your refrigerator like me, so you've always got some inspiration for dinner? Read through to the bottom of this list for a link to download this list as a PDF for free!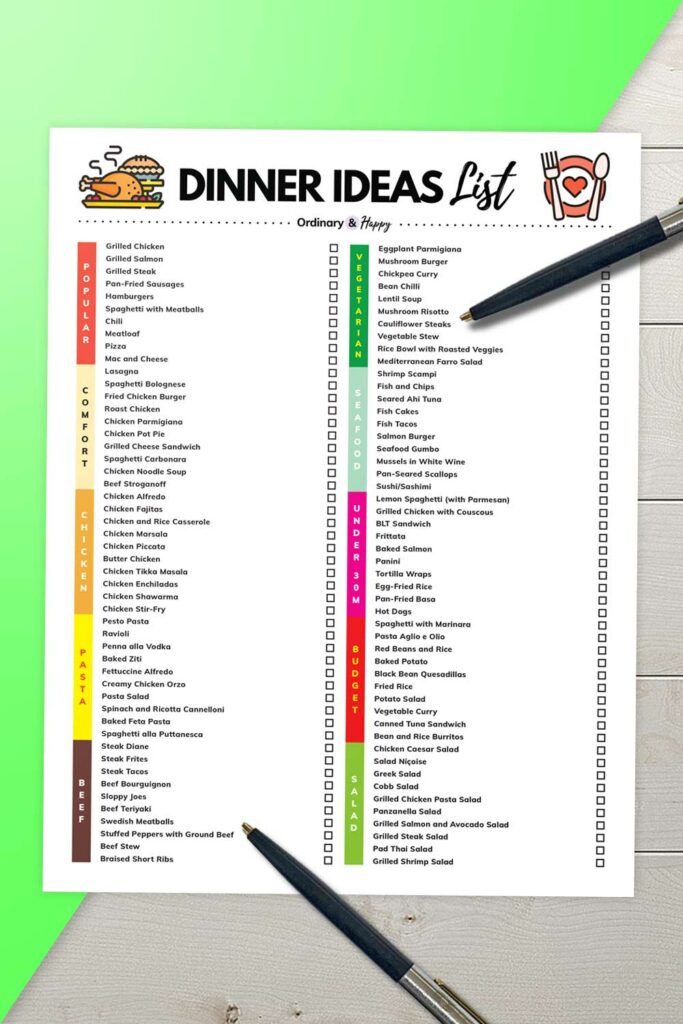 There's so many on there. If your dietary requirements and beliefs allow for it, why not try to make them all throughout the year?
---
Popular Dinner Ideas
You won't have to look hard to find tasty recipes for these popular choices! Paired with some sides, these are great for feeding the whole family.
Grilled Chicken
Grilled Salmon
Grilled Steak
Pan-Fried Sausages
Hamburgers
Spaghetti with Meatballs
Chili
Meatloaf
Pizza
Mac and Cheese
---
Comfort Foods
Maybe winter is setting in, or you're feeling under the weather. If so, cook up some of these classic comfort dishes to make you feel better and satisfy your stomach!
Lasagna
Spaghetti Bolognese
Fried Chicken Burger
Roast Chicken
Chicken Parmigiana
Chicken Pot Pie
Grilled Cheese Sandwich
Spaghetti Carbonara
Chicken Noodle Soup
Beef Stroganoff
---
Chicken Dinner Ideas
I cook with chicken a lot in my house, so I find it's always good to have more than a few chicken recipes on hand. These are some beloved chicken dishes that draw from cuisines all over the world.
Chicken Alfredo
Chicken Fajitas
Chicken and Rice Casserole
Chicken Marsala
Chicken Piccata
Butter Chicken
Chicken Tikka Masala
Chicken Enchiladas
Chicken Shawarma
Chicken Stir-Fry
---
Pasta Dinner Ideas
When I'm pushed for time, a pasta dish usually gets me out of a jam! There are thousands, probably millions, of pasta recipes online. These ten are real crowdpleasers, and you'll find recipes online or in cookbooks in no time.
Pesto Pasta
Ravioli
Penna alla Vodka
Baked Ziti
Fettuccine Alfredo
Creamy Chicken Orzo
Pasta Salad
Spinach and Ricotta Cannelloni
Baked Feta Pasta
Spaghetti alla Puttanesca
---
Beef Dinner Ideas
Beef is more of a treat in our household, but it's the most popular red meat to cook with in many places. These dishes use beef in fun, creative, and very yummy ways.
Steak Diane
Steak Frites
Steak Tacos
Beef Bourguignon
Sloppy Joes
Beef Teriyaki
Swedish Meatballs
Stuffed Peppers with Ground Beef
Beef Stew
Braised Short Ribs
---
Vegetarian Dinner Ideas
These dishes are really tasty and don't use any meat. For some much-loved veggie specials, start with this list.
Eggplant Parmigiana
Mushroom Burger
Chickpea Curry
Bean Chilli
Lentil Soup
Mushroom Risotto
Cauliflower Steaks
Vegetable Stew
Rice Bowl with Roasted Veggies
Mediterranean Farro Salad
---
Fish and Seafood Dinner Ideas
Seafood is so good for you, so I try to have it at least once a week. Cooking with it can be daunting, so use these ideas to help you cook delicious seafood dishes in fun and simple ways.
Shrimp Scampi
Fish and Chips
Seared Ahi Tuna
Fish Cakes
Fish Tacos
Salmon Burger
Seafood Gumbo
Mussels in White Wine
Pan-Seared Scallops
Sushi and Sashimi
---
Easy and Quick Dinner Ideas (Under 30 Minutes)
I'll have to admit that I visit this section fairly often. Life can often get really hectic, and in those moments, it can feel hard to find the time to cook.
This list is great for busy evenings. You should be able to make all these dishes in under 30 minutes with not too many ingredients.
Lemon Spaghetti (with Parmesan)
Grilled Chicken with Couscous
BLT Sandwich
Frittata
Baked Salmon
Paninis
Tortilla Wraps
Egg-Fried Rice
Pan-Fried Basa
Hot Dogs
---
Dinner Ideas on a Budget
Budgeting is important for every household. So, if you do shop on a budget, consider some of these dinner ideas. They are made with a handful of ingredients that you should be able to find for cheaper.
Spaghetti with Marinara
Pasta Aglio e Olio
Red Beans and Rice
Baked Potato
Black Bean Quesadillas
Fried Rice
Potato Salad
Vegetable Curry
Canned Tuna Sandwich
Bean and Rice Burritos
---
Dinner Salads
If you're feeling something lighter, or the weather is warmer, why not try a salad for dinner? These are some classic choices, with plenty of recipes and variations for each.
Chicken Caesar Salad
Salad Niçoise
Greek Salad
Cobb Salad
Grilled Chicken Pasta Salad
Panzanella Salad
Grilled Salmon and Avocado Salad
Grilled Steak Salad
Pad Thai Salad
Grilled Shrimp Salad
---
Soups for Dinner
Especially in the winter, I love to make soup. Not only is it comforting, but you can easily make a big batch and feed everyone a few more times. Try some of these favorites.
Corn Chowder
Roasted Tomato Soup
Minestrone
French Onion Soup
Chicken Tortellini Soup
---
I really hope this list saves you hours of deliberation! Having this on hand has been a real game-changer for me.
I would love to know in the comments your favorite go-to dinners, and whether you tried something new off this list and now it's a family staple.
Feel free to download it using the link below and print it off. Let this simple list help you answer a question we have to answer every single day!
You Might Also Like to Read
Make sure you always have this dinner ideas list on-hand by saving it to one of your recipe idea boards. You can always scan the article, or download the PDF, to help you decide what to make for dinner.