This post may contain affiliate links, meaning if you book or buy something through one of these links, I may earn an affiliate commission at no additional cost to you. Learn more
Give your mind and body some much-needed love with these self-care essentials, perfect for helping you work towards a healthier and happier you.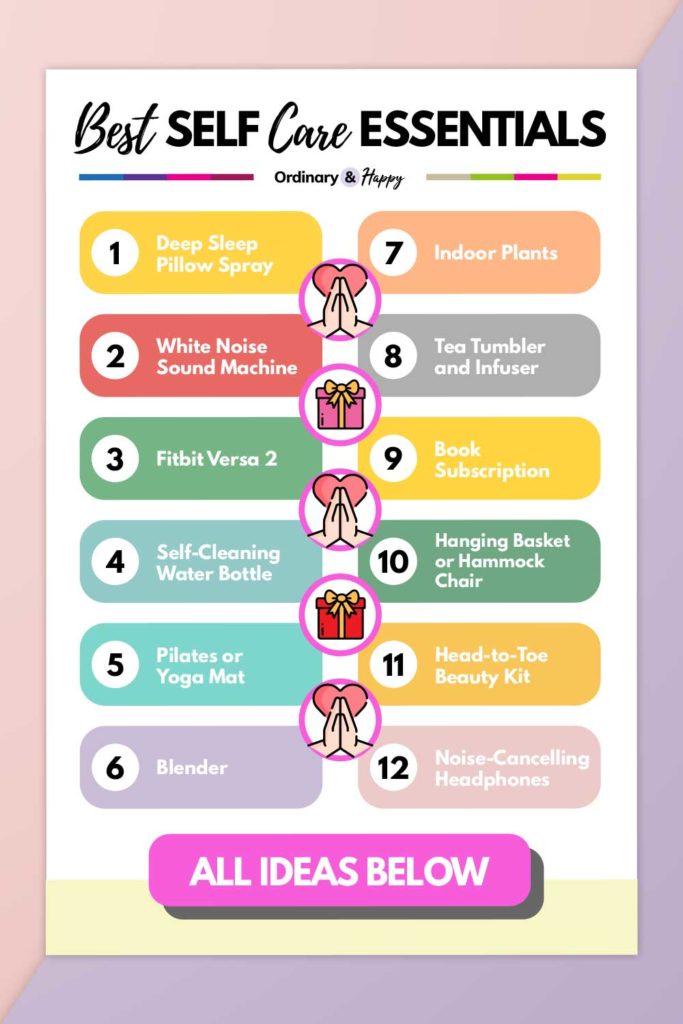 Self Care Essentials
Our list of self-care essentials can help you take care of yourself and your wellbeing in a number of ways.
Whether it be helping you sleep, improving your mood, or stimulating the senses, when it comes to self care, little changes can go a long way.
1 – Deep Sleep Pillow Spray
Check Latest Price
A good night's sleep is very important (if not the most important) for self-care.
If like me, you have trouble shutting your mind off at night, you could try a pillow spray. A blend of lavender, vetivert, and camomile can calm both the mind and the body.
2 – White Noise Sound Machine
Check Latest Price
If you struggle with falling asleep even after trying the traditional advice, it might be time to try a white noise sound machine.
This is particularly helpful if you live in an apartment or house that gets a lot of street noise or you have loud neighbors.
A portable machine, such as the SNOOZ one, can be very useful and the perfect self-care gift to yourself for when traveling and staying in noisy hotel rooms or Airbnbs.
3 – Fitbit Versa 2
Check Latest Price
If you want to track your sleep and monitor your activity levels in the day, take a look at Fitbit Versa 2.
This health and fitness tracker has so many features, and it can help you keep track of how well (or poorly) you're doing. And, in turn, you can take action to improve your sleep and activity levels.
4 – Self-Cleaning Water Bottle
Check Latest Price
Staying hydrated has incredible benefits for your energy levels, brain function, and of course, self-care.
Keep a full water bottle in the refrigerator or out at room temperature, depending on your preference.
When you wake up in the morning, make sure to drink at least 200 ml / 16oz of water.
5 – Pilates or Yoga Mat
Check Latest Price
Research shows physical exercise is essential for your mental health. Morning exercise can do wonders for your self-care. It leads to better health and increased levels of energy and productivity throughout the day.
Even a 15-minute workout can do wonders. So grab a yoga mat, youtube, and you can do a simple 15-minute yoga morning routine.
6 – The Ultimate Blender
Check Latest Price
If you're a fan of smoothies and smoothie bowls, treat yourself to a Vitamix blender. It's the ultimate home blender for making those beautiful, healthy, and tasty acai bowls at home.
It does come with a hefty price tag. If you're looking for something more affordable, check out Ninja Professional Blender.
7 – Indoor Plants
Check Latest Price
According to a study published in the Journal of Physiological Anthropology, house plants can reduce stress and anxiety.
Indoor plants can also improve concentration and productivity. And let's not forget, they also clean the air of toxins.
All of these factors can be amazing for your self-care. So consider getting yourself some green friends.
8 – Tea Tumbler and Infuser
Check Latest Price
As a tea lover, I can't omit tea products from a self-care essentials list.
Whether herbal tea at night or Earl Grey in the afternoon, tea is soothing and the perfect pick-me-up comfort.
If you like ice tea, go for a tumbler and infuser. You can also use it to make delicious fruit-infused water.
If you like hot tea, go for a ceramic tea set and an assortment of teas. My personal favorites include the aforementioned Earl Grey, lemon ginger, and oolong tea.
9 – Book Subscription
Reading really is one of the best self-care tips. It can help us escape into a world of wonders and imagination, away from the day-to-day worries.
If you like to read a lot, an e-book subscription such as Kindle Unlimited may be the right self-care gift to yourself.
Personally, I also always take my Kindle Paperwhite on all my trips so I can read on the plane and at the destination.
10 – Hanging Basket or Hammock Chair
Check Latest Price
The first time I tried a hanging chair was at a coworking space in Buenos Aires, and it was love at first sight.
We were reunited for the second time at a coworking space in Bali. And the love was still strong.
If a hanging chair with a support stand is not to your liking, you can also take a look at hammock chairs. They're so wonderful, particularly if you have a patio or garden where you can install one of these.
11 – Head-to-toe Beauty Kit
Check Latest Price
A day of self-care is not complete with a spa day or pampering routine.
This head-to-toe beauty kit contains shower oil, hand cream, almond milk concentrate, intensive repair shampoo and conditioner, cream, and overnight oil-in-serum.
Related: DIY Spa Day at Home
12 – Music Subscription & Noise-Cancelling Headphones
Check Latest Price
Tune out the whole world with noise-canceling headphones and music.
Music can have incredible benefits on your overall state of mind. It improves mood, reduces stress and anxiety, provides comfort, and improves cognitive skills.
It's a truly wonderful self-care essential.
---
Taking better care of your health, body, and wellbeing is something you need to prioritize.
But like anything in life, without the right tools and accessories, improving your self care can be difficult.
These self-care essentials will aid you in making those changes, putting you on the road to better health, mood, and happiness.
You Might Also Like to Read:
---
Excited to add some of these self-care essentials to your gift list or shopping cart? Keep this list in a safe place by saving this article to your Self-Care or Lifestyle Tips Pinterest board.