This post may contain affiliate links, meaning if you book or buy something through one of these links, I may earn an affiliate commission at no additional cost to you. Learn more
Give the birthday girl or boy a memorable gift for this milestone celebration with one or more of these sweet sixteen gift ideas, and see their eyes light up as they celebrate in style!
Sweet Sixteen Gift Ideas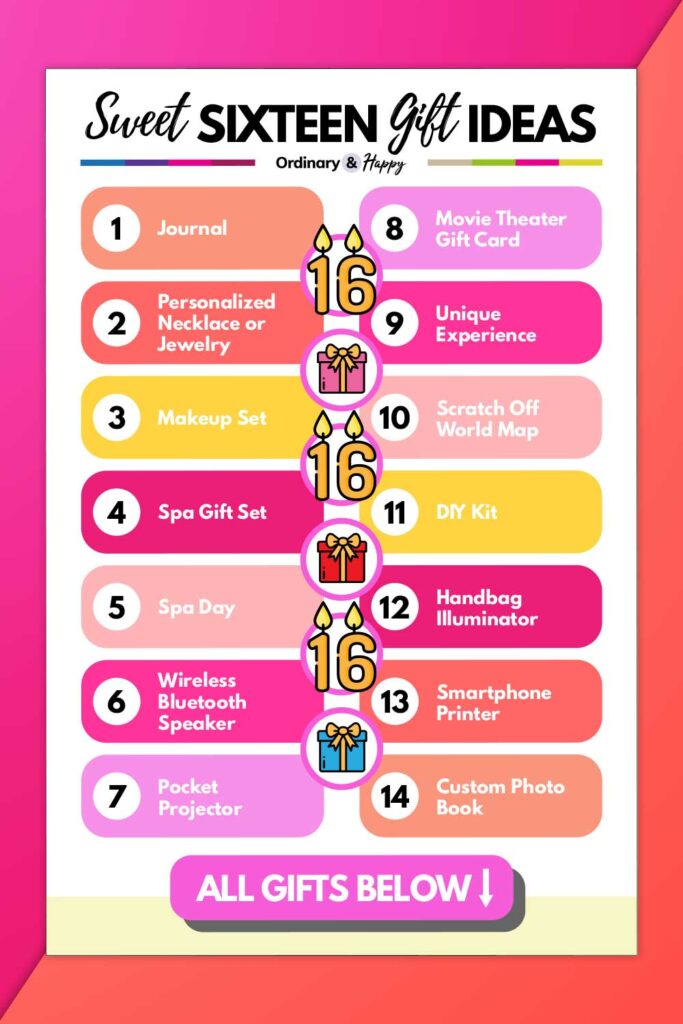 Good Gifts
1. Journal
Check Price on Amazon
Journaling isn't only great for the soul, but it also allows you to keep track of precious memories over the year.
A journal is a great gift for a sweet sixteen birthday, encouraging teens to record key moments from this important period to look back on in years to come.
2. Personalized Jewelry
When in doubt, jewelry is always an excellent gift idea. And what better jewelry gift than a personalized necklace?
Featuring the name of the sweet sixteen-year-old or another special message makes it not only a beautiful present, but it's also one that will last a lifetime as a keepsake of this momentous birthday.
3. Makeup Set
Check Price on Amazon
If there's one thing many girls are curious about experimenting with when they reach sixteen, it's makeup.
From the days of trying their mum's lipstick to now when they can experiment further with their look, putting on makeup is part of many girls' transitions to being young women.
Buying a simple makeup set is a great way to allow the sixteen-year-old to find her own style and connect with her inner confidence.
4. Spa Gift Set
If you're not sure what to buy for the birthday girl, you can't go wrong with a luxury spa gift set like this one from the Body Shop.
Give the gift of relaxation complete with everything you'd need for a spa-like bathing experience from the comfort of your own home.
---
Fun Gifts
5. Spa Day
Being a teenager can be stressful, so it's only fitting that the teenagers in our lives deserve some pampering too.
Treat the birthday girl (or boy) to a spa day with these spa packages, complete with pampering treatments, so they'll feel like true grown-ups!
6. Wireless Portable Bluetooth Speaker
Check Price on Amazon
Is the lucky recipient of your gift a music lover? If so, they'll love a wireless portable Bluetooth speaker, so they can play their favorite tunes at a high volume or throw parties with a great soundtrack.
A Bluetooth speaker isn't only practical, but it also looks great as an accessory in any home. You can then test your age by finding out if you recognize any of the songs they play!
7. Pocket Projector
Check Price on Amazon
Going to the movies is one of the most iconic teenage activities, but what about when you want to catch a movie but don't want to leave the house or don't have the budget for the movie theatre?
There's a perfect solution: a pocket projector. This unique gift can go anywhere with you (hence the pocket size) and can be connected to a device such as an iPhone and then projected onto the wall. Just grab some popcorn, and you're set.
Movie nights and Netflix binge-watching sessions will never be the same again for the lucky recipient of this fabulous gift!
8. Movie Theater Gift Card
Are you buying a sweet sixteen gift for a movie lover? Does the teenager in your life spend their time catching up on the latest flicks and enjoying old classics?
They'll love a movie theatre gift card such as these ones from Fandango.
Giving a gift card is an excellent way to pay for opportunities that somebody may not buy for themselves.
Plus, they'll be able to brag to their friends about all the cool new movies they've seen. Win-win!
---
Unique Gifts
9. Unique Experience
Sixteen years old is a turning point when teenagers start to wonder how their future might look and what activities they might want to experience while they're young.
Give the sixteen-year-old the gift of experience by buying them a unique experience such as skydiving, horseback riding, or water sports.
Not only will they tick something off their bucket list, but they'll also have experiences to look back on for a lifetime!
10. Scratch Off World Map
Check Price on Amazon
In the modern world, traveling is easier than ever before. Spark some adventure in the life of the lucky recipient by treating them to a scratch-off world map.
This quirky gift encourages the user to scratch off countries they've visited, allowing them to treat travel as a bucket list, as well as providing inspiration for destinations. It also looks great on any bedroom wall. You never know – you may spark a lifelong love for travel!
11. DIY Kit
There are few things more fun than making something you love yourself. Whether it's a favorite recipe, an item of clothing, or a piece of artwork, making something yourself gives you a sense of achievement, and depending on what you made, you can end up with a keepsake. Plus, when you're sixteen, anything you try might become one of your future hobbies.
To inspire creativity, treat somebody to a DIY kit for their sweet sixteen, such as this make-your-own chocolate truffles kit on Uncommon Goods so that they can connect with their inner chef.
12. Handbag Illuminator
Check Price on Amazon
We've all been there. You're at a party with friends, you reach into your handbag for a phone or mirror, and you can't find a thing.
Make those days a distant memory for the lucky recipient with an automatic handbag illuminator that lights up, allowing you to see what's in your handbag, so you never miss a crucial item again.
---
Creative Gifts
13. Smartphone Printer
Check Price on Amazon
Even in the modern world, there's a place for physical photos – especially for teenagers looking to decorate their walls!
With this smartphone photo printer, you can plug in your phone and print mini photos from your camera roll instantly. There's never been an easier way to make your captured memories into physical photos you can keep for life.
14. Custom Photo Book
A perfect addition to the previous gift, a custom photo book like the ones you can create on Shutterfly is the perfect place to keep your memories in photo form.
A photo book is something that the lucky recipient can keep forever to remind them of all manner of celebrations, from birthdays to graduations and anniversaries.
If you want to make the photo book even more sentimental, fill it with photos of the birthday girl or boy with family and friends.
15. MasterClass Subscription
Whatever the birthday boy or girl wants to do with their future, you can make it easier than ever with a gift subscription to MasterClass. MasterClass is filled with expert lectures and classes from the likes of Gordon Ramsay and Natalie Portman.
MasterClass truly takes learning from the best to the next level, and it's the perfect gift to show the recipient that you're invested in their future plans.
16. Literary Insults Chart
Check Price on Amazon
If you're buying for somebody who loves literature and humor, they'll adore this literary insults chart, which has both of their passions wrapped up in one quirky gift!
This poster is filled with some of the most creative and cutting insults from the best wordsmiths that have ever lived. It will make the perfect addition to any bookworm's bedroom wall.
17. Mindfulness Card Set
Check Price on Amazon
If you want to treat the sweet sixteen gift recipient to something truly unique, try a mindfulness card set.
Great for fans of self-care, yoga, and meditation, this card deck contains prompts and exercises, such as breathing exercises and affirmation.
If the lucky recipient of your gift is a wellness fan, they'll adore this card set which puts wellbeing at the center of their daily interactions and remind them of the small pleasures of life.
The best part? The cards make a gorgeous addition to any bedside table.
---
Inexpensive Gifts
18. Books and/or a Bookmark
Books can be genuinely life-changing, and sometimes, when a book comes along at exactly the right point in your life, you can be inspired for your future.
If you're buying a gift for a sweet sixteen bookworm, consider buying them a book and/or a bookmark to match.
Whether it's a bookmark adorned with their favorite literary quote or a quirky bookmark such as this one from Uncommon Goods, it will be a useful accessory for their literary adventures while showing you genuinely care about their hobbies and interests. Bonus points if you write a dedication at the front of the book that they can cherish forever.
19. Personalized Luggage Tag
Check Price on Amazon
Part of transforming from a teenager to a young adult is travel. Meeting new people and experiencing new cultures is a great way to broaden your outlook and learn new things.
For the budding young traveler in your life, help them along their way with a sophisticated personalized travel luggage tag they can take with them across the globe.
20. Hidden Pocket Scrunchies
Check Price on Amazon
Everybody loves scrunchies. These 90's throwbacks are a fun way to style your hair and add a pop of color to any look. Now imagine a scrunchie that not only looks great but can store all your essentials, too (yes, really!).
Treat the birthday girl to a hidden pocket scrunchie that contains a secret compartment for storing items such as keys, money, and jewelry.
It's the perfect way to keep your belongings safe and not have to take a handbag with you everywhere you go. Win-win!
21. Stationery
Check Price on Amazon
Journaling is a great way not only to keep track of memories but also to jot down your thoughts and feelings in a safe space, allowing you to connect with your mental well-being.

This excellent journalling set contains everything any sixteen-year-old needs to write, journal, or study in style.
22. Candles
Check Price on Amazon
There's no better feeling than coming home after a busy day and filling the room with the scent of a relaxing candle.
Candles look great on any coffee table and smell even better – plus, they're perfect for creating a chilled-out atmosphere.
Give the sweet sixteen gift of self-care with a candle, such as a beach-themed offering by Homesick.
---
Luxury Gifts
23. Noise Cancelling Headphones
Check Price on Amazon
If you're buying for a music lover, they'll adore a set of noise-canceling headphones, allowing them to listen to their favorite songs with no distractions.
Noise-canceling headphones are a great option if you're looking for a practical gift that will get put to good use and last for a while.
24. Designer Handbag
If you have a generous budget and want to treat the lucky recipient to a gift they can keep forever, look no further than a designer handbag.
A timeless piece, such as this classic bag by Chanel, can be a versatile addition to any outfit or event.
Sweet sixteen is an important time in any young person's life, so if you have the budget, they'll love receiving a luxury gift that reflects this birthday's significance.
25. Charm Bracelet with Personalized Charms
Milestone birthdays deserve milestone gifts, and you can't go wrong with jewelry.
If you're looking to treat the sixteen-year-old in your life on this significant birthday, they'll adore a charm bracelet with customizable charms like the ones from James Avery, so as their life and interests change, they can adjust the charms to reflect them.
26. Customizable Birthstone Charm Necklace
Charm jewelry always goes down well as a choice of gift, but if you want to make it a little more personalized, opt for a charm necklace featuring the recipient's birthstone like this one on Uncommon Goods.
Not only will the charm necklace look amazing, but it will also last for years and hold sentimental value thanks to the reminder of this momentous birthday through the addition of the birthstone.
---
Turning sixteen is a momentous occasion, and therefore should be marked with celebrations, events, and gifts that are just that little extra special compared to other birthdays.
These sweet sixteen gifts should give you plenty of ideas to buy something creative and thoughtful for the lucky gift recipient, letting them know you think the world of them and marking their big day with a gift they'll love, use, and cherish.
You Might Also Like to Read
---
Keep these awesome sweet sixteen gift ideas for safekeeping by saving this article to one of your Pinterest boards.