This post may contain affiliate links, meaning if you book or buy something through one of these links, I may earn an affiliate commission at no additional cost to you. Learn more
These cool gadgets for dad are perfect for giving your beloved dad a gift that makes him feel special.
Whether your dad is a fixer, techie, or loves the great outdoors, there are plenty of great gift ideas on this list to give him something he'll enjoy, find a use for, and cherish.
Cool Gadgets for Dad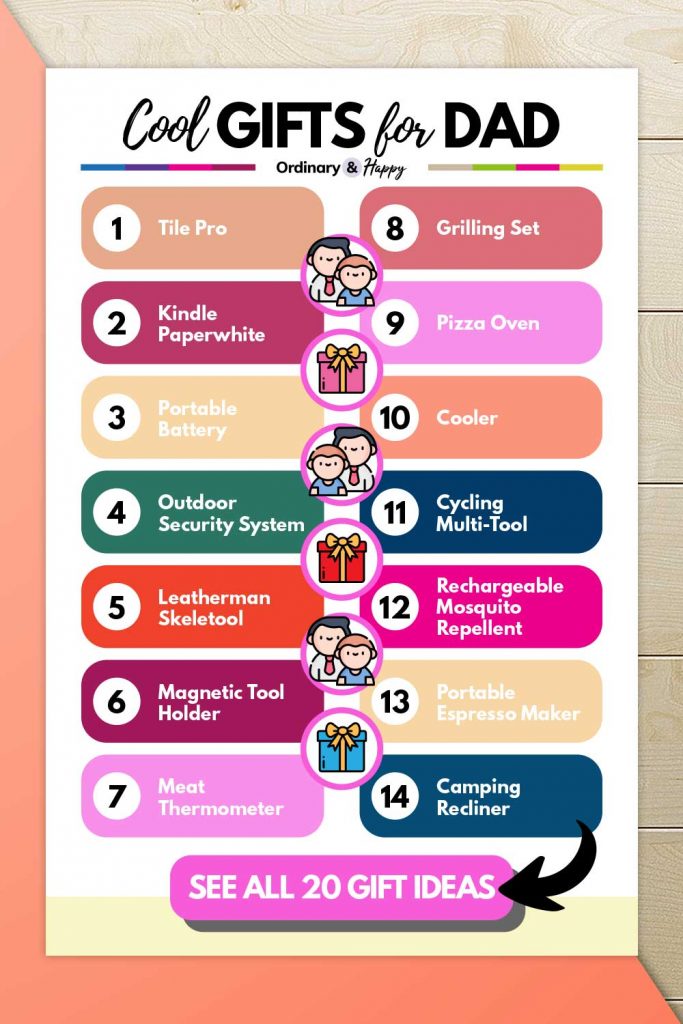 ---
Tech Gadgets
1. Tile Pro
Check Latest Price
The perfect gift for the dad who always misplaces his keys or other things. This cool gadget allows you to track keys and other household items to which you attach it.
While watching him running around the house looking for stuff may be funny for you, it's usually infuriating for him!
2. Kindle Paperwhite
Check Latest Price
Got a dad who loves spending evenings out on the porch reading the newspaper or with his head in a good book? A Kindle paperwhite is perfect for the bookworm dad, packing hours of reading material into one device.
Make the gift even more thoughtful by adding a Kindle subscription. That way he can choose from thousands of books at the touch of a finger.
3. Portable Battery
Check Latest Price
For dads on the go, this is a simple but brilliant gift. A portable charger makes sure their phones and devices never run out of juice.
That way, you know your dad will always be able to reply, call, and take photos of the cool things he's up to.
4. Outdoor Camera Security System
Check Latest Price
For the dad who's all about home security, this is a great gift for both Father's Day and all year round. Both thoughtful and practical, this outdoor camera security system is ideal for simple surveillance.
Easy to hide, your dad and the family can have peace of mind in the evening, at night, or when on holiday.
---
Tool Gadgets
5. Leatherman Skeletool
Check Latest Price
The leatherman skeletool is portable and multi-functional. This is a great gift for dad if he enjoys spending time in the garden or garage, tinkering and fixing.
Multitools are also ideal for carrying on trips, camping weekends, and outdoor adventures. Easily carried on a belt or in a pocket, this is a cool gadget hands-on dads will find plenty of uses for.
6. Magnetic Tool Holder
Check Latest Price
Ideal for dads that fix, tinker, and build in the garage or generally at home. A magnetic tool holder does away with constant bending to pick up tools and those annoying moments where dad puts a tool down and can't find it.
---
Cooking and Grilling Gadgets
7. Meat Thermometer
Check Latest Price
If your father loves grilling on the BBQ or cannot resist a steak night, this meat thermometer is a simple but thoughtful gift idea.
You can track the temperature from your phone, allowing anyone to cook meat to the perfect temperature before serving.
8. Grilling Set
Check Latest Price
Upgrade dad's grill game to the next level with this cool gadget. If you asked for medium-rare and he gives you medium, no longer can he blame his tools!
This beautiful grilling set gives a BBQ-loving dad everything he needs to sizzle and cook all kinds of meats and vegetables on the grill. Plus, everything packs away into a stylish, durable case.
9. Pizza Oven
Check Latest Price
If your dad loves to cook great food and entertain guests, this stylish pizza oven has everything he needs to wow the crowd at the next dinner party.
The perfect gift to take pride and place on an area of the garden or patio, few foods keep guests as satisfied as homemade pizza, Italian style.
For a wallet-friendlier option, or if you don't have space at home to put it, go with an oven pizza stone. You'll still get that classic stonebaked pizza taste, but with a smaller, less expensive gift.
---
Hobby Gadgets
10. Cooler
Check Latest Price
This practical gift is perfect for an outdoorsy father. A cooler is great for fishing, camping, and plenty of outdoor activities.
Be it food, drink, or equipment, a sturdy, spacious cooler keeps beers cold and snacks chilled throughout a hot summer's day.
11. Cycling Multi-Tool
Check Latest Price
If dad loves to spend afternoons or weekends on the bike, a cycling multi-tool is a great way to give him something thoughtful and practical.
Equipped with a range of tools to repair a bike or make adjustments, this is a brilliant accessory for both casual and keen cyclists. Plus, it's lightweight and easy to carry.
12. Rechargeable Mosquito-Repellent
Check Latest Price
If dad spends plenty of time at the lake fishing or in the forests camping, this is a great gift for Father's Day.
This rechargeable mosquito-repellent device does away with sticky lotions and annoying sprays. According to the manufacturer, once charged, it can keep those outdoor pests at bay within a small radius for hours at a time.
Now, dad can enjoy fishing, hiking, or kicking back with a beer, without the nets, the gloop, and the bites.
---
Fun Gadgets
13. Portable Espresso Maker
Check Latest Price
If dad misses his espresso on his beloved camping trips or during long-distance drives, this is the gift he'll wonder how he managed without all this time.
Portable expresso makers put convenient coffee making in the palm of your hand. Wi this simple-to-use espresso maker, dad can whip up a cup of his favorite brew without relying on bitter flask coffee or expensive takeaways to get his caffeine fix.
14. Camping Recliner
Check Latest Price
Great for a dad who loves a weekend of golf, camping, or fishing, this stylish camping recliner lets him enjoy his weekend activities in comfort.
Complete with drinks holders and additional padding, a camping recliner brings at-home levels of comfort into the great outdoors. Easily folded away, it can be stowed with equipment in the trunk with no fuss. It's a great gift idea for an outdoorsy dad.
15. Waterproof Camouflage Bluetooth Speaker
Check Latest Price
When it comes to fun gadgets for dad, this nifty BlueTooth speaker will allow him to listen to his favorite music while enjoying some of his favorite outdoor activities.
Its waterproof feature makes it ideal for fishing by the lake, or camping in wetter conditions. Durable yet easily carried, the camouflage design makes it the ideal rugged companion for dad on his outdoor adventures.
---
Budget-Friendly Gadgets
16. Yeti Tumbler
Check Latest Price
Great for dads on the go, the YETI tumbler is the ideal companion for dad on cycles, hikes, fishing trips, and camping weekends.
Its magnetic technology will keep coffee and chocolate hot, and water and beer chilled while sealing the liquid tightly. If you're shopping on a budget, this is a thoughtful and useful gift for dad.
17. Hopsulator
Check Latest Price
A great little gift for dad that won't cost the Earth, the Hopsulator is an easy and stylish way to keep bottled beer cooled for longer.
A case that fits snuggly around a standard beer bottle, this nifty gadget also fits into most cup holders. Perfect for a thoughtful, low-cost gift for the holidays, Father's Day, or birthdays.
---
Unique Gadgets
18. Golf Phone Caddy
Check Latest Price
A truly great gift for dads who play golf, a golf phone caddy gives you the perks of a car phone holder on a golf cart.
Now, dad can travel between holes with his trusted phone at his fingertips. Rugged and suitable for a range of gold carts, this is ideal for golf-loving fathers.
19. Corkcicle Beer Cooler
Check Latest Price
Warm beers are never enjoyable, particularly if dad sips and takes his time. This corkcicle beer cooler is so simple but will change the way dad, or anyone, drinks beer.
All it needs is to be kept in the freezer. Once ready, you can keep beer bottles chilled far longer than using coolers or ice.
20. Personalized Family Print
Add a warm, personalized touch to your Father's Day gift with this beautiful personalized print.
Complete with personalized characters, this quirky print is a wonderful way to let dad know that family is the most important thing in life.
Adorned with Shelly Klein's fun illustrative style, this portrait can take pride and place on any wall, shelf, or mantlepiece in the house.
---
Get dad a gift with purpose and meaning this Father's Day, and get inspired with our list of cool gadgets and gifts.
While novelty is always fun, practical gifts with plenty of thought will help dad develop new hobbies, learn new skills, and make life easier at home.
You Might Also Like to Read
---
Keep this list of great dad gadgets in a safe place, ready for Father's Day, by saving it to one of your Pinterest gift guide boards.