This post may contain affiliate links, meaning if you book or buy something through one of these links, I may earn an affiliate commission at no additional cost to you. Learn more
Get inspired to plan a baby shower that the mom-to-be and everyone will love, with these creative and fun baby shower activities and ideas.
Baby Shower Activities and Ideas
We have split this article into two categories: games and activities (not games). Get ready for plenty of inspiration for the upcoming baby shower you are planning!
---
Baby Shower Ideas and Activities that are not Games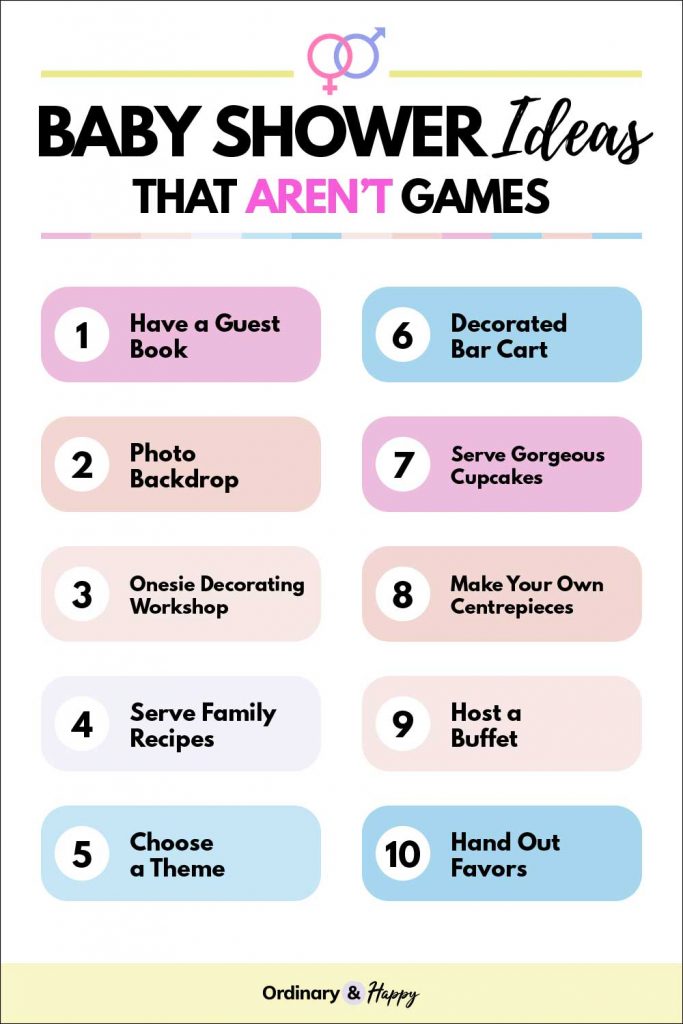 1. Have A Guest Book
Everyone at the shower will be there to celebrate the coming arrival of the baby and the new mom-to-be, and they will want to give them their warmest well-wishes and congratulations.
A guest book at the party for people to sign will make a wonderfully sweet keepsake, where all those messages of love and encouragement from friends and family can be looked back on and cherished – by parents and child – for years to come.
These cute little message books can be bought online or in art & craft stores, or you could go the extra mile and get a personalized one.
Shop Baby Shower Guest Books on Zazzle
2. Set Up A Photo Backdrop
Check Price on Amazon
Having a baby is one of the most memorable events of a person's life. A backdrop to set the background for a photoshoot of the mom-to-be, featuring their closest friends and family, will give photos of this special day a smart, professional-looking touch.
Keep the backdrop simple but sweet, without too many colors, so the people stay as the main focus of the photos. If you have a balloon arch set up, consider placing the backdrop behind it for an ideal photoshoot location.
The pictures can, later on, be printed onto gloss paper and framed, printed onto a canvas, or compiled into a lovely photo album that will be cherished for a long time.
3. Set Up A Onesie Decorating Workshop
Get the guests at the shower to create sweet, one-of-a-kind onesies with a real personal touch.
You can do this simply by picking up some plain white onesies, some markers, a few fat quarters of cotton fabrics, a couple of needles, and some threads.
Check Price on Amazon
You can also buy or create some cute stencil shapes for people to draw around on their onesie, or they could use them to cut out their fabric to sew on.
Not everyone knows their way around sewing stencils with a needle and thread, so it's good to provide both options. That way, everyone gets to customize a onesie for the baby that they can make totally unique.
4. Serve Family Recipes
This one is especially great for expecting parents with larger families. If there are some traditional, tried-and-tested family recipes that have been handed down across generations, asking family members to bring along a side or dessert. Each dish can be a really meaningful way to celebrate the new baby.
Dishes such as apple pie, carrot cake, cobbler, and potato salad go down a treat at parties. These dishes are usually the kind of foods that people create their own recipes for.
5. Choose A Theme
Check Price on Amazon
Choosing a theme for any party, but for baby showers, in particular, will make choosing the best decorations and the cake and so on fall into place seamlessly.
There are so many beautiful, sweet themes to choose from, whether the baby's gender has already been revealed or is going to be a surprise.
Figures from children's books such as Winnie the Pooh and Peter Rabbit make wonderful baby shower themes, as do the classic pink, blue, or yellow.
You could even go for something a bit more 'out there' – think tropical paradise, safari, or pumpkins (perfect for an autumn baby!)
6. A Decorated Bar Cart
For a sweet and sophisticated way to serve drinks, consider lining them up on bar carts that have been decorated in line with the theme.
A beautiful way to spruce up any bar cart is with flowers. These will look particularly striking if they match or complement the overall colors of the rest of the baby shower.
If possible, it's best to have two carts: one with alcoholic drinks, the other without. This helps make sure everyone feels included, including the mom-to-be, any teetotallers attending, and those who are driving home.
7. Serve Gorgeous Cupcakes
Check Price on Amazon
Serving cupcakes can both perfectly complement a traditional cake and do just as well as a replacement.
Whether you're making them yourself, sourcing them from a store, or having them made by a pro, they can be made to look stunning with intricate paper cupcake cases and colorful frosting.
These little treats will go down particularly well with any young children attending the baby shower.
8. Make Your Own Centrepieces
Planning a baby shower needn't cost the earth, especially if there are some elements of the party that you're able and willing to create yourself.
For some simple yet stunning decor for the center of each table, you could do one (or more) of these:
tissue paper pompom flowers
fill some mason jars with seasonal wildflowers from a nearby woodland
place individual tea lights into large candle holders
fill some old, clear-colored wine bottles with fairy lights
Whichever you choose, the mom-to-be is sure to love it – not just because it looks wonderful, but because of the extra effort you put in.
9. Host A Buffet
Baby showers that are a little on the formal side, whilst beautiful, really aren't for everyone.
For the mom-to-be who prefers a more relaxed, chilled-out kind of party, putting on a simple buffet where guests can help themselves to food as and when they want is ideal.
It takes away from the formality that comes with a sit-down meal, and the chances are, there'll be something on the table that everyone will enjoy.
You could make the day even more chilled by defying the traditional convention of only women being allowed to come, and allowing guys to attend, such as the dad-to-be.
10. Hand Out Favors
Check Price on Amazon
A big part of the fun of both planning and attending a baby shower is the favors that go along with it.
There's no shortage of sweet little items that can be purchased – or even made at home – to show appreciation to all the guests for coming, and for their gifts and well-wishes for the mom-to-be.
Guaranteed hits with no prep required include miniature candles, succulents, tea bags, keychains, bottle openers in the shape of feeding bottles, and small packets of sweets.
For a more personal and homemade touch, consider handing out sweet cones, flower seeds in little bags, Ferrero Rocher baby rattles, or miniature bottles of flavored sugars.
---
Baby Shower Games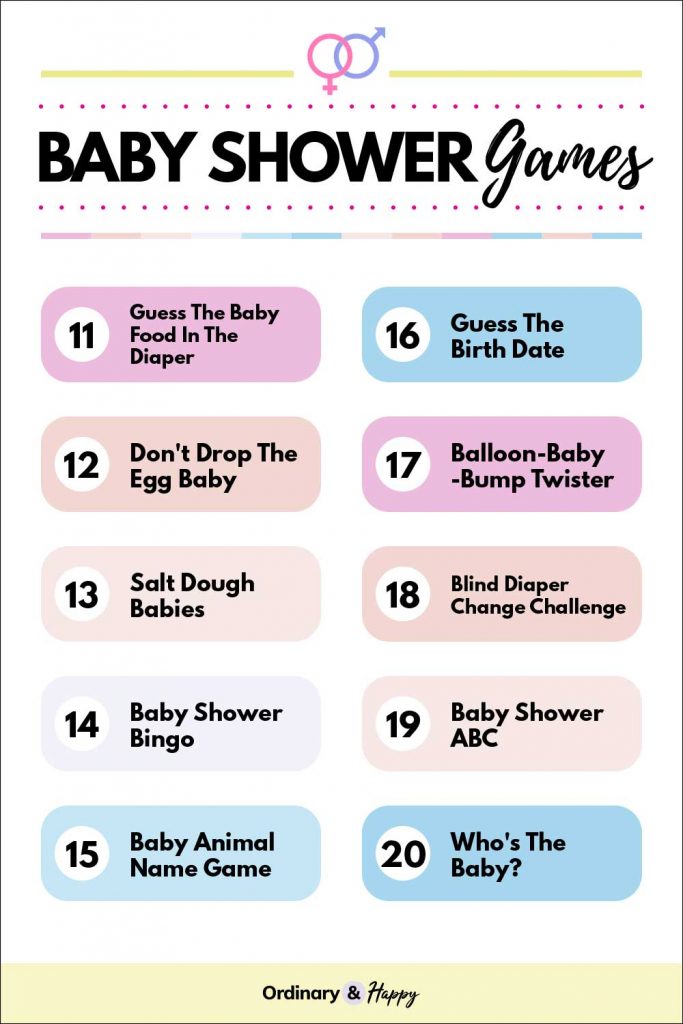 11. Guess The Baby Food In The Diaper
It seems as though both parents and non-parents alike know that baby poop has a tendency to appear in a wide range of colors and textures, and for the most part, it's all perfectly normal.
So, what better way is there to celebrate a brand new baby than by smothering a bunch of diapers with jars of baby food for people to smell?
Much like baby poop, baby food also comes in pretty much any color you can think of, and they look remarkably similar too.
Make a run to the grocery store, pick up a few jars of baby food in different flavors, and a small pack of diapers.
Smear the food on individual diapers and let people guess the flavor. This is a funny baby shower game that's not for the faint-hearted – just don't forget to keep the jars, so you know what's in what.
12. Don't Drop The Egg Baby
A baby-themed spin on the classic egg and spoon race. Ask each guest to decorate a hard-boiled egg (boil them the day before, so they're nice and cold, and remember to leave the shell on) with colored markers, to look like a baby.
Set up a starting point for the race, and a finish line. Once everyone has finished decorating, get each person to carefully balance their egg-babies onto a large spoon, and start the race.
Whoever's egg falls off their spoon before they reach the end is disqualified, and the first person to cross the finish line with their precious bundle of egg intact wins the race.
13. Salt Dough Babies
Think of it like a baby shower-themed beauty contest for salt dough models. Set up a creation station on a table with different colors of salt dough, some decor items (mini pacifiers and baby bottles are both good choices), and some simple molding tools, such as plastic knives and forks.
The idea is for each guest to make the cutest model baby they can out of the salt dough, within a set time frame – 15 minutes is all that's needed.
Line up all the finished salt dough babies on the table and let the mom-to-be decide the winner.
14. Baby Shower Bingo
Check Price on Amazon
All you need for this game is some bingo cards (3 x 3 squares will do just fine, but depending on party size, you can have as many or as few as you like), and some pens.
Before the party, write down on each card some of the classic baby shower gifts you think people are likely to bring, such as a teddy bear, baby clothes and blankets, and so on.
As the mom-to-be opens her gifts, people can cross out or bingo stamp each gift that comes up on their card.
Make sure to mix and match the answers across the cards, though, or everyone will be shouting 'bingo!' at the same time!
15. Baby Animal Name Game
Check Price on Amazon
For this game, you'll need a list of different animals and the names for their babies. For example, a whale's baby is a calf, a baby fish is called a fry, seals have pups, and so on.
You'll also need a list of animals with space for an answer, and enough copies of this list for each guest.
Put everyone's animal kingdom knowledge to the test by asking them to write down the name for each animal's baby in the relevant space.
Once everyone is done, go through the list and call out the answers to the guests, so they can see how they fared. Whoever gets the most answers correct is the winner.
16. Guess The Birth Date
A tried-and-true classic baby shower game that always gets people talking. Get a large calendar page of the month that the mom-to-be is due, and ask her to reveal her due date to all the guests.
Then, ask each guest to write their name on the date that they think the baby will be born. There's likely to be a wide range of guesses since only 5% of babies are born on their due date.
The fun thing about this game is that no one will know who the winner is straightaway – not until the new baby has made their arrival!
17. Balloon-Baby-Bump Twister
This physical game is a surefire way to get everyone laughing – both those taking part and folk who may be watching from the sidelines.
Essentially, it's a classic game of Twister, but with a baby-themed spin (pun intended!). Before the shower, blow up some balloons, and when it's time to play, ask each participant to stuff a balloon under their shirt, to make the 'balloon baby' before getting stuck into the game.
Hilarity will ensue as the unwitting attendees twist themselves into tangles. Prizes can be given for categories such as best pose, most balloons under a shirt, no balloons dropped, and so on.
18. Blind Diaper Change Challenge
Some prep is required for this one. To play, you'll need two baby dolls, a diaper for each guest (and a couple to spare), and blindfolds.
Separate guests into two teams, and have them play off against each other by having each member of both teams change the diaper on their respective dolls, whilst wearing a blindfold.
Whichever team finishes the fastest is the winner. Bonus prizes can also be given for whoever changes the diaper the fastest, or the most accurately.
19. Baby Shower ABC
This game is both super simple to set up and is bound to get people talking and laughing.
Some guests may even form alliances when trying to find answers for the more difficult letters, such as Q and X.
The game is simple: hand out a pen and a piece of paper with each letter of the alphabet written vertically down the left side to each guest, and ask them to write a word that's baby-related that begins with each letter.
20. Who's The Baby?
A fun game that puts the guests under the spotlight, but requires some planning beforehand, and is best for smaller, close-knit baby showers.
Ask each guest to send a photo of themselves as a baby, and print them off and label them with numbers before the party.
Give everyone a piece of paper and have them guess who the baby is in each photo. Give a prize to the guest who guesses the most answers correctly.
---
With a little planning and creativity, you can plan a baby shower that absolutely everyone invited will love.
From fun activities to hilarious games, there's so much you can do to make the mom-to-be's day so special. Have fun, and make it memorable and magical!
You Might Also Like to Read
---
Planning a baby shower soon? Get inspired by our list of ideas, activities, and games, by saving this article to one of your Pinterest boards.