This post may contain affiliate links, meaning if you book or buy something through one of these links, I may earn an affiliate commission at no additional cost to you. Learn more
Need to give yourself a little TLC? Spend some quality alone time decompressing, relaxing, or having fun with these creative and enjoyable solo dates ideas you can do all by yourself.
Solo Date Ideas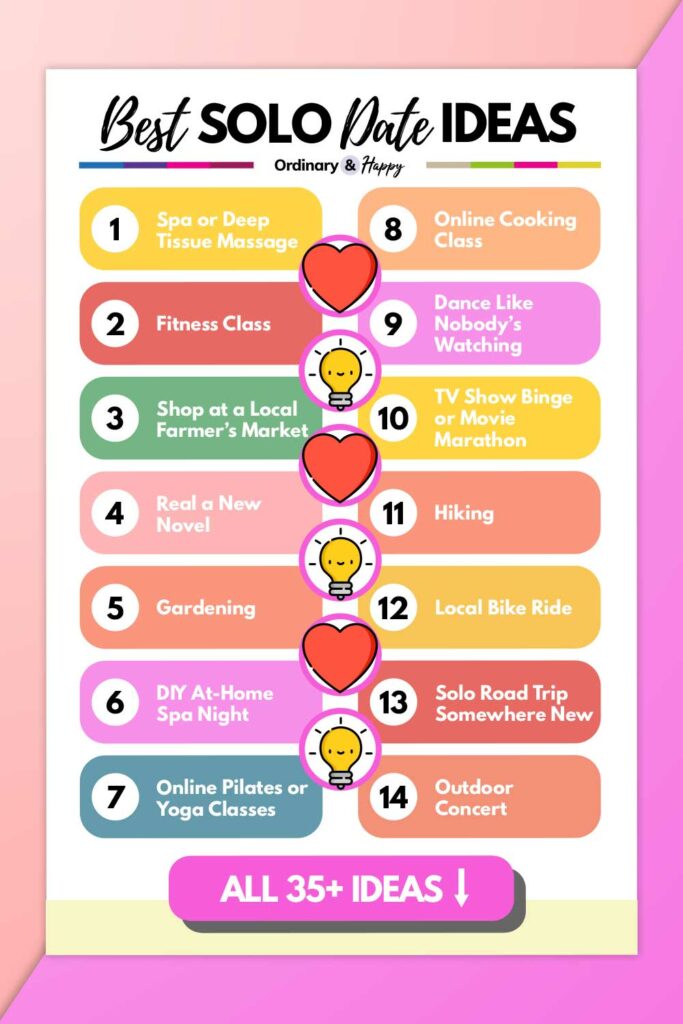 ---
Relaxing Ideas
If life has been a little too hectic recently, give yourself some much-needed downtime and self-care with some of these relaxing solo date ideas.
1. Go for a massage at a spa or physiotherapist to ease those aches and pains.
2. Sign up for a fitness class either online or at your local gym or sports center.
3. Stroll through the local farmer's market and see what goodies you can find.
4. Get lost in fantasy worlds or edge-of-seat thrillers by reading a novel at a bookstore or coffee shop, either as a paperback or on your Kindle Paperwhite.
5. Enjoy an afternoon of gardening and document your progress on your phone to see your hard work come to life.
---
At-Home Ideas
Don't want to leave the house? That's not a problem. You can plan a solo date full of fun, excitement, and relaxation from the comfort of your humble abode with these at-home date ideas.
6. Enjoy a spa night at home and use some of our DIY at-home spa ideas to help you plan it.
7. Watch some pilates or yoga youtube videos and enjoy a session from the comfort of home.
8. Take a cooking class online and whip up a delicious new dish to enjoy all by yourself.
9. Turn the music up loud and dance like nobody's watching – because, literally, nobody is!
10. Grab the snacks and a comfy blanket and have a movie marathon or binge-watch one of the latest tv series.
---
Outdoor Ideas
Get some fresh air, embrace all that is glorious about the great outdoors, and give some of these outdoor solo date ideas a try to feel energized, refreshed, and brand new.
11. Go hiking in a beautiful area and conquer a well-known trail.
12. Go for a bike ride around your local town or a scenic area.
13. Take a solo road trip somewhere new and exciting for the day.
14. Go listen to some live music at an outdoor concert or venue.
15. Unwind with a beach day or pool day in the sun.
Related: 100+ Things to Do at the Beach (Bucket List)
---
Fun Ideas
Bring some welcome joy, laughs, and excitement into your life with these fun date ideas, ideal for doing on your own.
16. Get inspired and see new exhibitions at an art museum.
17. Go shopping for a new wardrobe.
18. Try a new cuisine or a new restaurant in town.
19. Treat yourself to a cappuccino or flat white at a nice coffee shop.
20. Have brunch at a fancy restaurant.
---
Luxurious Ideas
Fancy pushing the boat out and treating yourself? Do it with some of these luxurious solo date ideas because let's be honest, you've earned it!
21. Book a weekend getaway at a cool Airbnb or hotel.
22. Take a hot air balloon ride over a beautiful place with champagne and picnic foods.
23. Book a VIP ticket to see your favorite band on tour at a concert or music venue.
24. Book yourself into the club room at a hotel or order room service all day while watching your favorite movies and taking a bubble bath with champagne.
25. Book a Michelin restaurant dining experience and get ready for some multi-course magic.
---
Ideas on a Budget
If you want to keep things free or inexpensive, there are still plenty of fun and enjoyable ways you can spend your time. Give some of these budget solo date ideas a try.
26. Have a picnic in a local park with plenty of delicious picnic foods.
27. Take a trip to a botanical garden.
28. Go on a scenic walk or stroll and enjoy the tranquility and gathering your own thoughts.
29. Go camping in a scenic area and enjoy some much-needed alone time in nature.
30. Channel your inner artist with a paint night at home complete with wine.
---
More Solo Date Ideas
Still looking for fun and creative ways to spend some alone time? Try some of these solo date ideas and prepare yourself for new experiences and plenty of fun.
31. Take a fun new workshop like glass-blowing and see if you discover a new hobby.
32. Take a krav maga class and learn some valuable self-defense.
33. Enjoy a spot of lunch at a sushi bar.
34. Watch a new release at the cinema or movie theater on a midweek morning or afternoon when it's quieter.
35. Try some new cocktails at a speakeasy.
36. Take an online or in-person course and learn a new skill.
37. Volunteer your time at a charity for a good cause.
38. Listen to some smooth jazz on the radio or from a playlist through a speaker.
---
Sometimes you need to take a break, recharge, and try new and exciting experiences. These solo date ideas should give you plenty of creative ideas to spend some much-needed time alone in fun and enjoyable ways.
You Might Also Like to Read
---
Keep these solo date ideas for safekeeping, ready for when it's time to take a break, by saving this article to one of your Pinterest boards.