This post may contain affiliate links, meaning if you book or buy something through one of these links, I may earn an affiliate commission at no additional cost to you. Learn more
Spend time with your boyfriend, girlfriend, or date in a fun and creative way by getting inspired by these date ideas for teens, ideal for school nights and the weekend.
Best Date Ideas for Teens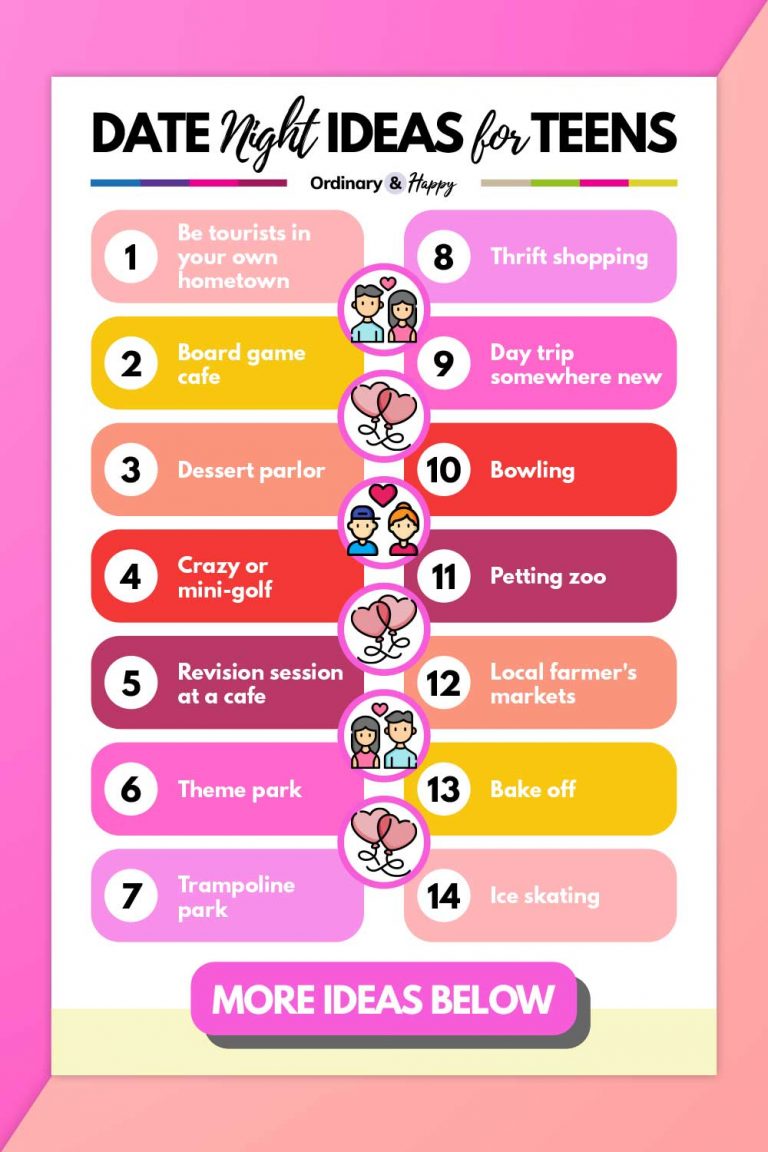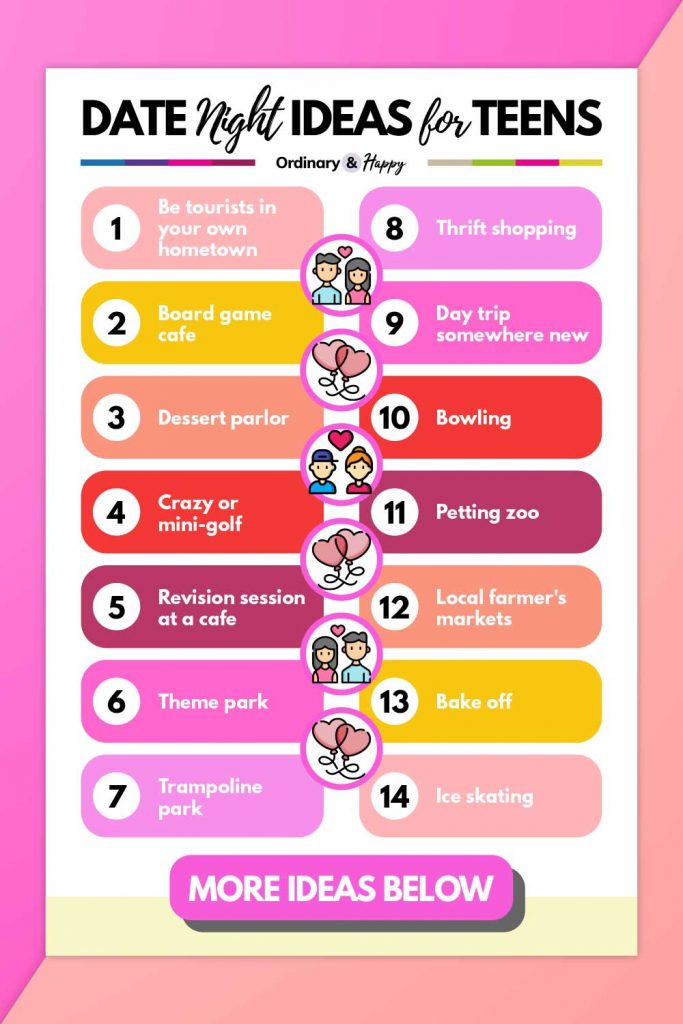 ---
First Dates
1. Be Tourists in Your Own Hometown
Often, when we've lived somewhere our whole lives, we neglect the tourist activities that people do when visiting from other cities.
This is a shame, though, as we should make the most of our hometowns. So, with your date, make an itinerary and plan to visit the sights you may not have seen or appreciated before. This will give you plenty to talk about.
2. Board Game Cafe
Boardgame cafes have been growing in popularity over the past few years and are great for a first-date spot.
If you get stuck for conversation, you always have the game to fall back on. This is a way to break the ice and you can get to know each other whilst competing.
3. Dessert Parlor
Whether you have a sweet tooth or not, going to a dessert spot is an easier option for a first date.
It's ideal as if you find the conversation isn't flowing, it's non-committal – you can just leave after you've had your sweet dishes. That's why something more casual is preferable over a fancy restaurant early on in your relationship.
4. Mini-Golf
Playing mini-golf for a first date is a fantastic idea. Straight away, you have an activity to concentrate on and chat about. Plus, if it's not going that well, at least you can enjoy improving your putting.
5. Revision Session at a Cafe
If you know each other from school or college, having a study date is the perfect way to meet without putting too much pressure on yourself.
That way, you can chat, build your relationship, and help one another. With this, you can get a better idea of whether you see them as more than a friend.
Also, if you plan it for somewhere public, like a cafe, then it feels a bit more formal than doing it at one of your homes.
---
Fun
6. Theme Park
What could be more fun than being flung from side to side and flipped upside down by a roller coaster on a date?!
Theme or amusement parks can provide hours of entertainment. Dates like this are memorable and you get to see another side to your date – do they get scared? Will they hold your hand when you get to the top of the roller coaster? There's only one way to find out…
7. Trampoline Park
For something a little different, bounce into your next date by going to a trampoline park! Make sure to wear clothes that you can move around in freely, as trampolining can be harder work than it looks.
You're sure to have lots of laughs along the way, though you're both likely to have your fair share of falls.
8. Thrift Shopping
Whether you need to buy anything new or not, thrift shopping together is a lot of fun.
You could help to pick each other new outfits out, buy one another a gift, or try on clothes you'd never normally. You might even find yourself a few hidden gems along the way.
9. Day Trip Somewhere New
See where you can visit nearby that's easily accessible, and arrange to have a day trip there. Exploring somewhere new together is a super fun and adventurous thing to do.
You can even learn a bit about the area along the way. Create a list of things you want to see and do to tick off before you set off to make sure you make the most of your time.
10. Bowling
Bowling is a classic date choice for a reason – it's very entertaining. Whether you and your date are skilled bowlers or on the opposite end of the spectrum, you can have a lot of fun finding out.
Adding a little bit of competitiveness to your date can sometimes help you to learn more about what they're like too!
---
Cute
11. Petting Zoo
Does it get any cuter than going to see the animals at a petting zoo? You can learn about all the different creatures whilst getting to see them up close. If you both love animals, this is a lovely way to spend a date.
12. Local Farmer's Markets
If you go to a market when it's fairly quiet, it can be a cute way for you to find out what each other likes and dislikes, whether it's particular food, clothes, or trinkets.
You could set each other a budget to find and buy something for the other person, which they can then take home with them as a cute little memento.
13. Bake-off
Baking together or having a baking competition is a wholesome way for you to get closer.
Make sure you clear plenty of space in the kitchen you're using and get your ingredients before the date. Bonus: you get to eat your baked goods after!
14. Ice Skating
Even If you've never ice skated before, doing it for the first time on a date can be a wonderful opportunity to learn. If you do it together, you can both offer encouragement and support.
On the other hand, if you are a seasoned skater, you can show off your skills on the ice with this date idea.
15. Make TikTok Videos
If you're both TikTok fans, then why not think up some ideas and create videos of your own as a pair? It's cute because you can bounce ideas off each other and bring your ideas to life – teamwork makes the dream work.
Plus, if you do end up staying together for years to come, the videos you make earlier on will be so precious to you in the future. Who knows, you could even become the next viral sensation!
---
Budget-Friendly
16. Get Out in the Great Outdoors
Nature trails, botanical gardens, mountain hikes: the options are endless for getting out and enjoying nature on your date.
Plus, these come with little to no cost, you are doing something that's good for you, and you have plenty of time to talk without too many distractions.
17. Movie Marathon
Popcorn, chips, and candy at the ready: sit back, relax, and enjoy one of your favorite movie franchises with your date. You can both add your own commentary, whilst pausing or rewinding when you want to discuss a particular scene.
You don't need to spend anything if you already have snacks in the cupboard at home, so this is a very good money-saving date idea.
18. Gamer Evening
Set the stakes, grab your consoles, then enjoy a fun evening of gaming. You can make the date more of an event by turning it into a one-on-one tournament, with prizes or forfeits involved.
These don't have to cost anything, though, the winner could simply get to give the loser a dare so that there is more to play for. Oh, and remember to keep track of the scores.
19. Fun Museum
A lot of museums are free or low-cost, so they're a good option if you're not wanting to spend much money.
They don't have to be boring either – research what is nearby to you and find something that looks interesting.
20. Set up Camp in the Garden
If you already have a tent, then this is a super, free date idea. Put the tent up together, fill it with comfy pillows and snacks, then you're ready to enjoy your den.
You could bring your laptop out to watch a film, play music on your phones, tell ghost stories with a torch, play cards, pretend you're in the wild, or whatever else you want. Get creative!
---
Unique and Memorable
21. Treasure Hunt
You can host a treasure hunt in various different ways. One option is for you to both create checklists with items on for the other to find and tick off in a race against the clock.
Alternatively, to make it fairer, you could both work from the same list and race each other to find it first. The list could be things around the home or outdoors.
22. Start a Fun Project Together
Although this isn't a typical date, it's a way for you to work together and learn about each other's strengths.
It could be a DIY task, something to help you at school, or even a personal improvement project. This not only enhances your relationship, but it can enrich your lives, as you're learning and growing along the way.
23. VR Experience
Virtual reality is all the rage at the moment and this is looking set to continue. A lot of gaming venues offer VR sessions that you can do as a couple.
There are usually different options you can choose from, whether you want it to be horror or adventure. This is definitely a unique thing to do on a date, which is sure to be something you both enjoy.
24. Paint a Portrait
Even if art isn't your thing, creating a drawing or painting of each other is more special than a standard date.
The end results can be funny or even impressive, depending on both of your skills. Getting artsy is also a therapeutic practice, so it can be a nice, chilled date.
As well, you can both swap portraits at the end and you'll have a keepsake to take away with you so that you'll always have a tangible memory of the date.
Related: 100+ Drawing Ideas List
25. Themed Feast
Who doesn't love delicious food? First, pick a theme – it could be a certain cuisine, ingredient, color, letter, or many others. For example, if you chose the color red, you could each bring five different bites along.
These could be strawberries, red velvet cake, or raspberries, for example. This requires you both to be a little creative, and it's exciting not knowing what your date will bring to the table.
---
Romantic
26. Scenic Bike Ride
Going for a bike ride in a beautiful setting oozes romance, especially if you time it so that you catch the sunset somewhere special.
Just make sure that you pick a day with nice weather – it's not so pleasant if you find yourself getting caught in a shower!
27. Pamper Evening
Candles, face masks, massages… having an evening of self-care with your date is more romantic than you might think. It allows you both to decompress and treat each other. You both deserve it!
28. Picnic
Grab a blanket, snacks, and drinks, then find yourself a nice, quiet spot somewhere peaceful. Voila, you've got yourself a picnic!
This is a relaxing way for you and your date to enjoy one another's company somewhere special while appreciating your surroundings and tasty food.
If you need a little inspiration, both our picnic essentials and picnic food list have plenty of ideas to help you plan a memorable picnic date.
29. Watch a Show at the Theater
There are so many amazing shows and musicals to watch. Have a look online for your nearest theater, dress up smart, and enjoy an evening of singing, dancing, and memories.
30. Cook a Three-Course Meal Together for an at-Home Dinner Date
Although you might cook for each other regularly if you're in a relationship, often it won't be as a date.
If you both make the effort to create special dishes that take time and effort, it shows that you've put a lot of thought into the date.
One person could cook the main, whilst the other can take on the starter and dessert. Get in your best outfits once the food is prepped, and take pride in the fact that you put together three courses of deliciousness.
---
Double Dates
31. Visit an Arcade
Arcades are jam-packed with games to suit everyone, which makes them ideal for groups.
You can team up and go against the other couple to make it more exciting. This will allow you to see how you get on as a couple.
32. Escape Room
Usually, if you're in a group, you're at an advantage when it comes to escape rooms, as there are more minds to help you get out. Solve puzzles, work out the riddles, and escape together.
This is a brilliant way for you to integrate with each other's friends, as having tasks to do means you can skip any of the awkward conversations and get comfortable as a group more quickly.
33. Beach Day
Beach days together are pretty unbeatable. You can go swimming, do water sports, play frisbee or volleyball, sunbathe, build sandcastles, and so much more.
Nearly everyone loves spending time at the beach, and there's just so much fun to be had and lots of activities to do with your date and friends.
Read more: 100+ Things to Do at the Beach (Bucket List)
34. Table Tennis
Ping pong is great to play as a four as it's fast-paced and a lot of fun. Go to a nearby sports center or see if anyone on the double date has one at home. You could also consider other team sports like golf, tennis, or badminton.
35. Live Music Gig
If you all love the same music artist, then why not go to see them together? Dancing and singing your favorite songs is one of the best ways to connect.
What are you waiting for?! Find out when the next gig is in your hometown and book tickets.
---
Sometimes, when you're a teen, it feels like there are few places you go can when you're dating someone. However, as these teen date ideas show, that isn't the case.
All it takes is a little planning and creativity, and you can spend quality time with your date, boyfriend, or girlfriend, without needing to go to bars, clubs, or staying at your parents' house all the time.
You Might Also Like to Read
---
Keep these date ideas for teens for safekeeping, by saving this article to one of your Pinterest boards.