This post may contain affiliate links, meaning if you book or buy something through one of these links, I may earn an affiliate commission at no additional cost to you. Learn more
Give a friend or loved one who's crazy for cheddar or goes gaga for gorgonzola plenty of reasons to smile with these wonderful gifts for cheese lovers, ideal to wrap up for birthdays or the holidays.
Gifts for Cheese Lovers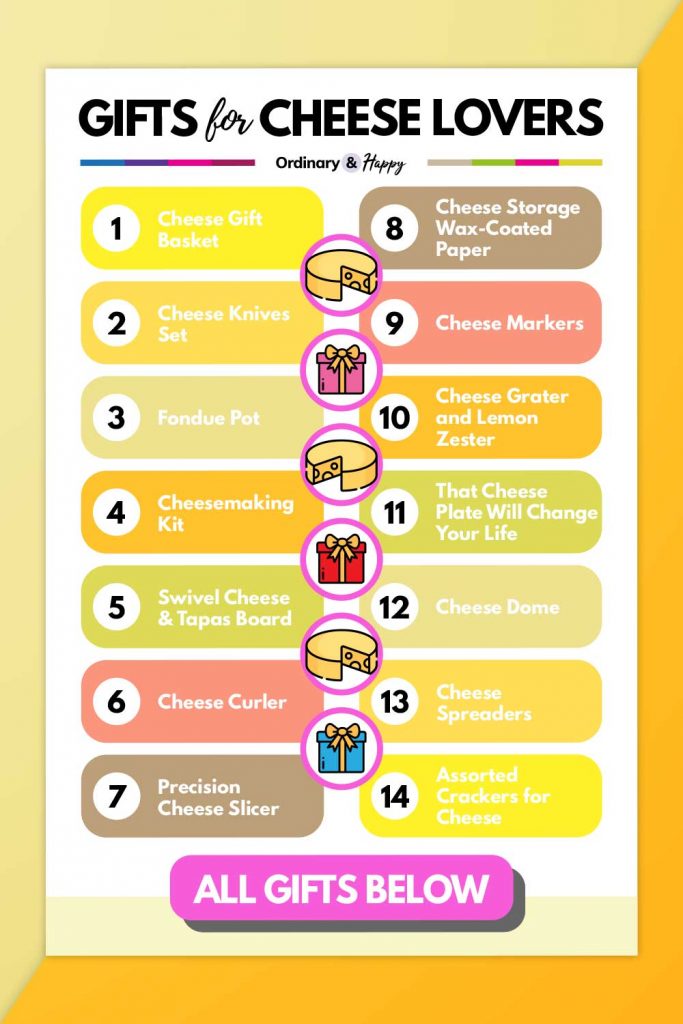 ---
Best Gifts
1. Cheese Gift Basket
Check Price on Amazon
The tastiest gift to buy for the cheese lover in your life? A delicious cheese gift basket, of course!
Offer your recipient variety by opting for a gift basket featuring a range of different cheeses for them to share at their next event or just enjoy themselves.
You never know, the basket may feature a type of cheese that the lucky recipient hasn't yet tried, and it could become a new favorite.
2. Cheese Knives Set
Check Price on Amazon
No cheese connoisseur's collection is complete without a set of beautiful knives to use with their favorite cheeses.
Treat the cheese lover in your life to a professional-looking set of cheese knives that they can show off at their next cheese and wine party.
Cheese knife sets typically come with a range of knives for different uses, with some knives ideal for soft, spreadable cheeses, and other knives more suited to hard or crumbly cheese.
This means your cheese-loving bestie can enjoy perfectly sliced cheese on a tasty cracker.
3. Fondue Pot
Check Price on Amazon
For a cheese-based present with a twist, try an electric fondue maker.
These handy tools melt a delicious cheese of your choice into fondue, allowing you to dip bread or other tasty foods into a mouth-watering foundation of melted cheese.
Electric fondue makers tend to come with fondue forks, a fork rack, and adjustable temperature settings for the full experience.
Many models also work for chocolate – that's dessert sorted!
4. Cheesemaking Kit
Check Price on Amazon
How do you surprise the cheese lover who has tried every cheese in existence?
Buy them an at-home cheesemaking kit, of course! Give your cheese-loving best friend the gift of creativity by treating them to a cheesemaking kit, perfect for beginners.
Cheesemaking kits contain all the ingredients, including detailed instructions on making your favorite cheese from scratch.
The lucky recipient will feel like an artisan cheesemonger in no time. You never know, you may even spark the idea of a new career!
---
Unique Gifts
5. Swivel Cheese & Tapas Board
Does the cheese lover in your life also love small dishes? Are they passionate about being the hostess with the "mostess"? If so, a swivel cheese and tapas board is the perfect gift for them.
This gift is ideal for those who love hosting, as they allow you to display your spread with maximum style.
Many models come with various compartments to store bowls and knives, making them not only attractive but useful too.
Some cheese and tapas boards can even be collapsed to fit in your cupboard easily.
6. Cheese Curler
Check Price on Amazon
If you're buying a gift for a cheese lover who's passionate about both taste and aesthetics, treat them to a cheese curler.
Cheese curlers are used to carve medium and firm cheese into beautiful paper-thin ribbons that resemble cheesy roses.
Transforming the cheese into these ribbons also aerates it, resulting in an intense flavor hit once the cheese hits your tongue.
These cheese ribbons are ideal when served up alongside tapas or a charcuterie board, or you can enjoy cheese curls as the French do by partnering them with extra virgin olive oil and balsamic vinegar.
Cheese curls are likely to transform any dinner party, making a cheese curler the perfect gift for any friend who loves hosting.
7. Precision Cheese Slicer
Check Price on Amazon
If you're looking for a gift for the cheese enthusiast in your life who likes their cheese sliced just right, you can't go wrong with a cheese slicer.
Cheese slicers allow you to slice cheese to the perfect thickness since different cheeses taste better with varying degrees of thickness.
Using a cheese slicer is an easy way to chop your cheese of choice at a dinner party, making it the ideal gift for those who like to host.
---
Budget-Friendly Gifts
8. Cheese Storage Wax-Coated Paper
Check Price on Amazon
If you're buying within a budget but still want to wow the cheese connoisseur in your life, buy them some wax-coated cheese storage paper.
Cheese is notorious for going bad in the fridge if not stored correctly, so this cheese storage paper is here to save the day. This breathable paper is ideal for wrapping half-open cheeses to make sure they stay fresh for longer.
This small gift is guaranteed to make the lucky recipient's life easier and help them reduce their food waste and environmental impact.
9. Cheese Markers
Check Price on Amazon
We've all been there. You arrive at a dinner party, ready to tuck into the cheese board, but the cheeses aren't labeled, and you have no idea which is which.
Help your cheese-loving buddy avoid this issue by gifting them some handy cheese markers.
These cheese markers are engraved with the names of popular cheeses, making them perfect for parties, cheese boards, and appetizer platters.
That way, you're ready to tuck in without worrying about trying a cheese you don't like.
10. Heavy-Duty Cheese Grater and Lemon Zester
Check Price on Amazon
Small touches like grated parmesan and lemon zest can make a massive difference to a home-cooked meal.
If you've ever visited an Italian restaurant, you'll understand the temptation to ask for an unlimited amount of parmesan grated onto your carbonara!
If you know somebody who loves cooking with grated cheese, consider buying them a handy grater-zester to take their home cooking to the next level.
This practical tool will be an excellent addition to any budding chef's collection.
11. Book – That Cheese Plate Will Change Your Life
Check Price on Amazon
Does the cheese lover in your life also love to read? If you know somebody who loves literature as much as they love gorgonzola, treat them to the fascinating book 'That Cheese Plate Will Change Your Life.'
This how-to guide takes the guesswork out of hosting by advising readers on how to craft delicious and well-presented cheeseboards for any occasion.
12. Cheese Dome
Check Price on Amazon
Cheese domes over the perfect way to store cheese without wrapping it, therefore minimizing the amount of cheese you end up throwing away.
Not only do cheese domes provide a practical way to store cheese without risking it going bad, but they also look elegant whilst doing so.
If you know somebody passionate about cheese and reducing food waste, this could be the ideal gift for them.
13. Cheese Spreaders
Check Price on Amazon
No cheese board is complete without stylish cheese spreaders (also known as spatula knives) to help you spread soft and creamy cheeses on an assortment of tasty crackers.
Novelty or stylish cheese spreaders make the perfect gift for the cheese lover in your life. They can transform themselves into a top hostess at their next cheese and wine evening with the help of some handy and attractive spreaders.
14. Assorted Crackers for Cheese
Check Price on Amazon
Everybody knows that the perfect accompaniment to a spread of delicious hard and spreadable cheeses is a similarly tasty set of luxury crackers.
If your bestie loves cheese and you're looking for the perfect affordable gift, treat them to a set of assorted crackers to help them spruce up their cheese boards.
A cracker assortment is any cheese lover's best friend when the craving for cheese strikes. The variety of crackers will ensure there's a type of cracker to suit every variety of cheese available.
These versatile assortments also work well for hors d'oeuvre, making them perfect for all hosting opportunities.
---
Luxury Gifts
15. Handmade Cheese Knife
Check Price on Amazon
If your bestie loves cheese and has expensive taste, a handmade cheese knife is a perfect gift for them. A handmade cheese knife will be the belle of the ball at any event involving a cheese board or other delicious assortment of food.
Specialist cheese knives expertly slice cheese, ensuring you've got the perfect amount of cheese on your favorite cracker.
Handmade cheese knives can be on the expensive side, so it's a great way to treat a friend to a luxury item they may not otherwise buy for themselves.
16. Cheese Subscription
For a gift that keeps giving, treat your foodie friend to a cheese subscription such as the International Cheese Subscription from iGourmet. This quirky idea will ensure that the cheese aficionado in your life always has a new cheese to try, and may even introduce them to types of cheese they've never tasted before.
A tasty cheese subscription will also allow them to vary their cooking, with the different cheeses providing an opportunity for a new dish every month.
17. Raclette
Check Price on Amazon
Raclette is a popular dish based on heating cheese and scraping off the melted part to serve alongside other food such as boiled potatoes.
This delicious meal is common in Switzerland, but its popularity has grown internationally in recent years as more and more people experience its delicious flavor.
If you're looking for a luxury gift for a cheese lover, a raclette grill is a perfect choice. These eight-person grills allow you to experience the fun and flavor that comes with eating raclette cheese, and it's the ideal tool for hosting a completely unique dinner party.
18. Cheese Grotto
Check Price on Amazon
A cheese grotto is a unique and stylish cheese storage device, an ideal gift for any cheese connoisseurs you know.
Cheese is renowned for going bad when left uncovered, so a cheese grotto helps avid cheese eaters save hundreds of pounds a year from food waste costs.
It also benefits the environment by keeping food waste to a minimum, helping you save the planet from the comfort of your kitchen.
A stylish addition to any refrigerator, these handy storage devices are sure to make your favorite cheese lover happy.
---
Personalized Gifts
19. Personalized Wine and Cheese Carousel
If you want to buy a gift with a personal touch for your cheese-loving friend, treat them to a personalized wine and cheese carousel from Uncommon Goods. These quirky servers are a cheese board and wine bar all-in-one, making them ideal for somebody who likes hosting.
Their attractive appearance brings an elegant touch to any dinner party and makes for the perfect centerpiece for a wine and cheese night.
The option of personalizing your cheese carousel makes the gift even more sentimental, reminding your friend of how much you mean to them every time they see their beautiful new carousel.
20. Personalized Charcuterie Board
Check Price on Amazon
If you're searching for the perfect birthday, wedding, or housewarming gift for a cheese aficionado in your life, look no further than a personalized charcuterie board.
Perfect for nights hosting dinner – or just a cozy night in with tapas – charcuterie boards put the wow factor into any social event with their elegant appearance and heartfelt personalized message.
---
Funny Gifts
21. Funny Kitchen Towel
Check Price on Amazon
Is the cheese lover in your life also into silly puns? If so, a funny kitchen towel is an ideal gift for them.
Not only is this gift practical for cleaning up any kitchen spillages or acting as a helpful hand towel, but it will also bring a smile to the recipient's face with some cheese-based humor.
This fun gift will also give visitors to the recipient's house something to laugh at during the next dinner party.
22. Funny Socks
Check Price on Amazon
If you're looking for an affordable but hilarious gift idea for the cheese lover in your life, look no further than funny cheese socks!
Are they comfortable and practical? Do they reference cheese? Are they guaranteed to bring a smile to the wearer's face? Tick, tick, and tick!
---
There's so much joy, laughter, and practicality to be brought to a cheese lover's kitchen with these brilliant gifts, ideal for any occasion.
Don't settle for generic gifts if you know they love their cheese. Give them something with thought and meaning, that massively leans into their admiration of one of the world's favorite foods.
You Might Also Like to Read
---
Keep these awesome gifts for a beloved cheese lover in a safe place, by saving this gift guide to one of your Pinterest boards.