This post may contain affiliate links, meaning if you book or buy something through one of these links, I may earn an affiliate commission at no additional cost to you. Learn more
These Christmas gift ideas for mom will make the queen of the family feel special over the holidays!
If your mom is like mine in any way, she rarely buys herself nice things because she's always taking care of everyone else. That's why it's really important to make her feel special and loved with a little something that shows you're thinking of her.
Christmas Gift Ideas for Mom
There are plenty of great gift ideas on this list. Have a look through and see if anything jumps out. If she's particular about things like jewelry, I think self-care is a great place to start.
How often have you heard mom say she needs a nice massage or a relaxing bubble bath but never gets around to it?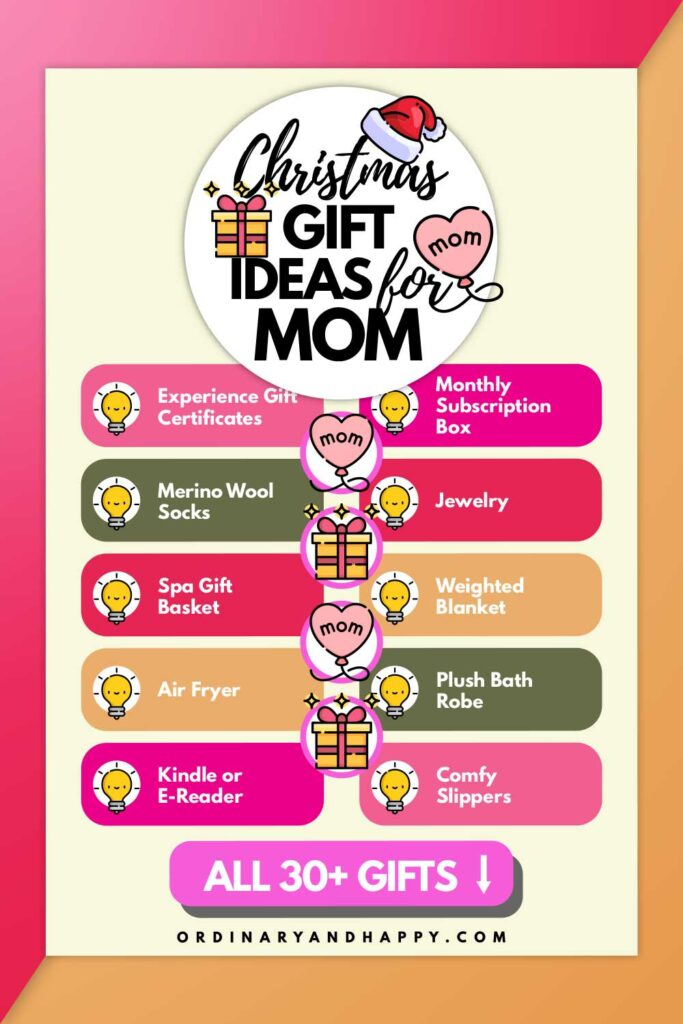 Popular Gifts
Experience Gift Certificates
Get your mom a gift certificate for an experience she would enjoy. The options to consider, among many, include:
Wine Tasting and Tour
Cooking Class
Food Tour
Brunch or Dinner Cruise
Sunset Sail
Massage and Wellness Spa Day
Art Class
Flying Lesson
Golf Lesson
Shop for gift experiences on Virgin Experience Gifts or on Viator.
Merino Wool Socks
Warm, fuzzy, comfy socks are such an underrated gift that you only start appreciating when you're an adult. Merino wool socks like these ones by Darn Tough, in particular, are an amazing gift.
Spa Gift Basket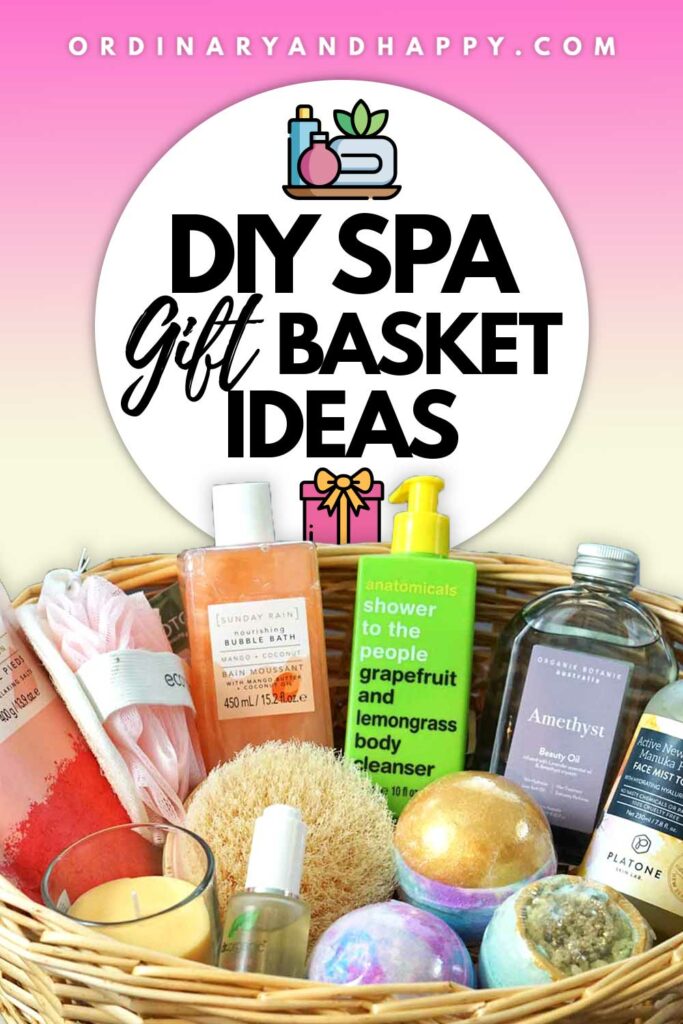 You can DIY a spa basket with your mom's favorite items or buy a ready-made spa basket like these ones at the Body Shop.
Air Fryer
It seems like this year has been the year everyone's getting an air fryer. If she doesn't have one yet and she enjoys cooking fried foods and quick roast dishes, this is a good appliance to have in the kitchen.
If budget is not an issue, go for a dual-basket one like this Ninja 10-quart 6-in-1 air fryer. If you're looking for a budget-friendlier version, look at a single-drawer one like this Ninja 4-quart single-basket air fryer.
Kindle or E-Reader
If your mom likes to read and she doesn't have an e-reader yet, you could get her a Kindle Oasis or Kindle Paperwhite. Pair that with a Kindle Unlimited Subscription for a few months, or simply give her a gift card so she can choose a few e-books she would love.
Monthly Subscription Box
This is a great last-minute gift as you can order it online and print out the gift page/certificate! And there are so many options, some of which to consider include:
Explore more ideas on Cratejoy or on Amazon.
Jewelry
If you know your mom's tastes, treat her to some gorgeous earrings or a beautiful new necklace.
---
For Comfort and Self-Care
Weighted Blanket
A weighted blanket can quickly become her trusted companion on the sofa. These types of blankets are especially great in the winter and can keep her warm and cozy when putting her feet up.
A Plush Bathrobe
Get her a plush robe, maybe with some at-home spa essentials so she can enjoy that lovely 'spa' feeling from the comfort of home.
Slippers
Get her some comfy slippers to wear around the house and help her keep her feet and body warm. Some slippers can lose their fluffiness pretty quickly, so a brand-new pair is never a bad idea.
Warm Comfy Pajamas
Get her some lovely new pajamas, like these Cosabella pajamas, that she can relax in before bedtime.
Aromatherapy Diffuser and Essential Oils
An aromatherapy diffuser can help create a relaxing atmosphere around the house.
---
Interest-Based Gifts
Indoor Herb Garden: For the Mom Who Loves to Cook with Fresh Herbs
AeroGarden can make indoor gardening really easy. With a range of new herbs, mom can really take her cooking to another level.
Audiobook Subscription: For the Mom Who Loves to Listen to Audiobooks
An Audible gift membership can give your mom access to thousands of new titles. Or, if you know she enjoys walking or yoga, you could introduce her to audiobooks through a membership.
Travel Accessories: For the Mom Who Loves to Travel
There are so many travel accessories you could get your mom if she's often taking trips, including:
Portable luggage scale
Packing cubes
Universal travel adapter
Travel pillow
Carry-on
Portable power bank
Travel document organizer
Luggage lock
Shop Travel Accessories on Amazon
Gardening Kit: For the Mom Who Loves to Garden
If mom has green fingers, get her a new tool or piece of equipment for the garden.
Shop Gardening Tools on Amazon
Fitness Gear: For the Mom Who Loves to Work Out
If mom loves to keep fit and active, get her a cool new piece of gear to help make those workouts a little easier and more practical.
Crafting Supplies: For the Mom Who is a DIY-er and Loves Crafts
If mom loves making handmade goods, she's always going to need craft supplies. From handmade greeting cards to replenishing her sewing kit, there's a lot you could get her.
Art Supplies: For the Artistic Mom
If you have an artistic mom, you could replenish her supplies with new brushes, pens, or paintbrushes. Or, you could get her a lovely new canvas and try to get her started on a new painting or project.
Shop Art Supplies for Adults on Amazon
MasterClass Subscription: For the Mom Who Loves to Take Online Classes and Learn New Things
If your mom is looking for things to do in her free time, MasterClass could be a great idea. She could try her hand at many new skills and learn at her own pace through their online classes.
---
Unique Ideas to Make Your Gift to Mom Stand Out
Custom Music Box with her Favorite Song
This music box with the option to upload songs is such a cute and thoughtful gift. Great choices could include songs from her teenage years, her favorite songs to dance to, or even her first dance song.
Digital Photo Frame
A digital photo frame can be a great way to take a trip down memory lane. You can even update it every year with new photos.
Custom Puzzle
Here's one not just your mom, but the whole family can have fun with. Create a custom puzzle on Shutterfly using a cherished photo and get it delivered in time for Christmas.
Custom Recipe Book
A customizable recipe book can be a really special gift. You can curate all those beloved family recipes, passed down from generations in a beautiful cookbook.
---
Funny Gifts to Make Mom Laugh
Funny Candle
This 'Mom Last Nerve' candle is bound to get a few chuckles! Plus, mom gets a lovely scented candle for the house.
---
Gifts for Mom If You're On a Budget
Gift Certificate for Your Time
Offer to help do house chores like cleaning the house, organizing the garage, or gardening. Make it tongue-in-cheek or add a little class by designing a gift certificate for her.
Coffee Mug
Give her a fancy new mug to enjoy her favorite brews. You could also add a message of love to the mug with a printing service.
Photo Album or Picture Frame
A picture frame with a photo of the family or a photo album with photos you've collected over the years makes for a special gift with a personal touch.
Handmade Gifts
You could take a craft course or spend some time making mom a handmade gift. Custom cards, Christmas wreaths, or decorative ornaments are all great options.
Homemade Baked Goods and Flowers
Why not bake mom a Christmas-themed cake, such as a fruit or gingerbread cake, for her to enjoy over the holidays? Complete the gift with a bouquet of flowers.
---
I really hope you get some ideas to make your mom feel special over the holidays.
Our moms often don't put themselves first, so a thoughtful gift can help them treat themselves just that little bit at Christmas!
You Might Also Like to Read
Save my Christmas gift list for mom to one of your gift guide boards. When it's time to buy gifts, you can easily find this list.