This post may contain affiliate links, meaning if you book or buy something through one of these links, I may earn an affiliate commission at no additional cost to you. Learn more
Get into the festive spirit with a date, partner, or spouse this holiday season with these Christmas date ideas, perfect for creating plenty of RomCom-worthy romance amid the glitz and magic of the festive season.
Christmas Date Ideas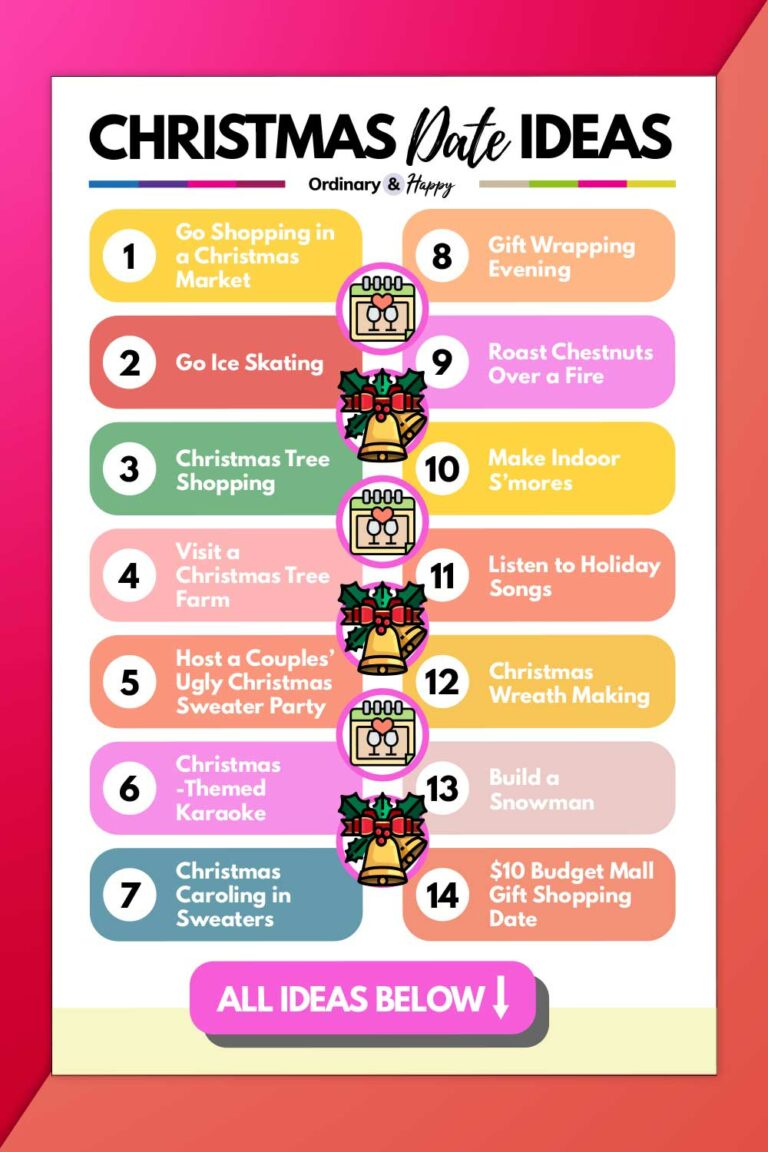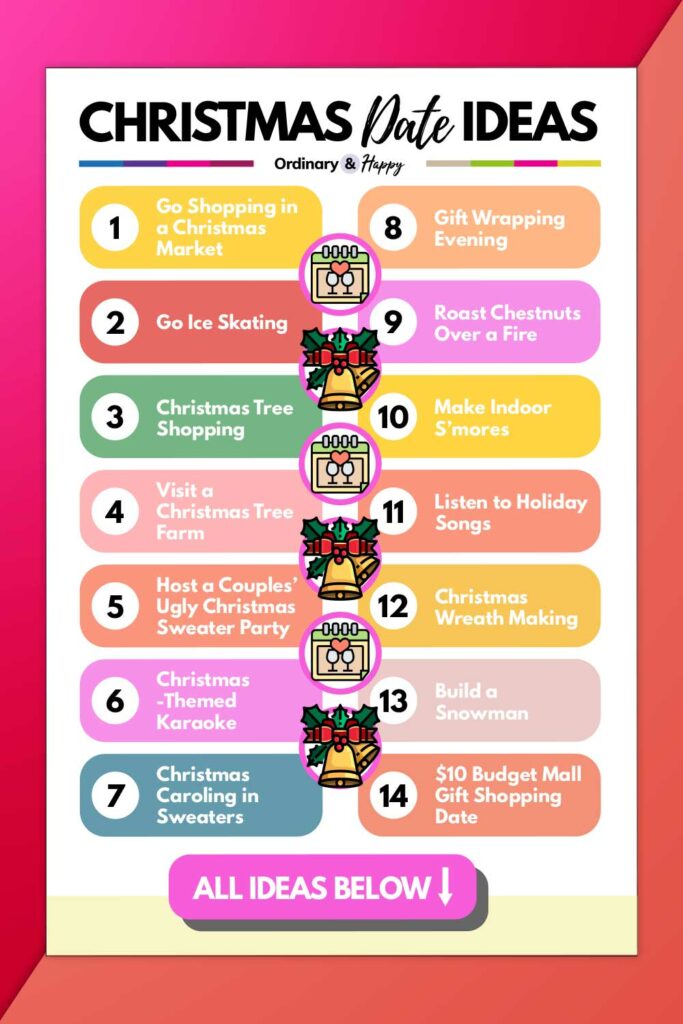 ---
Fun
Try some fun and exciting things and experiences together with these fun Christmas date ideas, ideal for keeping things romantic while also embracing everything that is so enjoyable about the festive period.
1. Stroll through a Christmas market together and sample the treats on sale.
2. Go ice skating and enjoy either the clumsiness or grace of it, depending on how good you both are at it.
3. Go Christmas tree shopping together. You can buy either real or artificial trees at places like Lowe's, Home Depot, Costco, Target, and Walmart.
4. For the real experience though, you can visit a Christmas tree farm to pick out the perfect Christmas tree.
5. Organize and host a couples' ugly Christmas sweater party.
6. Go for a Christmas-themed karaoke. Sing only your favorite holiday tunes either at a karaoke bar or set up a DIY karaoke at home.
7. Go caroling in Christmas sweaters at your friends' houses.
8. Have a nice evening of wrapping presents for the holidays, and compete on who has the most beautifully-wrapped gift.
9. Roast chestnuts over the fire.
10. If you have no place to roast chestnuts, you can have a date night making s'mores using an indoor s'mores maker such as this one.
---
Cute
With these cute Christmas date ideas you'll think you've both been cast in an award-winning festive season RomCom – why not give some of them a try?
11. Have a holiday music-themed date where you listen to each other's favorite holiday songs.
12. Make a Christmas wreath for your front door together.
13. Build a snowman together.
14. Head out to the nearest mall and give each other a small budget of say $10, and see who can get the best and most unique gift for the other within the set budget.
15. See who comes out as the winner in a snowball fight!
16. Arrange for a professional holiday-themed photoshoot.
17. Visit your nearby Winter Wonderland.
18. Make a pizza shaped like a Christmas tree or like a snow angel.
19. Attend a holiday orchestra performance.
20. Volunteer together at the animal shelter.
---
At Home
If the weather is a little too cold outside, embrace the warmth and coziness of your humble abode by spending intimate time together with these awesome at-home Christmas date ideas.
21. Buy a gingerbread house kit and get creative with the decorating.
22. Make hot chocolate, and sit somewhere comfy while chatting and sharing your dreams and goals for the new year.
23. Bake each other's favorite Christmas cookies together.
24. Christmas movie marathon, need we say more?
25. Decorate the outside of your house or the front door of your apartment with lights and Christmas wreaths.
26. Make a list of things you're grateful for as a couple and individually from this year.
27. DIY some handmade Christmas ornaments for your tree.
28. Have a Christmas-themed cocktail theme night, and include drinks such as old-fashioned eggnog, peppermint martini, gingerbread martini, and holiday-themed sangria.
29. Have a couple's board game night. You might want to take a look at our recommendations for best board games for couples.
30. Have an indoor Christmas-themed picnic, complete with holiday lights.
---
Romantic
Turn up the romance factor more than a few notches with these romantic Christmas date ideas, and prepare for some passionate, intimate time spent together amid the magic of the holidays.
31. Cook a romantic meal together, featuring all your Christmas favorites.
32. Go for a romantic sleigh ride together. Some places near you may offer horse-drawn sleigh rides. If nothing like that is available, buy or rent a sleigh and decorate it with
33. Create handmade Christmas cards for each other.
34. Surprise each other with a personalized Christmas treasure hunt.
35. Create a time capsule filled with memories from this past year that you can then open next year or in a decade or two.
36. Have a Christmas-themed spa day. Pick holiday-themed spa essentials such as candles like this Christmas tree aromatherapy candle, bath salts such as these cinnamon-sandalwood salts, and other spa products featuring holiday scents such as gingerbread, chestnuts, warm vanilla, or cranberries.
37. Drive around looking for the best Christmas lights in town.
38. Rent a cabin (or cottage if lucky enough to be near one) for the weekend and have a romantic weekend getaway.
39. Create your own couple's bucket list for the year(s) to come.
40. Have a special, once-in-a-year date such as a hot air balloon ride.
Related: Best Romantic Surprises for Him
---
Virtual/Online
Ignite plenty of romance-filled Christmas spirit over the Internet with these virtual Christmas date ideas. If you can't be together physically over the holidays, that doesn't mean you can't have some fun, romantic, and memorable dates together.
41. Have a virtual dance party on Zoom while playing holiday-themed music.
42. Mail each other Christmas PJs, and set up a zoom date in your new holiday PJs.
43. Have a Zoom date in Christmas or holiday-themed costumes (such as Frosty the Snowman or the Grinch), and see which one of you has the best costume.
44. Have a virtual Christmas movie night. Use our list of Christmas movies for inspiration.
45. Go on a virtual vacation such as this online Harry Potter Magic in Edinburgh Tour or this Irish Village, History, Culture & Craic online experience.
46. Attend a holiday-themed virtual concert together.
47. Learn how to make mulled wine together.
48. Learn how to make your own Christmas cards and once done, mail one to each other.
49. Watch a stream or recording of the northern lights online.
50. Take an online cooking class together. Even better if it's holiday-themed!
51. Watch a live stream of Santa's village in Lapland.
Read more: Best Virtual Date Ideas
---
Christmas comes but once a year, so make it a truly special one with your date or romantic partner by giving some of these date ideas a whirl.
From cozy nights in getting creative to some epic outdoor adventures, together you can get lost in the wonder of Christmas and let those sparks fly at the same time.
Oh, and for more date ideas, check out our 210+ date ideas list, our date ideas bucket list (with free printable), or our Christmas activities bucket list.
---
Keep this list of fun, romantic, and enjoyable Christmas date ideas for safekeeping, ready for the holiday season, by saving this article to your date ideas Pinterest board.