This post may contain affiliate links, meaning if you book or buy something through one of these links, I may earn an affiliate commission at no additional cost to you. Learn more
Bring some romance-themed fun to the annual celebration of love and friendship with these awesome Valentine's Day games, and enjoy laughs and excitement with your partner, best friend, or the whole family.
Valentine's Day Games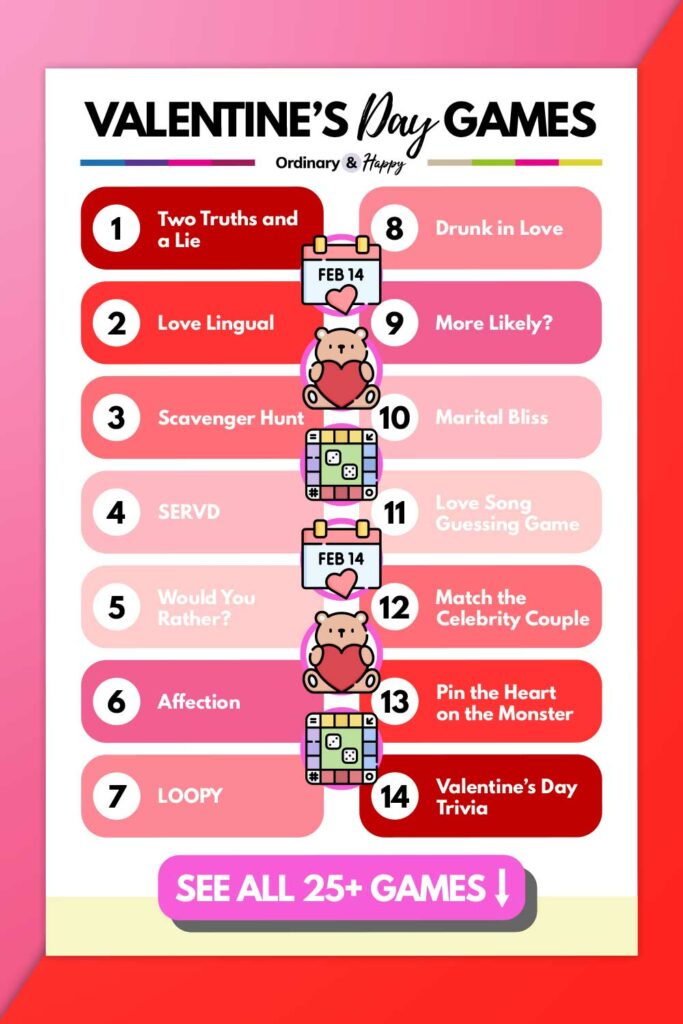 ---
For Couples
1. Two Truths and a Lie
You may think you know everything about your partner already, but there are definitely some secrets still under wraps that you're yet to discover. That's what this game is for!
Playing 'two truths and a lie' is simple. Each player comes up with three statements about them, two of which are true, and one of which is a lie. Examples include statements like 'I've never visited Europe' or 'I once spent the night in a prison cell.'
The other player has to guess which is the lie. The player with the most correct guesses wins.
Read more: Two Truths and a Lie: 200+ Best Lie Ideas
2. Love Lingual
Check Price on Amazon
Do you and your other half have different love languages? Do you ever wish you understood each other better? Love Lingual contains cards that cover multiple topics in question format.
To play, you'll ask each other a series of intimate questions and bond over discovering more about one another through the answers. It promises a night of entertainment, and lets you get to know your significant other better.
Related: 200+ Questions for Couples: Best Questions to Ask Your Partner
3. Scavenger Hunt
Do you love buying gifts for your partner, and do they love solving mysteries? If so, planning a Valentine's Day scavenger hunt is the perfect way to spend the most romantic evening of the year!
All you'll need to do is hide an item somewhere around the house, then hide clues that lead to one another and, eventually, to the item. Your partner has to try and find the item as quickly as possible!
4. SERVD
Check Price on Amazon
This hilarious card game will have you and your partner laughing your way through Valentine's Day and beyond.
The pack of cards gamifies real life by taking scenarios that occur between you and your significant other and turning them into hilarious activities.
It's the perfect way to introduce some playfulness into your relationship this Valentine's Day.
5. Would You Rather?
Would You Rather? is a classic game that can be played with just two people, and the best part is, you don't need any equipment.
To play, all you need to do is think of two amazing (or terrible, depending on how cruel you're feeling) scenarios and ask your other half which they'd rather do.
There's no winner or loser, but it's fun to compare your answers to see if they're similar!
Read more: 100+ Best "Would you Rather?" Questions
6. Affection
Check Price on Amazon
This couple's card game is specially designed to create a sense of intimacy between you and your partner.
The pack has cards that ask for revealing answers, so you can get to know more about one another while creating a closer bond. It's the perfect way to spend a romantic evening!
7. LOOPY
Check Price on Amazon
Want to better explore your partner's body and mind this Valentine's Day? LOOPY is the perfect solution.
With cards that contain thought-provoking questions and creative tasks, you're guaranteed a night of soul-searching and intimacy.
8. Drunk in Love
Check Price on Amazon
If you fancy enjoying some drinks as part of your Valentine's Day celebrations, consider trying the couple's drinking game, Drunk in Love.
With creative ways to get you drinking as well as thought-provoking questions throughout, this game is ideal for a Valentine's party for two.
Related: 25+ Best Drinking Games for Two
9. More Likely?
Check Price on Amazon
Think you know your partner, and your partner knows you? Let's put that to the test!
This fun, conversation-starting game tests how well you know one another, while using prompts to get you to interact on a deeper level.
All the questions have been specially designed to be positive, so you're guaranteed good vibes only for the night.
10. Marital Bliss
Check Price on Amazon
If you're in the mood to play, but don't want to get too deep, try this fun, action-based game.
While this game is played over seven days, you can start or end it on Valentine's Day as part of your special plans.
The game is simple, complete super-secret missions (as dictated by the cards) without getting caught.
---
Party Games
11. Love Song Guessing Game
It seems that almost every song you hear is about love, but how well do you know the artist and the title of some of the most famous love songs of all time?
This game puts it to the test. To play, the host will select up to 50 love songs, and you'll have to split into teams to guess who sings them and the name of the songs as they play.
The winning team will be the one that guesses the most songs correctly.
12. Match the Celebrity Couple
Do you remember who Brad Pitt dated right before Angelina Jolie? And do you know the name of Beyoncé's famous rapper beau?
Put your celebrity couple knowledge to the test with this hilarious game of match the celebrity couple.
To play, the host should print out pictures of celebrities (all of whom dated another celebrity in the pile) and cut them out, asking the party guests to correctly match the celebrities that dated.
The winning team is the one that correctly guesses the most celebrity matches.
13. Pin the Heart on the Monster
Check Price on Amazon
This hilarious game is a love-themed version of pin the tail on the donkey, but instead, you pin the heart on the monster.
It's perfect for parties with guests of all ages, and you're guaranteed hours of fun.
14. Valentine's Day Trivia
This game is played like any other trivia game – with a twist. This time, rather than being about science or sport, the questions are all about love.
The host should come up with at least 20 questions, and the team that answers the most correctly wins.
15. Two Truths and a Lie – Movie Edition
This hilarious game is played just like the traditional game of Two Truths and a Lie, but with a twist. You have to think of two truths and a lie about romantic comedies.
Change around character names or plot lines to get your lies, and test how well your friends know rom-coms.
16. We're Not Really Strangers
Check Price on Amazon
Valentine's Day isn't just about getting to know your other half better. You can use this special day as a chance to get closer to friends and family, too, and there's no better way than with this thought-provoking card game that's all about making meaningful connections.
To play, simply read the cards and carry out the tasks or discussions as instructed.
17. Cuffing Season
Check Price on Amazon
If you're celebrating Valentine's Day with a group of other couples or spouses, try this game for a night of guaranteed hilarity.
This game is intended for ages 17 and up, so it's not suitable for a family Valentine's Day party, but if it's adults only, this is the perfect plan.
To play, you simply need to match a card with a blank space in the sentence with a response on one of the other cards. The more hilarious or outrageous the resulting phrase – the better!
---
Suitable for Families (All Ages)
18. Heart Hopscotch
We've all undoubtedly played hopscotch at some point, but you can make a more loving edition with this heart hopscotch game for the whole family.
To play, simply create a hopscotch board using paper drawings of hearts in various colors, and challenge the whole family to see who can complete the board quickest.
19. What I Love About You
Valentine's Day isn't just for couples – it's a chance to show your loved ones how much they mean to you, whether that's your partner, friends, or family.
To spread some love on the most loving night of the year, make a list of what you love the most about each family member, then read it aloud to spread some Valentine's Day cheer.
20. Valentine's Bingo
Check Price on Amazon
Bingo is a classic game that the whole family can enjoy playing, but with this set of Valentine's Day Bingo cards, you can put a loving twist on the original game.
This time, the cards contain images such as a love heart and cupid's bow, instead of the traditional numbers.
21. Guess the Candy Hearts
This game is super simple, but it will keep guests entertained for hours while they try to guess the answer.
To play, all the host has to do is fill a jar with candy hearts (gummy lips work too). Then, guests take turns guessing how many hearts are in the jar.
The player who guesses the closest number gets to take home the jar of hearts!
22. Valentine's Word Search
Check Price on Amazon
If you're looking to keep the little ones occupied at a party, set them up with Valentine's word searches.
The technique is the same as a regular word search, but the words are all related to love and romance.
The winner is the player who completes the word search correctly in the least time.
23. Candy Heart Piñata
Check Price on Amazon
There's nothing more satisfying than hitting a piñata only for candy to rain down, but why not make it Valentine's Day themed by buying (or making) a heart-shaped piñata filling it with candy hearts and other heart-shaped sweet treats?
24. DIY Ring Toss
Put your creative skills to the test by making a DIY Valentine's Day ring toss. You can mold pipe cleaners into the shape of hearts, then set up some bottles and let the fun begin!
The aim of the game is for players to throw the DIY hearts so that they land on top of the bottles, so if you think you've got solid hand-eye coordination, now's your time to show it off.
25. Cupid Says
Cupid Says takes the classic family-friendly party game, Simon Says, and puts a Valentine's Day twist on it.
The rules are the same, but instead of Simon giving out the instructions, it's Cupid who will direct which actions players should do. If you're looking for a way to tire out little ones, this twist on a well-known party game is ideal!
---
Maybe you've got something adventurous planned for Valentine's Day, or maybe you're keeping things simple at home.
Either way, these fun and creative games are a great way to ignite more than a little fun, enjoyment, and romance into the day, and get you and your loved ones trying something a little different.
You Might Also Like to Read
---
Is Valentine's Day on the horizon? If so, keep these games on-hand to help inspire you to plan a memorable day by saving this article to one of your Pinterest boards.