This post may contain affiliate links, meaning if you book or buy something through one of these links, I may earn an affiliate commission at no additional cost to you. Learn more
Whether you're a foodie, or just love to gorge on the finer things in life, these 100+ food trivia questions are ideal for bringing a little food-themed fun to your gathering, dinner party, or game night.
Food Trivia Questions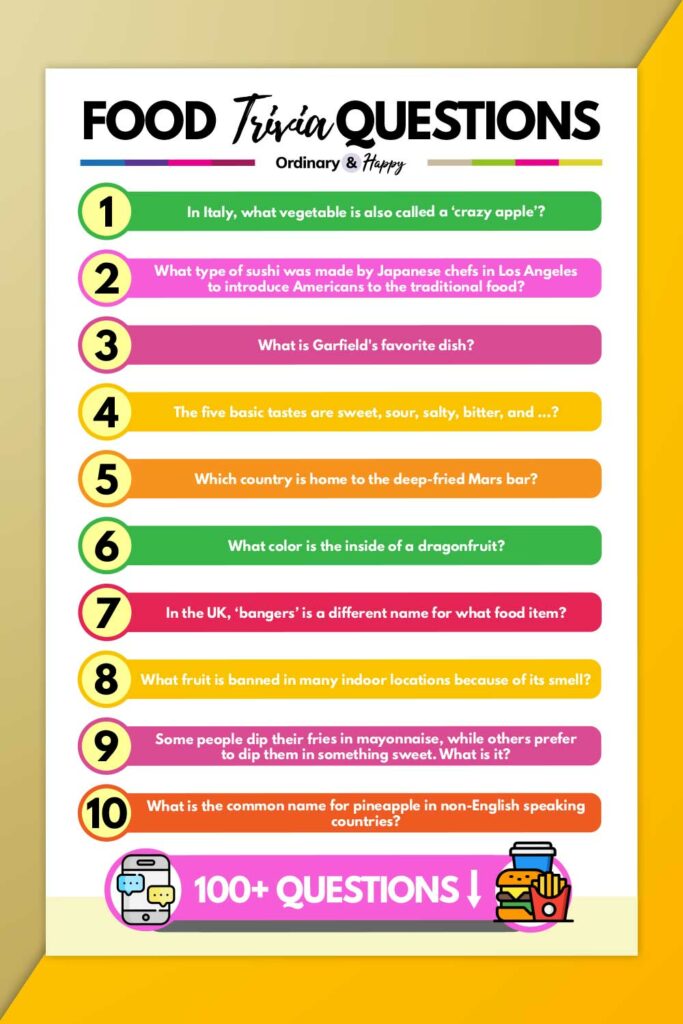 ---
Fun
1. In Italy, what vegetable is also called a 'crazy apple'?
Answer: Eggplant (aubergine).
2. What type of sushi was made by Japanese chefs in Los Angeles to introduce Americans to the traditional food?
Answer: California roll.
3. What is Garfield's favorite dish?
Answer: Lasagne.
4. The five basic tastes are sweet, sour, salty, bitter, and …?
Answer: Umami.
5. Which country is home to the deep-fried Mars bar?
Answer: Scotland.
6. What color is the inside of a dragonfruit?
Answer: Pink or white.
7. In the UK, 'bangers' is a different name for what food item?
Answer: Sausages.
8. What fruit is banned in many indoor locations because of its smell?
Answer: Durian.
9. Some people dip their fries in mayonnaise, while others prefer to dip them in something sweet. What is it?
Answer: Milkshake.
10. What is the common name for pineapple in non-English speaking countries?
Answer: Ananas.
11. Vegans can prepare realistic, meatless pulled pork by using…?
Answer: Jackfruit.
12. What is the least common M&M color?
Answer: Brown.
13. Which country is Heineken beer from?
Answer: The Netherlands.
14. What food used to be for peasants, but is now considered a luxury item?
Answer: Caviar.
---
Easy
15. What is the main ingredient in guacamole?
Answer: Avocados.
16. Which country are burritos from?
Answer: Mexico.
17. Basil is the main ingredient in which popular green pasta sauce?
Answer: Pesto.
18. The most common food allergy is…?
Answer: Nuts.
19. What type of fruit is Pink Lady?
Answer: Apple.
20. Where is gelato originally from?
Answer: Italy.
21. What does a vegetarian not eat?
Answer: Meat.
22. Oranges are rich in which vitamin?
Answer: Vitamin C.
23. When you heat sugar, what can you make?
Answer: Caramel.
24. What is coffee made out of?
Answer: Coffee beans.
25. The two most famous cola brands are…?
Answer: Coca-Cola and Pepsi.
26. What toppings are on a Margherita pizza?
Answer: Tomato sauce, mozzarella, and basil.
27. What item is often used in Asian countries instead of forks and knives?
Answer: Chopsticks.
28. Where did sushi originate?
Answer: Japan.
29. Snow White fell into a deep sleep after eating a poisoned…?
Answer: Apple.
30. What ingredient makes bread rise?
Answer: Yeast.
31. Which condiments are usually put on a hot dog?
Answer: Mustard and ketchup.
32. At the butcher, you can usually only buy…?
Answer: Meat.
33. What types of food are Gouda, Feta, and Cheddar?
Answer: Cheese.
34. What are the two main ingredients of strawberry jam?
Answer: Strawberries and sugar.
35. What is the overall name of food items like yogurt, cheese, and milk?
Answer: Dairy.
---
Hard
36. What is the pigment called that gives oranges and carrots their orange color?
Answer: Beta carotene.
37. What is the most eaten food in the world?
Answer: Rice.
38. What is the name of a palate-cleansing dish, often served between two main courses?
Answer: Intermezzo.
39. Green tea and black tea are made from the Camellia sinensis plant. What other tea is also made from this plant?
Answer: White tea.
40. What flowers make vanilla?
Answer: Orchids.
41. In the USA, yellow Fanta is pineapple-flavored. But what flavor is yellow Fanta in the UK?
Answer: Lemon.
42. Which country is the largest producer of coffee beans?
Answer: Brazil.
43. Marzipan is made by using which nut?
Answer: Almonds.
44. Traditionally, caviar consists of the eggs of which fish?
Answer: Sturgeon.
45. What is the main ingredient to make tofu?
Answer: Soy milk.
46. What type of mushroom is often used to make vegan chicken wings?
Answer: Oyster mushroom.
47. The Italian term 'carpaccio' is used to refer to what type of food item?
Answer: Thinly sliced, raw meat.
48. What is Caboc?
Answer: Traditional cream cheese from Scotland.
49. Where was Tabasco first made?
Answer: USA (in Louisiana).
50. Baklava is made by using what type of dough/pastry?
Answer: Filo (phyllo).
51. What is Kombucha?
Answer: Fermented tea.
52. What is the name of the traditional bread eaten during Jewish holidays?
Answer: Challah.
53. Which vegetable can take up to 3 years to harvest for the first time?
Answer: Asparagus.
---
Interesting
54. What fruit can hold over 1000 seeds?
Answer: Pomegranate.
55. What vegetable juice has been used as red dye since 1500?
Answer: Beetroot.
56. When was cheesecake first served?
Answer: During the Olympic Games in Ancient Greece (to provide athletes with energy).
57. What vegetable has more protein than steak?
Answer: Broccoli.
58. The world's hottest chili pepper is named…?
Answer: Carolina Reaper.
59. John Glenn was the first to eat in space. What did he eat?
Answer: Apple sauce.
60. What was cola originally used for after its invention?
Answer: Medicine.
61. The name of which sweet food item comes from the Aztec drink 'xocolatl'?
Answer: Chocolate.
62. What is the name of the most expensive steak in the world?
Answer: Wagyu.
63. 'Ladies' fingers' is another name for which vegetable?
Answer: Okra.
64. Traditionally, mozzarella cheese is made out of the milk of what animal?
Answer: Water buffalo.
65. What is special about the liquor Spirytus Rektyfikowany Vodka?
Answer: It's the world's strongest alcoholic drink (96%).
66. Which country produces about two-thirds of vanilla globally?
Answer: Madagascar.
67. What is a kumquat?
Answer: A bite-size, orange-like fruit.
68. How many lbs was the heaviest Thanksgiving turkey according to the Guinness World Record?
Answer: 86 lbs (39 kg).
69. What is the name of a wine made from red and white grapes?
Answer: Blue wine.
70. What is the English meaning of the chips name Doritos?
Answer: Little golden things.
---
American Food
71. In which state was Coca-Cola served first?
Answer: Georgia.
72. What does the saying "As American as apple pie" mean?
Answer: Something is typically American.
73. In 2022, Florida changed its original state dessert, key lime pie, to …?
Answer: Strawberry Shortcake.
74. What are the two most popular breakfast foods in America?
Answer: Bacon and eggs.
75. New York is home to the first factory for what type of pasta?
Answer: Macaroni.
76. Popeye increased the consumption of which vegetable by a third in the USA?
Answer: Spinach.
77. What are S'mores made of?
Answer: Chocolate, marshmallows, and graham crackers.
78. Which American city is known for deep-dish pizza?
Answer: Chicago.
79. What is the name of the famous dish with seafood on a bun?
Answer: Lobster roll.
80. Potatoes in a triangle shape, often eaten for breakfast, are called…?
Answer: Hash browns.
81. What are the 3 main ingredients of a BLT sandwich?
Answer: Bacon, Lettuce, Tomato.
82. Which American city is famous for its sourdough bread?
Answer: San Francisco.
83. What dish is usually eaten with oyster crackers?
Answer: Clam chowder.
84. What does GORP stand for?
Answer: Good Old Raisins and Peanuts (an energy-fueling snack).
85. What signature dish from Louisiana is made with andouille sausage and shrimp?
Answer: Jambalaya.
---
World Food
86. Manchego is a Spanish cheese made of …?
Answer: Sheep's milk.
87. What fish dish is considered a special delicacy in Iceland?
Answer: Fermented shark.
88. Sake is a popular Japanese alcoholic drink. What is it made of?
Answer: Rice.
89. Which animal's heart, liver and lungs are used to make haggis, a traditional Scottish dish?
Answer: A sheep's.
90. What gives tiramisu its unique flavor?
Answer: Coffee.
91. Ceviche is a traditional staple in which country?
Answer: Peru.
92. The Malaysian dish Nasi Lemak is made of which key ingredients?
Answer: Rice, coconut milk, and pandan leaves.
93. Fufu is a popular dish in central and western Africa and is made of …?
Answer: Starchy foods like plantain or cassava.
94. Where did bubble tea originate?
Answer: Taiwan.
95. What city in Germany has a museum dedicated to its traditional fast food Currywurst?
Answer: Berlin.
96. Halloumi cheese comes from which country?
Answer: Cyprus.
97. What is special about the Korean food kimchi?
Answer: It's fermented cabbage.
98. In the Netherlands, what do people traditionally eat during New Year's Eve?
Answer: Oliebollen (fried dough balls, plain or with raisins).
99. What is the most commonly used legume to make falafel in Middle Eastern cuisine?
Answer: Chickpeas.
100. Where does the peri-peri flavoring originally come from?
Answer: Portugal.
---
More Food Trivia Questions
101. What is a folded pizza called?
Answer: Calzone.
102. What are you afraid of if you suffer from Mageirocophobia?
Answer: Cooking.
103. Which tea has the most health benefits?
Answer: Green tea.
104. What grows in a paddy field?
Answer: Rice.
105. Asian food and fast food commonly use a flavor enhancer called…?
Answer: MSG.
106. How many different pasta shapes exist?
Answer: More than 600.
107. 'Little worms' is the English translation of which Italian pasta name?
Answer: Vermicelli.
108. Which famous pasta dish did President Thomas Jefferson bring to the US?
Answer: Mac and cheese.
109. The only fruit that has seeds on the outside is a…?
Answer: Strawberry.
110. What are cruciferous vegetables?
Answer: Vegetables such as cauliflower, kale, cabbage, and bok choy.
111. How many varieties of avocados are there?
Answer: Around 500.
---
Suitable for all ages and occasions, a quick-fire bout of food trivia is guaranteed fun for everyone involved.
You could go all out and make it a super section of your organized quiz night, or just ask these questions to a friend or partner when bored on the bus.
But however you use these questions, you'll definitely be feeling hungry after you've finished answering them!
You Might Also Like to Read
---
Keep these fun and insightful food trivia questions for safekeeping by saving them to one of your party planning Pinterest boards.